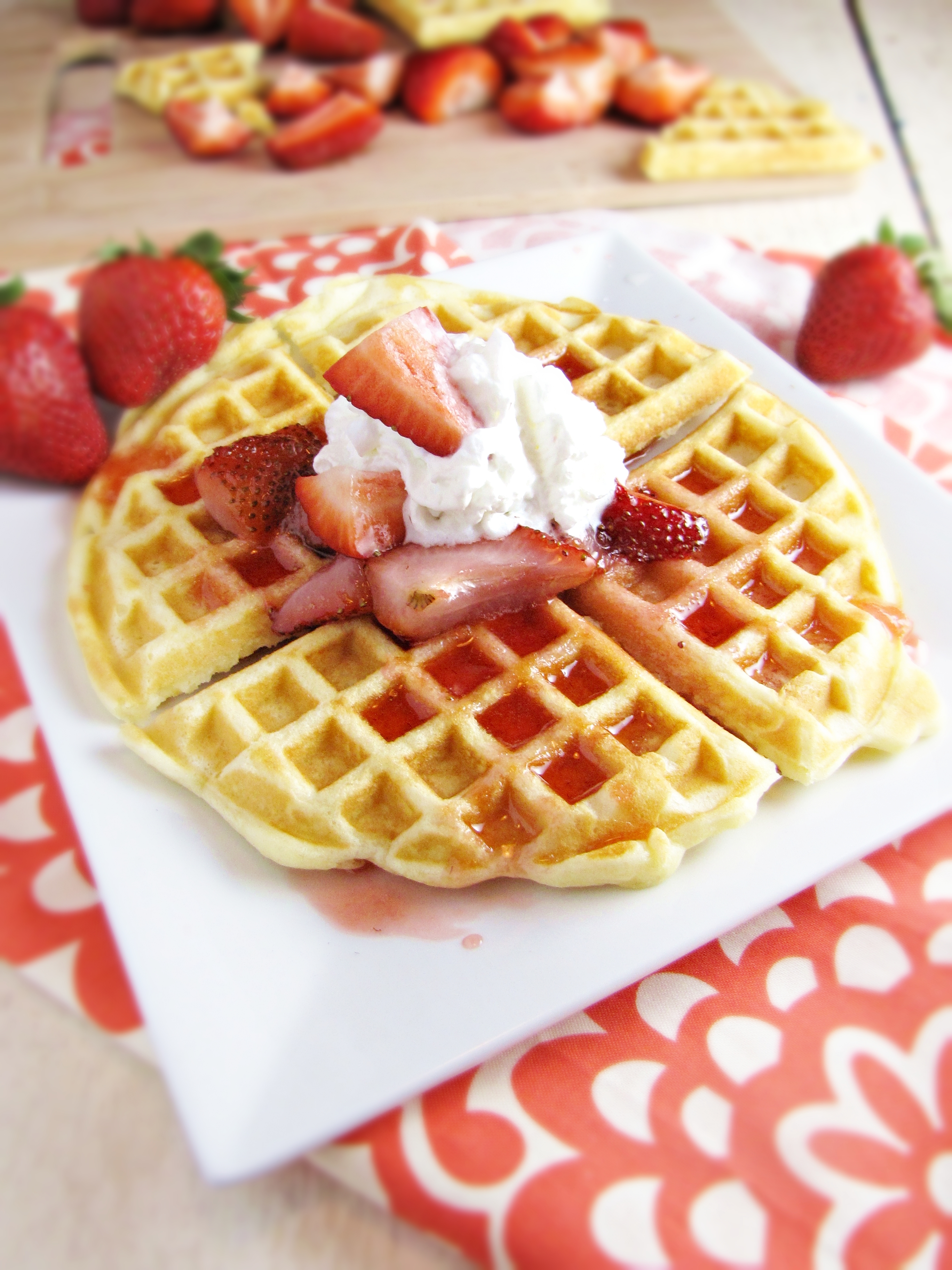 It's not my birthday without waffles.  And today is my birthday, so therefore, I made waffles.  Although, to be honest, I made them last night and popped them in the fridge because I'm not that much of a morning person.
One year, my birthday was on Good Friday, so we couldn't have anything indulgent and my mom was fasting completely.  I just have this vivid memory of walking around outside on a gorgeous sunny day being really upset because the whole point of birthdays is being able to eat whatever you want all day.  And what I wanted was 1) waffles with strawberry sauce, 2) cold tortellini (or sometimes angel hair) with pesto, 3) steak tips with baked potatoes.  There was very little variation in this menu year to year.  But that year I had to wait an entire extra day, and I was not happy about it.  Now I'm an adult, and technically I could eat whatever I wanted every single day, but that would probably not be highly recommended by a nutritionist.  Although, there are days when all I really want is apple and yogurt salad, or roasted beets, so maybe I'd be OK.  Anyway, today, what I want is waffles, so I'm having them.  If I hadn't made that clear already.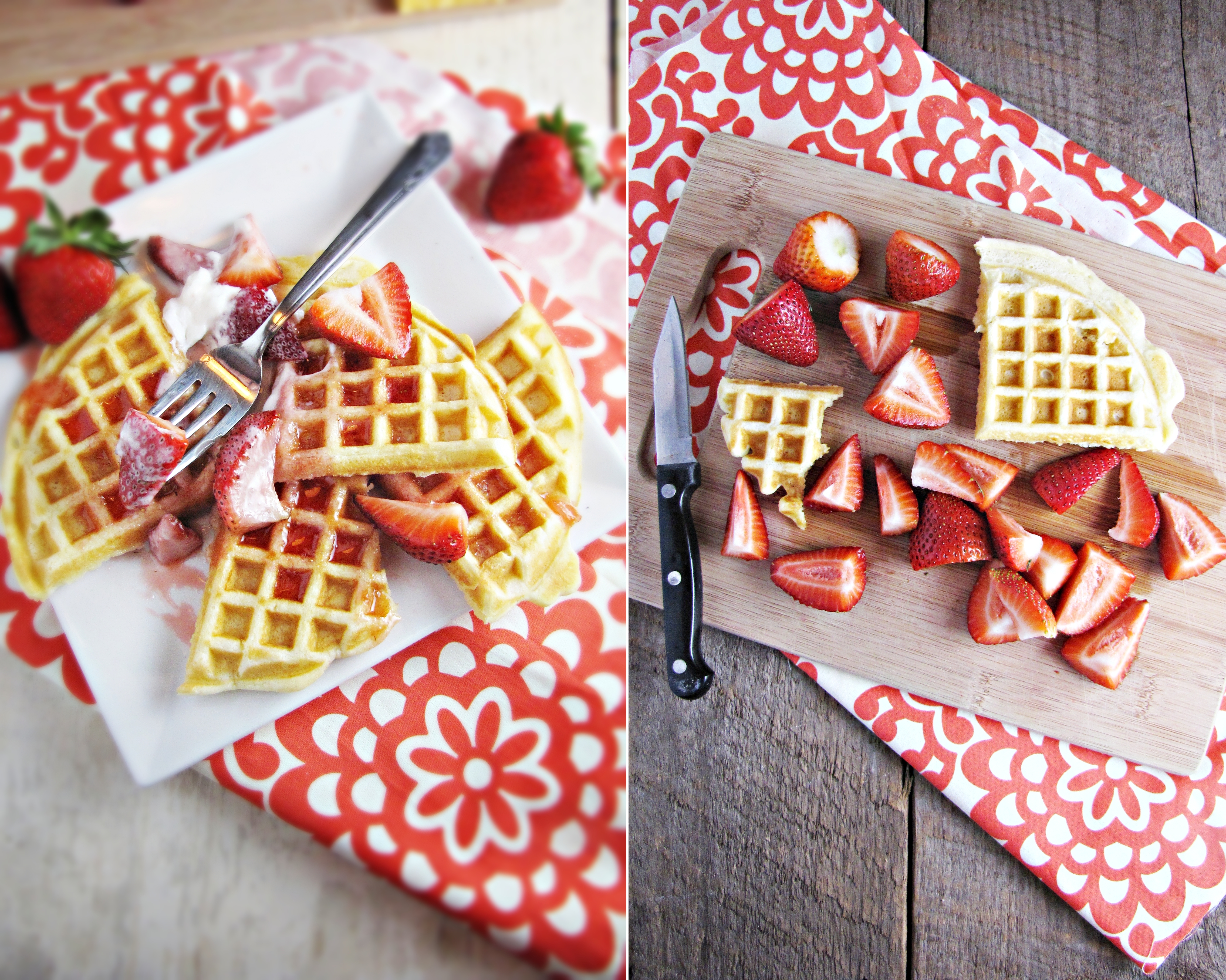 These aren't waffles that you'll find floating around the blogosphere.  People seem to like these Waffles of Insane Greatness and Marion Cunningham's Yeasted Waffles.  I tried them, and they were good, but they weren't what I was looking for.  So I got my parent's recipe.  And they were what I was looking for.  They're made with whipped egg whites, barely folded into the batter, and they're chewy, light, sweet, and super eggy.  And I love them.  They don't have that yeasty tang that some other waffles have, or a super crispy texture – both things which I think detract from the overall waffle-eating-experience, i.e. absorption of maple syrup.  Maybe it's just that I grew up eating these, but too me, they are perfect.
As a side note, when I have waffles, I have to have two – the first one gets strawberries and whipped cream, the second one gets butter melted into every nook and maple syrup. For this reason, I try not to make waffles too frequently.
Man, I love waffles.  And my birthday, for that matter.  Happy birthday, self!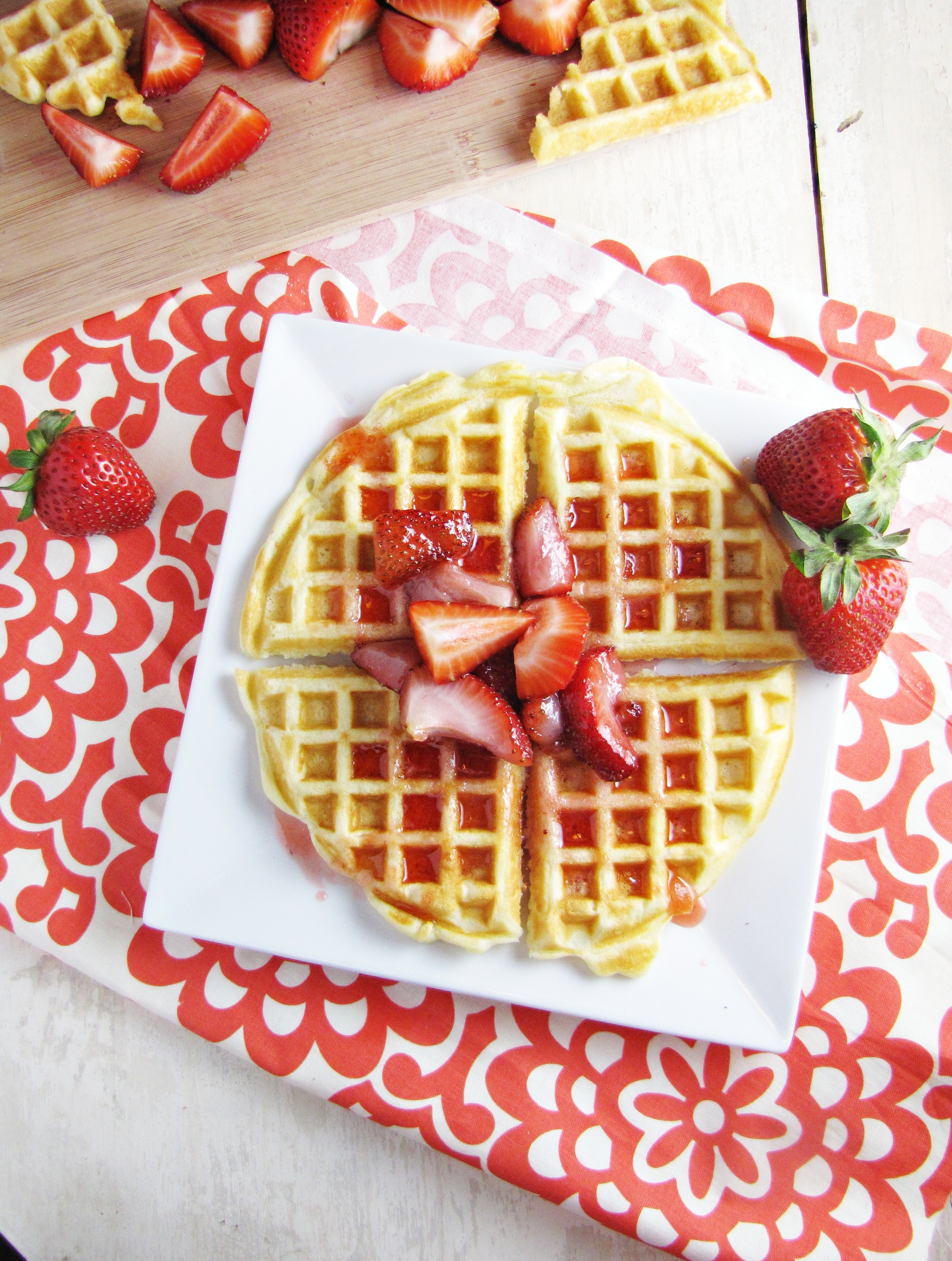 Mom's Perfect Eggy Waffles
Makes 5 waffles.  Recipe from my mother.
1 3/4 c. AP flour
2 tsp baking powder
1 TBS sugar
1/2 tsp salt
3 eggs, separated
1 1/2 c. milk
1/3 c. vegetable oil
Whisk together flour, baking powder, sugar, and salt in a large bowl.  Set aside.
Beat egg yolks until pale yellow, then whisk in milk.  Add to dry ingredients and stir gently, until lumps are mostly gone but not entirely.  Stir in vegetable oil until there' s no oil floating on the surface.
In a clean bowl, whisk the egg whites vigorously.  When they become frothy, sprinkle a pinch of cream of tartar over the top, and continue whisking until stiff, shiny peaks form.
Fold egg whites very gently into the batter, stirring with an up and down motion 5-10 times.  When you are done, there should still be streaks of white egg in the otherwise yellow batter.
Cook waffles according to how your waffle iron cooks waffles.  Don't forget to spray iron with pam to prevent sticking!  Serve waffles with strawberries and whipped cream, maple syrup and butter, or whatever else you want.
2