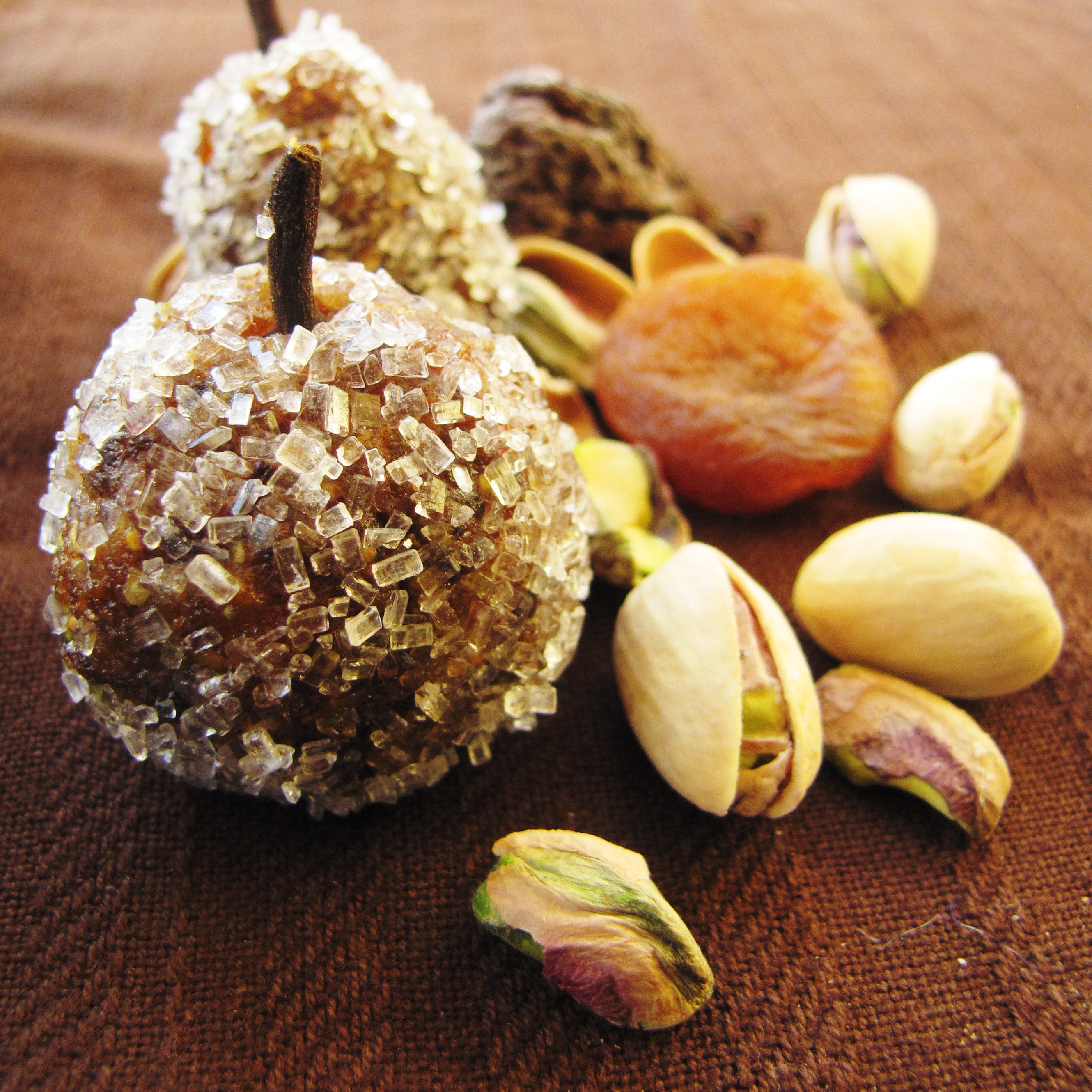 Did you know sugarplums are a real thing?  That they're more than just a name for a delightful fairy in The Nutcracker?  That you can make and eat and admire them and that they really are worthy of visions dancing in your head?  That they might actually be both the most Christmasy and the healthiest treat I've made for the holidays?  Yeah, me neither, at least until a week ago when I picked up a copy of Gourmet Gifts
by Dinah Corley, and flipped to a page with tiny sparkly plum-resembling treats titled sugarplums.  And man am I glad to stand corrected, because these things are good.  But let's back up a little.
Last weekend I went to my very first Boston Brunchers' brunch.  The Boston Brunchers are a lovely group of food bloggers/writers/enthusiasts that get together once or twice a month to network and share blogging stories and, well, brunch.  Last weekend's event was hosted by Harvard Common Press – a huge thanks to them for hosting and feeding us! – an independent publisher specializing in cookbooks and parenting books.  While there we ate brunch treats from several of their cookbooks (all delicious – especially the strata and the cranberry coffee cake), chatted each other up, and heard a presentation from the publishers themselves on the process of going from blog to cookbook.  The presentation was filled with new information for me, and convinced me to finally jump on the twitter bandwagon, something I've been avoiding for ages.  (Feel free to follow me @Kitchen_Door: I'll be posting updates on great recipes I don't have time to blog about, the upcoming gingerbread extravaganza, my beginner gardening attempts, learning to make homemade cheese, and more.  Rest assured that I'm highly opposed to constant communication as I think it can drive people insane, so I promise to use it in moderation.)  After the presentation, they announced that the cookbooks decorating the tables were a freebie for us bloggers – which was a bit like announcing to a candy store full of children that everything was free and then handing them paper bags.  Mild adult chaos.  Anyway, I snagged a copy of Gourmet Gifts, because it seemed seasonally appropriate and it had a pretty cover… and I usually judge books by their covers. Not kidding.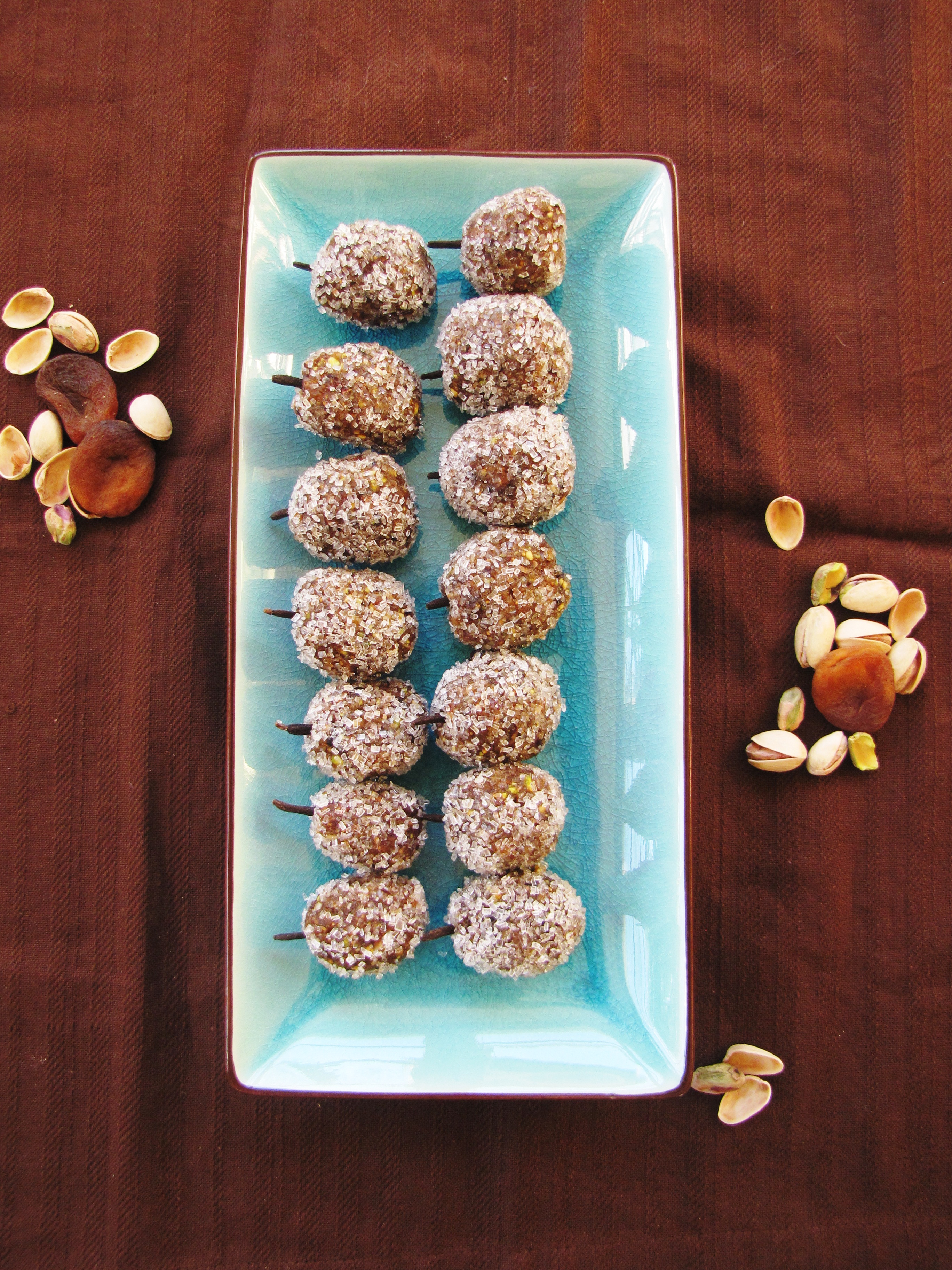 I'm cheating a little bit in posting this review as December's cookbook of the month, since I've only made the sugarplums, and my self-imposed rule is to make at least three recipes from a book before allowing it into the ranks of the cookbook of the month club.  However, I really wanted to share these sugarplums before Christmas, because they're just so pretty and delicious and … Christmasy!  With that noted, I'll just give a preliminary review of the book, with updates to come as I explore it a bit more thoroughly.  So far I think the most valuable parts of this book for me are the decoration and delivery ideas – with every recipe comes detailed instructions for how to wrap and present that gift, and the ideas are really quite creative.  I bookmarked several pages just for photography and styling ideas – painting a cutting board with chalkboard paint and using it as a labeled cheeseboard?  Genius!  The recipes also seem very solid.  A few ideas are slightly worn out in the food blog world – spiced nuts, macarons, etc. – but most are novel and intriguing.  High on my list are the kumquat-cognac punch (if only it didn't have a 6 week infusing time! Next year…), the rose petal vinegar, and the cute little cakes baked into eggshells.  There are ideas for all seasons, and many recipes for portable dishes that might be a great contribution to the next party you attend.  All in all I'm glad I grabbed it, and I'm looking forward to trying out a few more recipes.
And now it's time to bring it back to the sugarplums, the first trial recipe from this book, which was a huge success.  The gist of the recipe is this: blend dried apricots, dates, figs, pistachios, Christmas spices, apricot jam and brandy to a sticky, chewy paste.  Let sit.  Shape into adorable little plums and roll in sanding sugar.  Pop into your mouth and be really, really surprised by how much you like them.  And how completely they taste of Christmas.  Easy and quick, these are definitely worth giving a try before the big day – especially since your guests will be impressed by how pretty they look on a platter.  Just be sure that your food processor is ready for a workout – I think this may have been the last straw for my little Ninja processor.
FTC disclaimer: I received a copy of Gourmet Gifts for free but was not asked to write this review, nor was I compensated for doing so.  All opinions are my own and reflect my honest impressions of the book.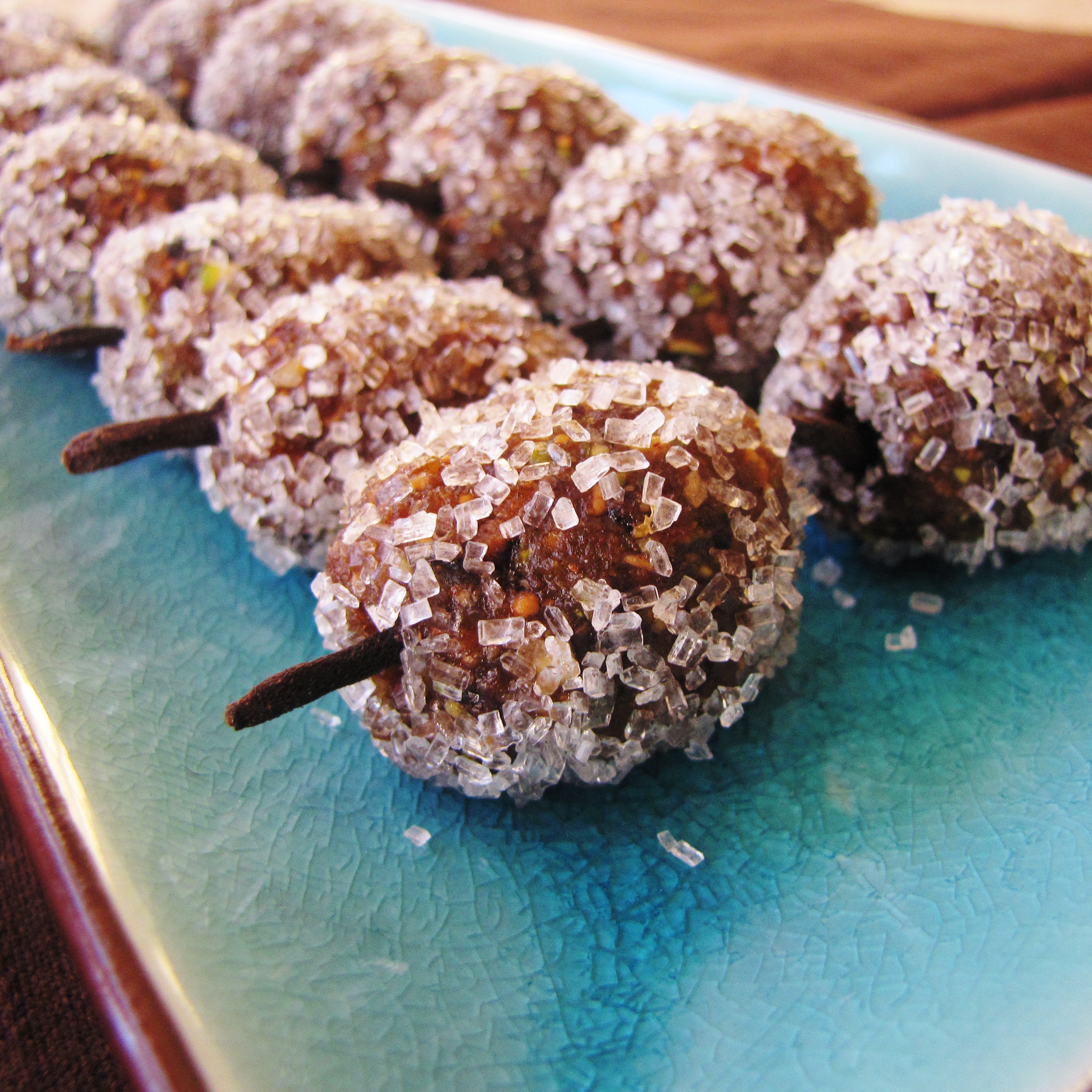 Pistachio Sugarplums
Recipe adapted slightly from Gourmet Gifts by Dinah Corley.  Makes about 30 pieces.
2 c. pitted dates, chopped
1 c. shelled pistachio nuts
1/2 c. dried apricots, chopped
1/2 c. dried figs, chopped
3 TBS brandy
2 TBS apricot jam
1/4 tsp orange oil, or 1 TBS dried orange peel
1 tsp ground ginger
1/2 tsp ground cloves
1 tsp ground mace
3/4 tsp ground cinnamon
30 whole cloves (for the stems!)
3/4 c. large crystal sugar (sanding or turbinado sugar)
Place all ingredients except whole cloves and sanding sugar in food processor and rapidly pulse until mixture is evenly ground and forms a sticky paste.  If your food processor is too small to do all this at once, process the dried fruit and nuts in batches, then add them all back in (each ingredient should shrink in volume as it is processed) with the remaining ingredients until they are evenly mixed and blended.  Knead the dough/paste for 2-3 minutes then wrap in plastic wrap and refrigerate 2-3 hours or overnight.
Pull off tablespoon sized balls from the refrigerated dough and roll into small oval shapes between your hands (to resemble plums).  Roll in sanding sugar, then stick a whole clove into the end to make a stem.  Lay the sugarplums out on a baking sheet and allow to firm up in a cool, dry place overnight.  Store in single layers in airtight containers at room temperature.
0