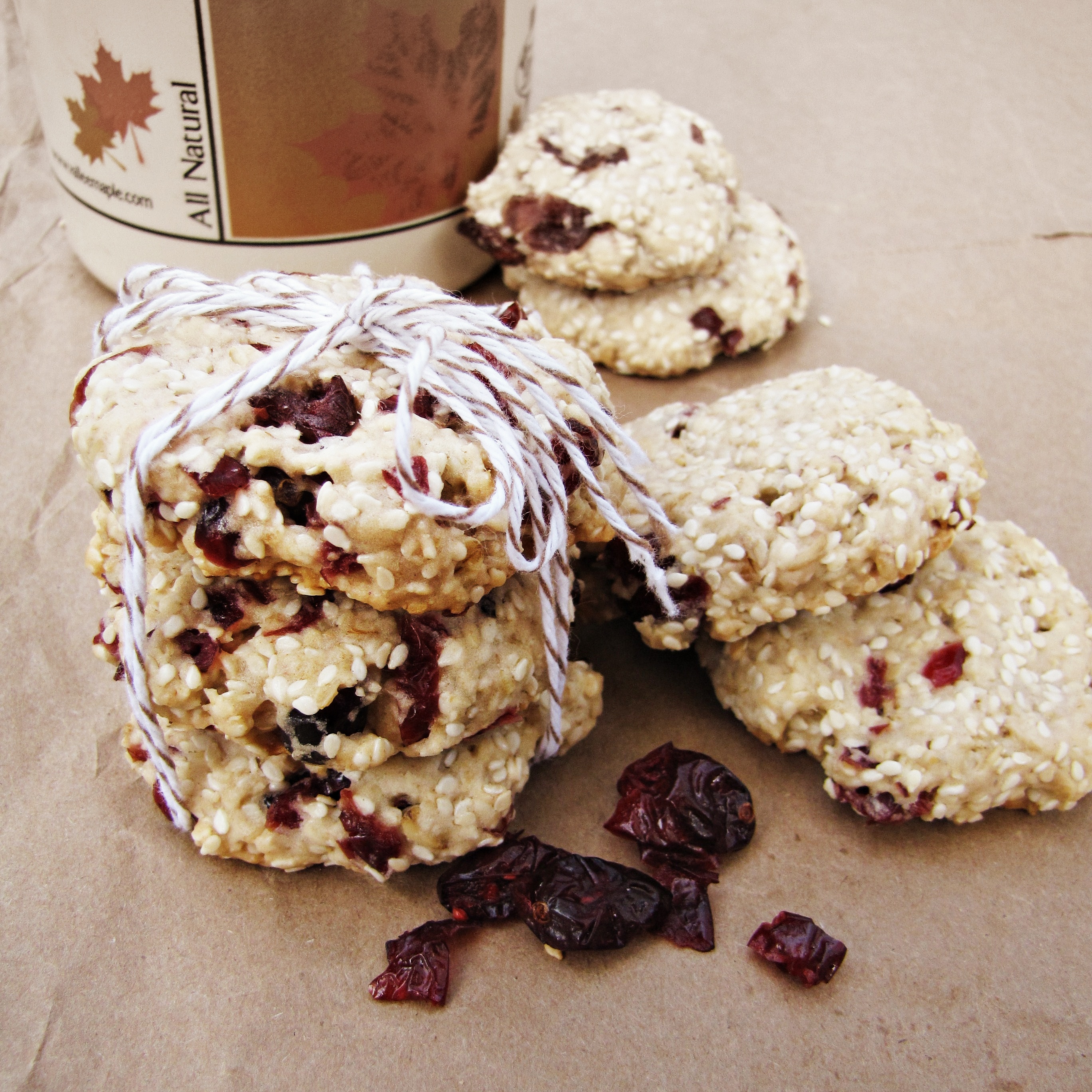 Now that I'm back from my first real business trip – which was hectic and busy and fun and interesting and a serious crash course in Spanish, what with participants from Venezuela, Argentina, Chile, Colombia, and Brazil – I'm here with a trip report and pictures from my mini-vacation to Vermont last weekend.  I'm probably being an idealist, but I have visions of Vermont as being beautiful in every season – green and bucolic in summer, crisp and splendidly colorful in the fall, quiet and snowy in the winter, and breathtakingly fresh in the spring.  I have some foundation for these ideas – I used to go to summer camp on Lake Champlain, and it was always gorgeous and idyllic.  More recently, I visited a friend at Middlebury in late spring, and I've never enjoyed a drive as much as the one through those mountains, nor seen quite as many daffodils in one place.  Now I can confirm that the fall is just as crisp and wholesome and nice as I imagined, leaving only winter for me to investigate.  If I like winter, I might just have to move there.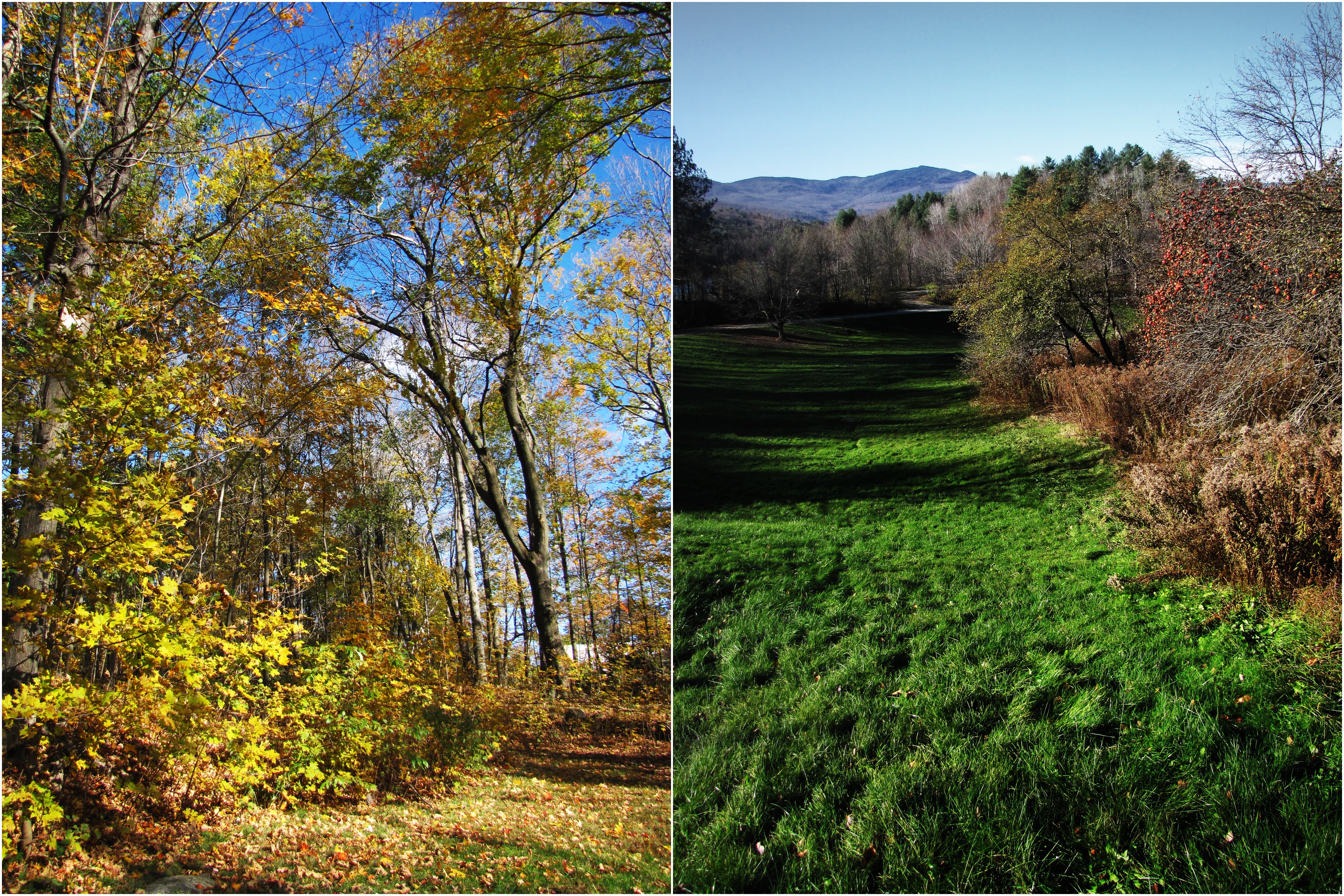 Stowe is a very quiet place in November – the leaf-peepers are gone, and the skiers have yet to arrive.  A few trees have straggling bursts of orange, but most leaves have faded to brown and begun to fall.  Frost covers everything in the mornings, but the sun can still be warm enough at midday to forego the winter jacket.  I loved it.  We drove up Friday afternoon and after getting settled in our hotel, we got a casual dinner at Piecasso, a local pizza place that made really good pizza (loved the crust), but just OK hamburgers (duh, Katie.  But, I only went the hamburger route because I had train station pizza at lunch).  Then early to bed – the biggest, best, most comfortable bed ever.  We stayed at the Green Mountain Inn, and had an absolutely wonderful experience.  A large part of this was due to the king-sized bed, gas fireplace, and fireside Jacuzzi tub combo, but we also enjoyed pretty much every other aspect of the hotel.  Highly recommended if you're planning a trip up that way.
Saturday, we went for a frigid but absolutely gorgeous run on Stowe's 5-mile riverside recreation path.  Everything was covered in beautiful frost even well after the sun had risen.  We passed a picturesque herd of dairy cows and crossed wooden bridges and it was basically the exact experience I was looking for.  After the run we had breakfast (real maple syrup on everything!) at The Gables Inn and did a little thrifting in a local "stuff" store – I got blog props, of course, but Trevor found the greatest old architectural magazine.  Old, like, 1880s old, and full of detailed black and white sketches of houses and staircases and it's totally awesome.  We spent the afternoon (as well as Sunday morning) doing some of the foodier things that Vermont has to offer – touring the Magic Hat brewery in Burlington, sampling the cider at the Cold Hollow Cider Mill, picking up Lake Champlain chocolates, and trying every single one of Cabot's cheddars.  Other than the brewery tour, I was kind of disappointed with the "factory" stores – they were very cut and dry and touristy, and mostly focused on selling their products at higher than retail price rather than demonstrating how they were made or even explaining the process.  I guess what I was really looking for was a more farm-to-table experience, and I probably shouldn't have expected as much as I did from such big-box names.  I was tempted by the enormous bins of apples outside the cider mill on sale for 50 cents a pound.  50 cents a pound!  That's a pretty good deal.  But, since I was leaving Monday morning and I haven't finished my last batch of apples, I refrained.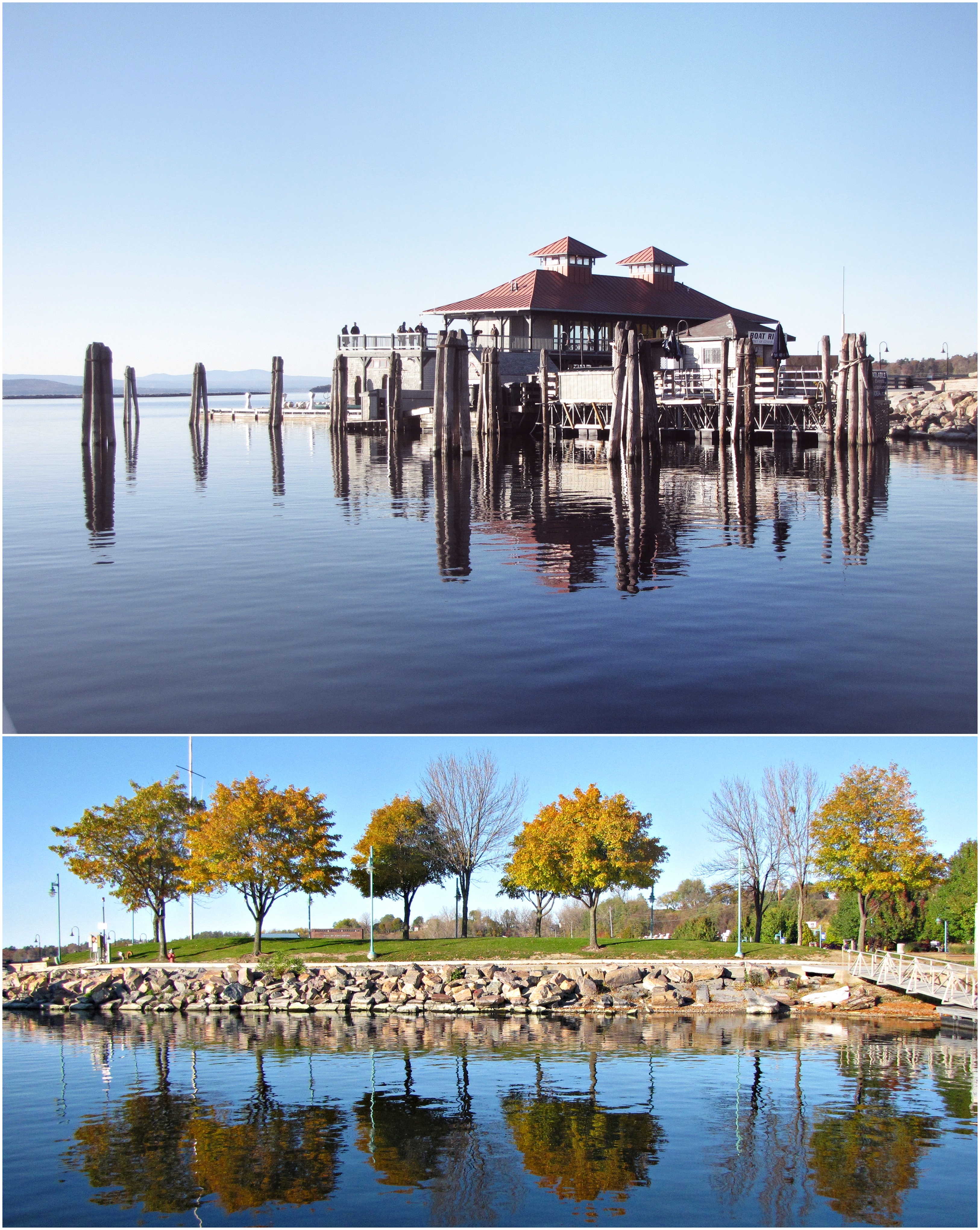 Sunday we slept in and then had a lovely brunch at our hotel, then headed out.  On the way we stopped for a walk at the Waterbury reservoir, a beautiful, quiet spot with great views of the mountains over the water.  The area used to be farmland, and many of the trees were still covered in apples, with that great scent of slightly fermented apples hovering over the ground.  It was a good sendoff for our drive back to Massachusetts.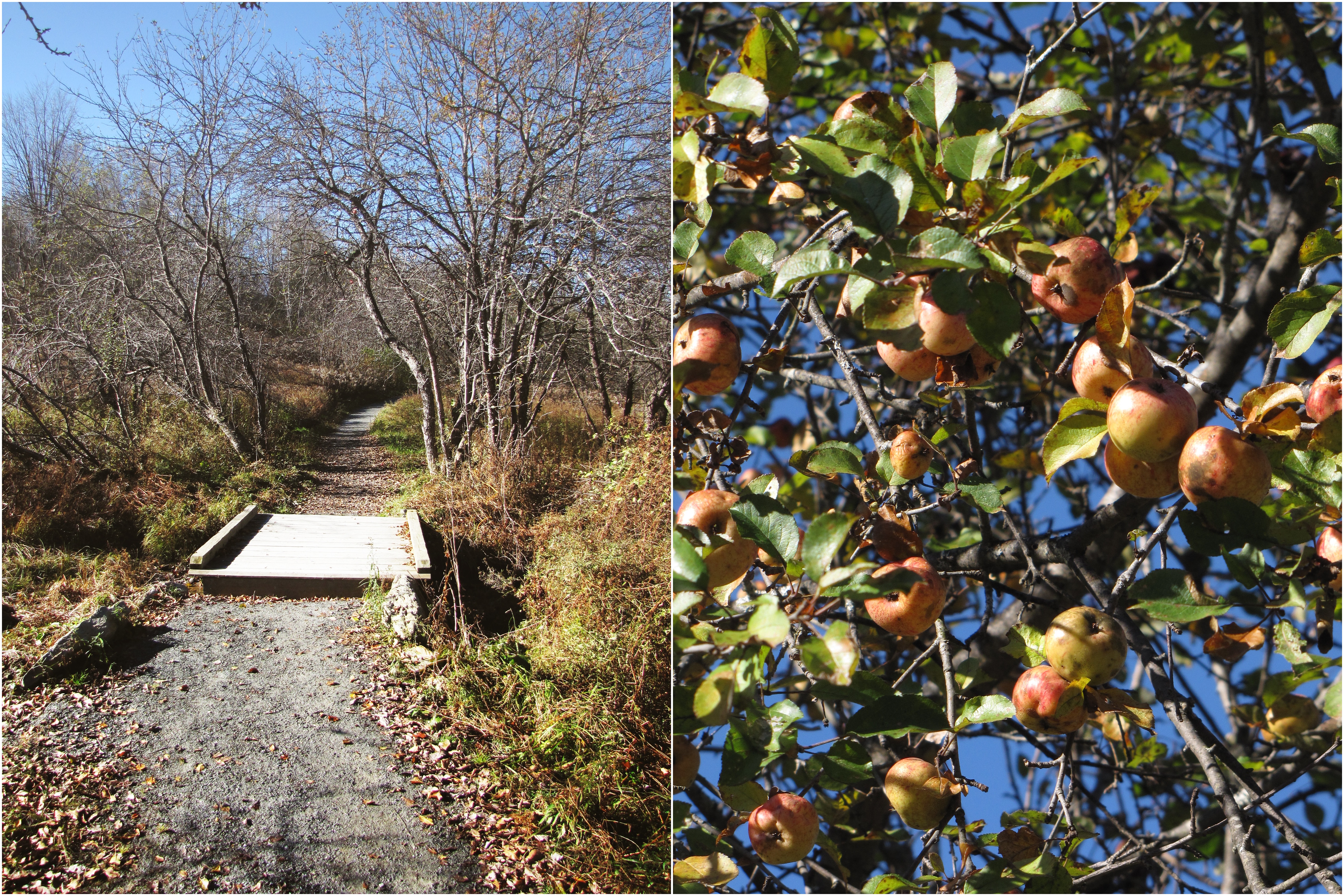 And now for the food – maple syrup is probably the most quintessential Vermont ingredient, so I knew this post had to include it somehow.  However, it is also one of the most expensive condiments I know of.  The lowest price I saw on it was $15 a quart, in a gas station close to our hotel, which is where I ended up buying some.  I'm sure you can get it more cheaply direct from a sugarhouse, but since it's not sugaring season (maybe we'll go back for it!) I figured this was my best bet.  Maple syrup in hand, I started going through maple-laden recipes I have bookmarked, but a lot of them called for a large amount of syrup and I just couldn't bring myself to part with 2 cups of the precious stuff barely a week after I had gotten it.  As a happy medium, I went with these cookies, which are from Peter Berley's Modern Vegetarian Kitchen
.  As I mixed up the batch I was a little bit skeptical – no eggs, no sugar, no leavening, and only half a cup of flour?  Not your typical cookie.  But, as I pulled them from the oven and bit into one I was pleasantly surprised – they were some of the best cookies I've made in recent months.  Crunchy, dense, and both sweet and savory they make a great snack, and are particularly good dipped in a little bit of orange tea.  As an added bonus, they're fairly healthy – although they are not low calorie (160 per cookie), the bulk of the calories in them are coming from the sesame seeds, which provide a massive dose of several minerals, as well as calcium, healthy protein, and fiber.  I think these may become my more wholesome and natural alternative to power bars for the near future.  Lastly, they can easily be made vegan with the simple substitution of olive oil for the melted butter, which is even recommended by the author.  They're easy to whip up, so pick up some sesame seeds in bulk (try wholefoods) and give them a try!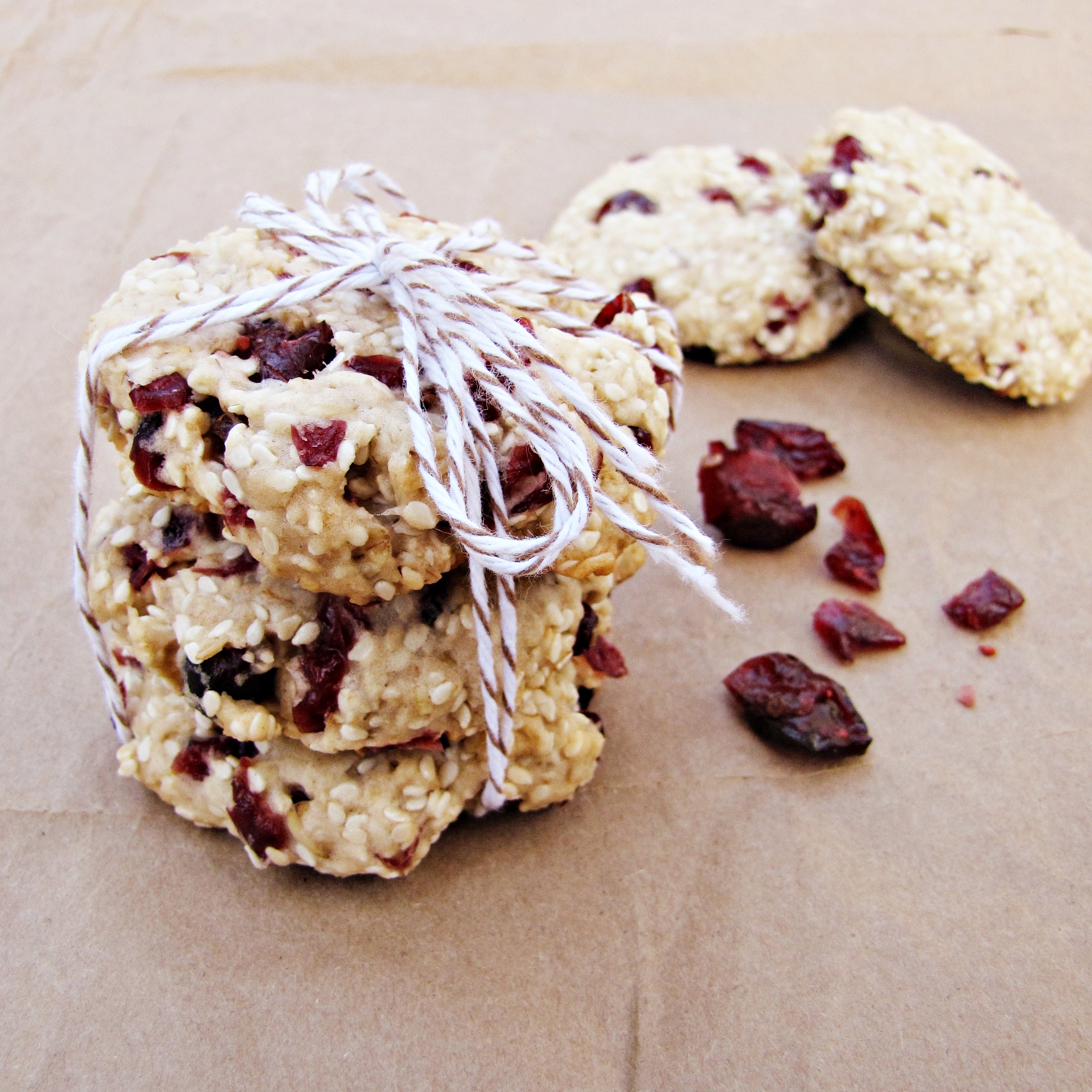 Sesame-Cranberry Cookies
Adapted from Peter Berley's Modern Vegetarian Kitchen .  Makes 9 cookies.
1/2 c. sesame seeds
1/2 c. flour
1/2 c. oats
1/2 c. dried cranberries, coarsely chopped
pinch of salt
3 TBS maple syrup
3 TBS melted butter (could substitute olive oil for vegan cookies)
1 tsp vanilla
Preheat oven to 350°F.  Soak cranberries in hot water in a bowl for 10 minutes.  Meanwhile, pulse flour, oats, and salt together in a food processor until oats are finely ground.  Transfer to a bowl and mix in sesame seeds.  In a separate bowl, whisk together melted butter, maple syrup, and vanilla until combined, then pour wet ingredients into dry and whisk together.
Drain most of the water from the cranberries and add the cranberries to the dough.  Mix together until it forms a thick dough.  If the dough is too dry to press together, add a small amount of the cranberry soaking liquid to the dough to moisten it.  Form the dough into small balls and then flatten into 2 inch disks and place on baking sheet.  Bake for 15-17 minutes, rotating halfway through for even cooking, until cookies are just beginning to turn golden brown.  Great straight out of the oven and several days later!
0