Hey, two months in a row!  Look at me, fulfilling promises and everything.  This month's cookbook is David Leite's "The New Portuguese Table
," a fairly recent compendium of traditional Portuguese recipes with a modern twist.  I've been really looking forward to cooking from this book, as it won a James Beard award in 2010 and has a solid 5 star review on Amazon, with only one negative review in the bunch.  I made three recipes from this book in the past few weeks – cilantro bread soup with poached eggs, white beans and sausage, and black olive risotto – and I hate to say it but I'm not as enthused about the recipes in this book as everyone else seems to be.  The white beans and sausage were good, but not that original – I thought it tasted like regular old chili.  (Full disclosure, I used kidney beans instead of cannellini beans, because I just couldn't find dried cannellini beans.  I went to four stores looking for them.  So the bean substitution probably added to the chili effect.  However, kidney beans and cannellini beans are actually pretty close in flavor, and genetically related, so the major differences caused by the substitution were probably texture and appearance, and not so much flavor.  Also, did you know that kidney beans and cannellini beans are poisonous?  Thanks, wikipedia.  You are so full of knowledge.)  The cilantro soup I did not like at all – its only redeeming factor was the croutons made from Trevor's delicious homemade bread – and I ended up dumping most of the recipe out, as well as not finishing the bowl I brought to lunch the next day.  And it takes a lot for me to throw out food that I really wanted to like.  Maybe I was expecting too much from such a simple recipe, but it was definitely a disappointment.  On the other hand, this black olive risotto – super awesome.  Like decadent grown-up mac'n'cheese with a twist.  I made it twice in one week, and taking the time to make two risottos in one week is big for me.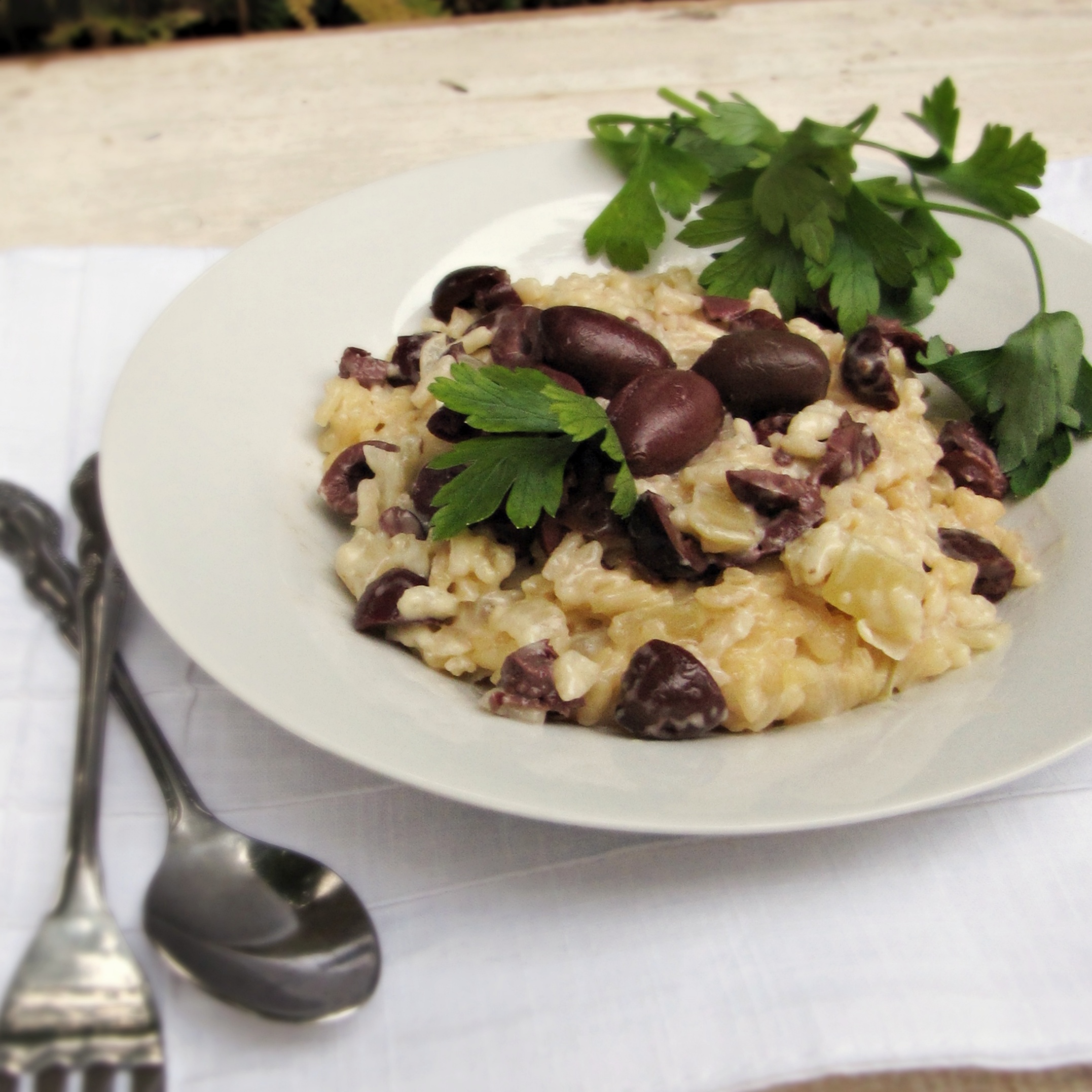 Let me elaborate: this recipe takes your standard risotto ingredients – arborio rice, chicken stock, onion, white wine, and parmesan – adds two special ingredients – black olives and mascarpone – and becomes something super comforting, super creamy, and super delicious.  Trevor's one semi-negative comment on it was that it lacked depth of flavor, which I do sort of agree with – it hits you with creamy, cheesy, and olive-y pretty hard.  But I'm OK with that.  That's kind of what I'm looking for in a comfort food.  And this is definitely comfort food.  So the risotto recipe is a keeper.  But the other recipes I tried?  I probably won't go to the trouble of making them again.  That doesn't mean I've completely given up on this cookbook – I still have a few recipes I'd like to try, like the green olive dip and the rosemary custard – but I will approach future recipes with a more critical eye.  The cookbook itself is very attractive and well laid out, and most of the recipes included sound interesting – many of them are totally new to me, which is always something I look for in an ethnic cookbook.  Overall, I'd give this book 3 and 1/2 stars, with room for improvement if the two not-so-good recipes I tried were just flukes.
Black Olive Risotto
Serves 3.  Adapted from David Leite's "The New Portuguese Table"
1 1/2 c. arborio rice
1 TBS olive oil
1 small yellow onion, diced
5 c. chicken stock
1/2 c. dry white wine
2/3 c. freshly grated parmesan cheese
1/3 c. mascarpone cheese
1/2 c. pitted kalamata olives, sliced
3 TBS minced fresh parsley
In a large, wide saucepan, heat the olive oil over medium heat.  Add the onion and cook until translucent and beginning to brown.  In the meantime, heat stock over medium heat.  Add dry rice to pan with onions and cook for 1-2 minutes, until edges of rice are translucent.  Then add white wine all at once and cook, stirring constantly, until it is absorbed.
Add  ladleful of hot stock to the rice and stir constantly until it has been completely absorbed, about 2 minutes.  Continue adding stock one ladleful at a time and stirring until completely absorbed until the rice is just tender – you should use most of the stock.  If you run out of stock before the rice is cooked, use hot water.  When rice is tender.  Add parmesan cheese, mascarpone cheese, and sliced olives, and stir until cheeses are melted and risotto is creamy.  Remove from heat and serve hot with fresh parsley sprinkled on top.
0