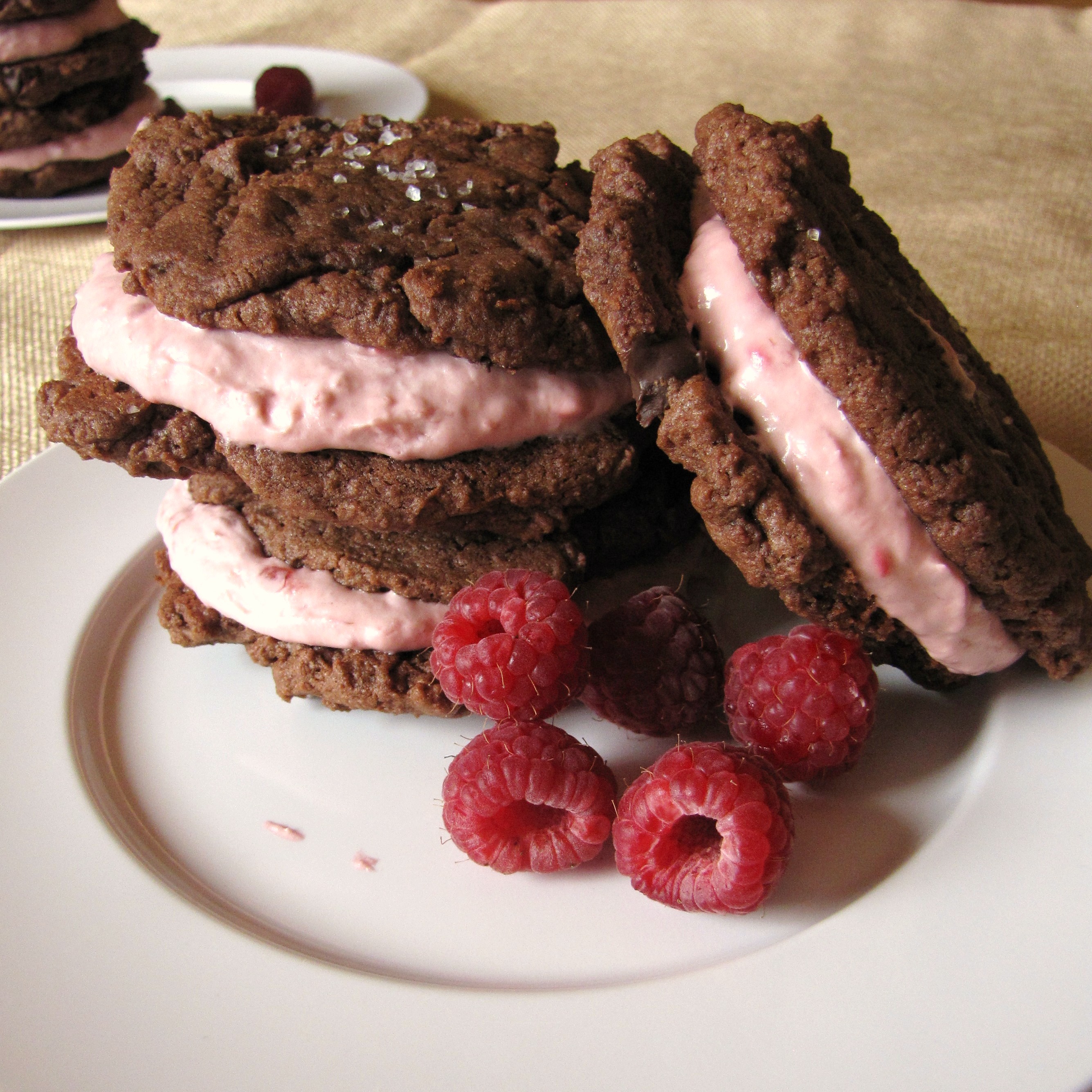 Oh, May.  What a month you were.  I flew six different times in May.  That's a lot of planes.  I also graduated, moved, spent at least 5 hours on hold with U-haul trying to orchestrate said move, hung out in Miami with my dad, hung out in Denver with my cousin, hung out in Boulder with some stellar Ultimate players I know, hung out in Grand Junction with my baby bro, and got pedicures/shot guns with my grandmother within 4 hours of each other.  Busy times, yo.  Hence, not a lot of blogging.  Or cooking for that matter.  Eating, yes.  Cooking, no.
However.  I did take some time to make these super delicious nutella-raspberry mousse hybrid whoopie pie-ice cream sandwich things.  They were kind of an experiment, and an experiment gone right.  See, Ryan and I are still chilling in Colorado, where my Aunt Deanne has very graciously allowed us to use her house (and her car.  I'm totally staying here: everybody spoils me and I have a car to drive with a working suspension system.  Plus my skin loves it here and I can go hiking every day.  Win, win, win.)  So, in a few hour break from Aunt Lynn's wonderful social calendar (God, Lynn, a gap?  You slacker), I decided to make some dessert to bring along to fajita night at Grandma's.  Because spending a few hours baking is super appealing if you happen to be me on vacation.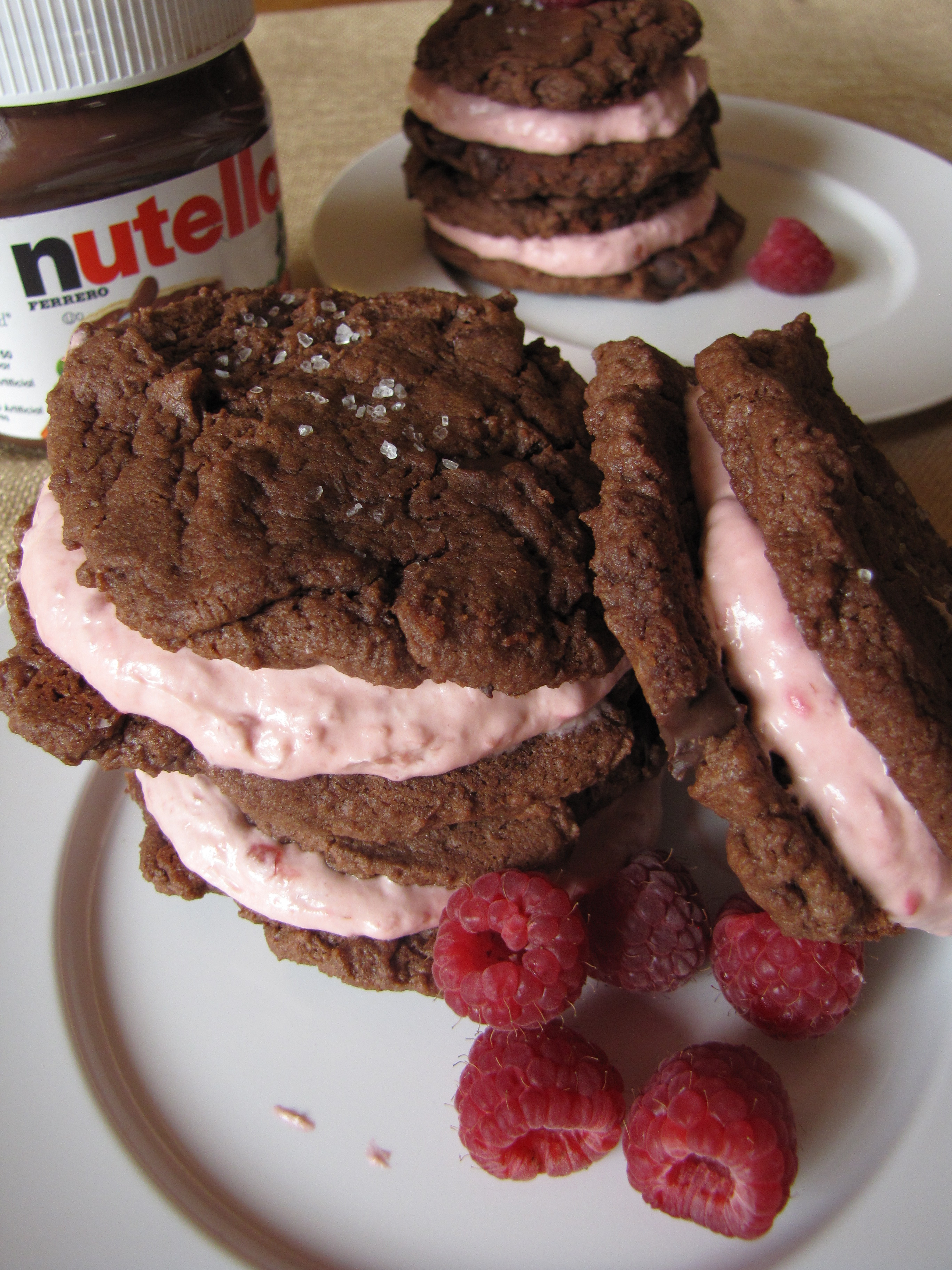 The reasons that the nutella-raspberry combination came about?  One: Ryan and I spent a lot of last week hoofing it from point a to point b with lots of stuff on our backs, and in order to minimize fainting spells due to lack of nutrients as well as overdrafting our bank accounts, we needed snacks.  Portable, cheap snacks.  But, lame, he's allergic to peanut butter, my favorite snack.  So nutella it was.  (As a side note, I just realized that not once in my two years living in my own apartment at Duke did I buy nutella.  Not because I don't love nutella, just because I was terrified of how quickly I would eat it if it appeared in my cupboard.  Is that self-control or complete lack of it?)  Two: raspberries cost $1 here.  This is miraculous to me.  I'm tempted to eat raspberries for every meal just because I will probably never be able to afford this many again.
Not to brag, but these were really pretty awesome.  The cookies themselves – decent.  The mousse – pretty tasty.  Together?  Way better than the sum of their parts.  I love it when that happens.  All of the family members present seemed to heartily approve, although to be fair, half of them were teenage boys.  In any case, I would absolutely make these again.  And again.  They're pretty quick, easy to store in the fridge or freezer, and a good summer crowd pleaser.  And don't worry, Deanne, I stuck four in your freezer as a tiny thanks for your generosity this week.  Also, we didn't kill your fish, so there's that too.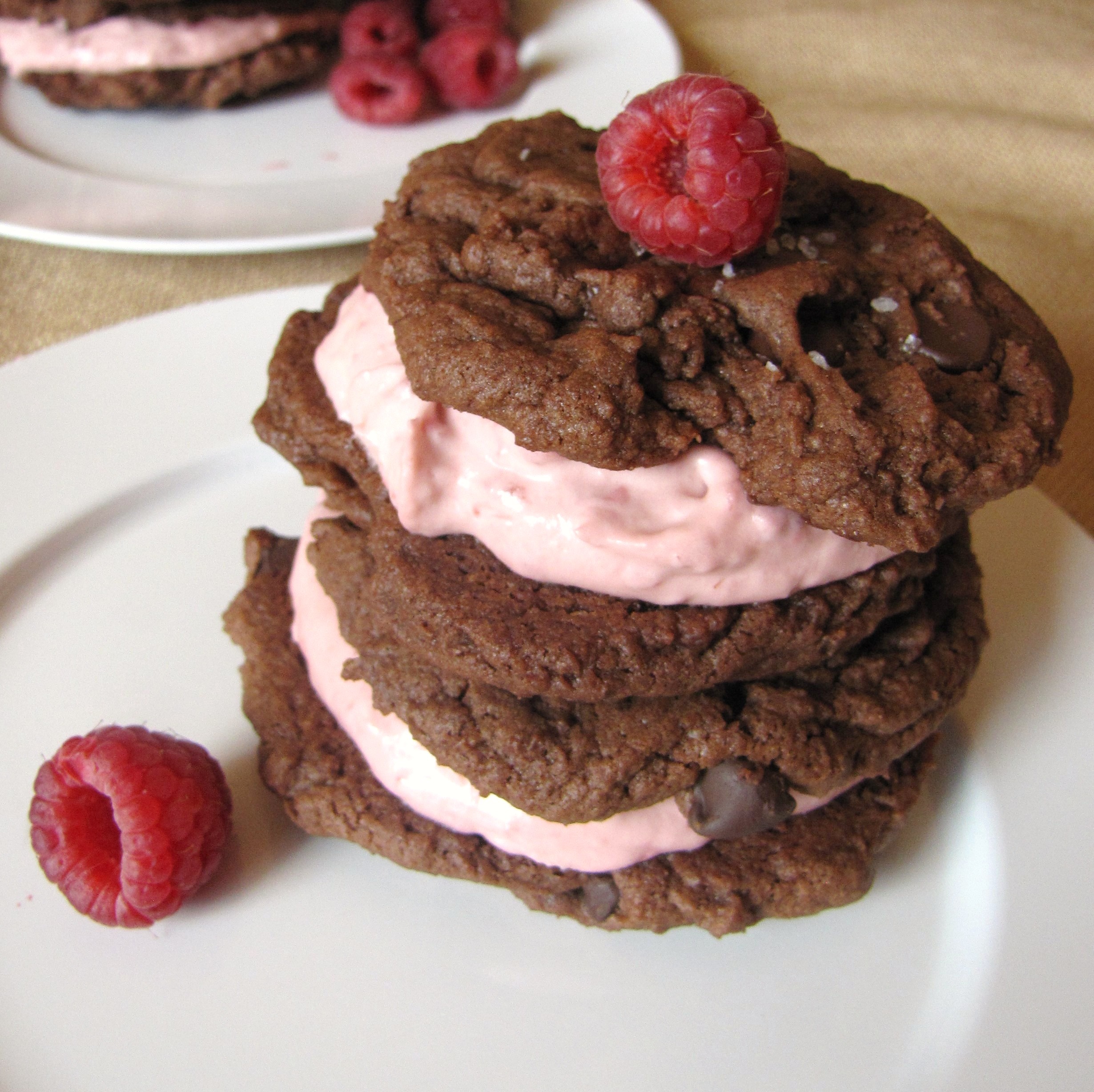 Nutella and Raspberry Mousse-wiches
Nutella cookie recipe from Rock Recipes.  Mousse recipe original.  Makes about 14 sandwiches.
For nutella cookies:
2 sticks salted butter, room temperature
2 c. sugar
2/3 c. nutella
2 tsp. vanilla
3 c. flour
2/3 c. cocoa powder
2 tsp baking powder
2/3 c. milk
6 oz. chocolate chips
sea salt
In a large bowl, cream together butter and sugar until light and fluffy.  Add vanilla extract and nutella and mix until well combined.
In a medium bowl, sift together flour, cocoa powder, and baking powder.  Stir until fully incorporated.  Add flour and milk to nutella mixture in two or three batches – starting and ending with the flour mixture, and stirring to incorporate between each addition.  Add chocolate chips and mix in.  Cover dough and refrigerate for half an hour.
Preheat oven to 325°F.  (340 if you're in Colorado!)  Place spoonfuls of chilled dough on baking sheet and flatten into rounds with your fingers.  Sprinkle a tiny bit of sea salt on each cookie, if desired.  Bake for 11-13 minutes.  Allow to cool slightly on the pan, then remove to a wire rack or plate to finish cooling.
For the raspberry mousse:
1 6 oz. container fresh raspberries, gently washed
1/2 stick unsalted butter
1/3 c. sugar
3 egg yolks, lightly beaten
pinch of salt
1-2 tsp. lemon juice
3/4 c. heavy whipping cream, well chilled
pinch cream of tartar
In a heavy bottomed saucepan over medium-low heat, melt butter.  When fully melted, add raspberries, sugar, egg yolks, and salt.  Stir constantly (to avoid scrambling the yolks) for 10-15 minutes, gently crushing raspberries against the side of the pan.  When custard has thickened and is bubbling gently, remove from heat and allow to cool completely.  Press through strainer if desired (I left mine with the seeds in).  When cool, add lemon juice and stir to incorporate.
In a cold bowl, whip cream and cream of tartar until it holds stiff peaks.  Mix in raspberry custard with a whisk.  Place a heaping spoonful of the raspberry mousse between two nutella cookies.  If serving within a few hours, keep cookie sandwiches in fridge.  If keeping longer, place in freezer, wrapped tightly in plastic wrap.  Allow to thaw 20 minutes before serving.
0