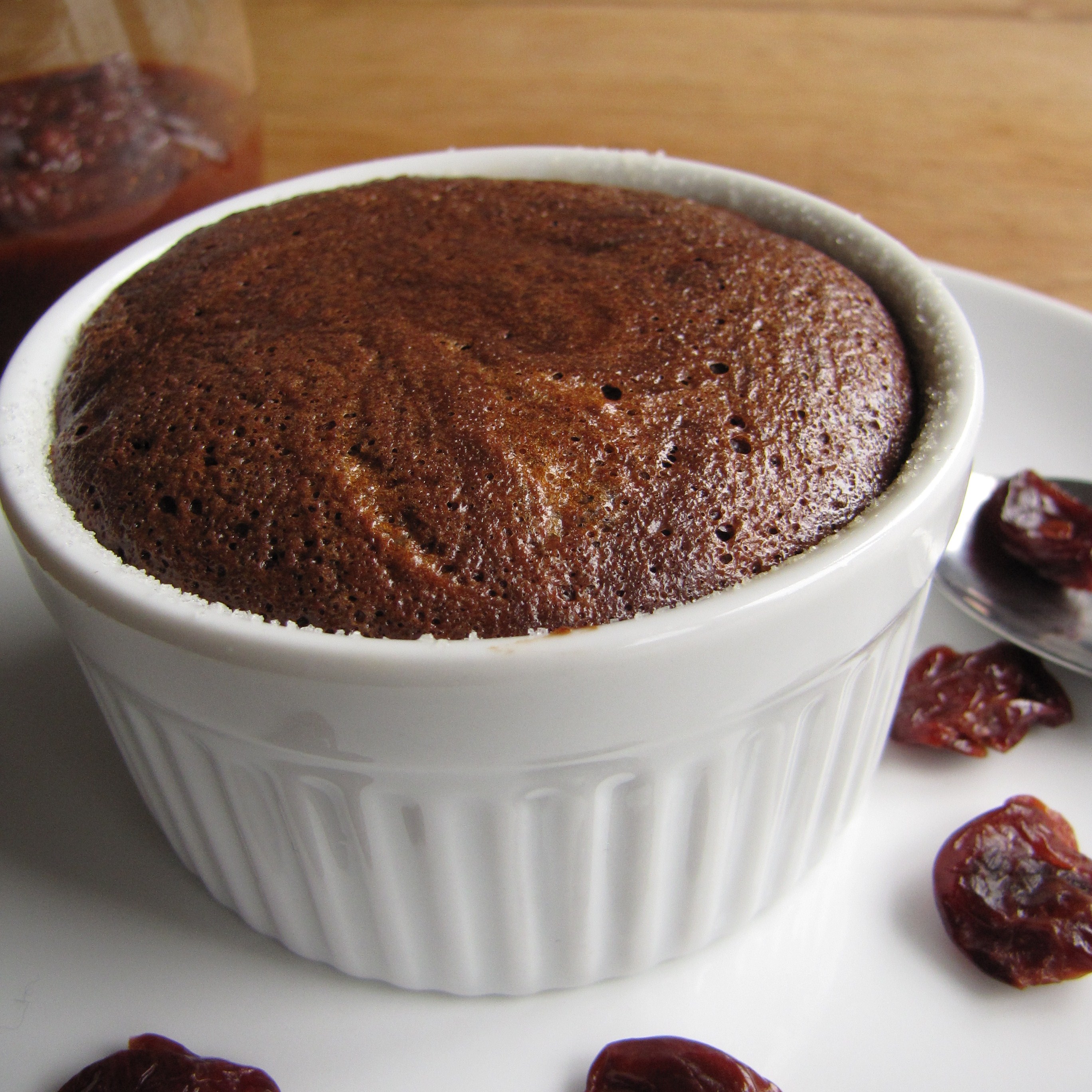 First and foremost,  a huge thank you to everyone who took the time to vote for my entry in round 2!  And a special shout out to my dad and all his soccer buddies, who showed tremendous and immediate support when called upon.  With 94 wonderful people voting for me, I came in 3rd place, solidly placing me in the top 15, meaning that I get to continue with the Ridiculously Delicious competition by re-making one of the other competitor's dishes using 3 of my previously unused ingredients: grains of paradise, dried tepin peppers, juniper berries, coconut sugar, dried cherries, and saffron threads.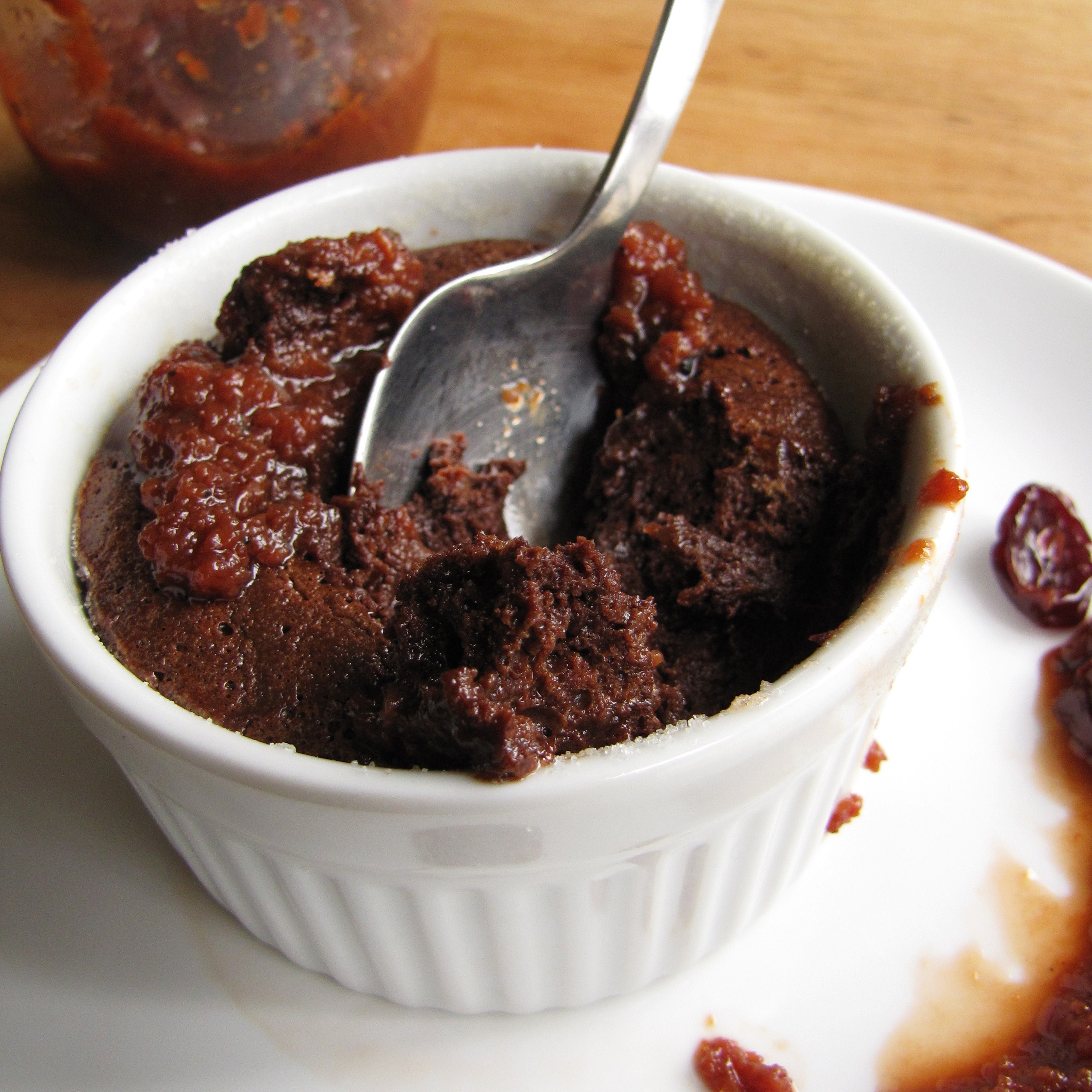 Many of the round 2 recipes looked delicious, with desserts making up about half of the entries.  Since I went savory in round 2, I decided to go sweet with my round 3 entry.  From the sweet recipes, Big Apple Nosh's spicy cherry truffles really jumped out at me.  The most important part to me in the reinterpretation of the dish was to keep the same flavor profile and idea – rich, dense chocolate; tart, bright cherry, and spicy peppercorns.  The integrity and combination of the flavors should stay the same.  The form, however, was up for consideration.  I decided to invert the truffle so that the chocolate was on the inside and the cherry was on the outside – to be more specific, a rich chocolate souffle with a spicy cherry sauce on top.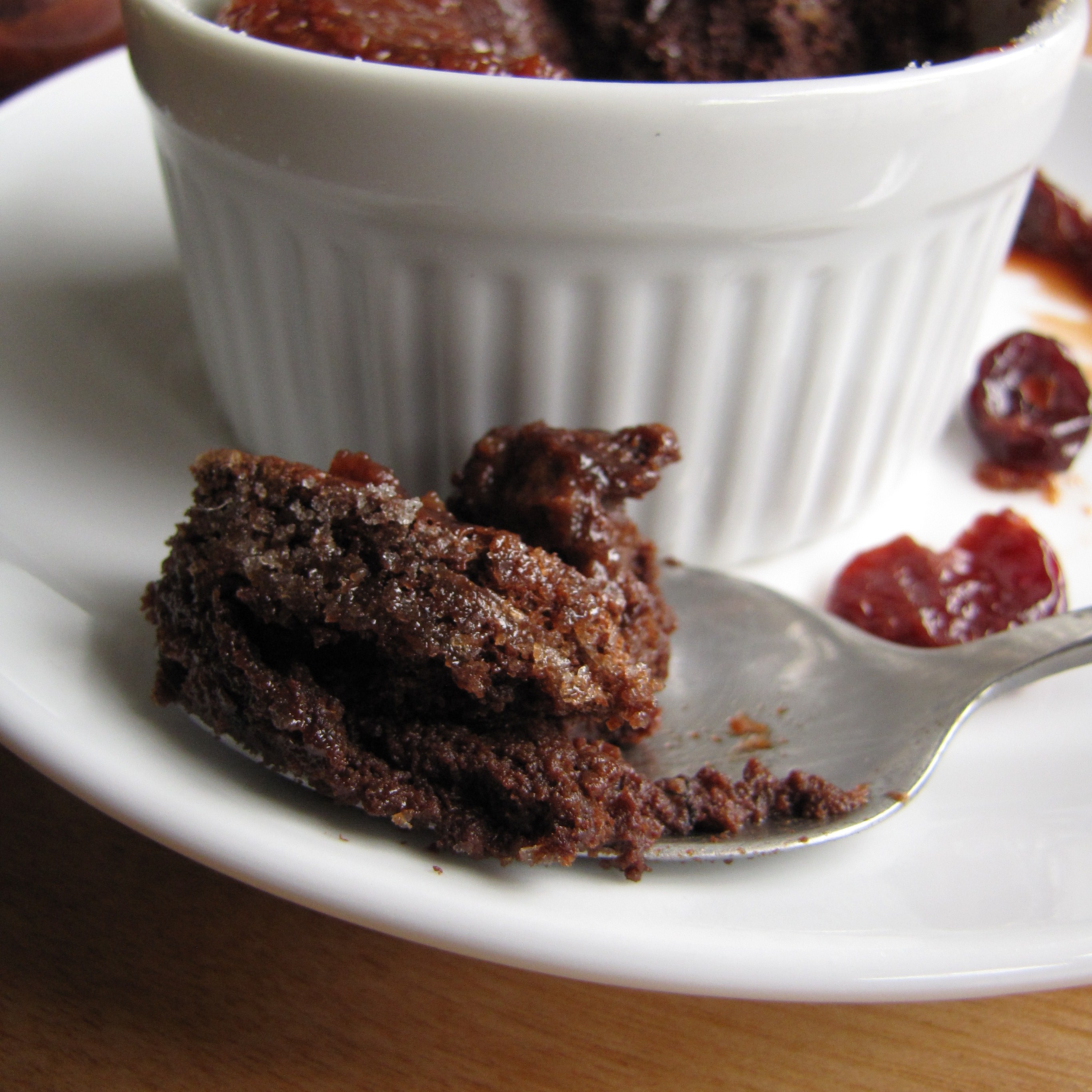 I was surprised by how well this came together.  Usually, the recipes I create myself are good, edible, but lacking finesse, and I've only created a handful of dishes that caused me to reach for the leftovers with enthusiasm.  This sauce, however, was complex, flavorful, and much better balanced than most sauces I throw together.  I had decided to replace the Szechuan peppercorns in the original truffle recipe with grains of paradise to give the spicy component an earthy, herbal note, and they complemented the tart cherries and the slightly coconuty rum quite well.  My only complaint was that the sauce wasn't as smooth as I would have liked it to be, but I think this is mostly the result of having dull blender blades.  This souffle recipe – my go-to for a quick, intensely chocolatey dessert – is fast to throw together and difficult to mess up.  I replaced the granulated sugar with coconut sugar to increase the flavor depth and cut the sweetness, as well as to complement the coconut rum in the cherry sauce.  All in all, a success.  Hopefully the folks over at Marx Foods think so too!
A last note: in order for the contest to work, we were all asked to pick a second choice makeover recipe.  Mine is Cookistry's shallow braised lamb steaks with red wine reduction – I've already imagined a wonderful warm red-wine braised lamb salad with saffron and cherry couscous!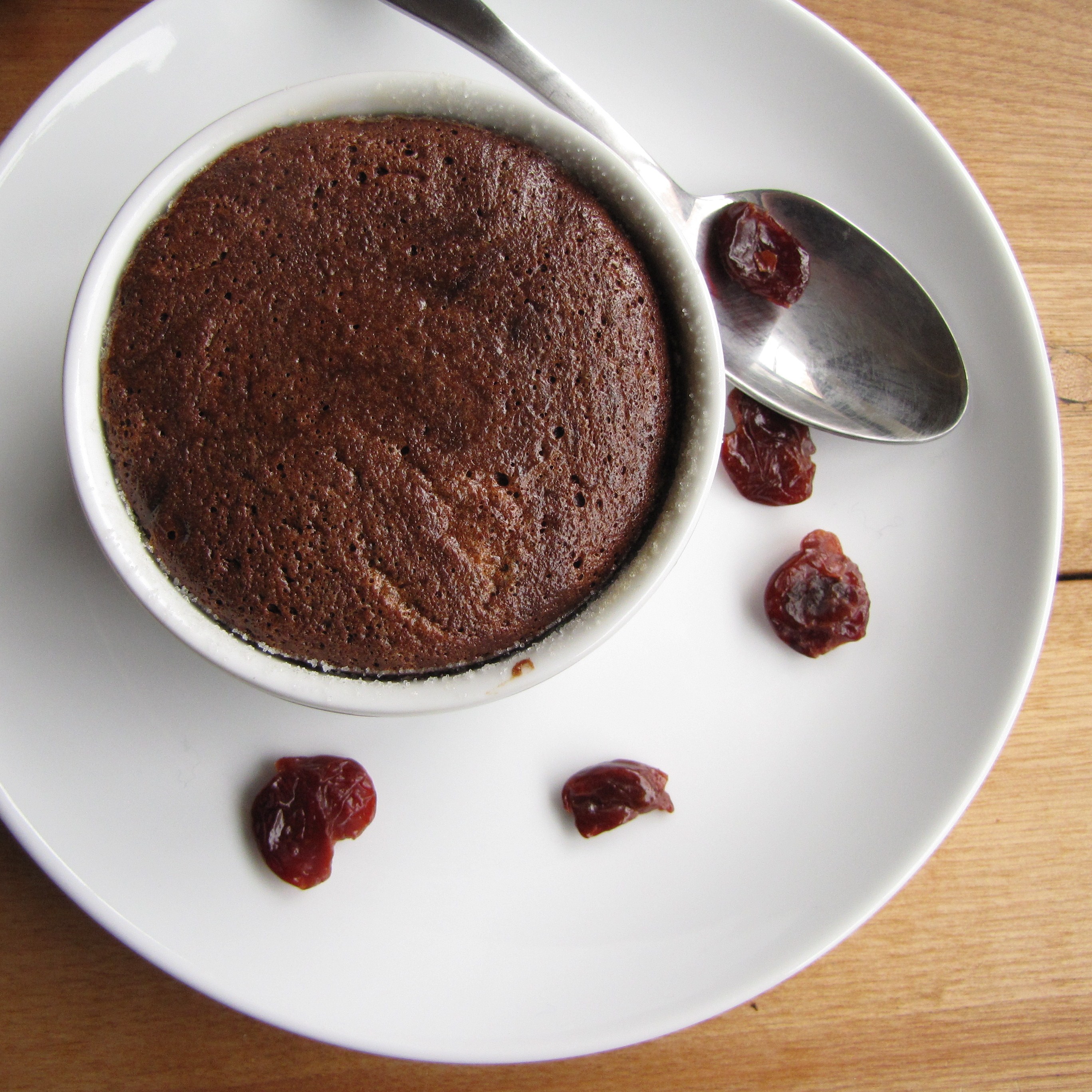 Spicy Cherry-Chocolate Souffles
Makes 4 souffles.  Souffle recipe adapted from Alice Medrich's Bittersweet via Fresh Tart.
4 oz. semi-sweet chocolate
2 tsp. salted butter
3 TBS whole milk
2 large eggs, separated, at room temperature
1/8 tsp. cream of tartar
2 TBS coconut sugar
extra butter and sugar for ramekins
3/4 c. dried tart cherries
1 1/2 c. water
3/4 tsp. freshly ground grains of paradise
2 TBS coconut sugar
1 1/2 TBS coconut rum or regular rum
In a small saucepan, bring the dried cherries and the water to a boil.  Reduce to a simmer and simmer for 8-10 minutes, until cherries are falling apart.  Blend until smooth in a blender and return to low heat.  Stir in coconut sugar, grains of paradise, and rum, and cook for an additional 2-3 minutes.  Remove from heat and set aside.
Preheat oven to 375°F.  Lightly butter four 6-oz. ramekins.  Tap a small amount of granulated sugar into each ramekin, and gently shake so that the sugar coats all edges.  Tap out extra sugar.
In a double boiler, melt chocolate, butter, and milk over gently simmering water, stirring constantly.  When smooth, remove from heat and quickly whisk in 2 egg yolks.  Set aside.
In a medium bowl, beat the egg whites and the cream of tartar until soft peaks form.  Slowly add the coconut sugar, beating all the while.  Beat until stiff but not dry.
Fold egg whites into chocolate mixture in two batches.  Gently spoon batter into each of the ramekins, filling about 3/4 of the way full.  Place ramekins on a baking sheet and bake for 16 minutes.  When they are done they will have risen to the edge of the ramekin or above it, the tops will be beginning to crack, and the centers will still be very moist.  Serve warm with cooled cherry sauce and fresh whipped cream.
0