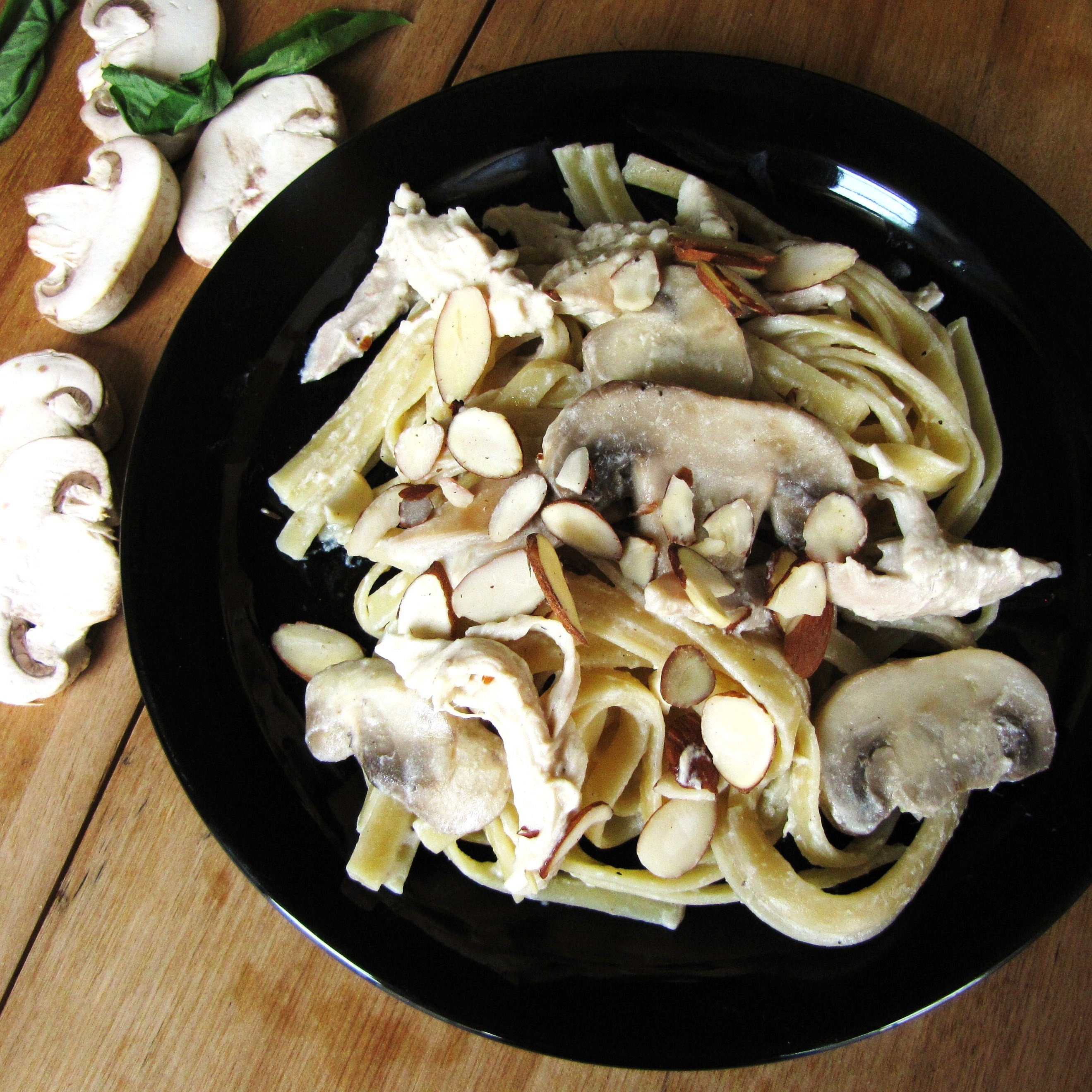 When I titled a post "Rotisserie Chicken Chronicles #1," I had sort of planned on, you know, doing more than one post about rotisserie chicken in the 3 months that followed.  But no, I can't count on myself.  There it is, just the one, lonely chicken post.  Waiting for its insinuated brothers and sisters.  I mean, the first recipe was really, really great, one of the best I've posted.  But the title is still making it feel sort of false.  And my lack of follow-through has been bothering me.  So I'm here to remedy that.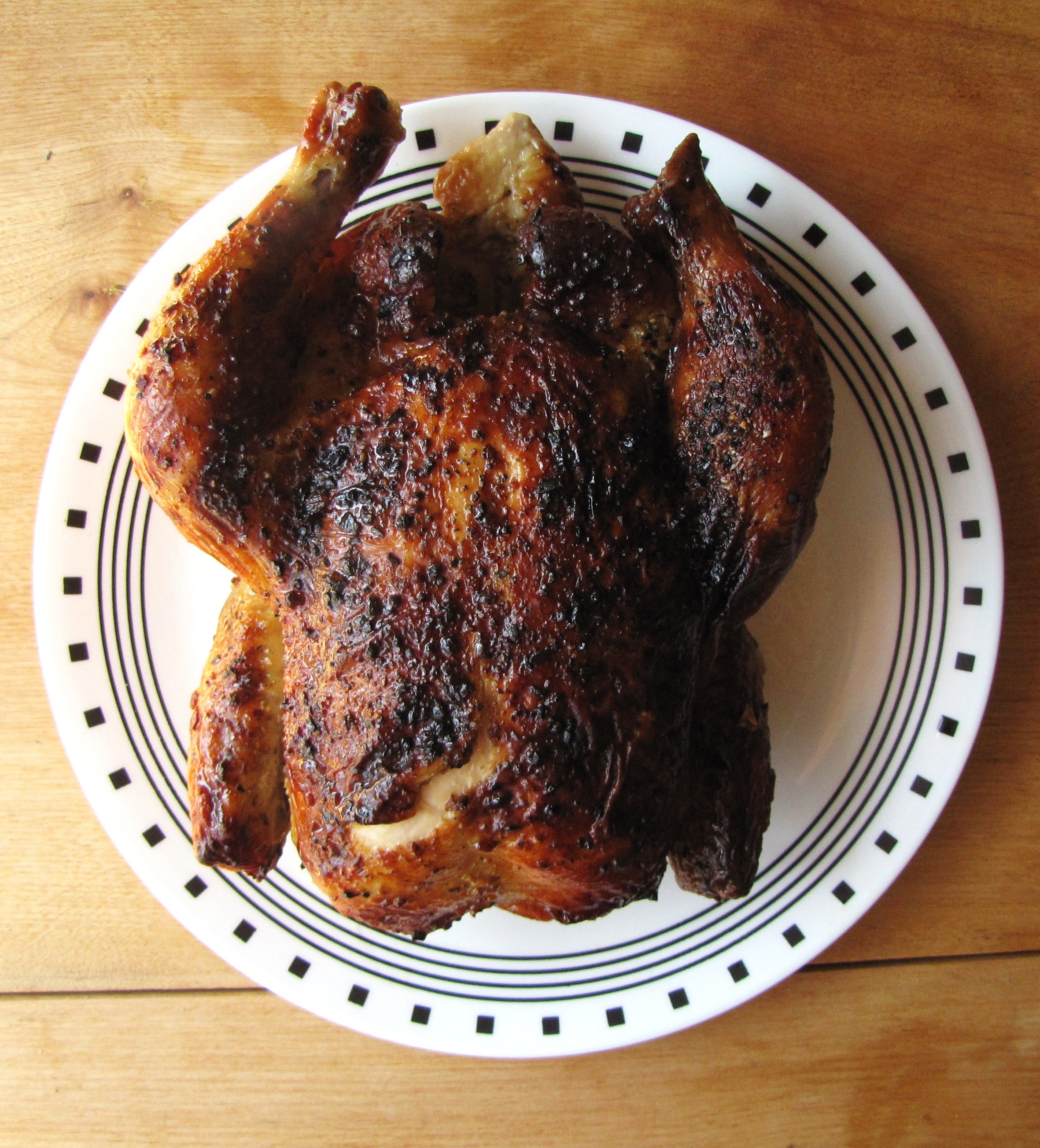 I've actually made several rotisserie chicken dishes since that first one with the intention of blogging about them.  The first was a curried chicken salad layered with yogurt and mango and spiced chickpeas that I made for Becky and Marc and Trevor one night.  I had high hopes for it and it's blogability, but a. we ate it all before I could take any decent pictures, b. it was not particularly attractive, and c. it just wasn't that good.  There was too much going on in it.  And while I admit that I have very infrequently shared recipes I knew were kind of terrible, just because I liked the pictures or had already written the whole post (see disgusting walnut and sweet potato pie, the invention of which I blame completely on Trevor for engaging my apparently tasteless, competitive side), I'm trying to up my integrity level, so it got cut from the rotisserie chicken blog plan.  Then I tried a West African chicken and peanut stew which was easy, tasty, and nutritional, but left me sort of uninspired.  Perhaps if I find a way to give it more oomph it can be, oh, say, Rotisserie Chicken Chronicles #5 in, like, 2014, when I get to that, but for now it's not up to par.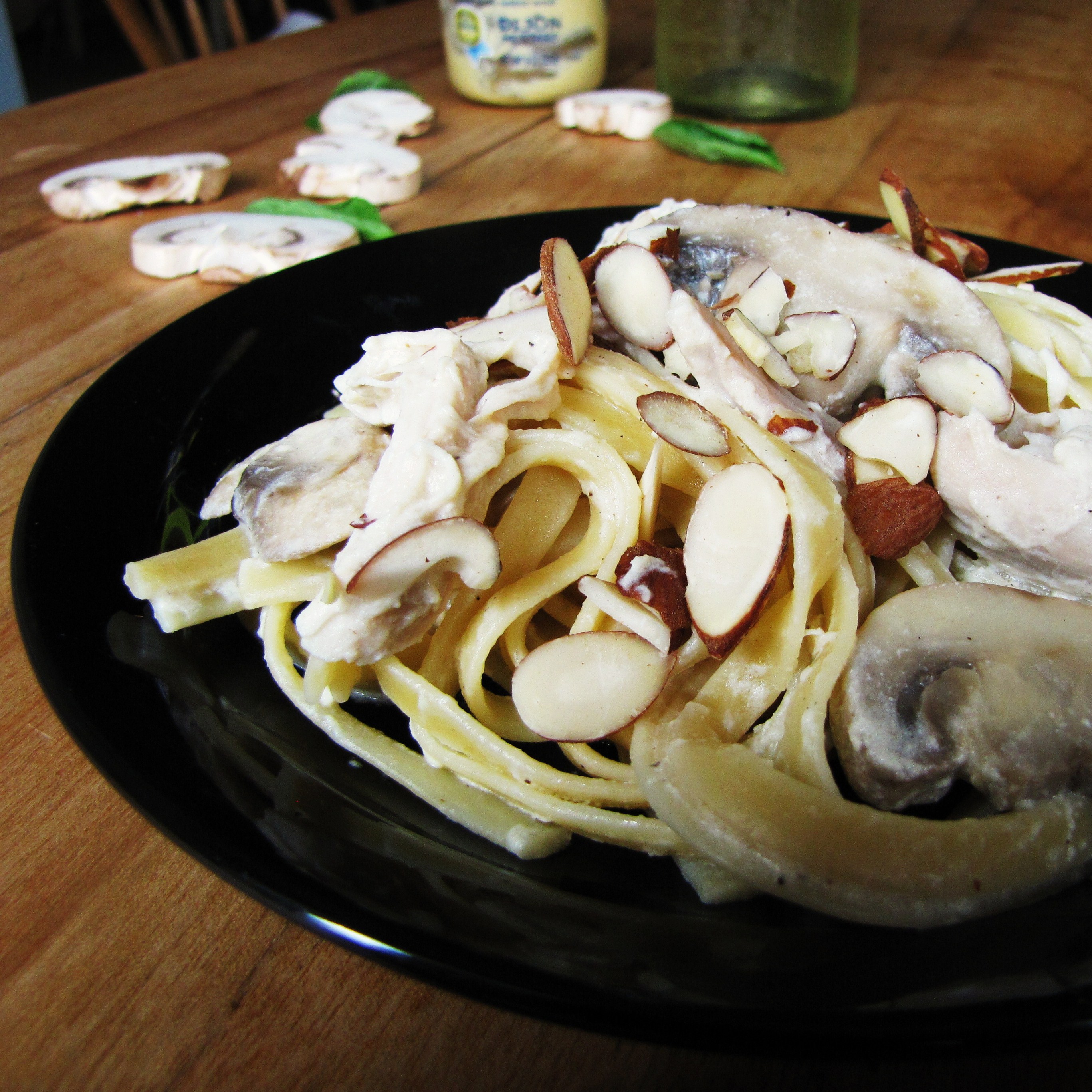 So the other night, while hemming and hawing about possible chicken recipes to try and post, I had this sudden memory of a pasta dish that Trevor and I threw together one night completely on a whim when we got home from the grocery store.  At 10pm.  After 2 full days of lugging boxes up 3 flights of stairs and scrubbing floors and other fun moving activities.  And how completely incredible and creamy and comforting it tasted.  I had not planned for it.  The recipe hadn't been analyzed and re-analyzed.  It did not even cross my mind to blog about it.  But it was excellent, and could even be photogenic, and so the rotisserie chicken #2 dilemna has been solved.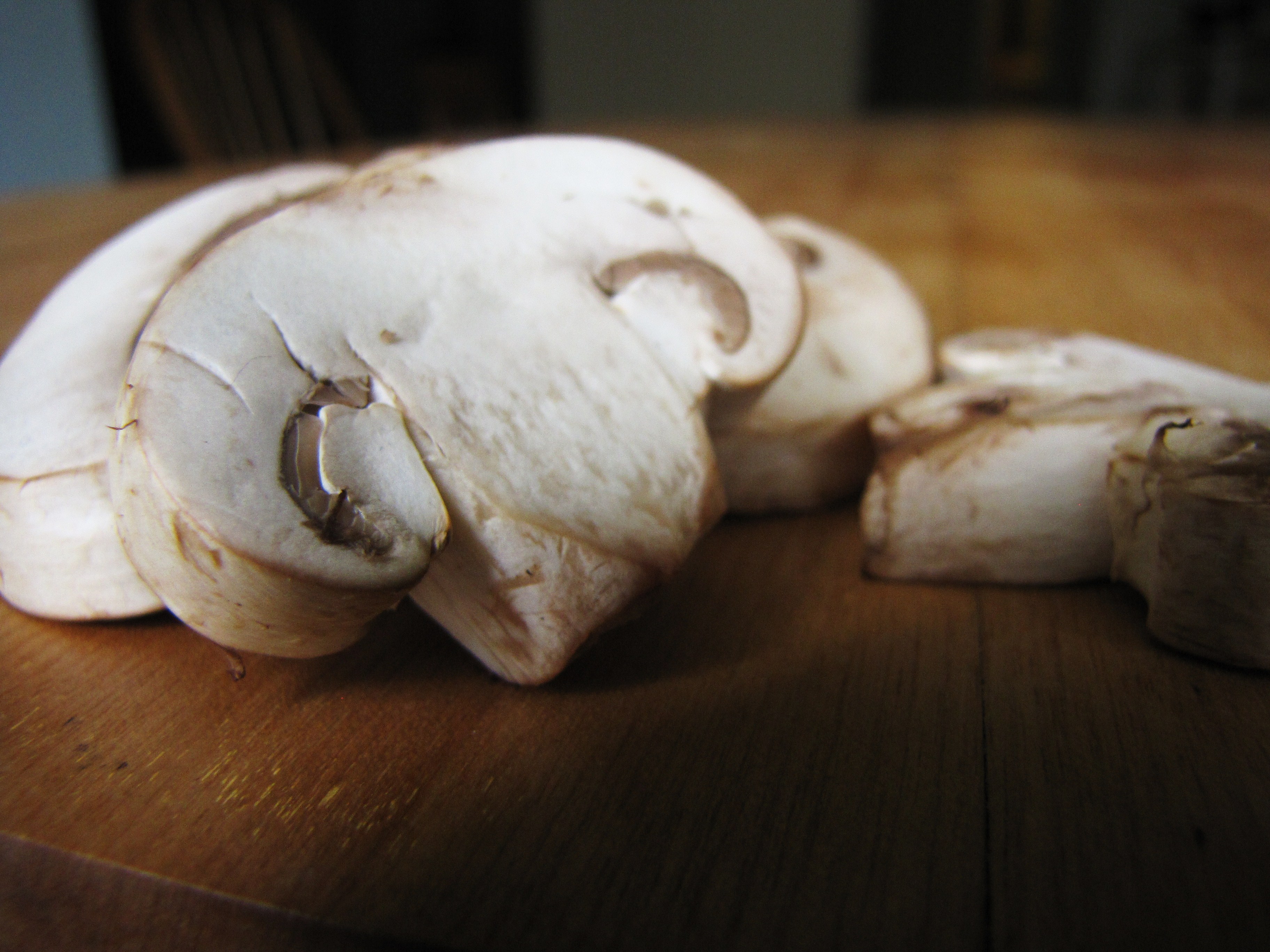 The only challenge in sharing this recipe came when I went to the grocery store Friday morning… and there was no chicken.  I was too early.  The thought that there could be a time when there were no rotisserie chickens in Kroger had never crossed my mind.  So I had to leave without a chicken.  I was despondent.  So despondent that on Saturday afternoon I seriously considered walking the sketchy strip to the grocery store solely for the purpose of getting my chicken, but then I actually didn't leave the apartment all day.  Megan and I were pretty depressed when we realized the door was still dead-bolted from the night before at 4pm.  Saturdays – you win some, you lose some.
Moving forward – Sunday was my day.  Not only did they have chickens at 11 am when I went, the price had gone down from $4.99 to $3.99.  Three dollars and ninety nine cents!  For an entire chicken!  That someone else cooked!  I honestly find this fact so exciting.  I really hope there are other people out there who share my enthusiasm for this form of poultry or I'm going to feel kind of lame.  So I made this chickeny mushroomy mustardy pasta, and it was a success, and I drank my photo-shoot wine at 2pm and felt rather European, and then went on to go hiking and swimming and see a huge poisonous snake and eat a great hamburger and do other things I thoroughly enjoy that have absolutely nothing to do with the upcoming week.  Sundays – you win some.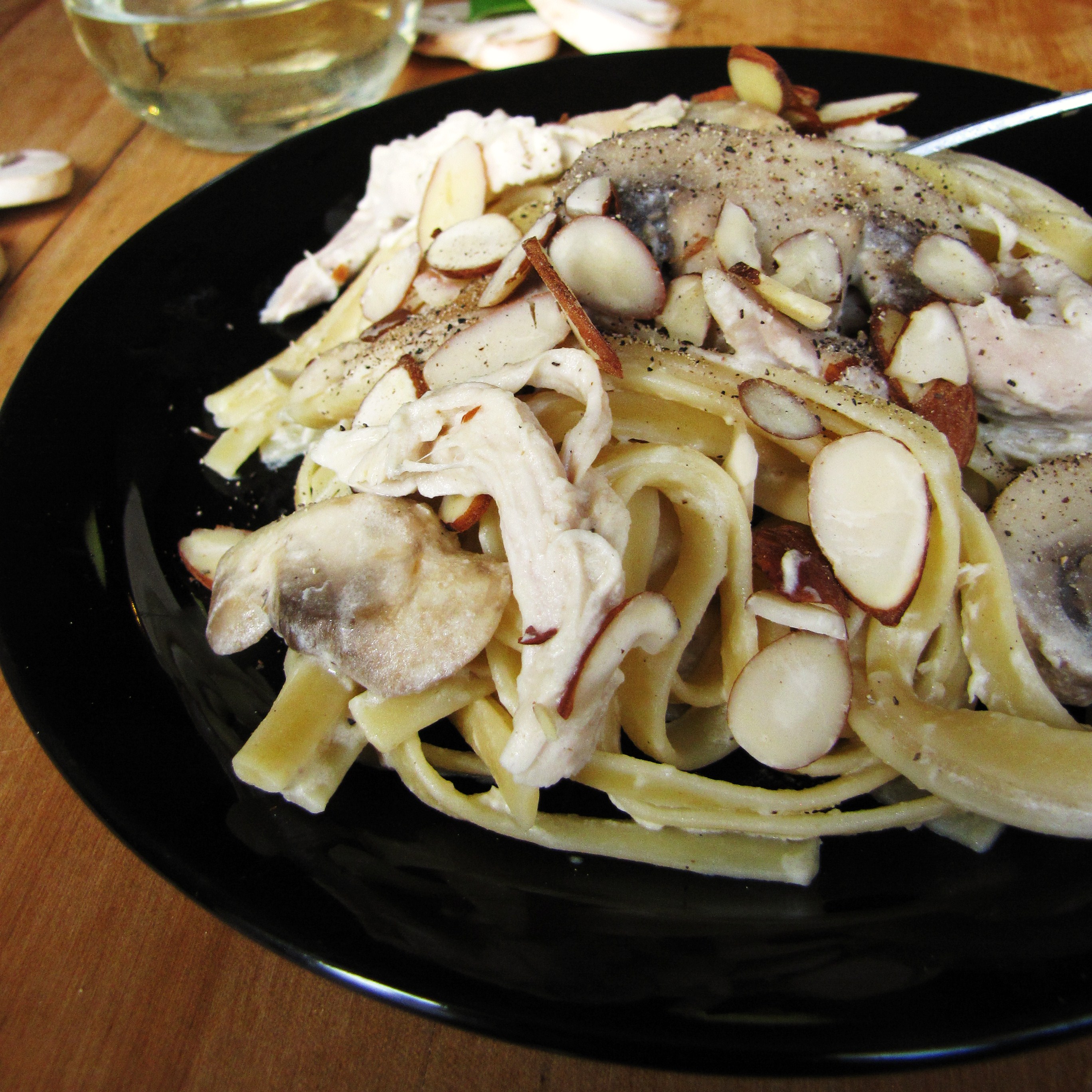 Fettucine, Mushrooms, and Chicken in a Mustard-Cream Sauce
Adapted slightly from Rock Recipes.  Serves 4-5.
3 c. cooked, shredded chicken (from 1 rotisserie chicken)
1 lb fettucine, cooked according to package directions
1 TBS olive oil
1 TBS minced garlic
1 1/2 – 2 c. mushrooms, rinsed and sliced
1 1/2 c. heavy cream*
3 TBS mustard
3/4 c. white wine
salt and pepper
slivered almonds
In a large saucepan, heat olive oil over medium heat.  Add mushrooms and sautee until they are beginning to brown.  Add garlic and sautee for another 2 minutes.  Add heavy cream and mustard, stir until cream is heated through and mustard is fully incorporated.  Add white wine, and simmer gently, stirring, until sauce has thickened to desired consistency.  Add chicken and heat through.  Season with salt and pepper.
Serve sauce over prepared fettucine.  Top with freshly ground black pepper and slivered almonds.
* I have successfully used half in half in this recipe in place of the cream.  Towards the end of the cooking process I added 1/2 TBS of butter mixed with 1 TBS flour to the sauce in order to thicken it to the consistency it would have been with cream.
.
.
Rotisserie Chicken Chronicles #1 – Asian Pesto Chicken Salad
Rotisserie Chicken Chronicles #2 – Fettucine, Mushrooms, and Chicken in a Mustard Cream Sauce

0