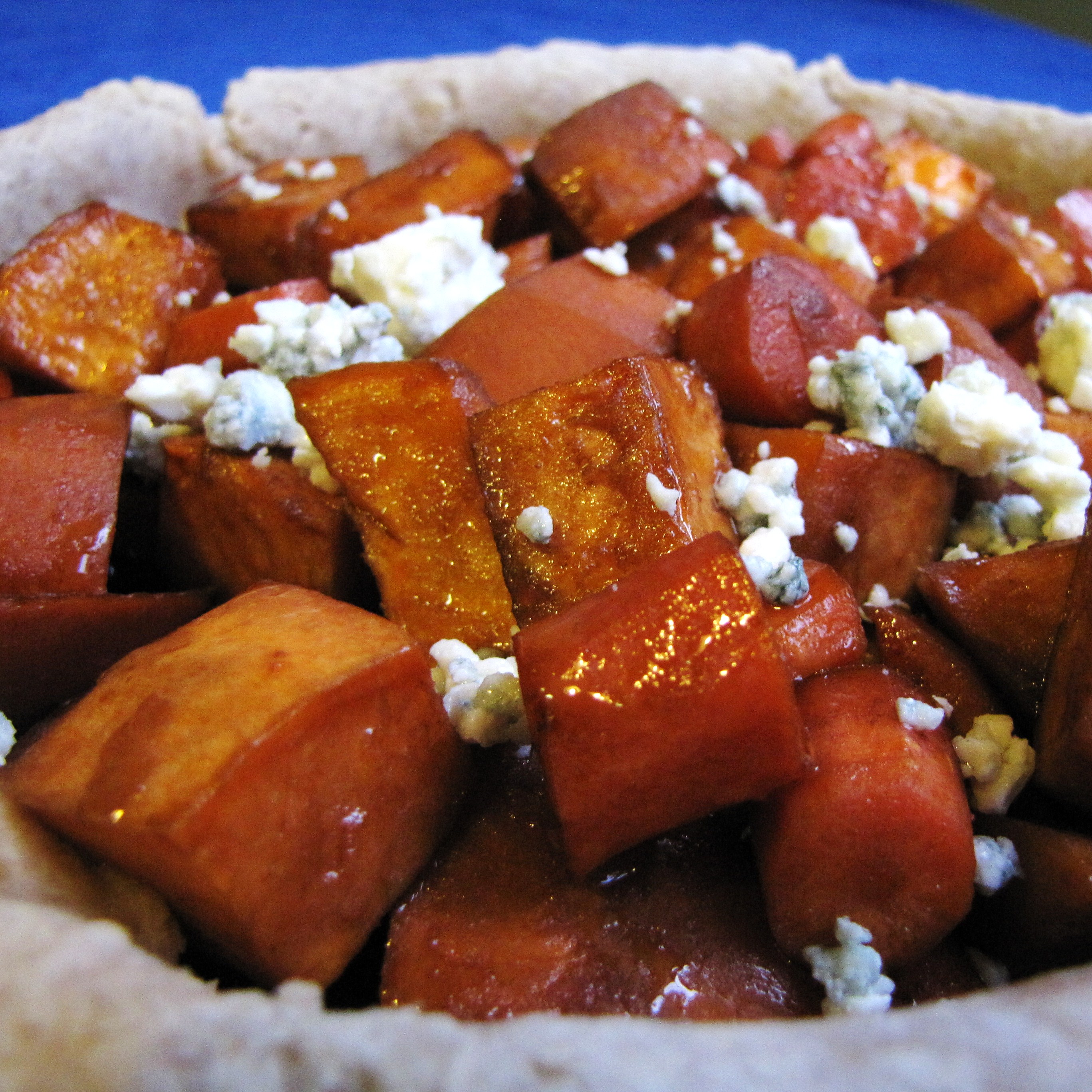 I'm doing a cleanse.  It's called "the empty pantry cleanse for those without vehicles," and it is generally not completed by choice.  The ingredients allowed in this particular cleanse are carrots, canned beans, lentils, dry grains, and flour/butter/eggs/vanilla/other baking ingredients that rarely disappear completely in a one person household.  So, you might argue that this cleanse is a lot less strict than the lemon juice and cayenne pepper "Master Cleanse," but it also takes a whole heck of a lot more creativity than it does to mix the same four ingredients together for every meal for 2 weeks.  (Why on earth would someone think that was a good idea?)
Since malnourishment makes me prone to whining to Trevor (as does over-nourishment and a regular level of nourishment), he knows all about the depleted state of my kitchen.  And so, mid-whine, he challenged me.  You see, I left out one, very key, ingredient that I still hold in my fridge – two sweet potatoes.  Sweet potatoes are sort of a miracle food.  They can be the star of something sweet, or something savory.  Pair them with black beans and avocado and you've got southwestern comfort.  With chickpeas and cumin and you're happily on your way to a middle-eastern delight.  With gorgonzola and sage and Italy is yours for the taking.  With marshmallows and brown sugar and you've probably created the quintessential American holiday dish.  So basically, if you've got sweet potatoes, you probably shouldn't be complaining that you're going to shrivel up and die before your boyfriend arrives with your parents' gas-guzzling monster car that they are very kindly letting you borrow for the summer in a week.  Besides, real cleanses (see: Glamour, Self, Women's Health) use them all the time.
The specifics of Trevor's challenge where this: use the sweet potatoes and the carrots in a tart that doesn't have an egg filling (i.e. quiche is cheating.)  Don't use recipes.  Make it delicious.  Don't tell anyone I'm associated with this (muahaha).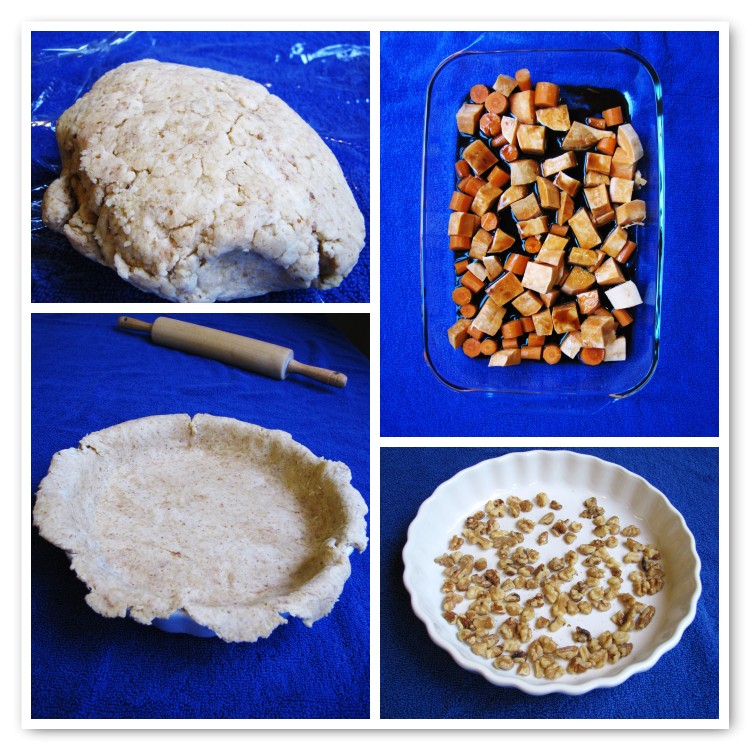 This is what I came up with: diced carrots and sweet potatoes glazed with a balsamic reduction, roasted, and baked into a walnut tart shell along with some gorgonzola cheese.  And how do I feel about it?  I am eating it.  It tastes good and is very flavorful.  I'm moderately convinced it's good for me.  I would eat it again, although I think I would make it as a pot pie instead.  I wish the walnuts had come through more, so I might play with that next time.  And the last minute addition of a gorgonzola-brown-sugar topping really kicked it up a notch.  You should try it and let me know what you think.
To end on a fully positive note, I would like to admit that it's actually been sort of a fun challenge, cooking with such a limited inventory.  Tuesday brought about a warm and spicy black bean soup, Wednesday produced this pea and barley risotto, today featured this tart, of course, and tomorrow… will probably involve half a can of refried beans and some canned peaches, but hey, I've done pretty well.
If you try this, or have any thoughts on possible modifications, let me know!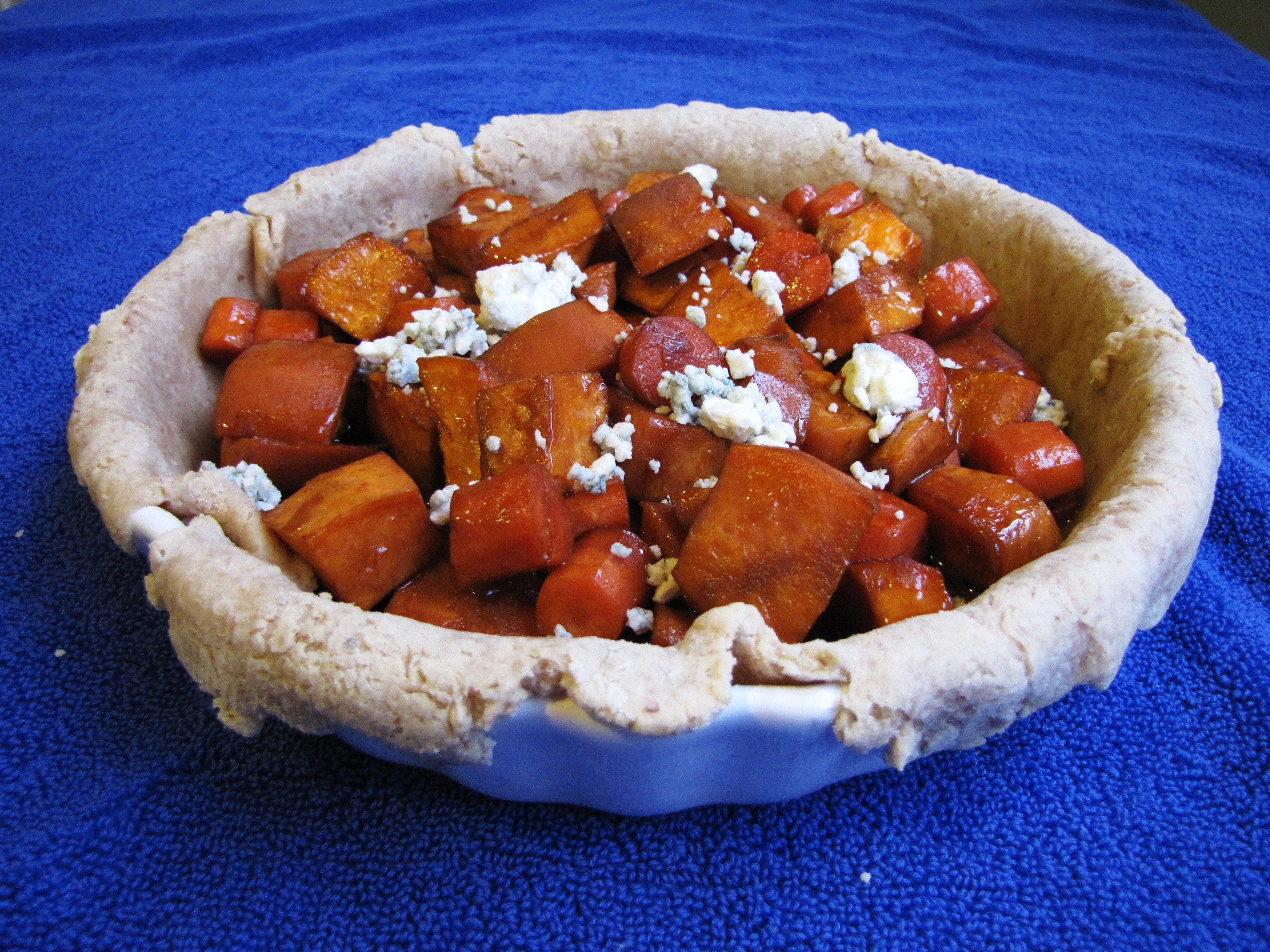 Balsamic Sweet Potato and Walnut Pie
(Original recipe.  There's carrots in it too, but I couldn't bring myself to put carrot and pie in the same sentence.)
For the crust:
1/2 c. walnut pieces
1 c. flour
1/2 tsp salt
1/2 tsp cinnamon
3 TBS butter, cut into pieces and chilled
6-8 TBS cold water
Preheat oven to 400°F.
Toast walnut pieces in pan over medium heat, or in preheating oven in pie dish for 5-7 minutes, until fragrant.
In a food processor, pulse together flour, toasted walnuts, salt, and cinnamon, until blended.  Add cold butter and pulse into mixture is mealy, with pea-sized chunks.
Transfer flour mixture to large bowl, and add chilled water 1 TBS at a time, stirring gently with a fork after each addition.  Add water until dough comes together to form a loose ball.
Wrap dough in plastic wrap and chill for at least half an hour.
Roll dough out to 1/4 inch thick on lightly floured surface.  Transfer crust to pie plate, and bake for 10-15 minutes.  No need for foil and pie weights; the walnuts make the crust dense enough that it doesn't bubble.
For the filling:
1/3 c. balsamic vinegar
1/3 c. red wine
1 TBS honey
1/2 tsp. kosher salt
1 TBS butter
7-10 medium-large carrots, peeled and cubed
1-2 sweet potatoes, peeled and cubed
2 TBS olive oil
1/3 c. gorgonzola cheese crumbles
2 TBS brown sugar
In a small saucepan over medium-high heat, bring vinegar, red wine, honey, and salt to a boil.  Simmer, stirring frequently, for 8-12 minutes, until it has reduced to about 1/2 c. and is slightly thicker.  Add butter, continue to cook for one minute, and remove from heat.
Place prepared sweet potato and carrot chunks in a large roasting pan.  Drizzle with olive oil and vinegar reduction.  Stir to coat.
Roast vegetables (400°F, from pie crust step) for 45-60 minutes, until fully tender, stirring halfway through to prevent burning.
When vegetables are done, remove and place in pie crust, draining excess liquid (don't put the extra vinegar in your pie or it will disintegrate).  Sprinkle with gorgonzola and brown sugar, and return to oven for 5-10 minutes, or until cheese and brown sugar have melted.
0