Warm goat cheese has a special place in my heart. Actually, all goat cheese is pretty wonderful in my opinion. One day I'm going to open a restaurant where every dish includes goat cheese and it's going to be wildly popular. Just a heads up. But warm goat cheese is special. It's special because it's soft and melty and a little bit sweet and creamy and blissful.
Last May I spent two weeks in France with Trevor. We only went out to dinner twice due to the budget constraints of regular 20 year old people, but the night we went out in Paris was perfect. Duh, it's Paris. The most memorable thing about the restaurant was the appetizer we split – chevre chaud with fig jam. Chevre chaud is basically warmed goat cheese on slices of toasted french bread, but it's not just warm cheese. It's perfect cheese – brown and a little crusty on the outside, smooth and melty on the inside. With the crunch of the bread and the sweet complexity of the fig jam it's miraculous.
We have tried several times to recreate the toasts exactly, with not that much success. However, David Leibowitz includes a recipe for a Chevre Toast Salad in his book "The Sweet Life in Paris" which almost made the cut (only "almost" because I don't know if anything I eat in real life will ever match the memory of that meal). He has you broil thick rounds of cheese on slices of bread until the bread is starting to blacken and the cheese is just starting to brown on the top and sides. So I did this. I used two slices of roasted garlic bakery bread and four 1″ thick rounds of Montchevre, broiling them on high for about 10 minutes. I served them on some hearty lettuce tossed with a homemade raspberry vinaigrette, and c'etait tres bien.
Chevre Chaud Salad with Raspberry Vinaigrette
by David Leibowitz and France and Me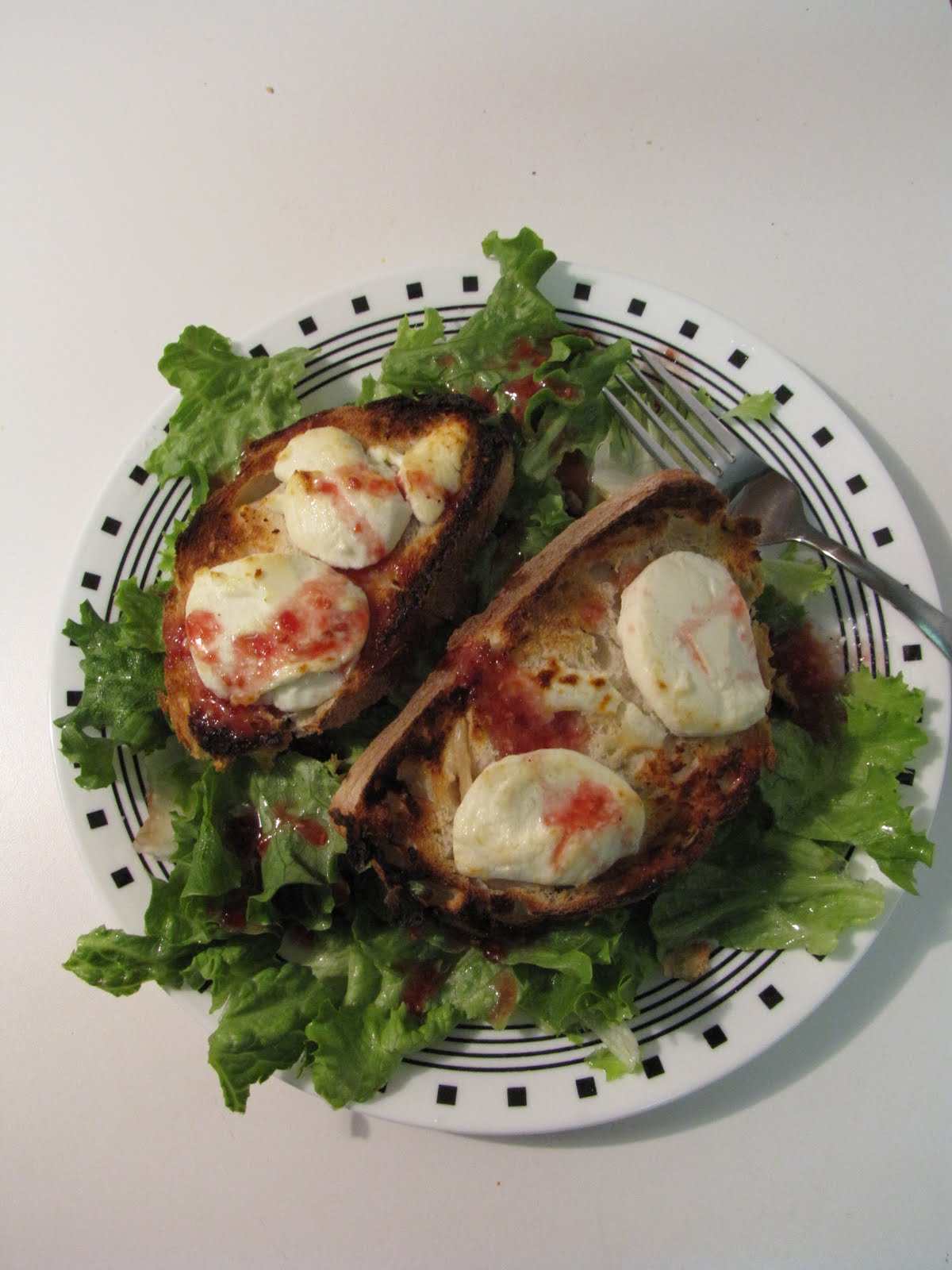 2 slices good bread
3 oz. goat cheese rounds
1/2 small head of lettuce
3 T good raspberry jam*
1 tsp. dijon mustard
3 T canola oil
3 T red wine vinegar
1 T lime juice
1 T honey
1/2 tsp black pepper
Top two thick slices of bread with two goat cheese rounds each. Broil on high for 8-10 minutes, keeping a close eye on them so they don't burn.
Wash, dry, and tear lettuce.
Whisk dressing ingredients together. Toss half of dressing with lettuce. Save the rest for tomorrow. Put goat cheese toasts on top. Yum.
* good raspberry jam always has seeds – don't question it.
0