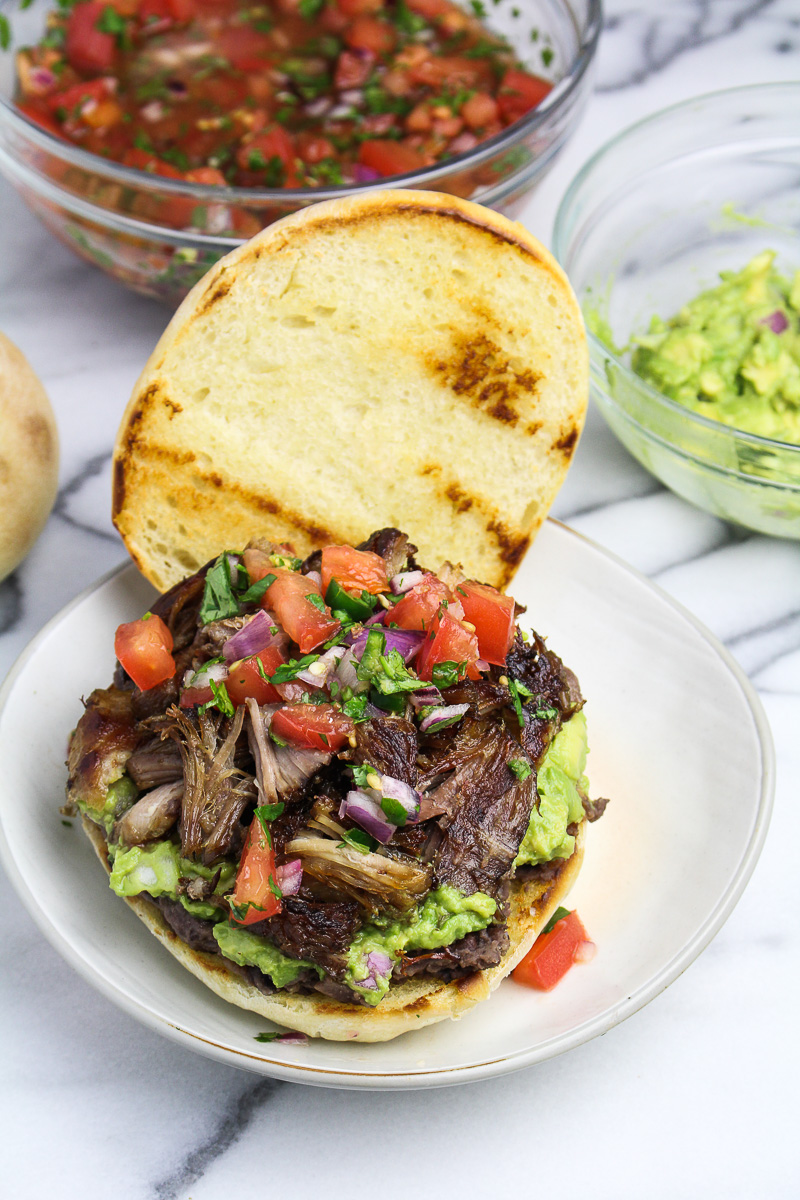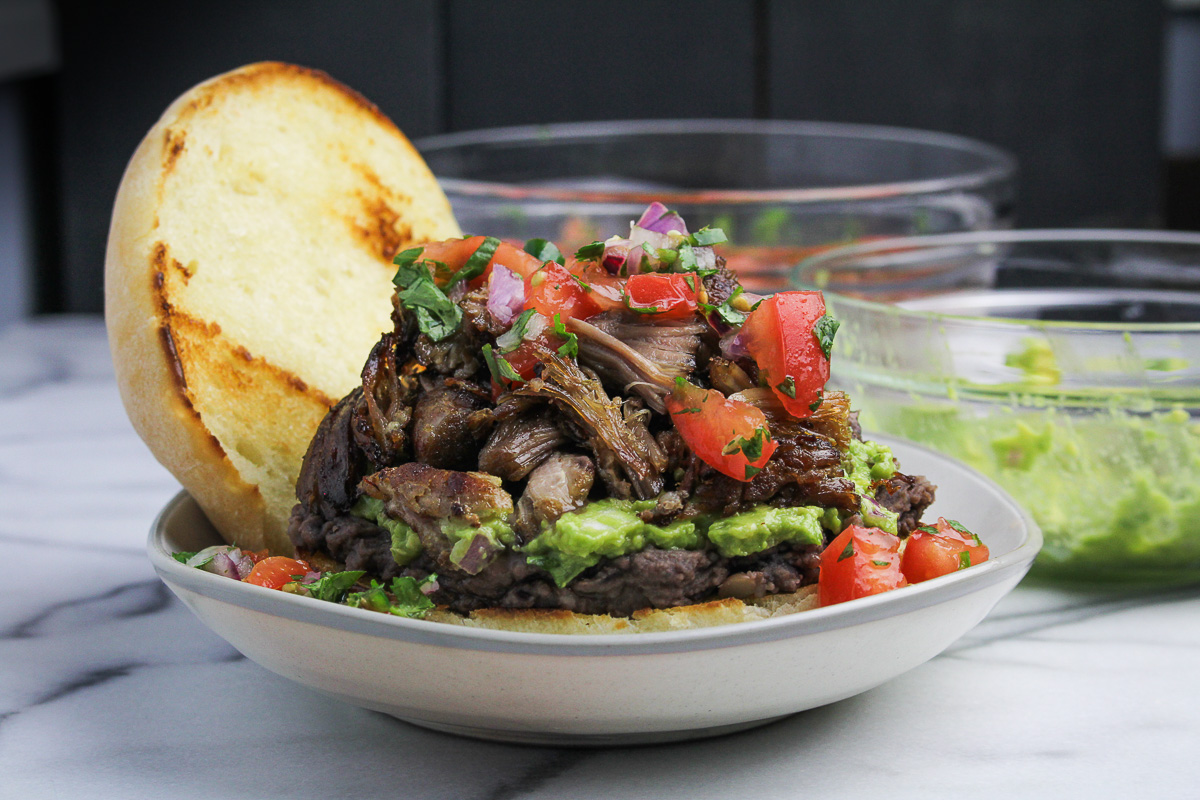 June has proved itself to be a serious test of my tolerance for both drinking and socializing. It started with our 10-year high school reunion, progressed into a work offsite, and is culminating in a trip to Iceland with my girlfriends. After more beers than I've had since college, my body hates me and so does my wedding dress. It's been good for my soul, though, full of enriching conversations and laughter and long nights enjoying the perfect June weather.
Reunion in particular was a whirlwind. Trevor and I both went to Andover, and our reunions are a weekend-long marathon. Friday night was a bit awkward – lots of "hey! So what do you do now?" conversations and liquid courage courtesy of Sam's car bar. But by Saturday, everyone had slipped right back into their old friendships. We spent the day playing flip-cup and slosh-ball and hanging out in an old soccer field on the edge of campus. This morphed into dinner and dancing and 3-am lawn hangouts before we stumbled home. With very little recent practice for this sort of all day event, I'm amazed at the stamina we brought to the table – 28 and going strong.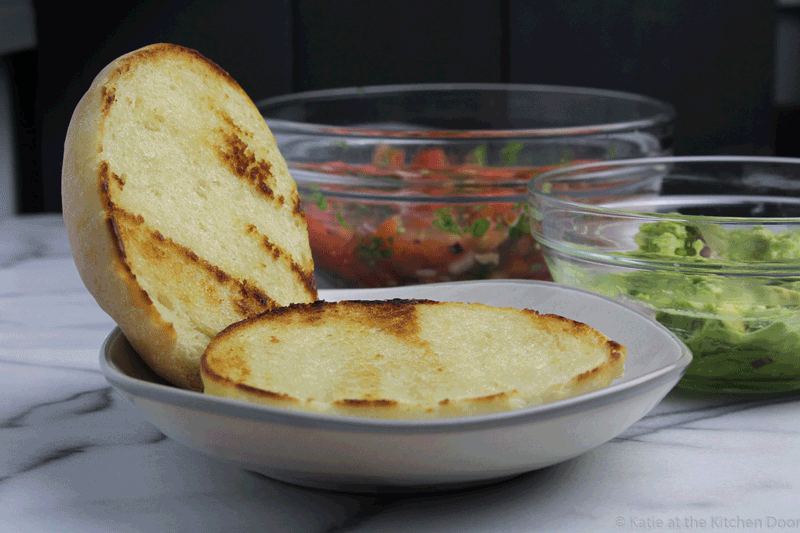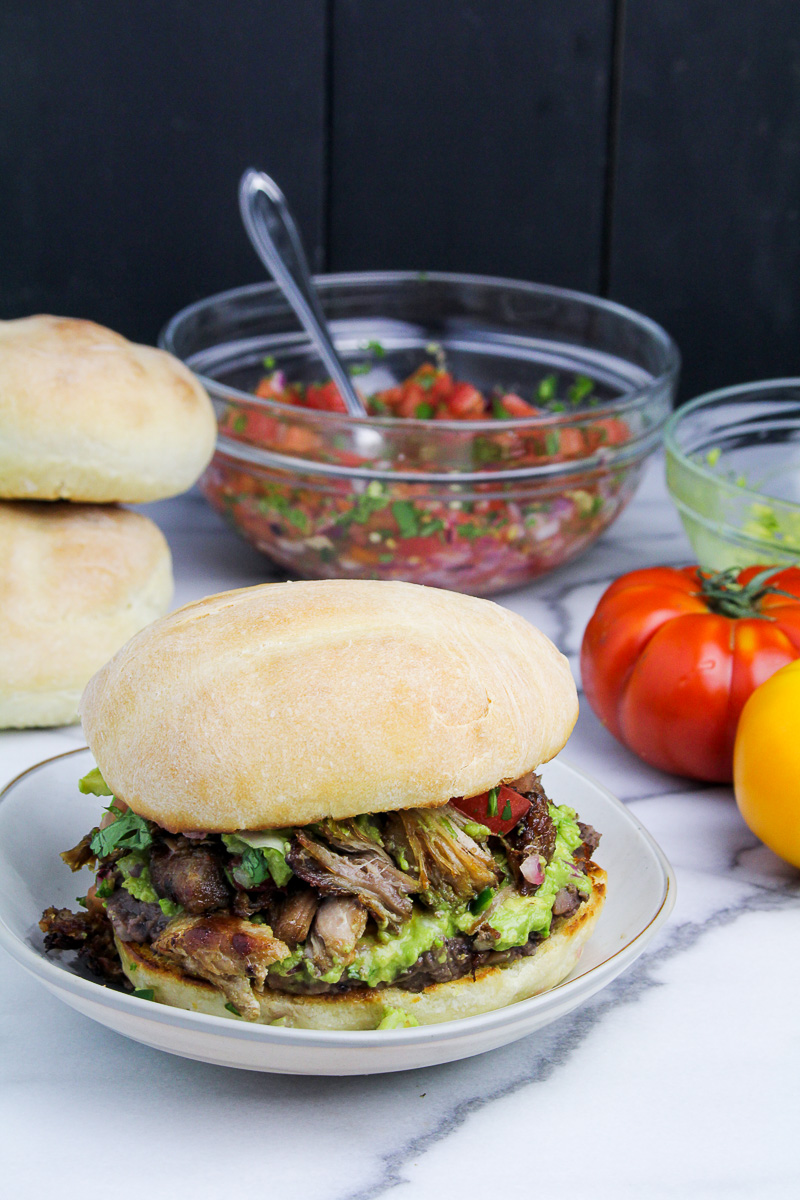 On Sunday morning, after we groggily hugged our friends (and my amazing parents who let us take over the house all weekend) and slowly drove ourselves back home, we needed grease. Grease and HBO. There are only 3 or 4 restaurants within walking distance of us that are any good, but thankfully one of them is Tenoch. Tenoch is a small fast-food style restaurant that makes the most incredible tortas, griddled Mexican sandwiches. A torta usually consists of a big squishy bun called a telera, slow-cooked meat, a spicy sauce, refried beans, avocado, something bright and pickle-y like pico de gallo or pickled onions, and melted queso fresco. Basically it has all the elements of a taco but with a larger volume of filling and more carbs.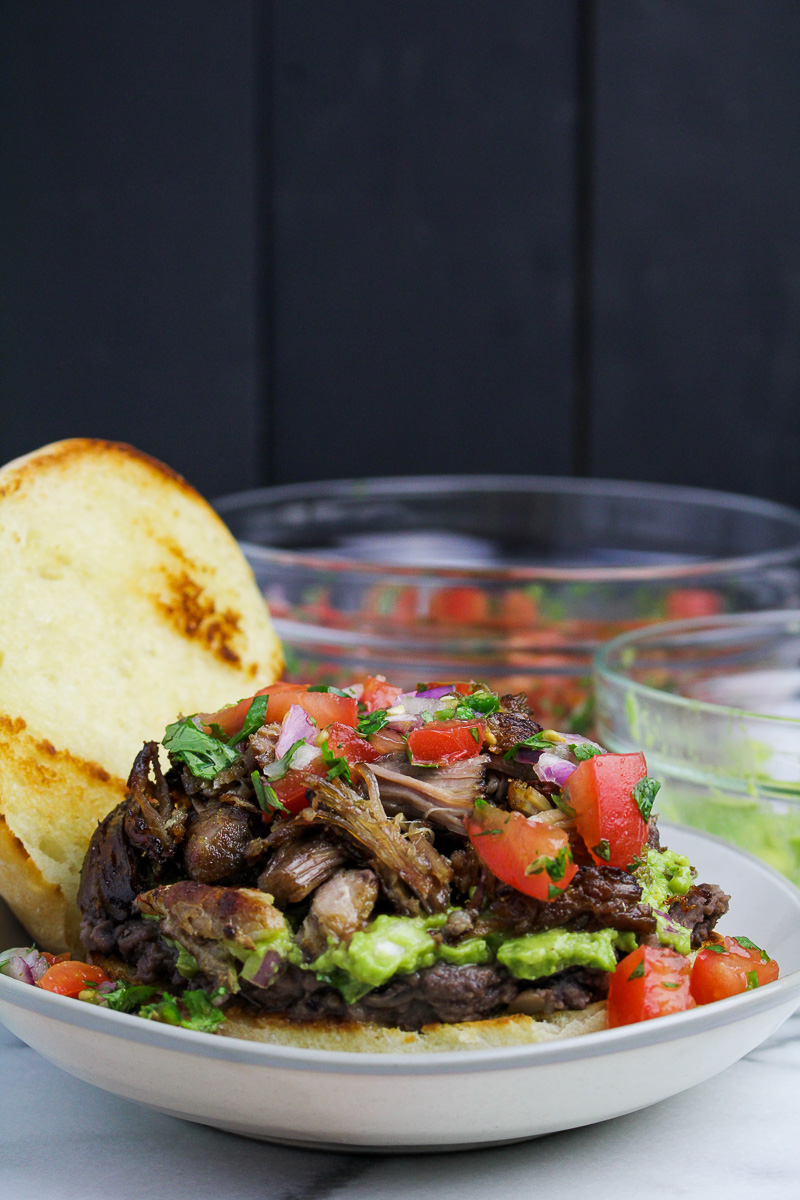 As per usual, I got a torta de carnitas, piled high with shredded pulled pork, and promptly demolished it. I then collapsed into a state of complete sloth and binge watched Silicon Valley. It was kind of glorious. While in this lethargic state, in a rare moment of perfect foresight, I decided this sandwich was something I needed to make at home.
The next weekend I made a giant pot of carnitas, baked homemade telera buns, and whipped up a quick guacamole and pico de gallo. The resulting tortas de carnitas were just as good as the Tenoch version. Plus, we had tons of leftovers. This proved to be an incredible boon as I went into drinking week, round two, at my offsite. The carnitas recipe I used comes from a great little book called Tacos, Tortas, and Tamales. It has tons of flavor and is quite easy. Give it a try whether or not you're going all in on the tortas!
Like what you just read? Subscribe to Katie at the Kitchen Door in the box on the right, on Feedly or Bloglovin', or follow along on Facebook, Twitter, Pinterest, and Instagram. Thanks for reading!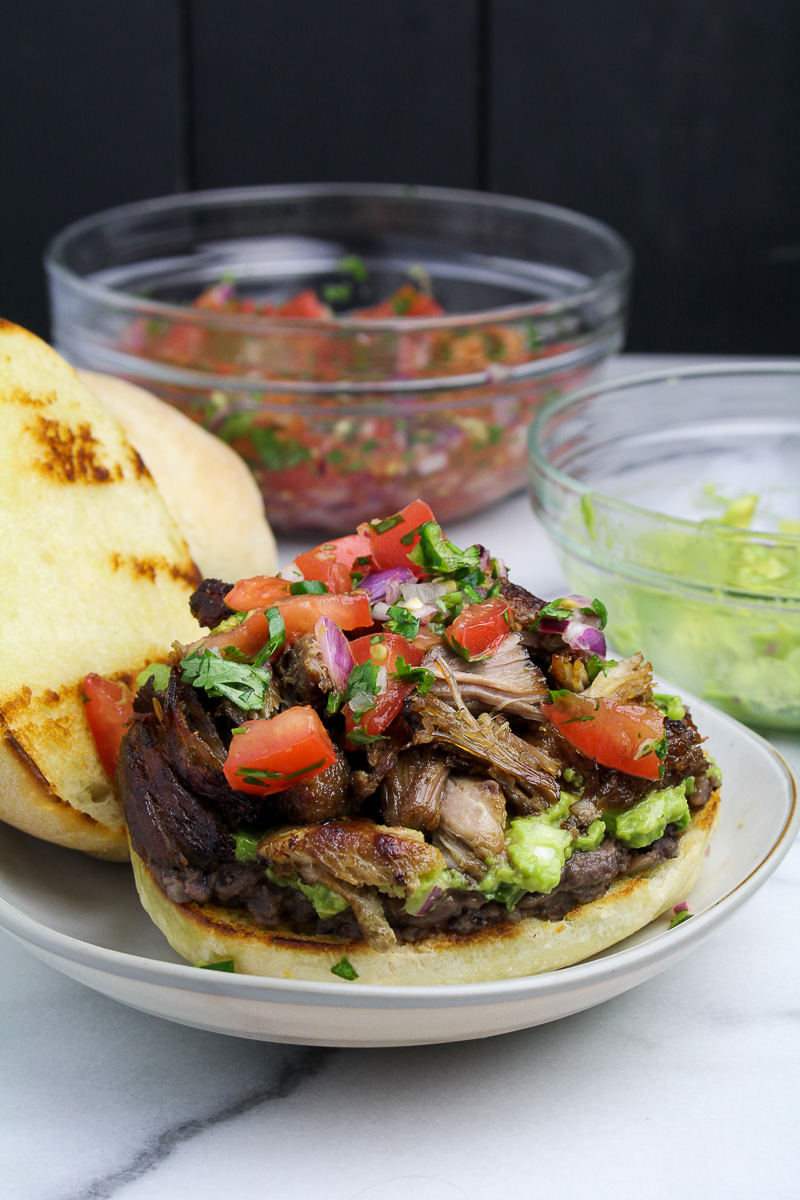 Print
Torta de Carnitas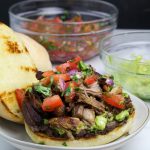 The inspiration for this comes from our local torta shop, Tenoch (amazing sandwiches!) and the carnitas recipe is adapted from Tacos, Tortas, and Tamales, which is a great little book on Mexican street cooking.
Author:
Yield:

5

1

x
Cuisine:

Mexican
For the carnitas:
8

cloves garlic, peeled

1/2

medium white onion, peeled and chopped into quarters

1

TBS fresh thyme leaves

2 tsp

dried oregano

3 tsp

kosher salt

3

lbs. boneless pork-shoulder, cut into

2

-inch chunks

2

dried bay leaves

3/4 cup

coke
For the tortas:
5

telera rolls, store-bought or homemade

2

TBS room-temperature butter

3

lbs. prepared carnitas

1

15-oz. can of refried black beans

1

c. spicy pico de gallo

2

c. prepared guacamole
Instructions
For the carnitas:
Preheat the oven to 400 degrees F. Place the garlic cloves, onion, thyme, oregano, salt, and half a cup of water in a blender and blend until smooth. Place the pork and the bay leaves in a large dutch oven or oven-safe pot with a lid, and pour the garlic and onion mixture on top of the pork. Add the coke and use tongs to toss the mixture a few times to make sure everything is well coated.
Cover the pot and place in the oven. Cook until the pork is so tender that it falls apart when you press it with a fork, about 2 to 2 1/2 hours. When it is very tender, remove the lid. Use tongs to stir the pork and make sure a few pieces are above the liquid line. Return to the oven for 15 minutes, browning the exposed pork. Repeat the process once more, bringing new pieces of pork above the liquid and browning those for 15 minutes.
Once you have browned the pork, use tongs to transfer the pieces of pork to a glass bowl or storage container. Let the remaining fat and juices left in the pan cool and solidify, then discard. Coarsely shred the pork meat with a fork. Refrigerate the pork overnight, allowing the flavors to intensify.
For the tortas:
Cut the telera rolls in half as you would a hamburger bun. Spread the cut side of each half lightly with butter. Heat a large frying pan over medium heat and toast the telera halves in the pan, butter side down, until golden brown. Do this in batches to prevent overcrowding the pan.
Once the buns are toasted, add the shredded carnitas to the frying pan in a single layer (you will likely need to do this in batches). Cook the pork, stirring frequently, until it is browned and crispy all over. This should take 5-10 minutes, depending on how much pork you are doing at once.
Spread the bottom half of each toasted bun with a few spoonfuls of refried beans. Top this with a spoonful of guacamole, spread out evenly. Spoon some of the browned pork on top of the guacamole, then add pico de gallo to top off the sandwich. Put the top half of the bun on the torta and serve immediately.
6