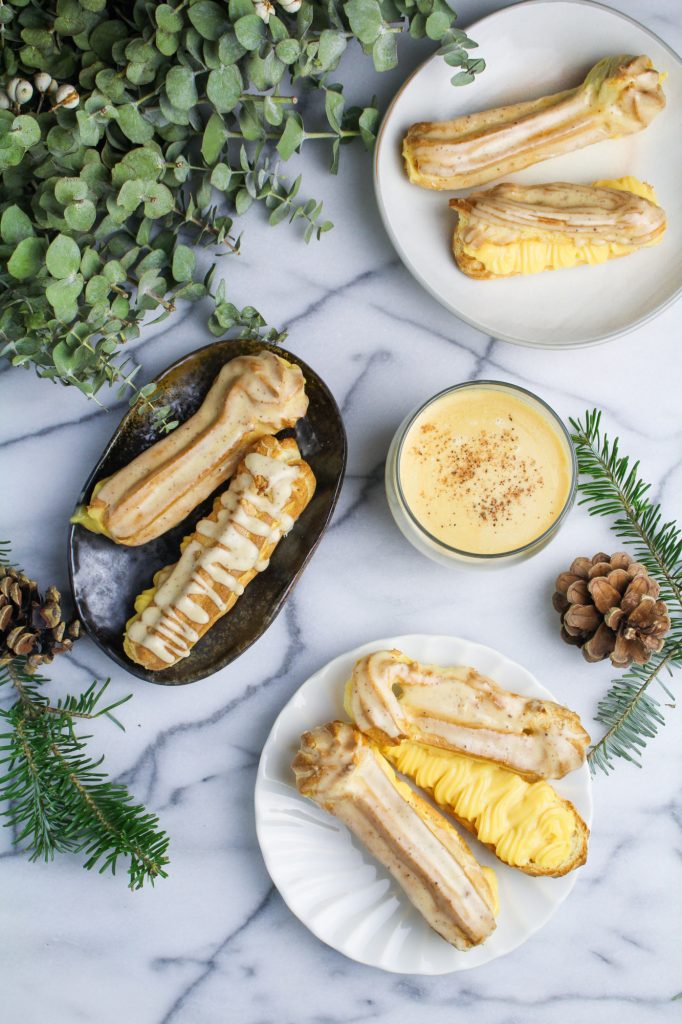 Only two more weeks until Christmas! Hard to believe, right? I think, in truth, I have mixed feelings about this season. I want to slow down and enjoy it and spend long days just, I don't know, being festive. Like when you were a kid. But there's still work and projects and wrapping things up for the end of the year. So, like most things in life, I'm striving for balance, getting things done while also indulging in Christmas activities. I'm also trying not to set unreasonably high standards for myself about what it means to "celebrate." What this balance translates to in my house is the Swinging Christmas Pandora station playing when I'm cooking dinner, even if dinner is not particularly Christmasy. It means watching Love Actually and The Grinch and A Muppet Christmas Carol with Trevor, even if we only make it through 1/3 of each movie every night. It means baking simple cookies that can be made on a weeknight and saved for later, and spending a few minutes every day just sitting by the tree and enjoying the lights. Because a little bit of Christmas spirit every day adds up!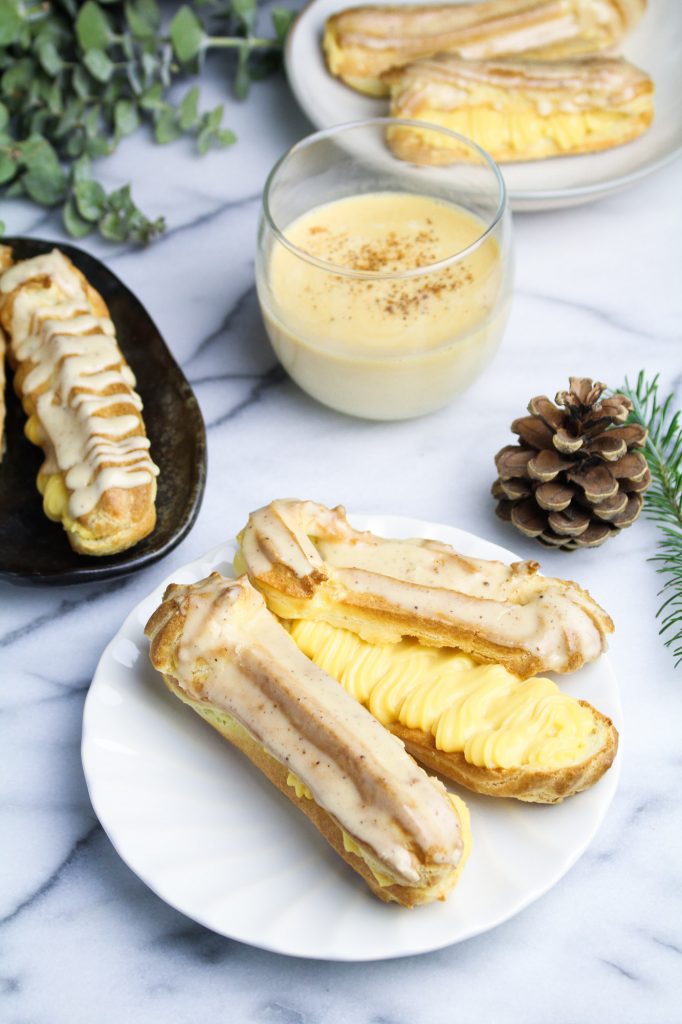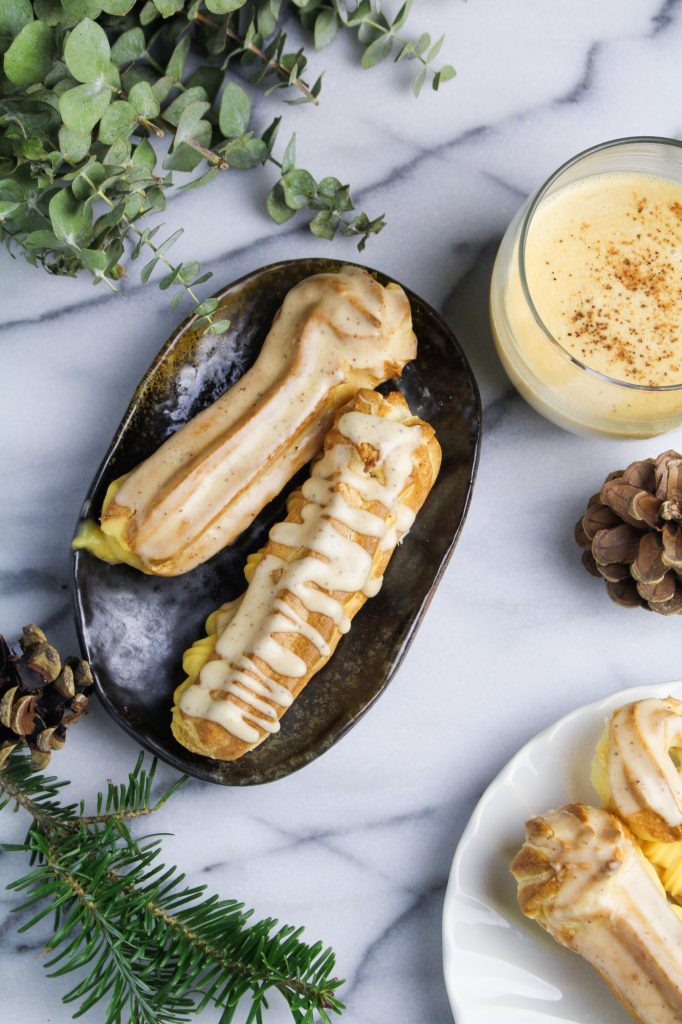 One of my more ambitious Christmas kitchen projects this year was these Spiked Eggnog Éclairs with Nutmeg Glaze. These are a weekend project, good for a freezing cold Saturday like today. Or, in the spirit of what I wrote above, you can split the prep over a few days, like I did, making the eggnog pastry cream in the morning before work, then baking and filling the shells later. I love eggnog – it's so indulgent but so good. With a splash of rum and just a hint of nutmeg it's one of my favorite Christmas treats. So turned into a pastry cream and piped into freshly baked éclair shells? I am definitely into it.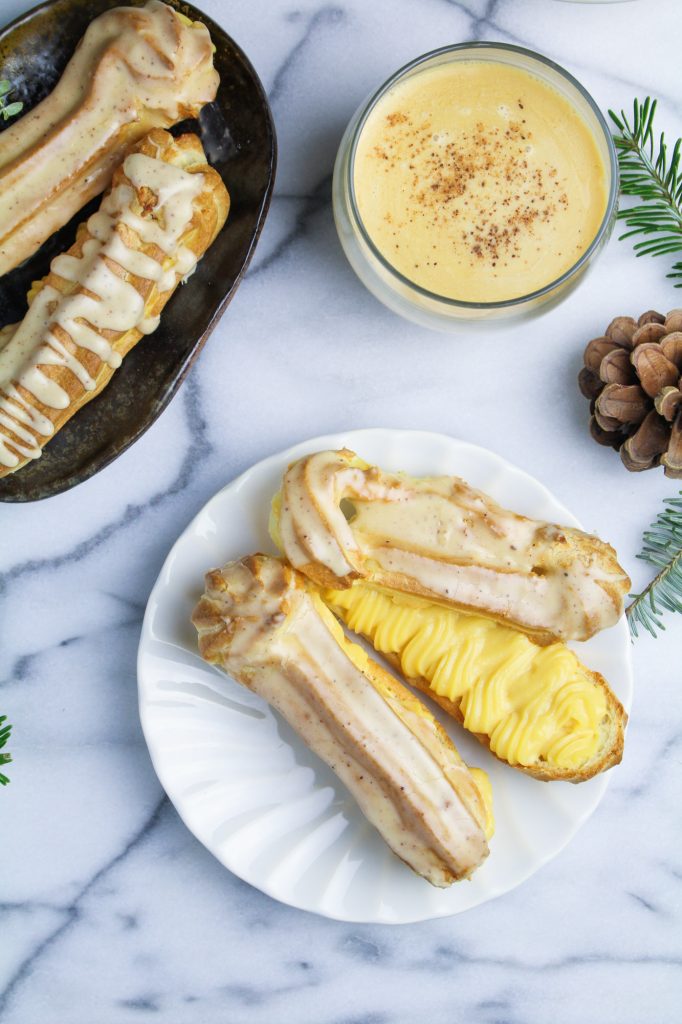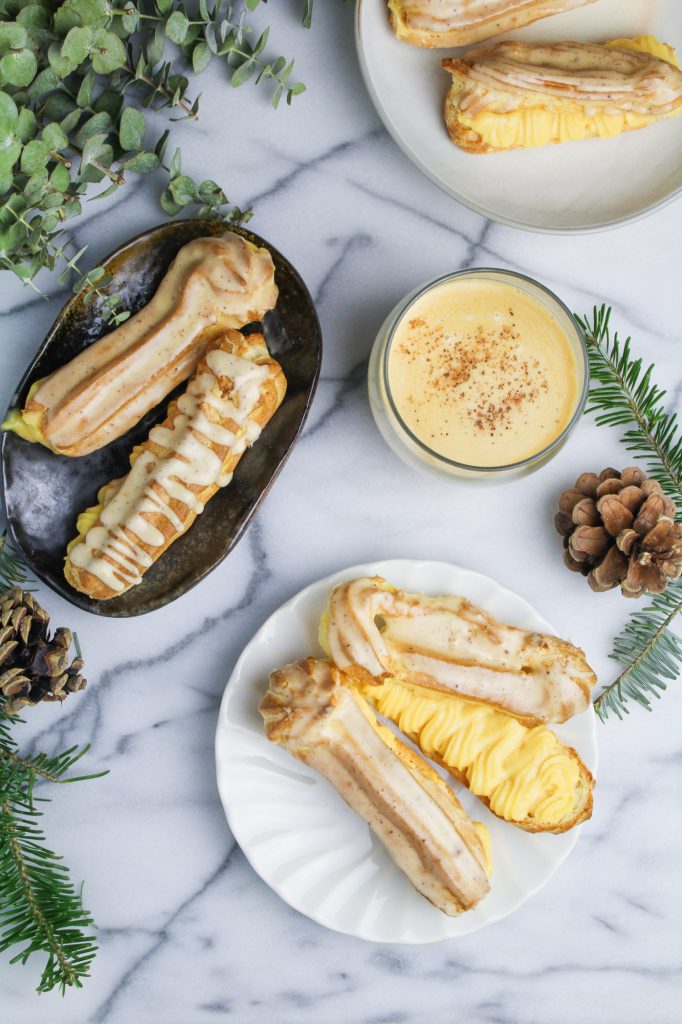 This recipe is adapted from Jenny McCoy's book Modern Éclairs, which is full of great recipes for sweet and savory éclairs, profiteroles, and other treats using pate a choux. I particularly like the savory recipes, like the Croque Monsieur Éclairs and the Cheddar, Chipotle and Roasted Corn Gougeres. But for Christmas, I couldn't resist testing out the very seasonal Eggnog Éclairs. The original eggnog pastry cream recipe didn't call for any liquor, but having tasted it both before and after adding the rum, I think the spiked version is superior. I always have a tough time piping filling into éclairs, so in the recipe below I call for slicing them in half to fill. But if you're handy with a piping bag, by all means, fill away.
I hope your Christmas preparations are getting underway, too, if Christmas is your thing. And either way, I hope you're finding some time to enjoy this festive season!
Like what you just read? Subscribe to Katie at the Kitchen Door in the box on the right, on Feedly or Bloglovin', or follow along on Facebook, Twitter, Pinterest, Instagram, or Google+. Thanks for reading!
Disclosure: I received a review copy of Modern Eclairs from Houghton Mifflin Harcourt, but I was not otherwise compensated and all thought and opinions are my own.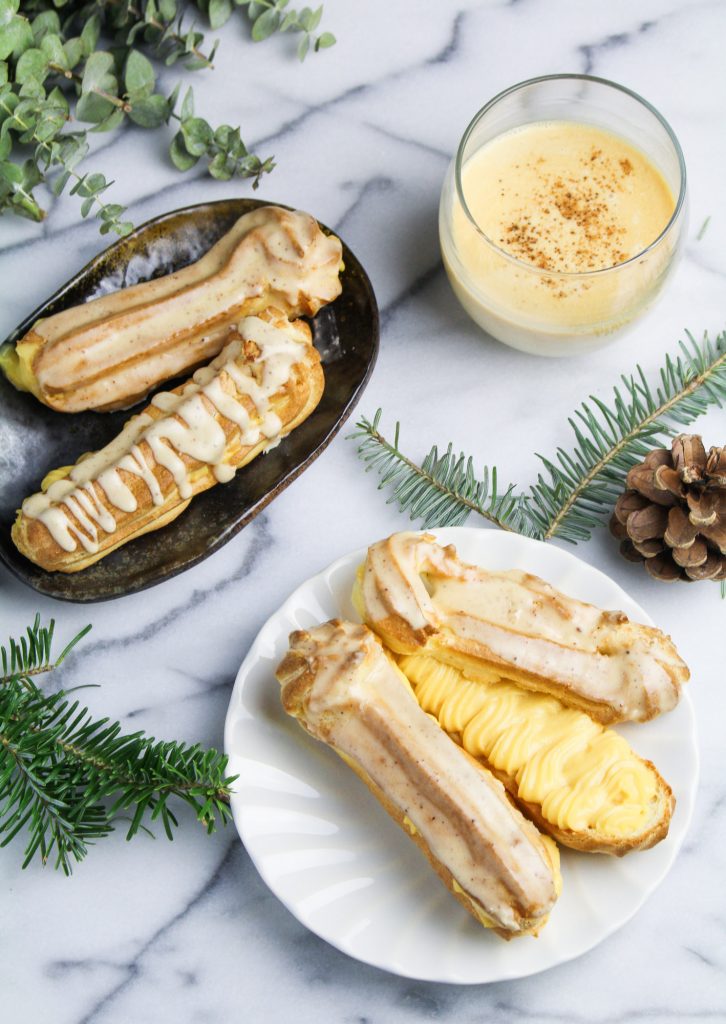 Spiked Eggnog Eclairs with Nutmeg Glaze
Recipe adapted from Modern Éclairs. Makes 20 large eclairs.

For the eggnog pastry cream:
4 large egg yolks
1 large egg
4 TBS cornstarch
1/2 cup sugar
2 cups eggnog
5 TBS salted butter, cut into small pieces
1/4 cup dark spiced rum
For the elcair shells and nutmeg glaze:
2/3 cup water
2/3 cup whole milk
10 TBS salted butter, cut into small pieces
1 TBS sugar
1 1/2 cup bread flour, sifted
6 large eggs
1 1/2 cups confectioners' sugar
1/2 tsp ground nutmeg
3 TBS dark rum
To prepare the eggnog pastry cream: add the egg yolks, whole egg, cornstarch, and sugar to a large heatproof bowl. Beat vigorously until very smooth (you don't want any lumps of cornstarch). Set aside. In a medium saucepan, bring the eggnog to a gentle simmer. Slowly pour the hot eggnog over the eggs while whisking the eggs vigorously to prevent scrambling. Return the mixture to the pot and cook over medium low heat, whisking constantly, until thick and smooth, about 2-3 minutes. Remove from the heat and immediately stir in the 5 TBS of butter pieces until melted. Strain the mixture through a fine mesh sieve into a clean bowl. Let cool about 10 minutes, then stir in the rum. Cover and refrigerate until set, at least 3 hours, preferably overnight.
To prepare the pate a choux dough: add the water, milk, butter pieces, and sugar to a medium saucepan. Heat over medium heat until the mixture is boiling and the butter is fully melted. Turn off the heat and add the sifted bread flour all at once, stirring hard until there are no dry lumps of flour left. Turn the heat back on and cook the dough while continuing to stir it constantly until a skin begins to form on the base of the pot (or the dough begins to look slightly dry on the surface if using a non-stick pot), which should take about 3-4 minutes. Remove from the heat and transfer to a bowl. Let dough cool for about 3 minutes, and then add the eggs one at a time, beating each egg into the dough completely before adding the next egg. The final dough should be thick and shiny and slowly run off your spoon when lifted out of the bowl.
Preheat the oven to 350°F. Fit a pastry bag with a large star tip and fill the bag with the pate a choux dough. Line a baking sheet with parchment paper and pipe long, straight, and thick lines of dough, leaving 2 inches of space between them. Each eclair should be about 5 inches long and 1 inch wide. They will look awkwardly skinny but don't be tempted to make them wider – they will expand as they bake. Press down any pointy tips with your finger. Bake the eclairs until deep golden brown and cooked through, about 45 minutes. Let cool to room temperature before filling.
To fill, use a serrated knife to cut the eclairs in half lengthwise. Fill a pastry bag with the eggnog pastry cream and pipe onto the cut side of each eclair bottom. In a medium bowl, whisk together the confectioners' sugar and nutmeg until smooth, then add the rum and whisk until a smooth, runny glaze has formed. If the glaze does not drip easily off of a spoon, add a little more rum. Drizzle the glaze over the un-cut side of the eclair tops, using the back of a spoon to smooth out the glaze if necessary. Let the glaze dry before putting the tops back on the filled eclairs. Serve immediately.