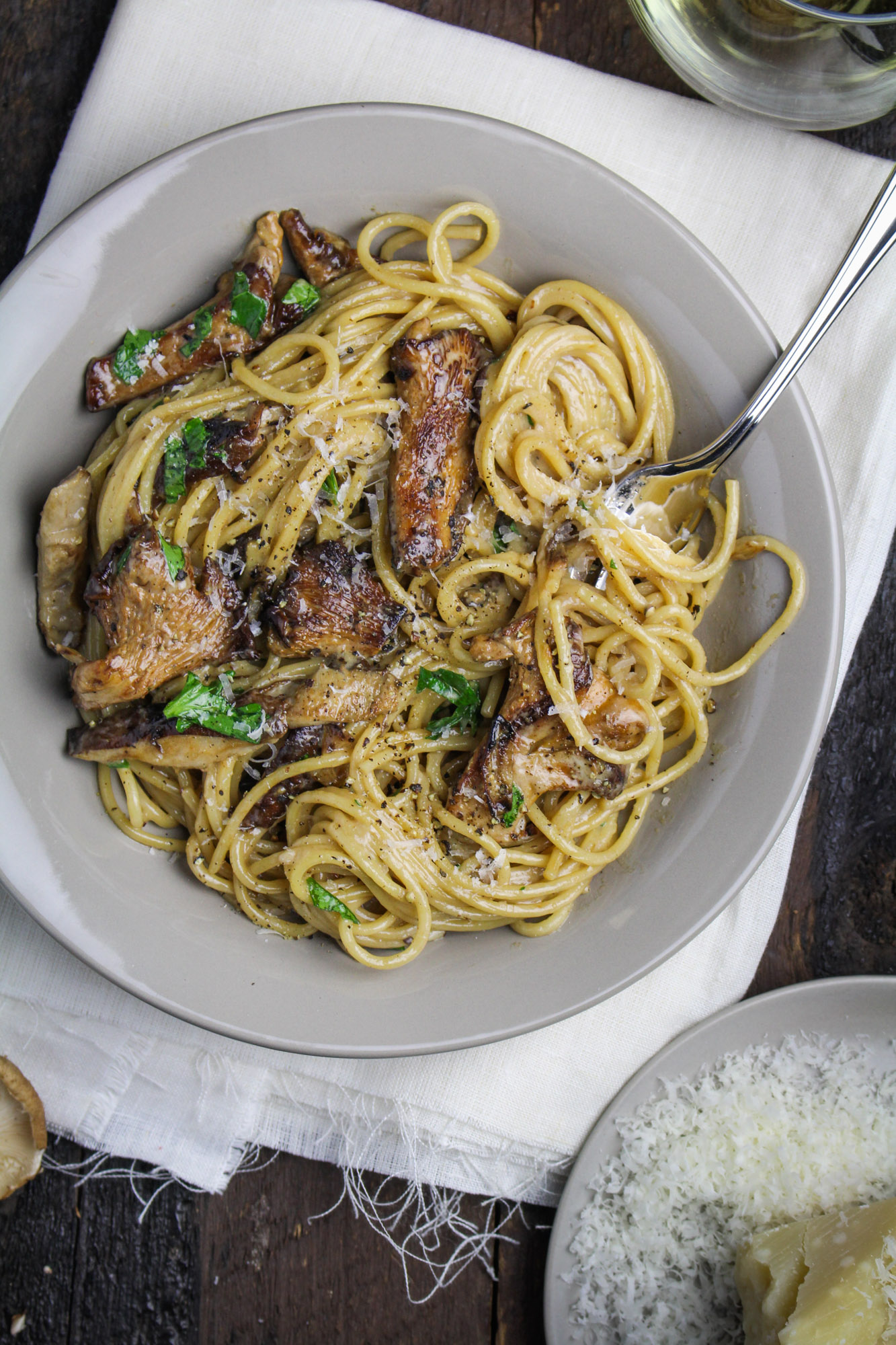 I've been trying to perfect some of my pasta recipes. In my kitchen, pasta is both a luxury and a staple, giving it a unique place in my repertoire. It's easy to make, and it's what I crave when I'm exhausted and can't think of anything else to make. But it's also a treat – I usually go heavy on the cream and the cheese. So when I make it, I want it to be really good. And too often, it's just OK. Why indulge in a giant bowl of pasta that's just OK? I want my pasta to be great.
The first recipe I tackled was a fresh heirloom tomato sauce. It took a few tries, but now it's pretty much the only thing I want to eat when I've got an excess of fresh tomatoes (and you can find the recipe here). Next up, mushroom cream sauce. I've been making a variation of this for ages, but it's never quite what I want, which is: golden brown and crispy mushrooms; a thick, luxurious sauce that covers each and every bite of pasta; the right balance of mushrooms and pasta; and plenty of cheesy flavor in every forkful.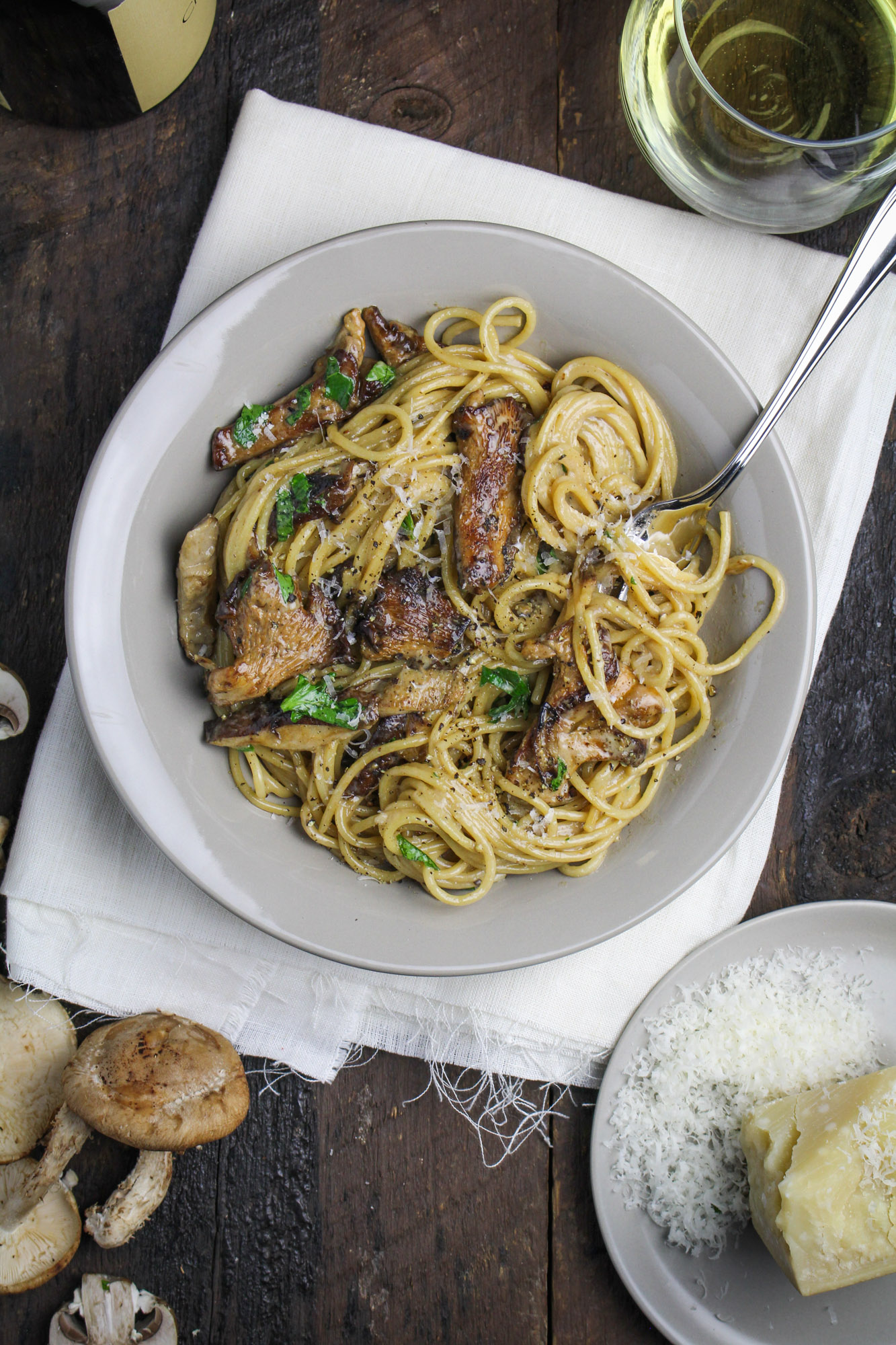 So here's what I've learned over the past few weeks in my efforts to make the perfect bowl of creamy mushroom pasta. First, there's never enough sauce. What looks like a huge amount of sauce becomes dwarfed by half a pound of pasta in no time. As a corollary, you need more mushrooms than you think you do – I weighed my mushrooms this time, thinking there would be way too many and wanting to give you accurate measurements. But a pound of mushrooms quickly cooks down into just enough for half a pound of pasta. You already know this one, but don't crowd your mushrooms – give them lots of space in the pan so they turn crisp and brown. And last, my secret pasta weapon: mascarpone. A spoonful stirred into hot pasta makes all your pasta dreams come true, thickening the sauce just enough to luxuriously coat each noodle.
I know that many of us are trying to watch the indulgences this month – saving room for all the cookies and wine and Christmas treats. But it's all about balance, right? And sometimes you just need a bowl of pasta. When you do, make it a good one.
Like what you just read? Subscribe to Katie at the Kitchen Door in the box on the right, on Feedly or Bloglovin', or follow along on Facebook, Twitter, Pinterest, and Instagram. Thanks for reading!
More perfect pasta recipes: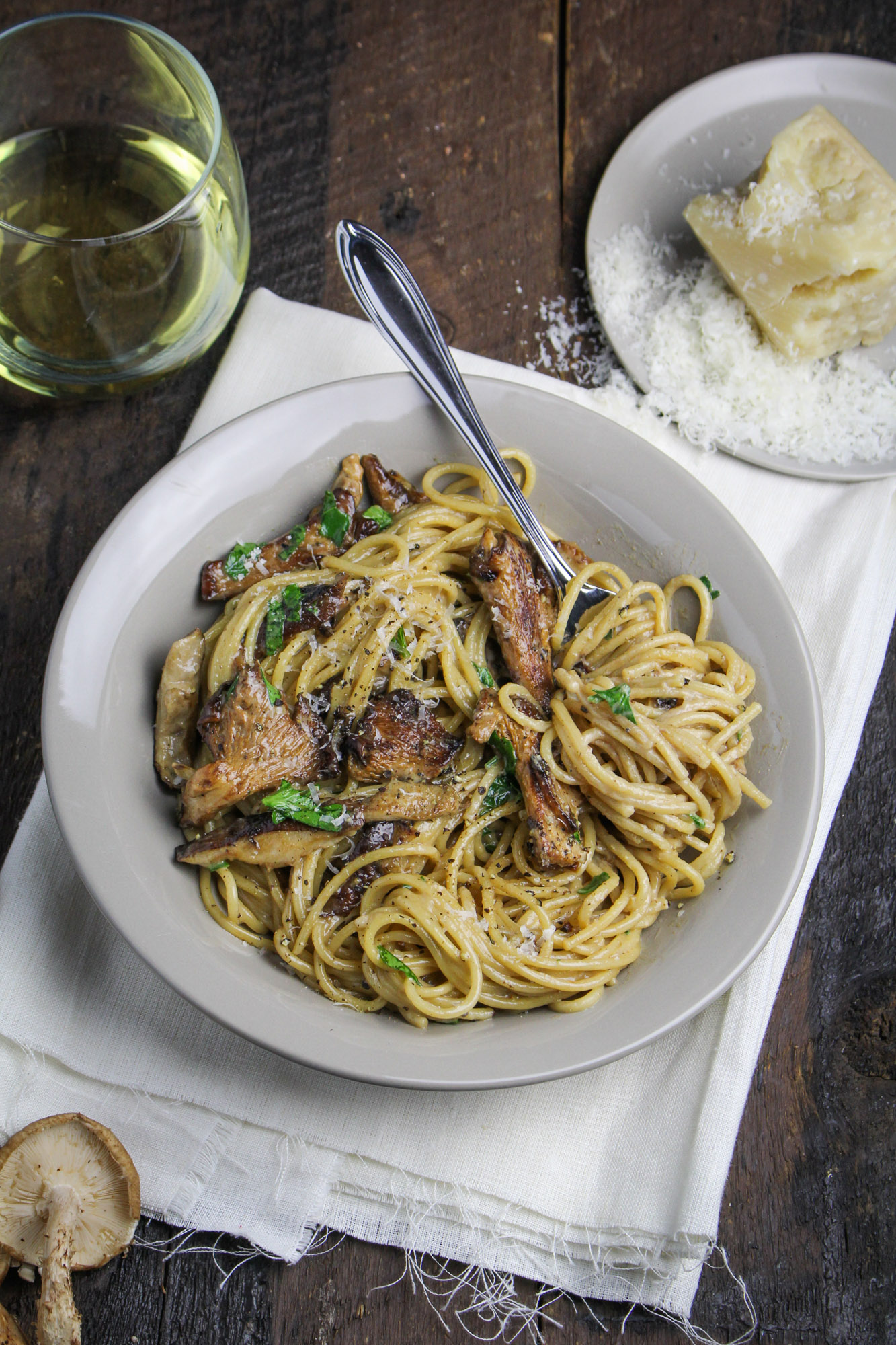 Creamy Mushroom Pasta
A Katie at the Kitchen Door original recipe. Serves 2-3.
3 TBS butter
2 shallots, peeled and sliced into thin rings
1 lb of mixed wild mushrooms, thinly sliced (I used an equal mixture of criminis, shiitakes, and chanterelles)
1/2 cup heavy cream
1/2 lb. spaghetti
2 oz. freshly grated parmesan cheese (about 3/4 cup packed)
1 cup of pasta cooking water
1/4 cup mascarpone
black pepper
sea salt
2 TBS minced fresh parsley leaves
Bring a large pot of salted water to a rolling boil. Let boil while you prepare the sauce (don't add the pasta until the sauce is almost ready).
Melt the butter in a wide frying pan over medium heat. Add the sliced shallots and saute until soft and translucent, about 3-4 minutes. Add one variety of the sliced mushrooms in a single layer, being careful not to crowd the mushrooms to ensure good browning. Let the mushrooms cook undisturbed until they are golden brown on one side, about 2-5 minutes depending on the mushroom variety, then flip and cook on the other side. Transfer the cooked mushrooms to a plate, then repeat with the remaining varieties of mushrooms. Once all the mushrooms are cooked, add them all back to the pan and lower the heat to medium-low.
Add the spaghetti to the boiling water and cook until barely al dente, 1 or 2 minutes less than the package directs.
Add the heavy cream to the pan with the mushrooms and stir until the mushrooms have absorbed most of the cream, about 1-2 minutes. When the pasta is just al dente, use tongs to transfer the noodles directly into the pan with the mushrooms and cream. Add a ladleful of the hot pasta water to the pan as well (about 3/4 to 1 cup), along with the grated parmesan cheese. Use the tongs to toss the pasta with the mushrooms until the cheese is melted and a smooth, luxurious sauce has formed. Cook one to two minutes longer if needed for the sauce to thicken. Remove from the heat. Stir in the mascarpone and parsley until they coat the noodles. Season generously with black pepper, and to taste with sea salt, and serve immediately.
8