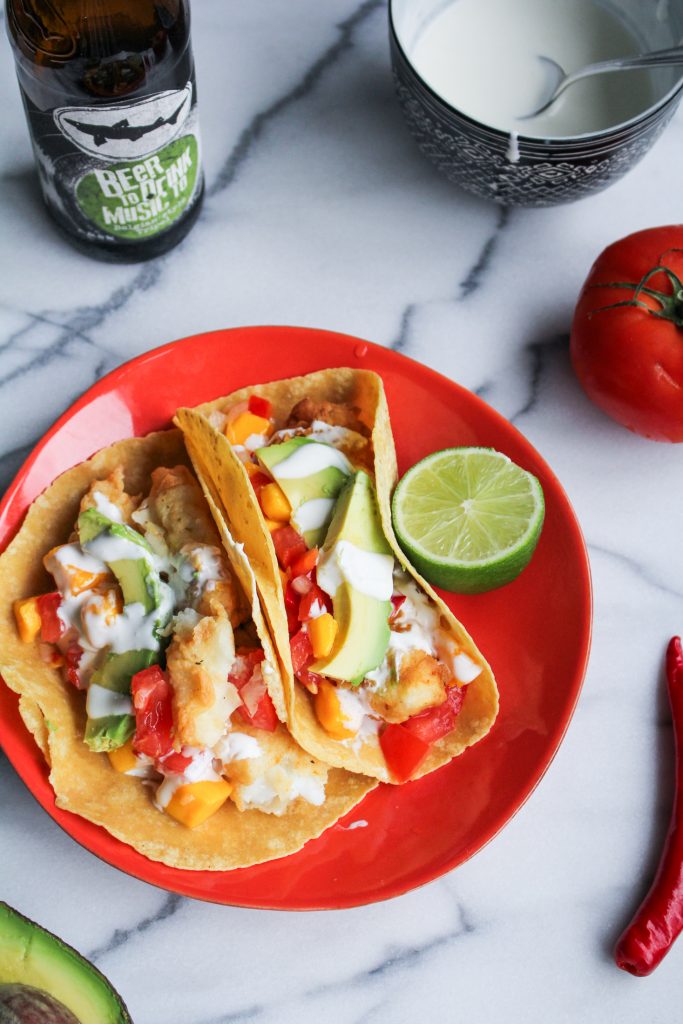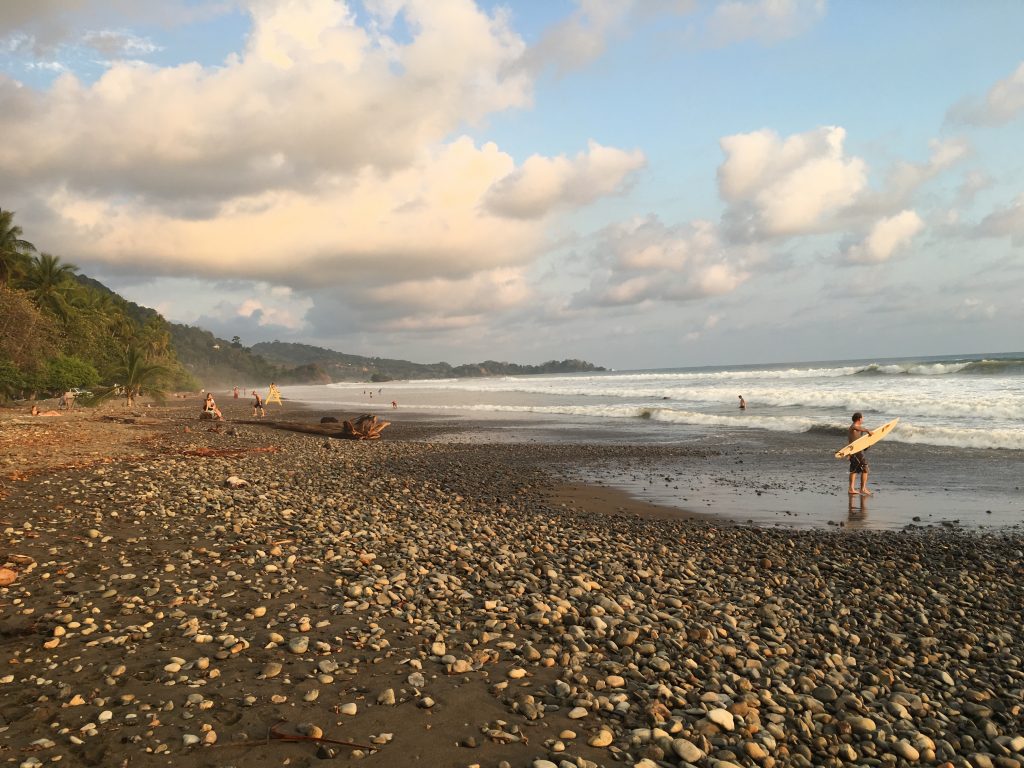 This March, only three weeks after coming home from Japan, we took a quick trip down to Costa Rica to join my family for their spring break vacation. Hard life, I know. It feels a bit presumptive to call this a travelogue, as the majority of what we did was sit in the pool and watch the wildlife in the trees, but I did want to share some pictures and thoughts (and a recipe for fish tacos with mango salsa) all the same.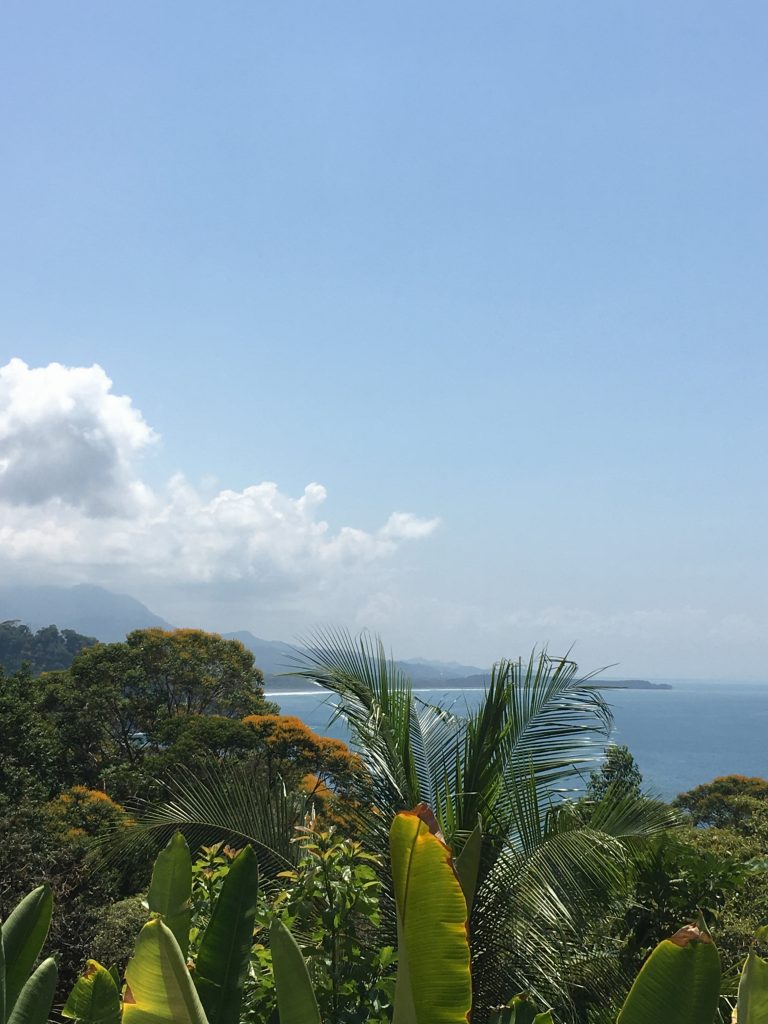 We spent a full day traveling from Boston to the Dominical area – two flights, one layover, an hour at the rental car agency, then a three hour drive as the sun slipped over the mountains in a fiery blaze and we descended into a thick, tropical darkness. When we pulled up to the house we were staying in – which was at the end of a steep, unpaved driveway with trees closing in on either edge – we were all a bit frayed. Opening the car door the heat hit us like a smack in the face – even at night the temperatures were in the 90s – as did the incredible noise of the jungle after dark. Buzzing, whirring, hooting – an incredible cacophony of new sounds, amazing to listen to when you're calm and comfortable, but enough to put you more than a little on edge when you're in an unfamiliar place with the only light coming from two yellow headlights guiding you forward. That first night we slept a bit restlessly.
But the next morning was an entirely different story. We woke to find ourselves in a beautiful house with an expansive view sweeping down toward the ocean. Between us and the water were only tropical trees, giant red hibiscus flowers, toucans swooping back and forth from tree to tree, and puffy clouds still tinged with pink from the sunrise. I think that the view alone made the trip worthwhile.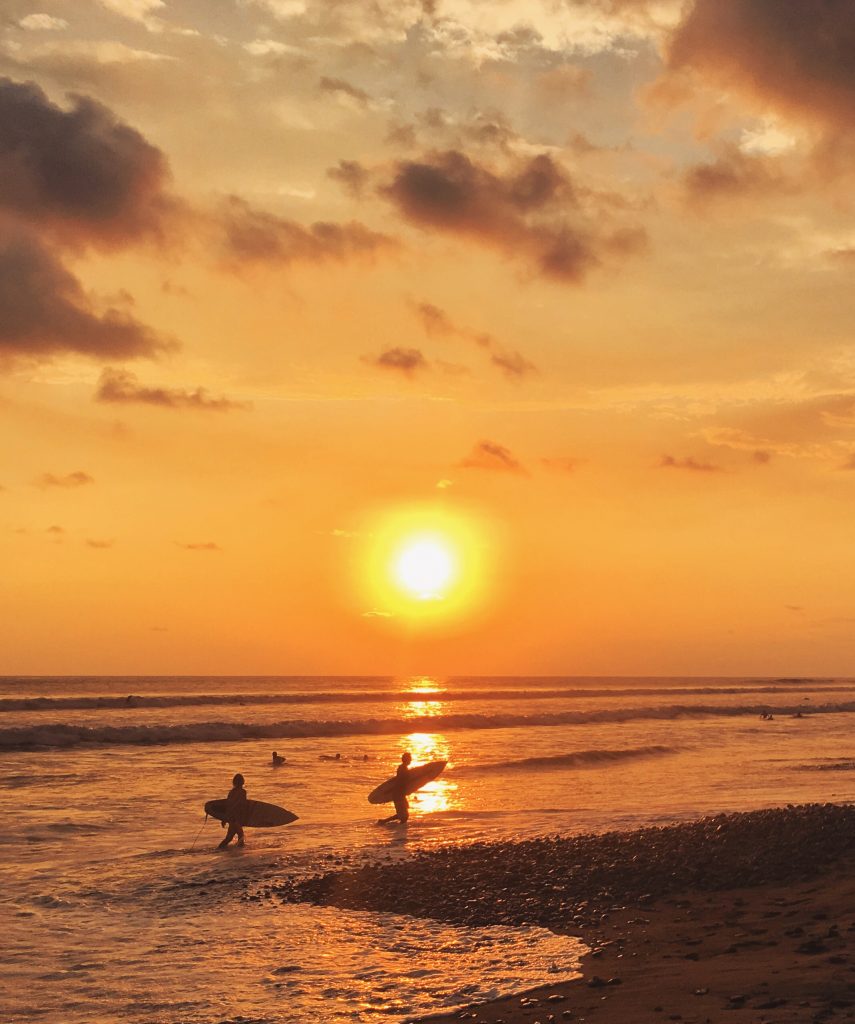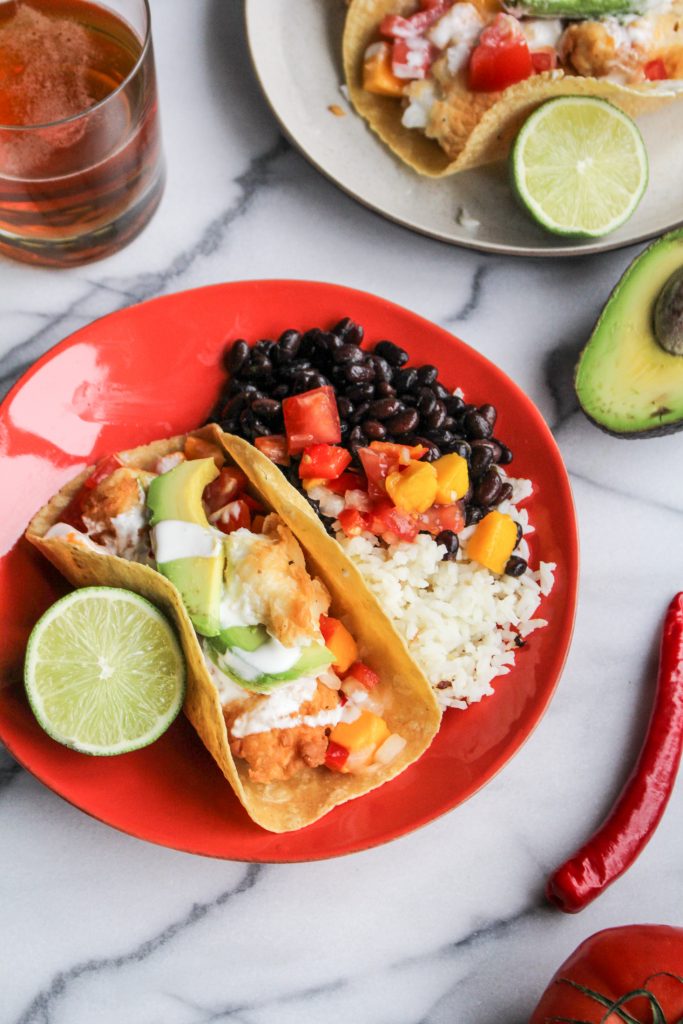 We spent the majority of our short trip lounging in the plunge pool, looking out at the view and watching the birds (and occasional monkey!). I read an entire book, one that I bought in the airport in an atypically touristy move. But we also ventured out a few times – to watch the surfers at Dominical Beach at sunset, to hike the trails and beaches of Manuel Antonio National Park, and to a local waterfall and swimming hole with a smoothie bar at the top.
Dominical is a hippie surf town with lots of deeply tanned, dreadlocked gringos living in tents and small cabins along the coast, there to surf, eat vegan food, and embody "pura vida." The beach is long, a little rocky, and has an intense riptide – dangerous for swimmers but perfect for surfers. Although we were definitely not Dominical's standard crowd, we went just to hang out and watch the sunset (and stock up on groceries at the little market). On the way home, we stopped for drinks and perfect fish tacos on the patio at Por Que No?, where we sipped our margaritas and watched the last hint of purple sunset lingering over the darkening ocean.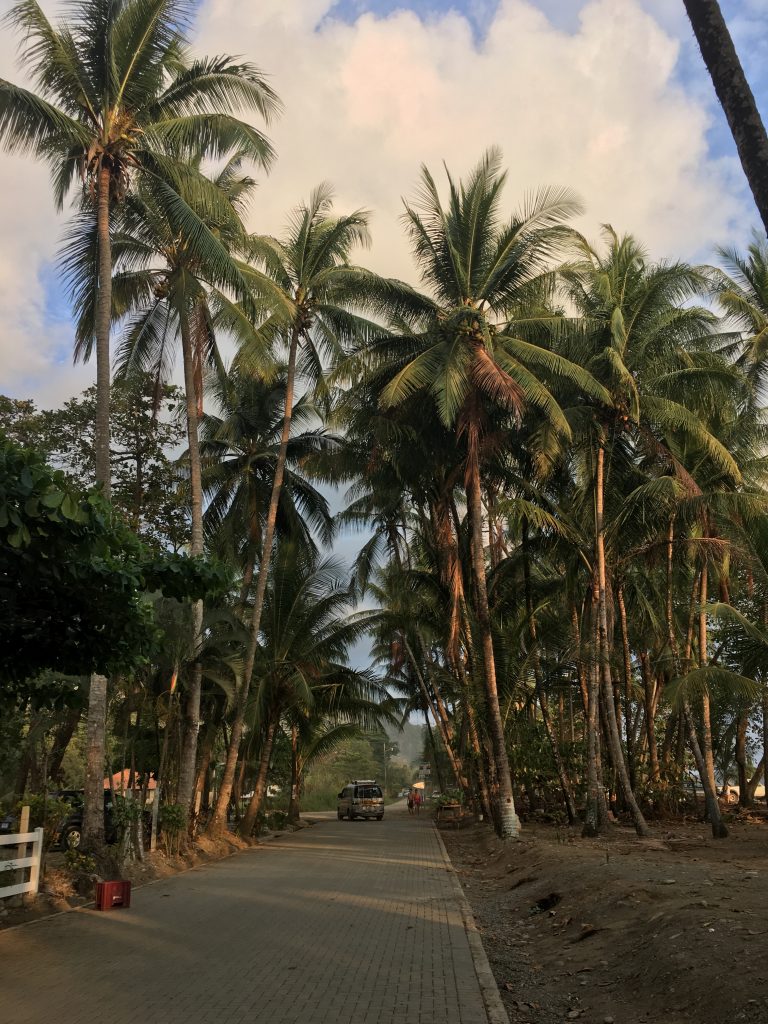 Manuel Antonio, a teeny National Park on the coast, was a highlight of the trip. Despite the fact that it is extremely crowded, we managed to carve out our own space. We saw SO many monkeys – I think I counted 21, if I'm remembering my monkey-sighting competition with my brothers correctly. I actually enjoyed the park most on our walk back in the early afternoon, when many of the crowds seemed to have cleared out but the monkeys were still active (and sloths, if you can ever actually consider them active). In the more densely forested peninsula trail to Punta Cathedral, we were almost alone and saw a dozen Capuchin monkeys and five big, loud, Howlers. At one point the forest got so thick and the animals so close that it made us a little nervous – where in the rest of the park, we were in the majority seeking out the animals, we suddenly felt surrounded. It was cool. The boys absolutely fried themselves playing in the surf for an hour at midday, but according to them it was worth it. On the way out of the park everyone got a chilled coconut (locally, "Pipa Fria") which was 100% the most refreshing post-hike drink. Beer, ceviche, and Cuban sandwiches at Claro Que Si, a nearby (and very good) restaurant with a gorgeous view from the patio, were next.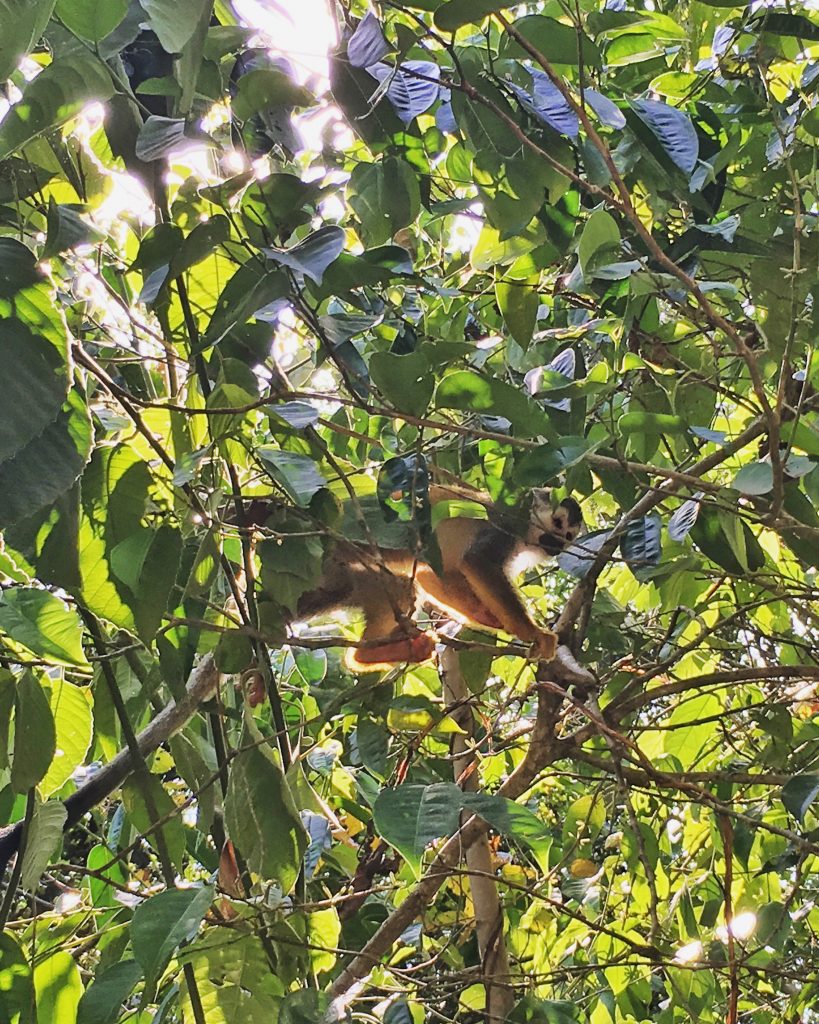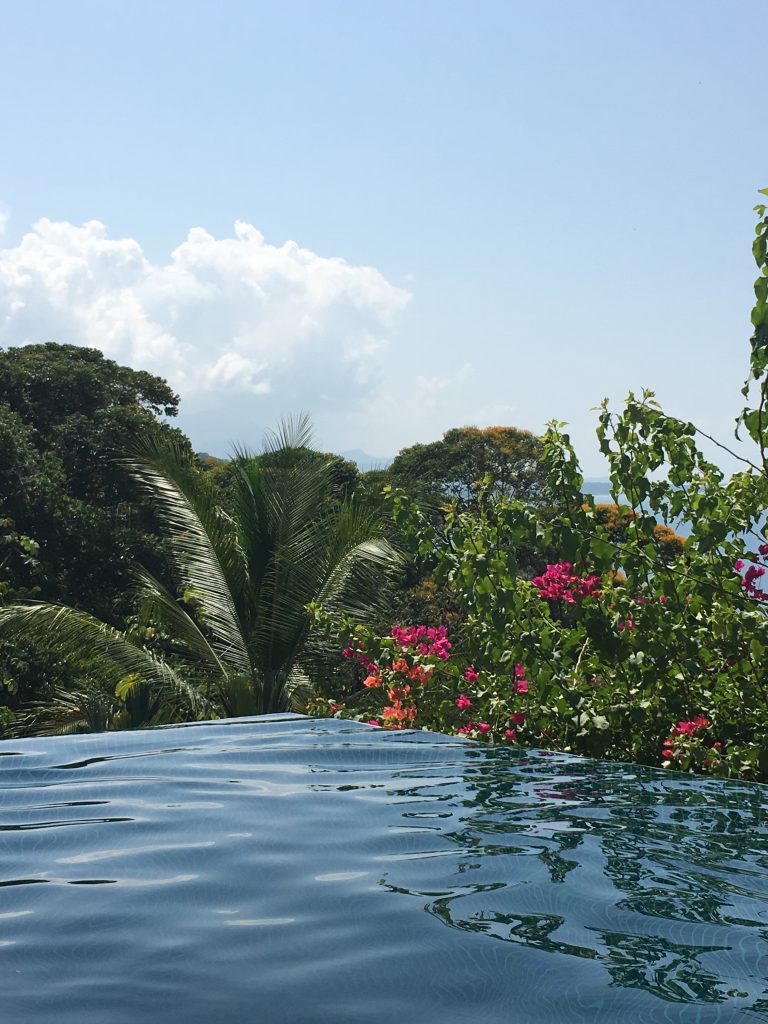 Close to where we were staying, just a few minutes away from the town of Uvita, there is a small waterfall and swimming hole that is absolutely worth a visit. The sun and heat are no joke in Costa Rica, and slipping into the shaded, ice cold water at the swimming hole was the most refreshed I felt the whole trip. We watched a group slide one by one down a 20 foot rock slide into the pool at the bottom, but none of us had the guts to try it. After sufficiently chilling ourselves, we walked back up the steep path to the open-air smoothie restaurant at the top, and slurped down ice cold fruit and ice cream smoothies.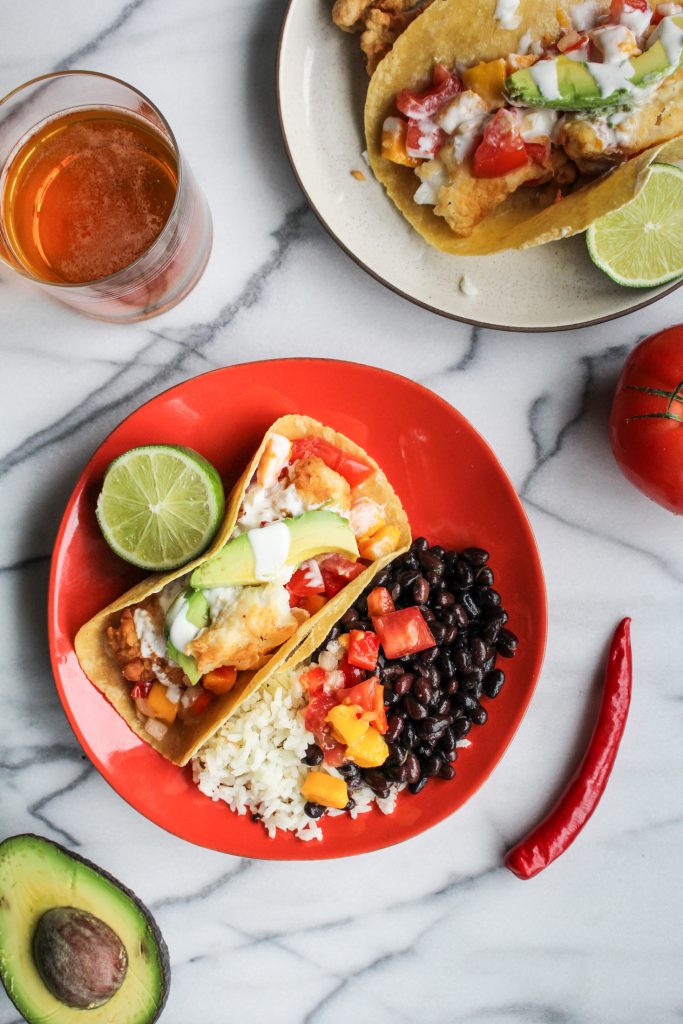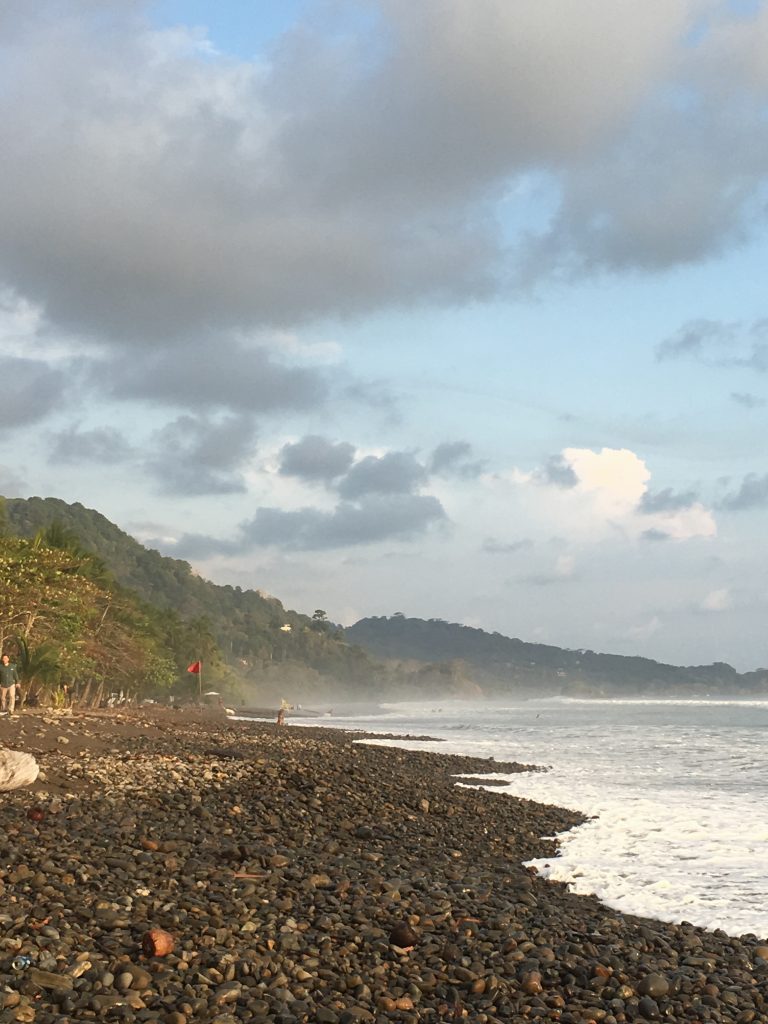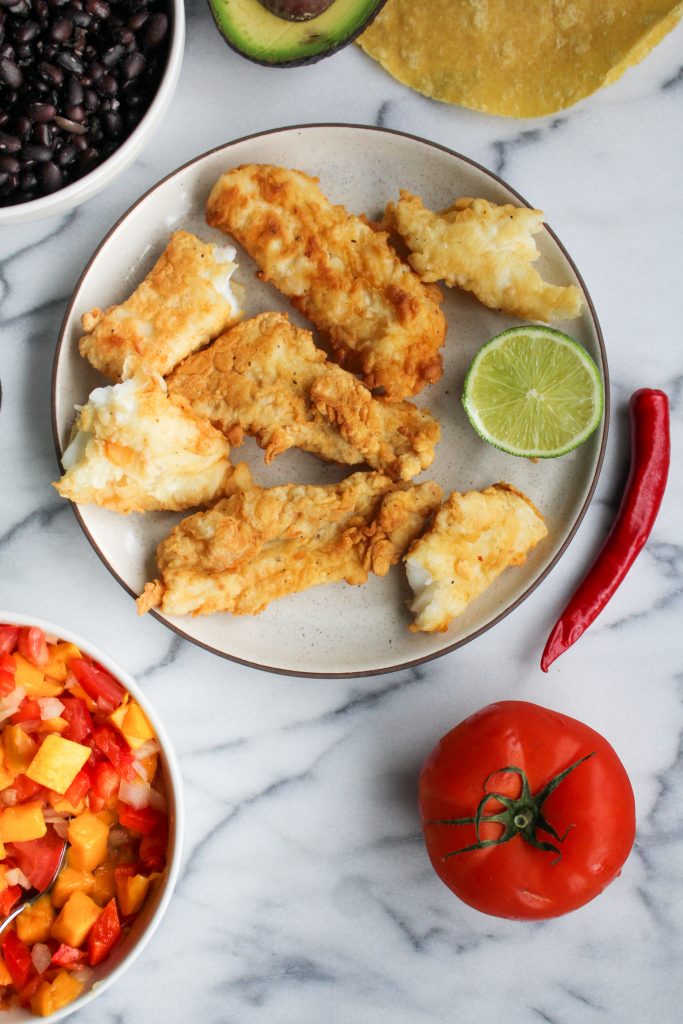 The food in Costa Rica was unexpectedly delicious. I think I was expecting mediocre resorty food and what I got was the rich, flavorful Latin food I enjoy so much when I'm in Colombia and Ecuador, but with a more coastal flavor profile. I ate mostly fresh fish, mango, black beans and rice, and margaritas. Our most memorable meal was the one at Por Que No?, where we all ordered blackened fish tacos with rice and beans and mango salsa and they were absolutely perfect. And so that's what I've recreated for you here. My homemade version was also delicious, although frying the fish proved to be a little tricky at first. My tips: make sure your oil is hot, as the fish cooks very quickly and too-cool oil will results in greasy, falling apart fish; only fry one piece of fish at a time; be very gentle when transferring the fish too and from the oil, especially after it is cooked – a metal skimmer may be the best tool to keep it from falling apart. Once you've got the hang of it though, the results will be well worth it.
Like what you just read? Subscribe to Katie at the Kitchen Door in the box on the right, on Feedly or Bloglovin', or follow along on Facebook, Twitter, Pinterest, and Instagram. Thanks for reading!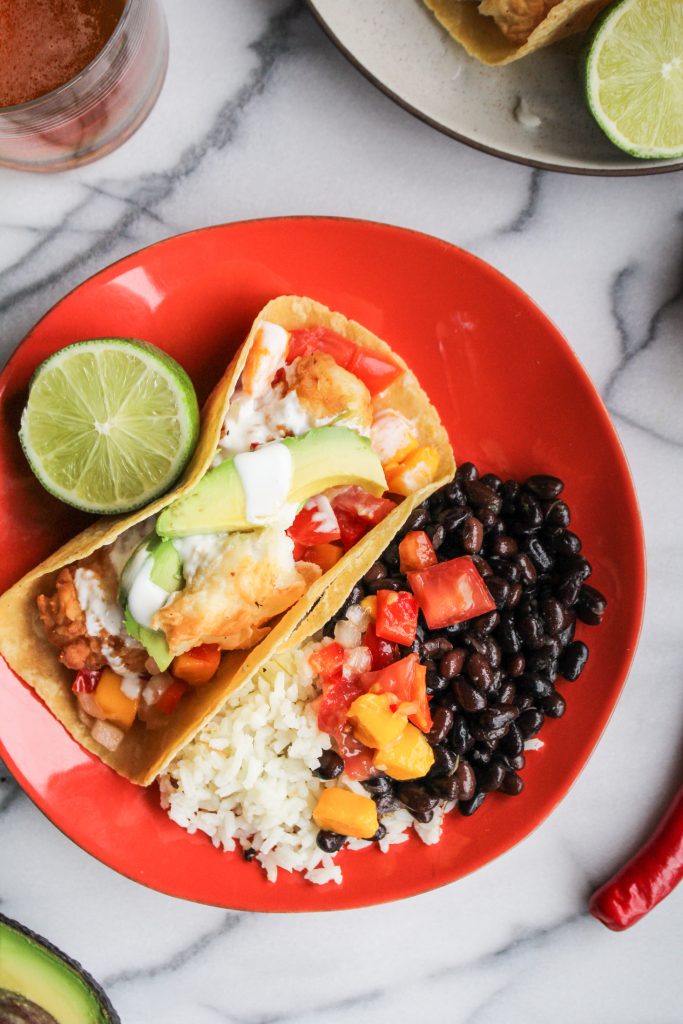 Print
Fried Fish Tacos with Mango Salsa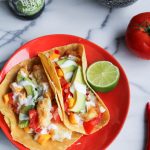 It takes a little bit of practice to get the fish fry just right without your fish falling to pieces or drenched in oil, but once you've got it done, the result will be tender, flaky, golden brown fried fish. Serve wtih avocado, mango salsa, crema, black beans and rice.
Recipe adapted from Serious Eats. 
Author:
Yield:

4

1

x
Cuisine:

Costa Rican
1

c. cake flour

1 tsp

black pepper

1 tsp

sea salt

1/2 tsp

smoked paprika

1/2

c. light-flavored beer (or seltzer)

1

egg, lightly beaten

2

c. canola or peanut oil

1

pound fresh cod, deboned and cut into

eight

, 2-oz. fingers

8

small corn tortillas
Mango salsa, recipe below
Mexican crema, for serving

1

avocado, peeled and sliced, for serving

1

lime, quartered, for serving
Instructions
In a large bowl, whisk together the flour, black pepper, sea salt, and smoked paprika. Transfer half of the mixture to a smaller bowl and set aside. Add the beer (or seltzer) and beaten egg to one of the bowls, and whisk until you have a thick but drippy batter. If necessary, add more beer or flour until it reaches the right consistency.
Heat oil in a medium, high-sided saucepan (or deep fryer if you have one) until temperature reaches 350°F. Working one piece at a time, gently dip a piece of fish into the batter, let extra batter drip off, then roll the fish in the dry flour mixture. Remove the fish for ~30 seconds to let the mixture become tacky, then roll in the flour again (the double-dipping method helps the tacos become extra crunchy). Use tongs or a slotted spoon/skimmer to gently transfer the fish to the hot oil. Fry for about 1 minute, then gently flip in the oil to fry the other side (unless the fish is fully submerged, in which case don't worry about flipping it). When the fish is golden brown all over, use tongs or a slotted spoon to transfer the fish to a paper-towel lined plate (be careful! The fish is super delicate here and it's easy for it to fall apart if you go too fast). Season lightly with sea salt while still warm. Repeat until you have used all the fish.
To serve, place one piece of fish in each tortilla. Top with mango salsa, crema, avocado, and serve with a piece of lime. Serve immediately.
Print
Mango Salsa
A fresh, mildly spicy mango, bell pepper, and tomato salsa.
Author:
Yield:

2 1/2 cups

1

x
1/2

vidalia onion, finely minced
juice from

2

limes
sea salt to taste

2

mangoes

1/2

red bell pepper

1

medium tomato

1

jalapeno chile
Instructions
Add the minced onion to a large glass or ceramic bowl and squeeze the lime juice over the top. Season generously with sea salt and stir to coat the onion. Peel and cube the mangoes into 1/4 inch pieces (this is my favorite method for peeling a mango). Add the mango to the bowl with the onion. Slice the red pepper in half long ways, then cut out and discard the seeds and stem. Finely chop one half of the red pepper and add to the bowl. Core and finely chop the tomato and add to the bowl. Cut the jalapeno in half lengthwise and scrape out and discard as many of the seeds as you can (leave some seeds if you prefer spicy salsa). Cut the two jalapeno halves into very thin half rings and add to the bowl.
Stir everything together so it is well mixed. Taste and adjust the seasoning (lime juice and salt) to taste. The salsa is best if you let sit for 1 hour for the flavors to marinate.