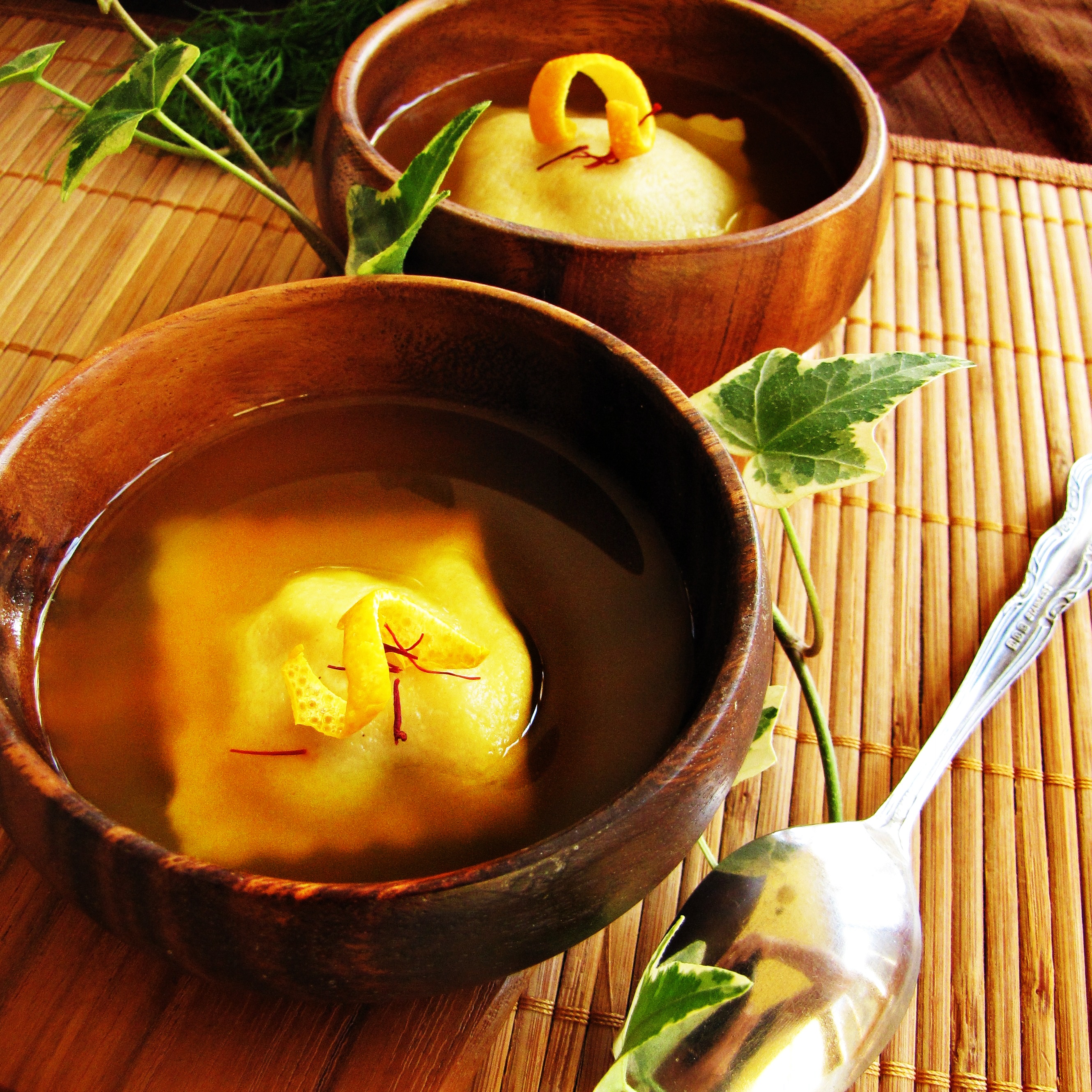 It feels like ravioli season to me.  I don't know that anyone ever named November ravioli month, but it would seem appropriate to do so.  It's time for comfort food – it's getting cold, the days are getting shorter, and all sorts of things that are delicious in raviolis – butternut squash, sage, chestnuts, mushrooms – are coming into season.  A bowl of steaming ravioli with a thick, tangy sauce seems about as comforting as comfort food can get.
I enjoy making pasta by hand, but I don't do it that frequently.  To me it is only worthwhile when I'm filling the pasta with something interesting – the difference between the flavor of the $2 boxed fettucine and my hand cut fettucine is just not worth the time, but the difference between the flavor of pre-packaged tortellini and homemade ones is well worthwhile.  When I do break out the pasta roller for ravioli, I tend to make a lot at once and throw a few meals worth in the freezer.  It even goes by pretty quickly with help from a friend who's willing to work for his dinner.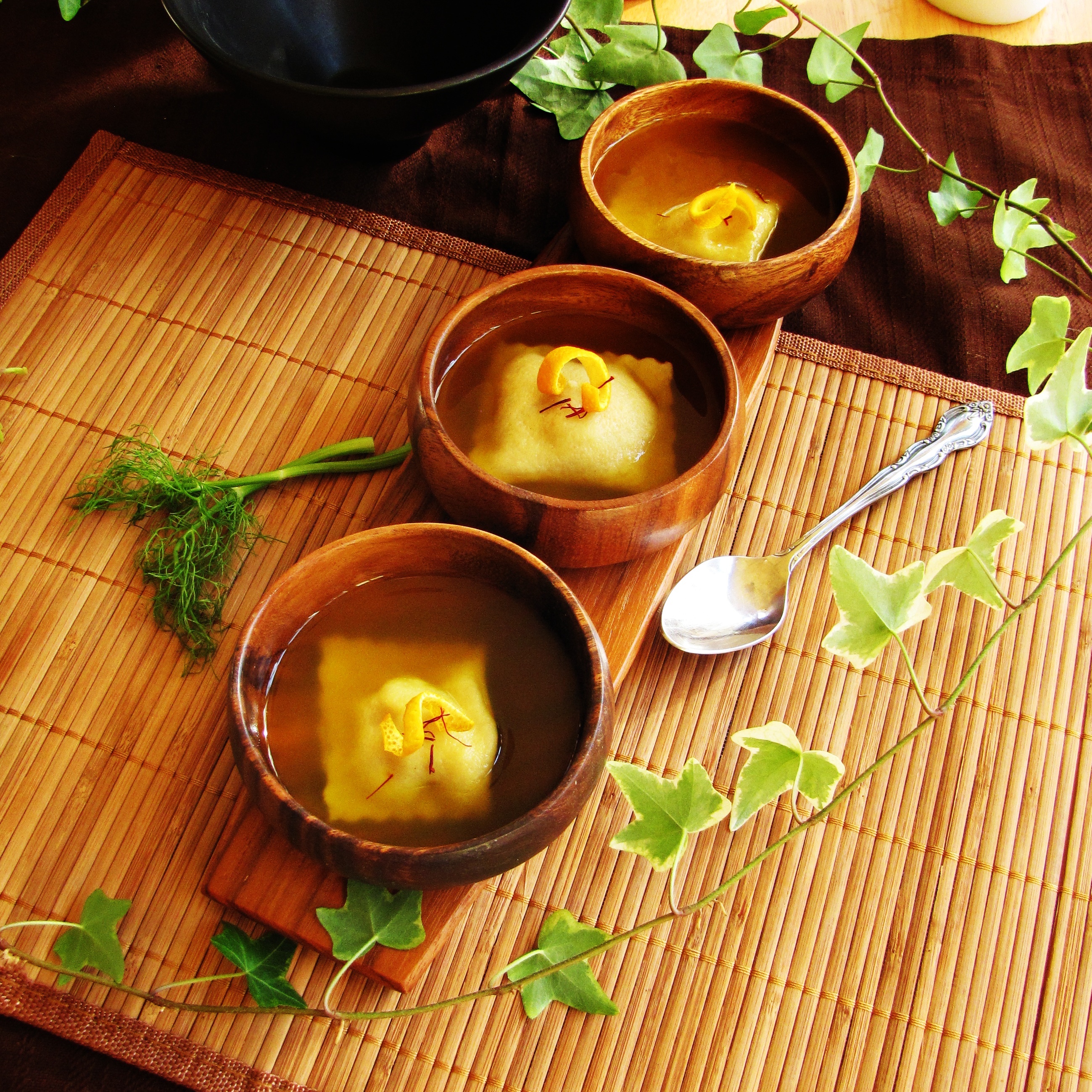 This particular recipe is another one from Peter Berley's Modern Vegetarian Kitchen
, and stuffs a classic semolina pasta dough with a white bean and sage filling, then serves the pasta in a light saffron-infused vegetable broth.  I did make a few significant changes to the broth, choosing to cook all of the vegetables together and then remove them all, leaving a clear broth, rather than leaving the carrot and fennel pieces in the soup, as the recipe calls for.  I enjoyed both parts of the recipe, and would make the broth again for an elegant presentation, or perhaps even as the base for a soup, but probably not if I was just going to eat the ravioli themselves – I think they might be better suited to a thick tomato sauce.  I might even take these the greek route, and add a small amount of feta cheese to the bean mixture, although they were also delicious with just the beans as a filling.  I did end up adding some of our homemade cheese to about half of the ravioli to a positive effect.  Yes, I said homemade cheese.  You can have the full story when we've got a little bit of a better handle on the whole cheesemaking process, but if our most recent attempt is any indicator, there may be some super delicious cheeses in our future.  With or without cheese, I enjoyed these bean filled ravioli, and I'm looking forward to the few dozen I have stashed in my freezer for the next month!
Looking for more ravioli?  Try these beet ravioli with goat cheese, these pumpkin stuffed ravioli served in a coconut curry sauce, or these delicate mint-flecked ravioli filled with sweet peas.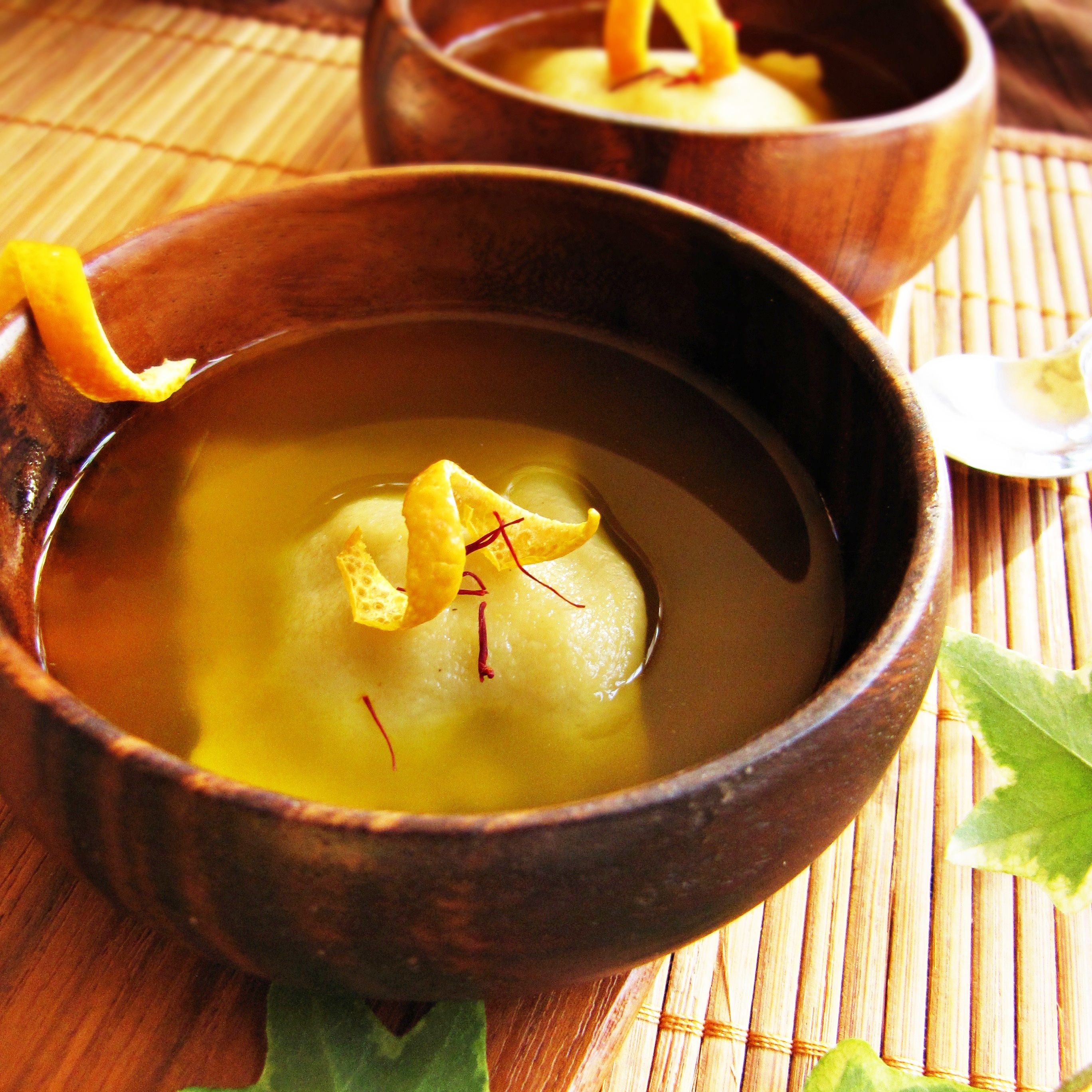 White Bean Ravioli in Orange-Saffron Broth
Adapted from Modern Vegetarian Kitchen.  Makes about 4 servings
For the pasta:
1/2 c. semolina flour
1/2 c. AP flour
1/4 tsp salt
1 egg
2 TBS warm water
1/2 TBS olive oil
For the filling:
1 TBS olive oil
1/4 c. finely chopped onion
2 tsp minced garlic
2 tsp finely chopped fresh sage
pinch red pepper flakes
1 c. Great Northern beans, cooked (from 1/3 dried beans, soaked and cooked)
1 tsp red wine vinegar
salt
pepper
For the broth:
6 c. cold water
1 onion, chunked roughly
1 stalk celery, chunked roughly
1 carrot, chunked roughly
1 fennel bulb, chunked roughly
2 tsp tomato paste
8 garlic cloves, peeled
8 leaves fresh sage
2 tsp fennel seeds
1/4 tsp saffron threads
2 3-inch strips of orange peel
1 bay leaf
10 whole peppercorns
Make the pasta dough: in a large bowl, whisk together the semolina flour, AP flour, and salt.  Make a well in the middle of the flour and crack egg into well.  Beat egg lightly in the well, then add water to the well.  Use a fork to slowly pull the flour on the outside into the wet center, trying not to disturb the well for as long as possible.  Continue doing this until the dough is an even consistency.  The dough will be fairly dry, but should stay together when pressed.  If it does not, add 1 TBS of water.  Pull dough together into a loose ball, drizzle with olive oil, then wrap in plastic wrap and let rest for 30 minutes.
Make the filling: heat a medium pan over medium-high heat.  Add the olive oil, onion, garlic, and sage, and cook for 5-7 minutes, until beginning to brown.  Remove from heat and add to cooked beans, along with vinegar, salt, pepper, and red pepper flakes.  Mash the mixture with a potato masher until it is mostly smooth with a few bean chunks.
Roll out the pasta according to pasta maker instructions, starting on the largest setting and working your way down.  Cut the resulting pasta sheets into 2-inch by 4-inch rectangles, and place a teaspoon of the bean filling on one side of each rectangle.   Use your pinkie finger dipped in cold water to brush the edges of the dough with water, then fold opposite side of dough over, pressing along edges to seal ravioli.  Work in batches – the dough will dry out quickly if it is left as sheets for long.  It will take longer to dry out when pressed in a ball.
Make the broth: place all the ingredients in a large stockpot and cook at a simmer for 1 hour, adding 1-2 cups more water if necessary as the water evaporates.  Strain the broth through a colander, catching the broth in a bowl and discarding the cooked vegetables and herbs (or eating them).  Season the broth to taste and set aside.
Cook the ravioli in a large pot of salted gently boiling water.  They should cook in approximately 2 minutes.  Serve ravioli in a warm bowl of broth, garnished with orange zest.
1