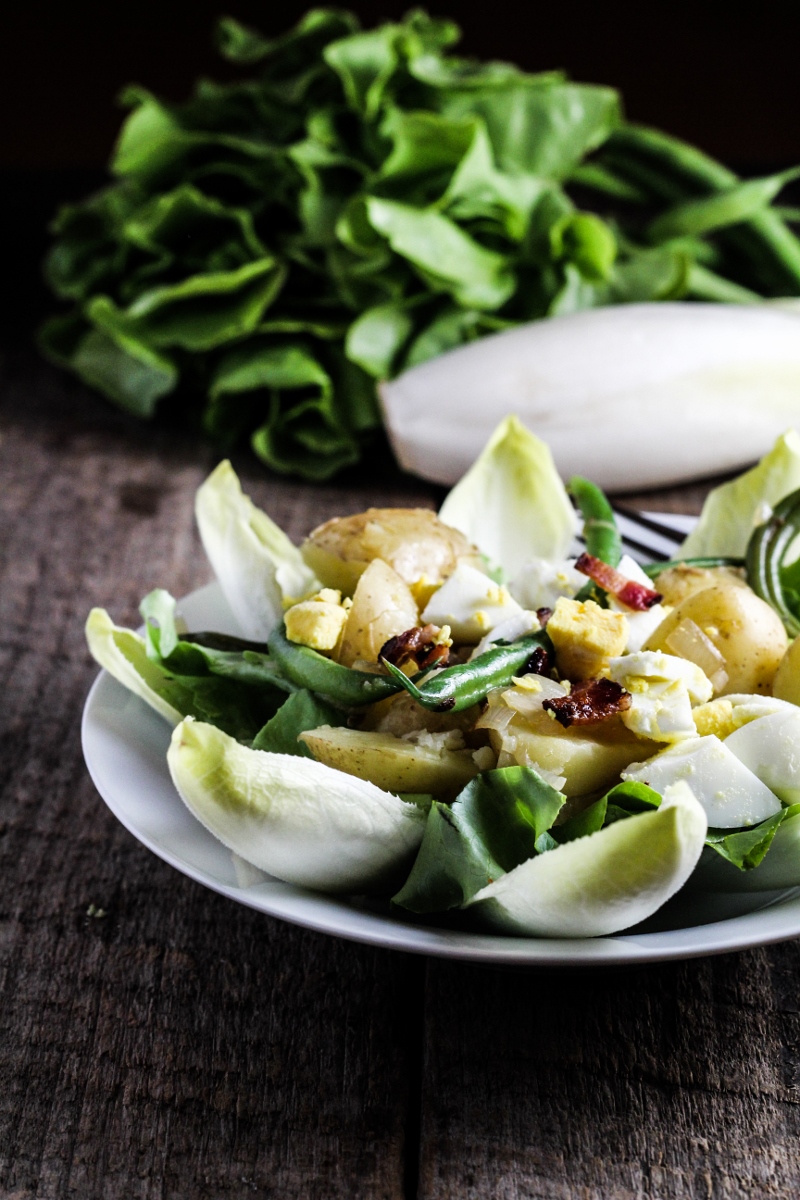 I can't believe it's been so long since I wrote a review! This summer is turning out to be extremely busy, mostly in a good way, but the times I find myself in the kitchen recently have been few and far between. Despite that, I have had some wonderful new cookbooks lying around, waiting for me to pause long enough to give them a good read. On the top of the pile is Le Pain Quotidien, the new book from the originally Belgian, now global restaurant chain of the same name.
I have never been to a Le Pain Quotidien, although there are a handful of locations scattered along the East Coast and in California. If the recipes included in this cookbook are any indication, I think I would love the restaurant. It's the kind of food I'd like to serve at a cafe of my own someday – interesting, produce-forward soups and sandwiches, and baked goods with a punch of flavor from salty cheeses, olives, and cured meats. For the most part, it's rustic, country-style food, without fancy plating or instructions, but the combinations – such as carrots with olives, soba noodles with blood orange, and coffee with capers – are novel and bright. Similar to Vegetarian Everyday, you'll find healthy choices for every type of eater. Raw, paleo, gluten-free, and vegan palettes will all find something to interest them here. Then again, if you're like me, you'll also appreciate the occasional meaty, bready, cheese-smothered dish that's included.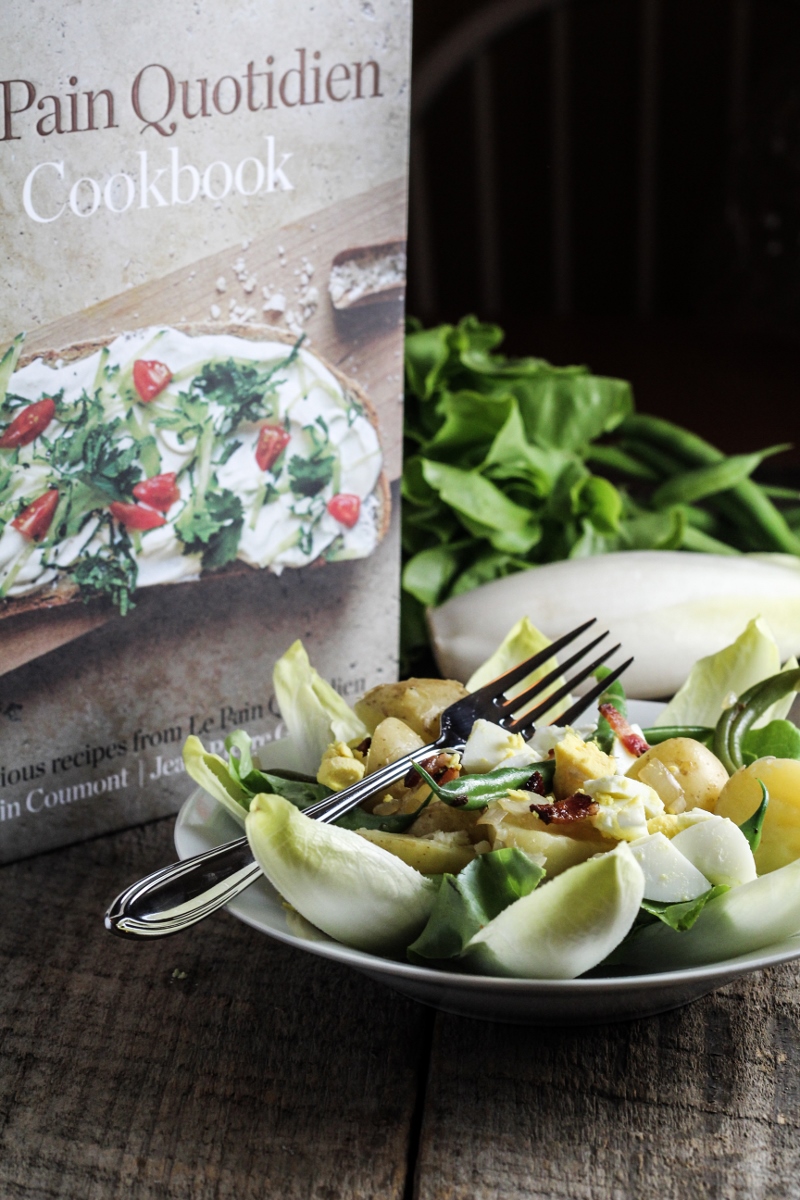 Given the overall amount of cooking I've been doing, you could actually say that I have been cooking a fair bit from this book. This delicious curried leek and zucchini soup was adapted from it, and I also tried my hand at a homemade five grain fruit bread, which was tasty but a little bit tricky and didn't come out quite right, as is often the case with homemade bread. This weekend, I made the hearty Liegeoise Salad you see here, as well as a spicy, summery tartine that I'll share on Monday. I'm looking forward to continuing to work on the bread baking, but I'm also intrigued by the recipes for Sausage with Lentils, Cabbage, and Chestnuts; Onion Broth with Thyme and Feta, and Speculoos Tiramisu. I'm guessing that one or more of those dishes will show up on my dinner table before too long.
I really enjoyed the Liegeoise salad I made for today's post – it was somehow everything I needed in a meal after a hectic week. It was simple, but still flavorful, and fresh, but still filling. I cleaned my bowl the minute I put the camera down. It's also a little nifty because you make the vinaigrette right in the pan in which you fry the bacon – no messy olive oil and vinegar jar shaking! That's my kind of salad. As an aside, I loved that I could get almost everything I needed for this at the farmer's market – tiny new potatoes, long skinny green beans, still crisp lettuce, even the eggs and the bacon could have been purchased at the market (although those two I already had at home). Only the endives (and the onion, I suppose) were nowhere to be found, and those are really hard to grow anyway. But knowing that almost everything had just been picked made the meal feel truly seasonal.
The bottom line: Le Pain Quotidien is a book full of simple but lovely food. The soups, salads, breads, and desserts included are rustic but feature intriguing flavor combinations. For the most part, the recipes are very healthful and full of fresh produce, with many choices for gluten-free, vegetarian, vegan, and even raw diets. Recommended to anyone looking for a few fresh, healthy ideas for lunchtime fare.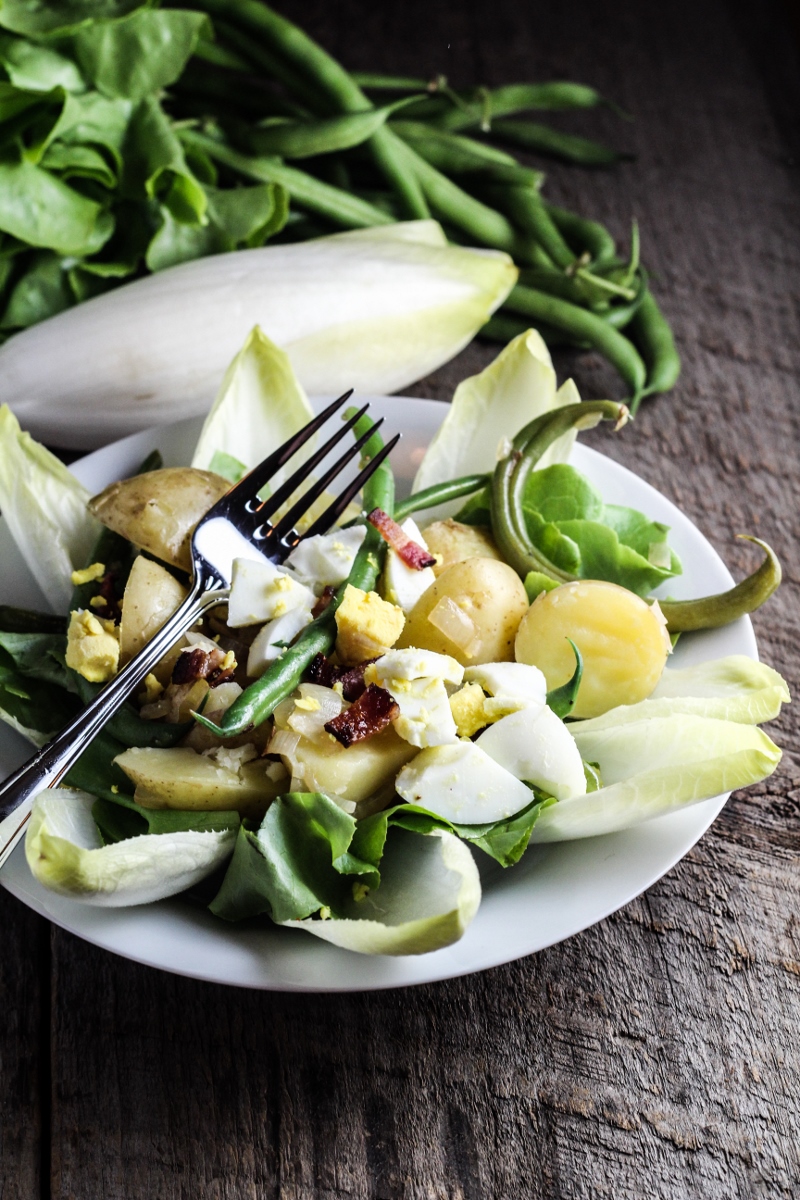 Liegeoise Salad
Recipe adapted slightly from Le Pain Quotidien. Serves 4.
1 lb small new potatoes, halved (or quartered, if large)

1 lb. green beans
6 slices smoked bacon
1 onion, sliced
3 TBS vinegar
 black pepper
salt
2 heads of Belgian endive
2 c. mache (lamb's lettuce) or butter lettuce pieces
4 hard-boiled eggs, peeled and chopped
Bring a large pot of salted water to a boil. Add the potatoes, and cook until just tender, about 10-15 minutes. Remove from the water with a slotted spoon, drain briefly, and transfer to a bowl. Add the green beans to the water and blanch for 2 minutes, then drain and add the green beans to the bowl with the potatoes.

Cook the bacon over medium-low heat, flipping once, until crispy on both sides. Remove the bacon and place on a paper-towel lined plate. Let cool, then roughly chop.
Turn down the heat on the bacon pan to low, and let the grease cool for 2 minutes. Then, carefully add the diced onion and return the heat to medium-low. Cook the onion, stirring frequently, until translucent and softened, about 3-5 minutes. Add the vinegar to the pan and deglaze, scraping the bottom of the pan. Add the potatoes and green beans to the pan and stir to coat the veggies with the vinegar mixture. Remove from heat and season with salt and pepper.
Trim the ends off the Belgian endive and discard the ends. Discard the outer leaves. Separate the inner leaves and place, cup-side up, on a platter. Spread lettuce pieces on top of the endive. Top with the potato and green bean mixture, then crumble the egg and the chopped bacon on top. Serve warm or at room temperature.