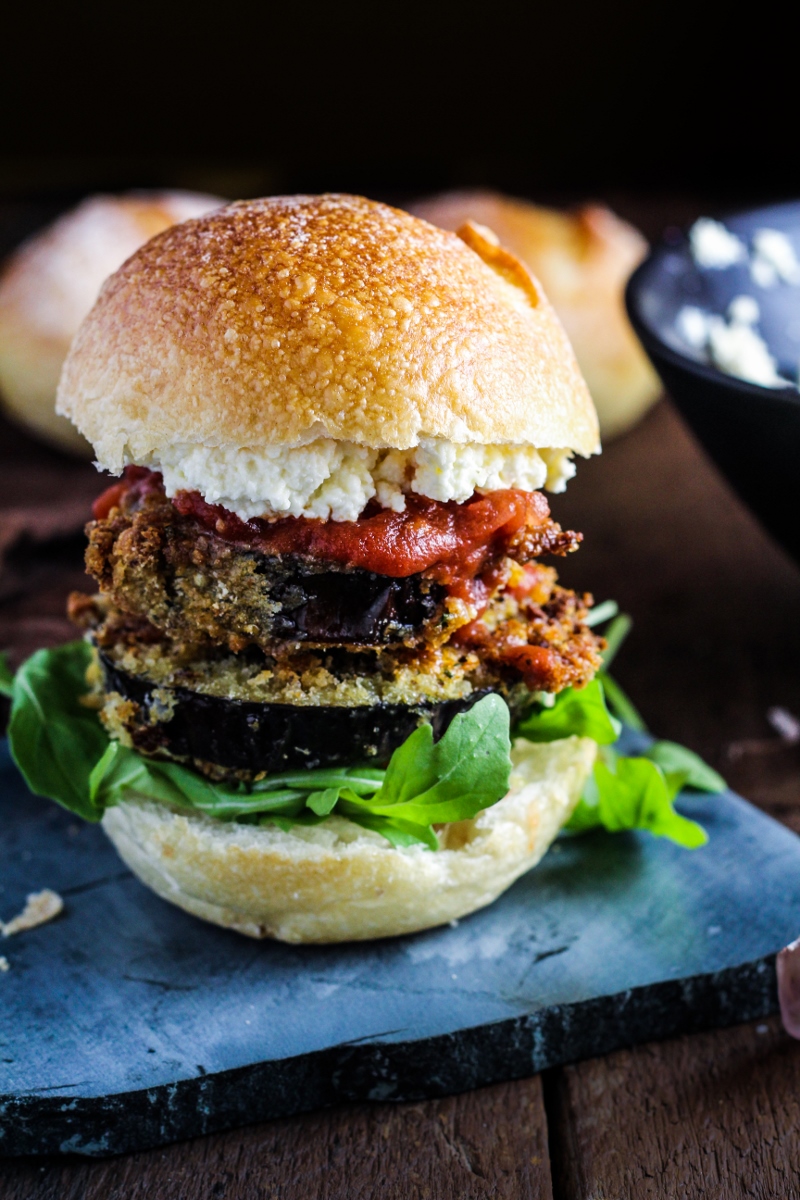 Justin Fox Burks and Amy Lawrence, the folks behind The Chubby Vegetarian, do some seriously creative things with vegetables. Think Baked Potato Skins with Smoked Coconut Bacon, BBQ Eggplant, Tomato Pie and Pimento Cheese, and  Italian-Style Eggplant Sausages to get your mind moving in the right direction. The Chubby Vegetarian was one of the first blogs I stumbled upon back in the day and it is continually a source of inspiration, so when I saw that they were publishing a book, The Southern Vegetarian, I knew that I'd have to check it out.
The food served up in The Southern Vegetarian is loaded with classic, All-American appeal. Not every recipe is particularly Southern – sloppy Joes, meatballs, and bran muffins all fall pretty solidly into the general American food category in my mind – but the ones that are bring me straight back to the rich, saucy, flavorful dishes I enjoyed while living in North Carolina. Except, all the meat has disappeared – and I don't think you'll miss it. Need proof? How does this menu sound to you: Bourbon with Basil and Lemonade Granita, Okra Fritters with Creole Mushroom Sauce, Vegetarian Red Beans and Rice with Andouille Eggplant, and Grilled Peach Ice Cream? Southern through and through, packed with spice and flavor, and fruits and vegetables are doing all the hard work. Plus, as you flip through the book thinking about whipping up a menu like this, you'll find a photograph with every single recipe – always a good thing!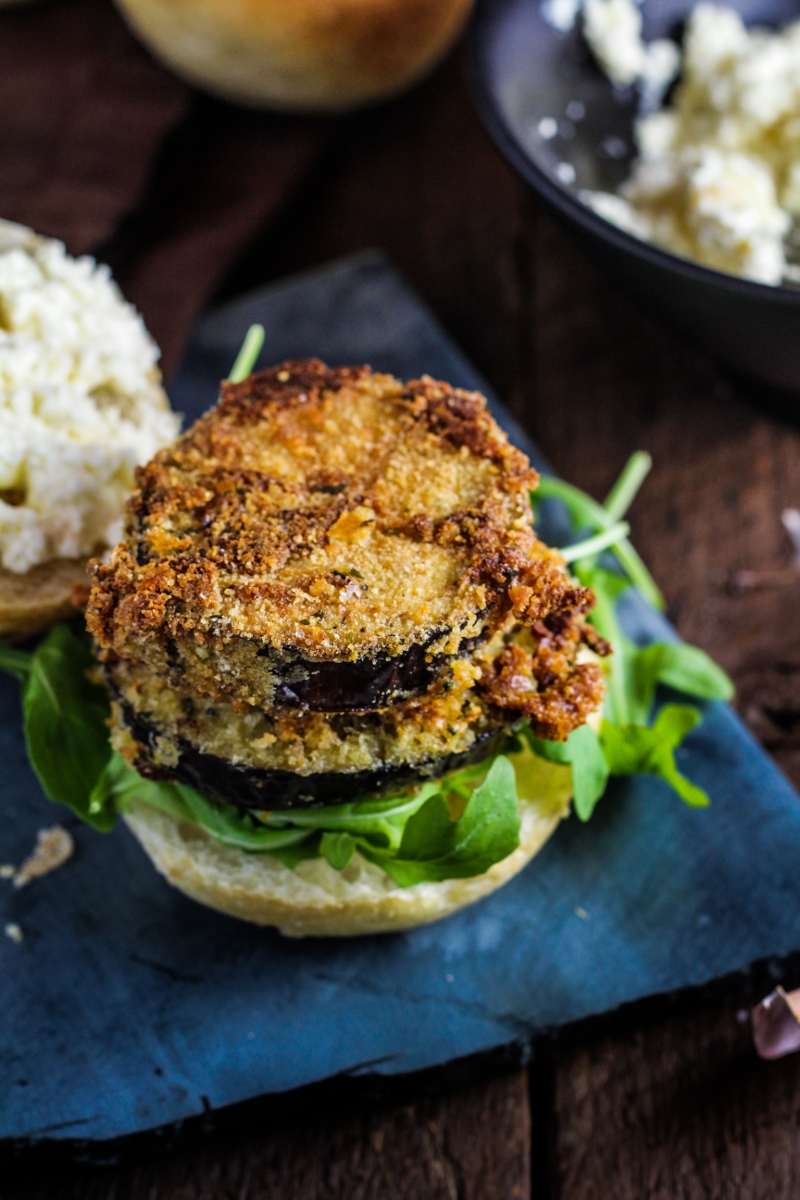 Unlike many of the vegetarian cookbooks I find myself gravitating toward, The Southern Vegetarian is not about keeping vegetables raw or barely processed and making them the only thing on the plate – i.e., you're not going to find a lot of veggie and whole grain salads or gluten-free vegan raw breakfast bowls. Much more frequently, you'll find that vegetables have simply infiltrated a dish where you would be expecting meat, and all the other rich flavors are still in play. In some cases, this means using tofu, seitan, and other meat substitutes as a replacement for the main component of a classic dish, like using seitan in a Vegetarian "Chicken" Pot Pie. Since I'm not a vegetarian, but simply enjoy cooking with vegetables, this is not my favorite type of recipe – if I want chicken pot pie, I'm just going to have chicken pot pie. However, other times, the way they accomplish meat replacement is genius, like using sausage spices to give eggplant that same smoky flavor, or using liquid smoke, hot sauce, and Worcestershire to make a convincing vegetarian gumbo.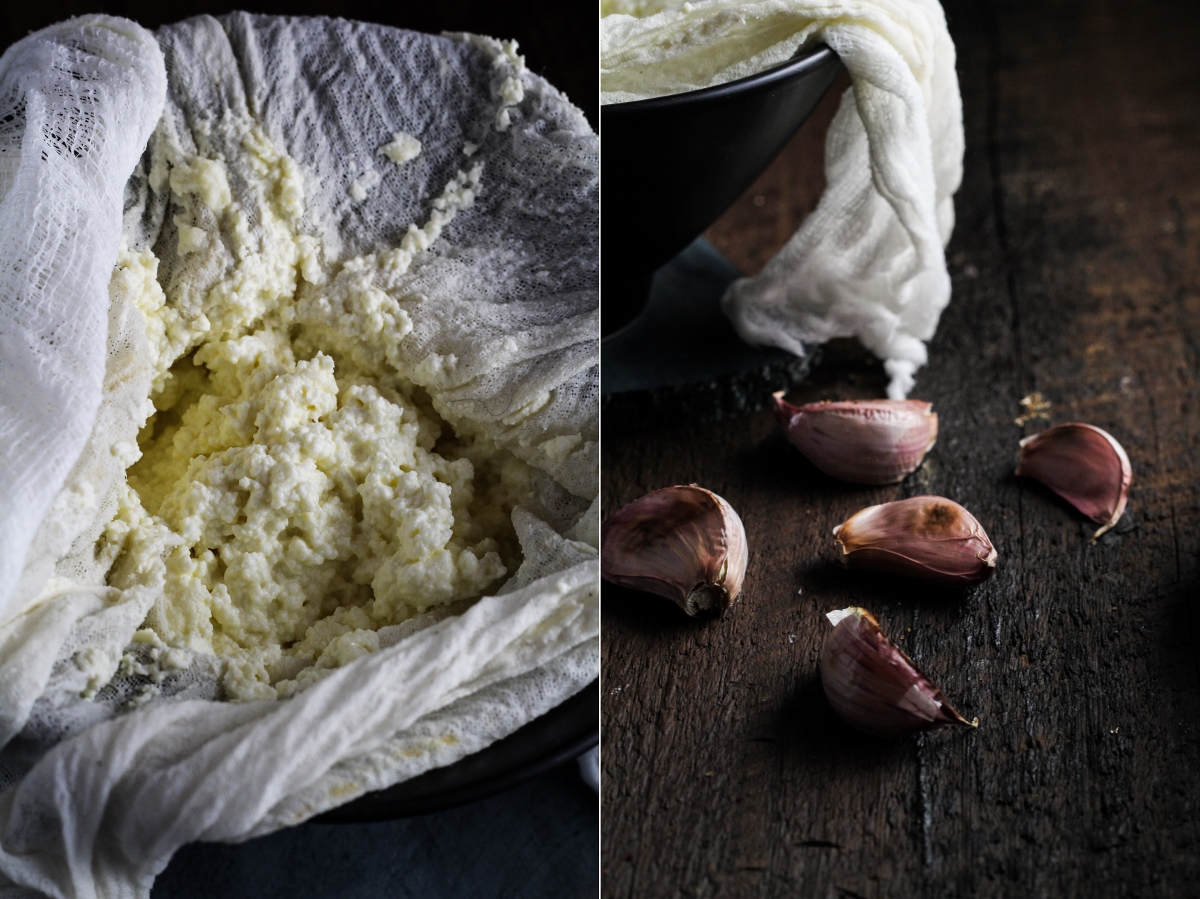 Although they aren't particularly Southern, I made these crispy eggplant sandwiches as a test recipe and they were seriously delicious, in a very satisfying, comfort food sort of way. I also made some (much more Southern) savory cheddar-pecan cookies with spicy pepper jelly, which were great as well, but for now let's focus on the sandwiches. I chose to go the super homemade route with these – homemade tomato sauce, homemade breadcrumbs, even homemade ricotta (out of necessity!) – and they came out amazing, but I have the feeling they'd be just as good using mostly store-bought ingredients. And if that were the route you chose, you'd have an easy, satisfying, flavorful and balanced dinner to serve in under forty minutes. The eggplant really does get quite crispy, and the roasted garlic and ricotta spread makes the meal feel richer than it really is. As a bonus, making this recipe taught me a new, quick way to roast garlic – dry roast individual cloves in a hot skillet while still in their papery skins. Worked like a charm!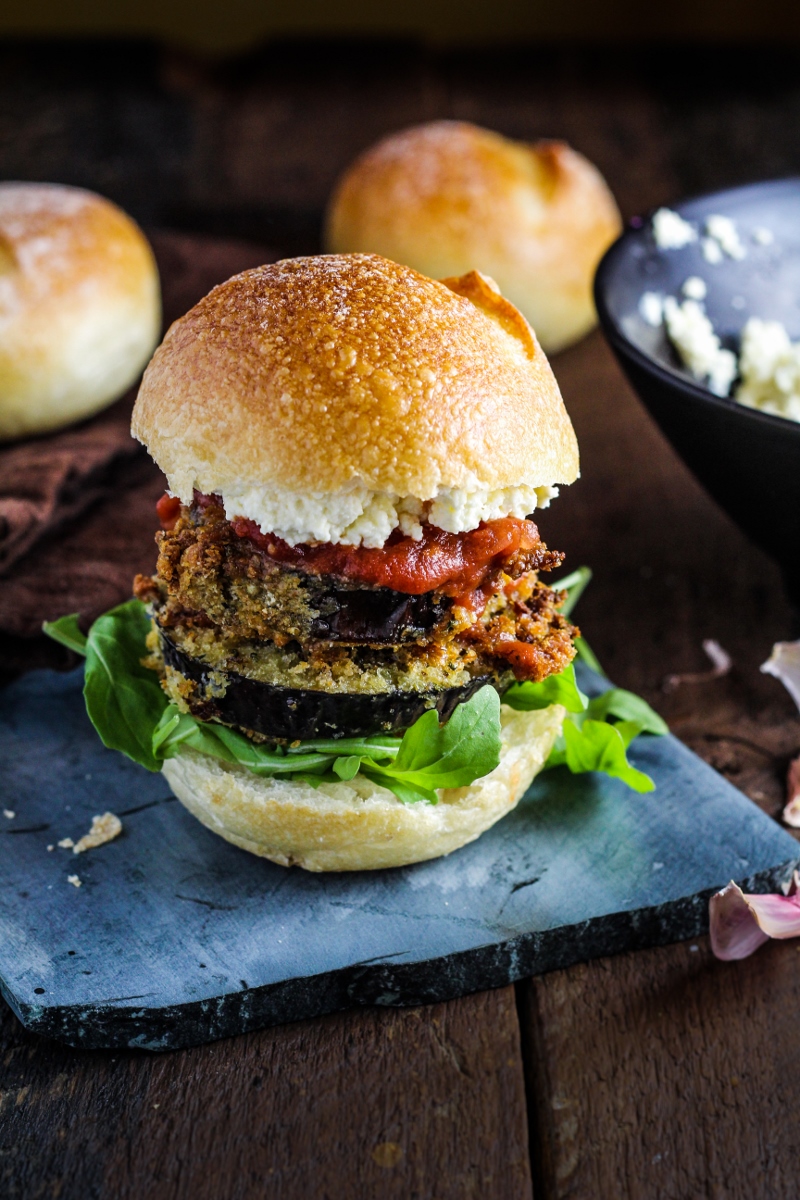 A quick note about the ricotta – when I opened the fancy high-end ricotta I had in the fridge while making this recipe, I gave it a whiff and quickly tossed it in the trash. Going back to the store wasn't an option, but I happened to have all the ingredients you need to make ricotta (milk, heavy cream, vinegar, and salt) on hand, so I decided to go for it. It came out better than the cheap stuff I get at the store but not as good as the expensive stuff I get out the store – it was sweet and mild but a teeny bit rubberry. Although making ricotta from heavy cream and milk feels a little bit wasteful (ricotta is usually a byproduct of making a different cheese – it is made from the leftover acidified whey), it was definitely a great quick fix.
The bottom line: The Southern Vegetarian turns vegetables into serious omfort food. The recipes included here are rich, saucy, and flavorful, and will be definite crowd pleasers, especially in true vegetarian households. Non-vegetarians looking to increase their vegetable intake will also find recipes of interest, but they may not appreciate the classic meat recipe "re-dos" as much as vegetarians will.
Disclaimer: I received a review copy of The Southern Vegetarian from Thomas Nelson. I was not otherwise compensated and all opinions are my own.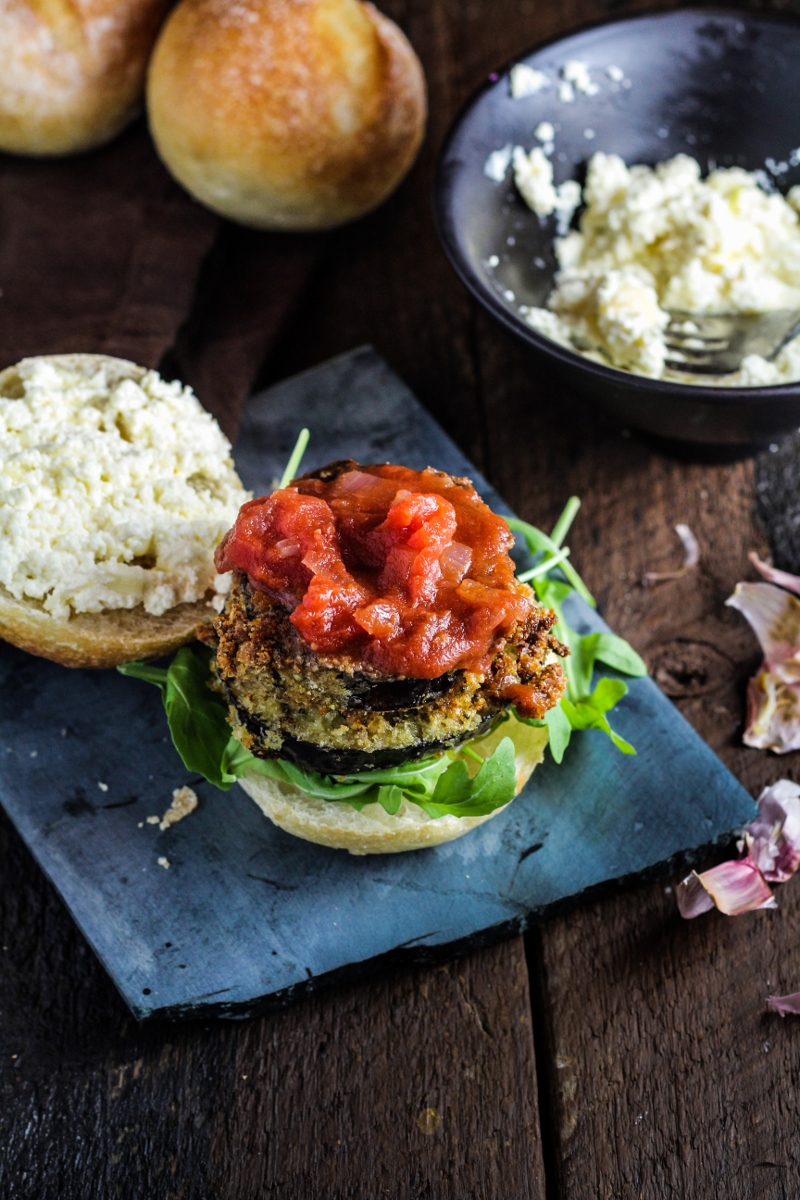 Crispy Eggplant Sandwiches with Roasted Garlic Ricotta Spread
Adapted slightly from The Southern Vegetarian. Serves 4-5.
3 c. torn pieces of fresh French bread

1 TBS Italian seasoning mix (or 1 tsp dried parsley + 1 tsp dried oregano + 1/2 tsp garlic powder + 1/2 tsp salt)
1 medium globe eggplant
salt and pepper
1/2 c. flour
2 large eggs, beaten
olive oil
4-5 ciabatta rolls
1 c. arugula
1 c. warm tomato sauce (homemade or store bought)
1/2 c. freshly grated parmesan cheese
1 c. roasted garlic and ricotta spread (see below)
Preheat the oven to 375°F. Place French bread pieces and Italian seasoning in a food processor and pulse until the bread has broken down into fine crumbs. Pour onto a dinner plate and set aside.

Wash the eggplant and remove the stem ends. Slice into 1/2 inch thick slices. Sprinkle each slice with salt and pepper.
Set up two bowls next to the breadcrumb plate – one with the flour and one with the beaten eggs. Dredge each eggplant slice in the flour, tapping off the excess, then dip in the eggs, then coat with breadcrumbs. Place on a baking tray. Drizzle with a small amount of oil (about 1/8 of a teaspoon per slice).
Bake eggplant for 15 minutes, then flip each slice over and drizzle the opposite side with olive oil. Bake for another 15 minutes then remove from the oven. Coating should be golden brown and crispy.
To assemble the sandwiches, place a handful of arugula leaves on top of the bottom bun, then cover with 2-3 slices of eggplant. Drizzle a spoonful of the warm tomato sauce on top of the eggplant and sprinkle 2 TBS of parmesan cheese on top. Spread the garlic and ricotta mixture on the top bun, then close the sandwich and serve.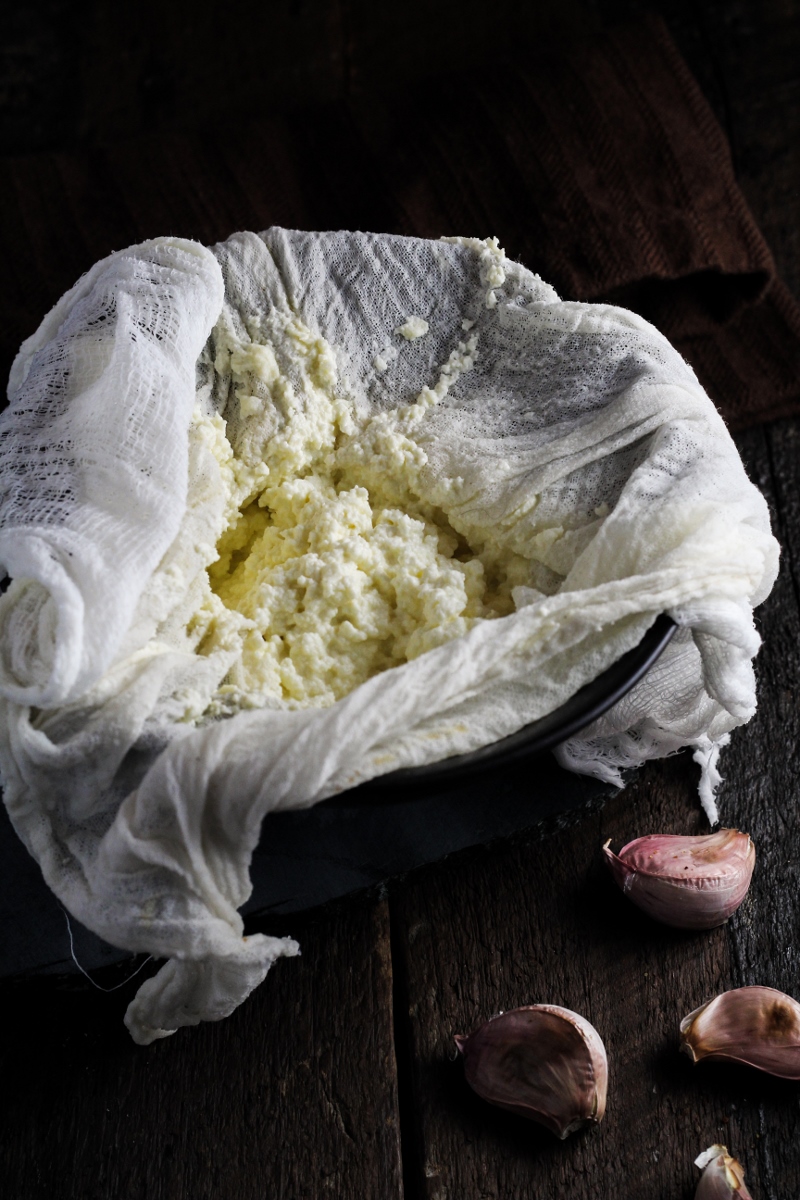 Roasted Garlic Ricotta Spread
Recipe adapted slightly from The Southern Vegetarian. Makes about 1 cup.
5 cloves of garlic, skin left on

1 c. whole milk ricotta, homemade (see below) or store bought

1/4 c. freshly grated parmesan cheese
Place the garlic cloves with their skin on in a dry skillet over medium heat. Toast, flipping occasionally, until skins have started to blacken and garlic is fragrant, about 10-15 minutes. Let them cool, then remove the skins – the inside of the clove should be soft and roasted.

In a small bowl, mash the roasted garlic cloves with a fork, then mix with the ricotta and the parmesan. Taste for seasoning and serve.
Easy Homemade Ricotta
Adapted from Anne Burrell via The Food Network. Makes about 1 cup.
2 c. skim milk

1 c. heavy cream
1 TBS distilled white vinegar
3/4 tsp kosher salt
Mix the milk, heavy cream, vinegar, and salt together in a large saucepan. Bring to a simmer over medium heat, stirring infrequently just to ensure that nothing is sticking to the bottom or sides of the pot. Once the milk has reached a simmer, simmer for 1-2 minutes – curds will form continuously as you simmer the milk.

Place a sieve or strainer lined with damp cheesecloth over a large bowl. Pour the curds and whey into the strainer, and let drain for 15 minutes. After it has drained and cooled to a point where it is comfortable to touch, gently squeeze out any remaining whey from the ricotta. Unmold from the cheesecloth and serve, or store in the fridge.
0