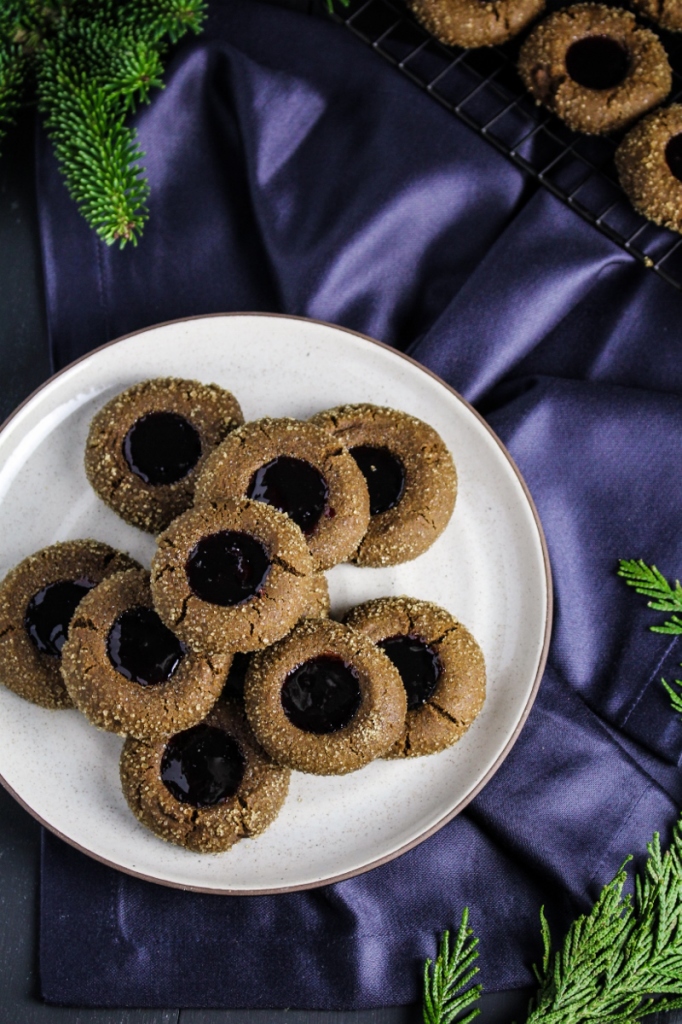 I have to admit to you all, I'm having a hard time getting into the Christmas spirit. I feel as though I've said this before, and when I look back at posts from past years, I see similar sentiments. It's a busy time of year, and I'm struggling to be excited and engaged instead of just feeling kind of run down. I think the underlying problem is that so much of what I do every day feels like another item on my checklist, and not enough is spontaneous or just for fun. I'm hoping that this feeling starts to go away once I get some major things off my plate: my economics final next week, and a few big client deadlines coming up. And starting now, I'm going to try and focus on building more relaxation and spontaneity into my day-to-day.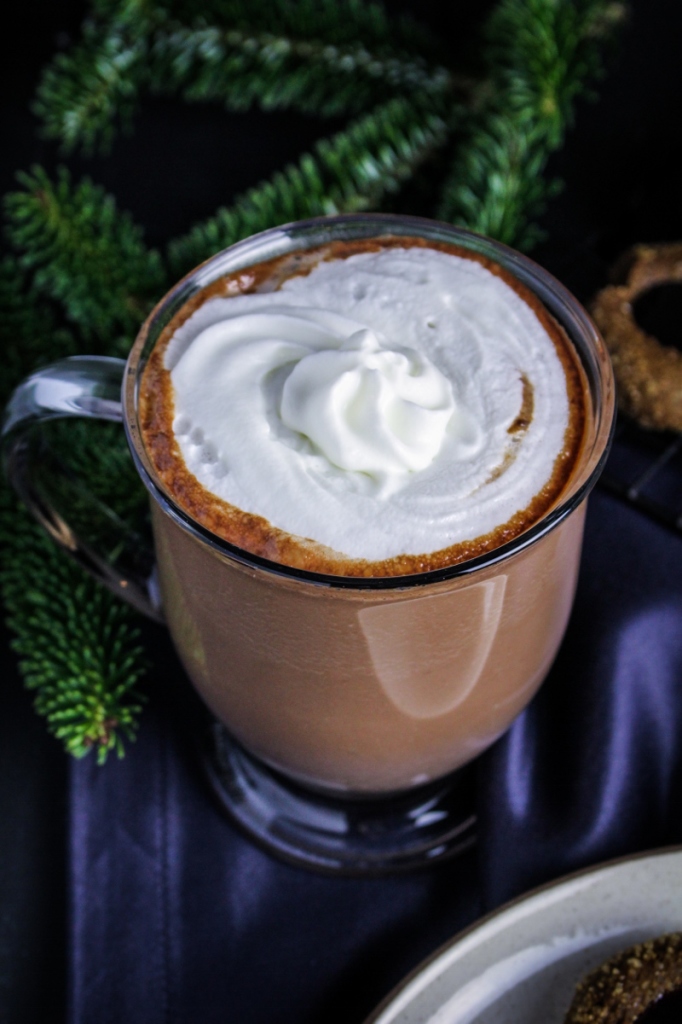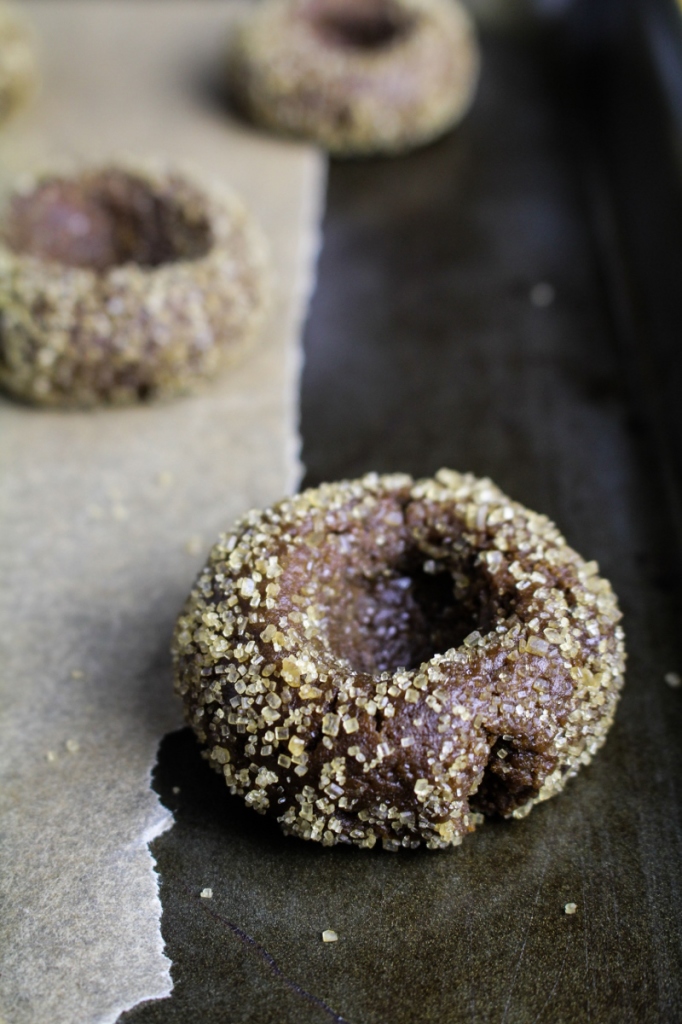 I am trying to get in the spirit, though – to be thoughtful, and joyous, and rested. We've been cranking up the Christmas carols when we're cooking, we put up and decorated our tree this week, I made the first batch of Christmas cookies and shared them at work, and I tried to go to Mass last weekend (it turned out that it was not actually Mass but a caroling concert put on by the Harvard Catholic choir – I still get credit for that, right?). I'm also sitting by the tree to write this post, hoping maybe it's sweet smell and calming lights will wear off on me (it's kind of working, too). So with two weeks to go, I think there's still hope for me and Christmas this year.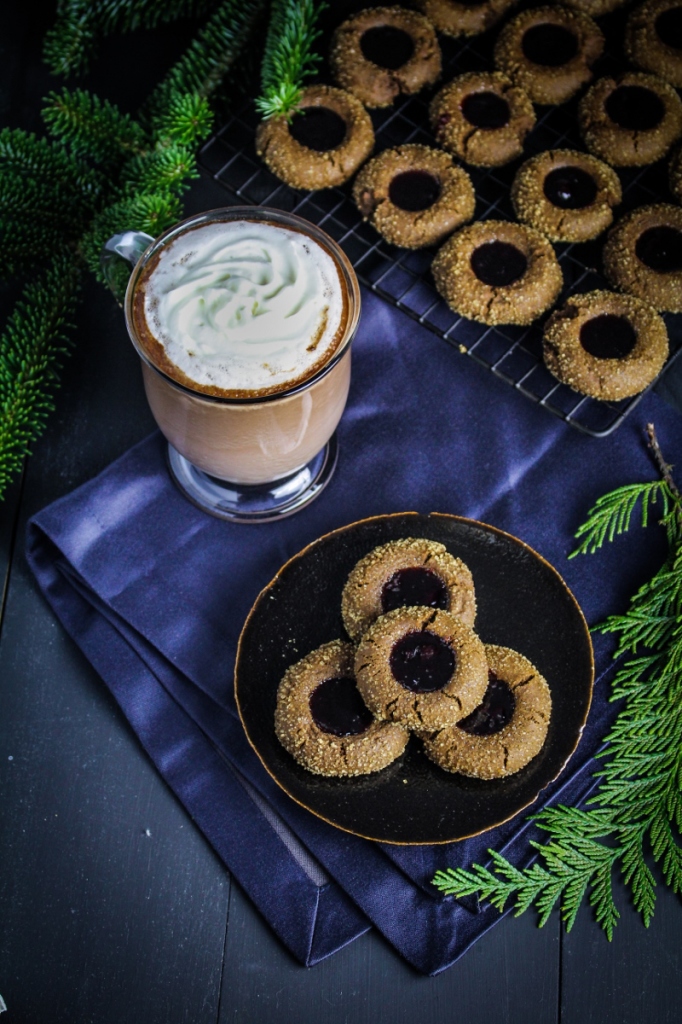 Although this post itself may not be very Christmasy, I assure you that these cookies will make up for it. The cookie is dark, soft, and a little spicy, based more on a molasses chew than traditional gingerbread men. I chose cherry jam because I've been a little bit obsessed with the Bonne Maman cherry preserves we bought for this Chocolate Cherry Crepe Cake, and I've been putting it on pretty much everything, but other jams or jellies would work well too. Most thumbprint cookie recipes have you bake the thumbprints with the jam already in them, but since these cookies will rise and flatten quite a bit, I chose to repeat the indentation process immediately after taking them out of the oven, and then fill them with hot jam. The jam will dry thick and shiny, and these will still be very transportable. Plus they'll look much neater than if you filled them pre-baking. I also thought these pictures needed a little oomph, so I whipped up a batch of one of my very favorite holiday indulgences – European-style hot chocolate – and spiked it with Cointreau for good measure. If anything will help put you in the Christmas spirit, it's thick and boozy melted chocolate served steaming hot. In fact, maybe I better go make another batch right now and get this weekend started off right.
Like what you just read? Subscribe to Katie at the Kitchen Door on Feedly or Bloglovin', or follow along on Facebook, Twitter, Pinterest, Instagram, or Google+. Thanks for reading!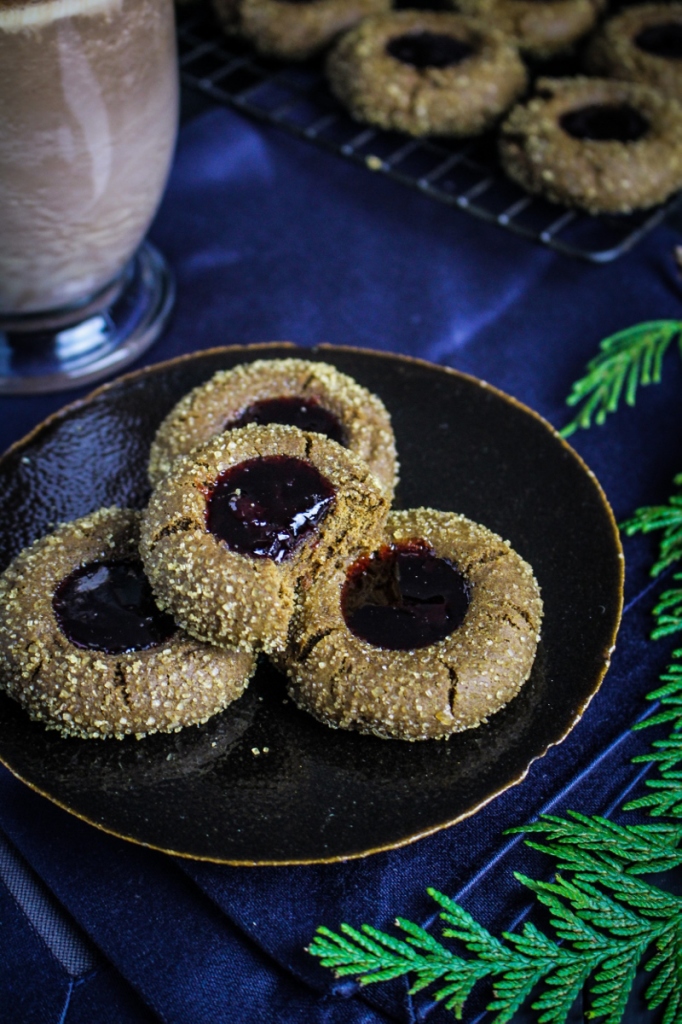 Gingerbread Thumbprints with Cherry Jam
Cookie base adapted loosely from Bon Appetit and America's Test Kitchen. Makes ~30 cookies.
2 c. flour
1 1/2 tsp baking soda
1 1/2 tsp ground cinnamon
1 1/2 tsp ground ginger
1/2 tsp ground cloves
1/4 tsp salt
1 egg plus 1 egg yolk
1/3 c. brown sugar
1/2 c. dark molasses
10 TBS butter, melted
1/2 c turbinado sugar, for rolling
1/2 c. cherry jam
Preheat oven to 375°F. In a large bowl, whisk together flour, baking soda, cinnamon, ginger, cloves, and salt until evenly combined. In a separate bowl, whisk together egg, egg yolk, and brown sugar until smooth. Add the molasses and melted butter and whisk until smooth. Add the wet ingredients to the dry ingredients and stir together just until combined. Chill the dough for 20 minutes.
Line a baking sheet with parchment paper. Pour the turbinado sugar onto a plate or small bowl. Break off ping pong ball sized pieces of the cookie dough and roll into balls. Roll the balls through the turbinado sugar and place on the baking sheet. Use your thumb or forefinger to make a deep imprint in the center of each cookie. Bake the cookies for 7-8 minutes. When you take them out, immediately reinforce the imprints (which will have risen slightly) by using the back of a teaspoon to press the circle back into them.
Heat the cherry jam in a small saucepan over medium heat until it is simmering gently. Simmer for 1 minutes, then remove from heat and spoon 1 teaspoon of the hot jam into the center of each cookie. Let cookies cool completely.