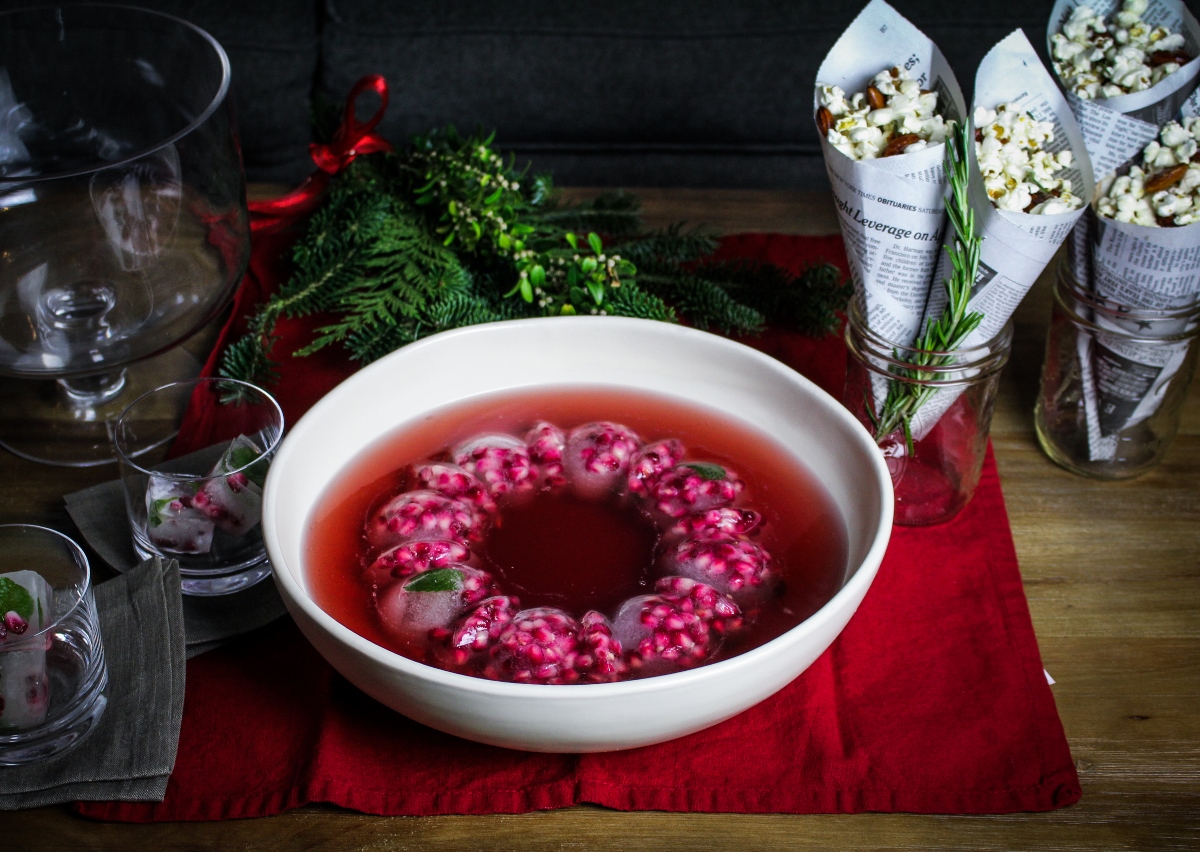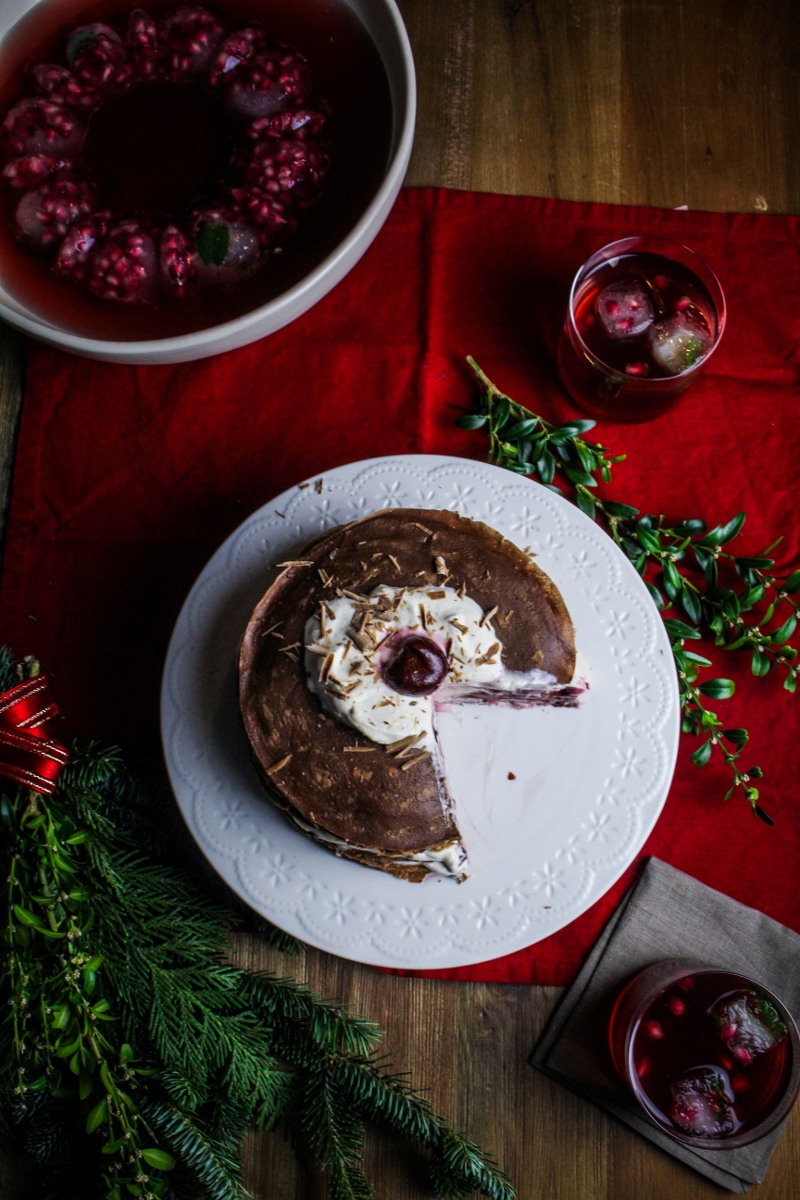 With Thanksgiving so late in the month and the early onset of wintry weather in much of the US, it feels like we're hurtling into the Christmas season even faster than we usually do. December begins tomorrow and with it a flurry of excitement – holiday parties, decorating, baking, shopping, spending time with family and friends, and otherwise celebrating the season. While it may seem overwhelming to stick to a budget at this time of year, it's not impossible, and even entertaining can be done in a way that's frugal without feeling cheap. When Albertsons tasked me with coming up with a few recipes for throwing a holiday party on a budget, I was up for the challenge. Although my days of scrimping on every purchase (read: college) are getting further behind me, I still tend to entertain with a close eye on my wallet. But that doesn't mean that the parties I throw can't still be fun and elegant! When planning a party, I tend to rely on a few tips for keeping both my stress levels and my total expenses low:
Choose recipes that can serve a crowd. Much of the cost for shopping for a recipe is in the ingredients that you only need a small amount of. If you're doubling or tripling a recipe to serve a large group, you're less likely to waste money in the form of lots of little bits and bobs that will be difficult to use up later. Besides, it's much easier for you as the host to set out a large casserole or serving platter than to concern yourself with lots of small plated dishes!
Look for ways to extend fancy ingredients. You don't need to completely avoid luxurious ingredients to stick to a budget, just look for recipes that extend the main ingredient. Dying to serve steak? Slice it thin and serve steak sandwiches with blue cheese and caramelized onions. Want to serve candied nuts but worried about how many you'll need for a large group? Toss them with homemade popcorn and there's more for everyone (see below!).
Cook from scratch. Wherever possible, make recipes from scratch to save money and keep things healthy. An example: making your own pizza dough is easy and requires only a little flour and water – much cheaper than buying one pre-made. Of course, there's a trade-off here for how much of your time you're willing to spend doing prep work, so don't try to do everything by yourself.
With these tips in mind, I came up with the following four recipes. The ingredients would be easy to find at your local Albertsons or Shaws, and for a party of 8 should come in well under $100.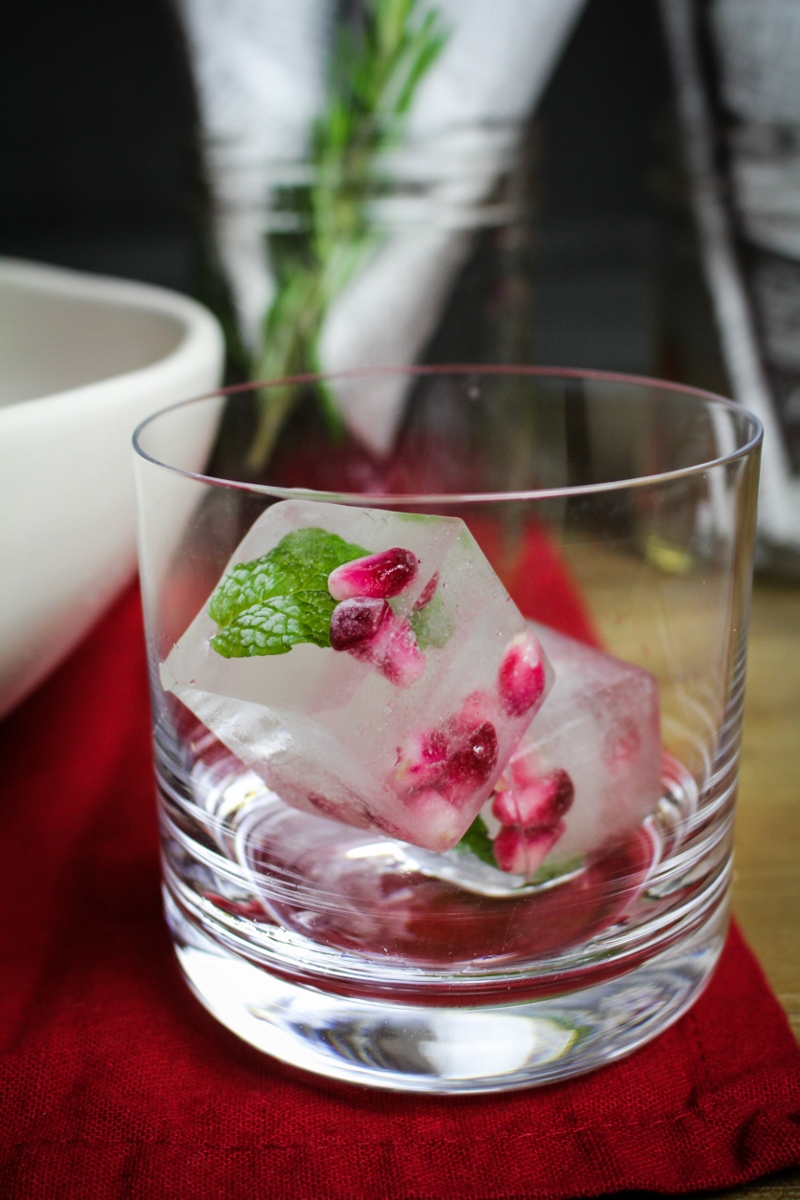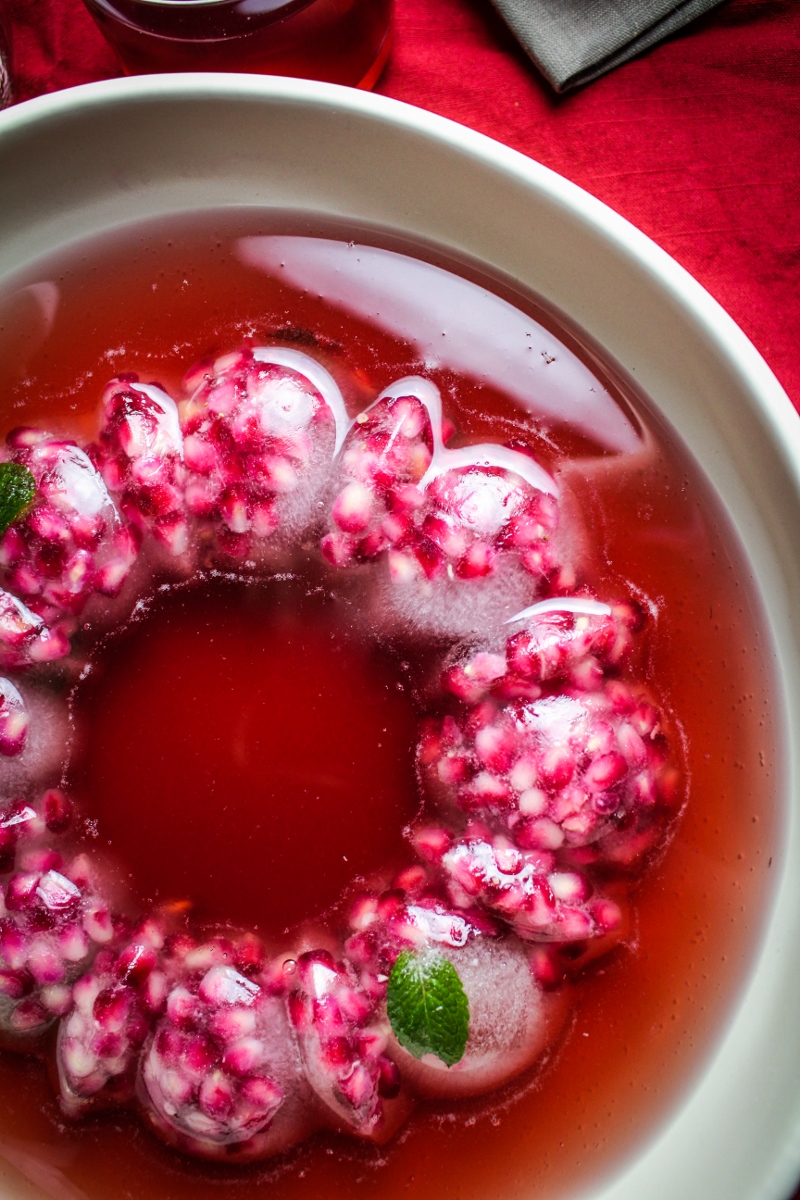 Pomegranate Mojito Punch: Punch is one of my favorite things to serve at a party, especially during the holidays. It's the easiest way to serve a crowd a festive cocktail, and allows guests to serve themselves quickly and easily throughout the night. Adding a pomegranate and mint leaf studded ice ring to the punch bowl ups the elegance factor, with the added benefit of keeping the punch cool for longer than single ice cubes. Plus, if there will be kids at your party, they'll love the non-alcoholic version of this, and you only have to make one recipe to please all ages!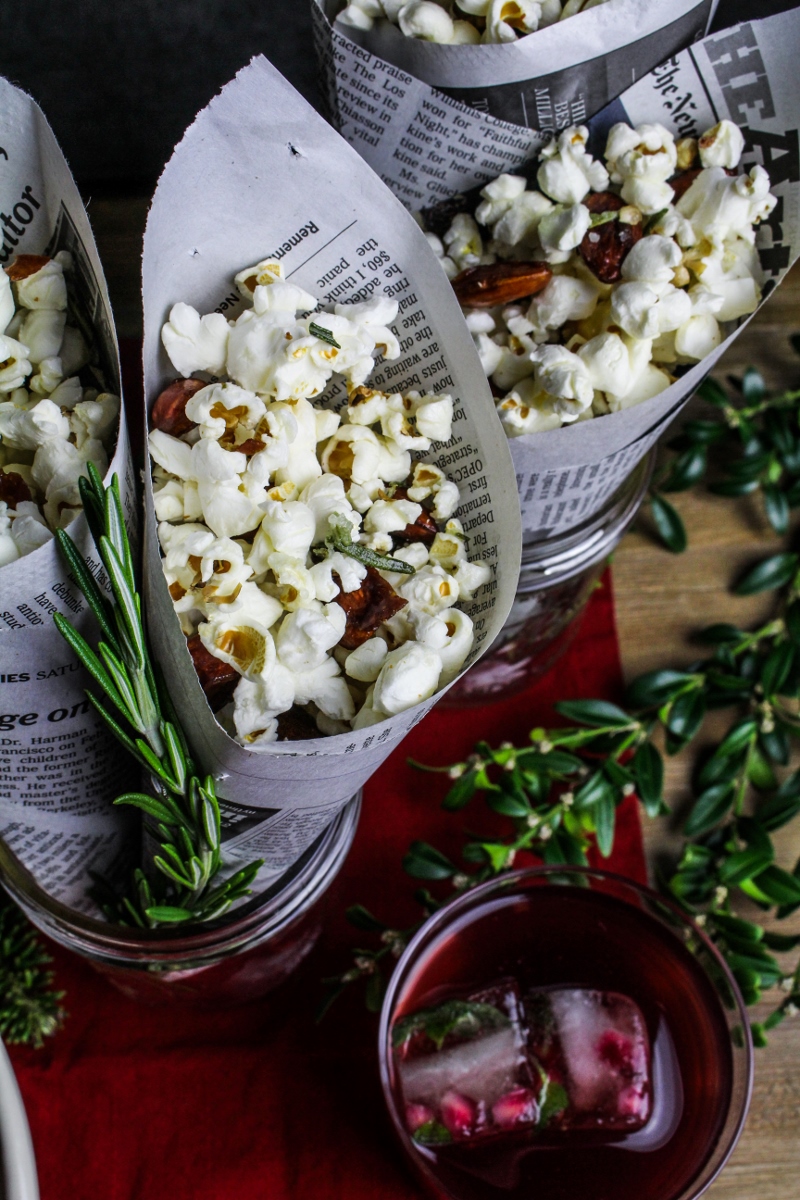 Popcorn with Rosemary Butter and Honey-Chipotle Almonds: Candied or spiced nuts are always a hit at holiday parties, but they can be hard hitting on both your waistline and your wallet if you rely on them as an appetizer. Extend them by mixing with freshly popped popcorn, seasoned with fresh rosemary butter. Individual newspaper cones make for a cute presentation, and also allow your guests to help themselves, wandering around with their own personal appetizer without worrying about making a mess or finding a place to put their plate when they're done. The almonds themselves are glazed with a honey and chipotle sauce – just slightly sweet with a deep savoriness from the chipotle powder, they are completely addictive.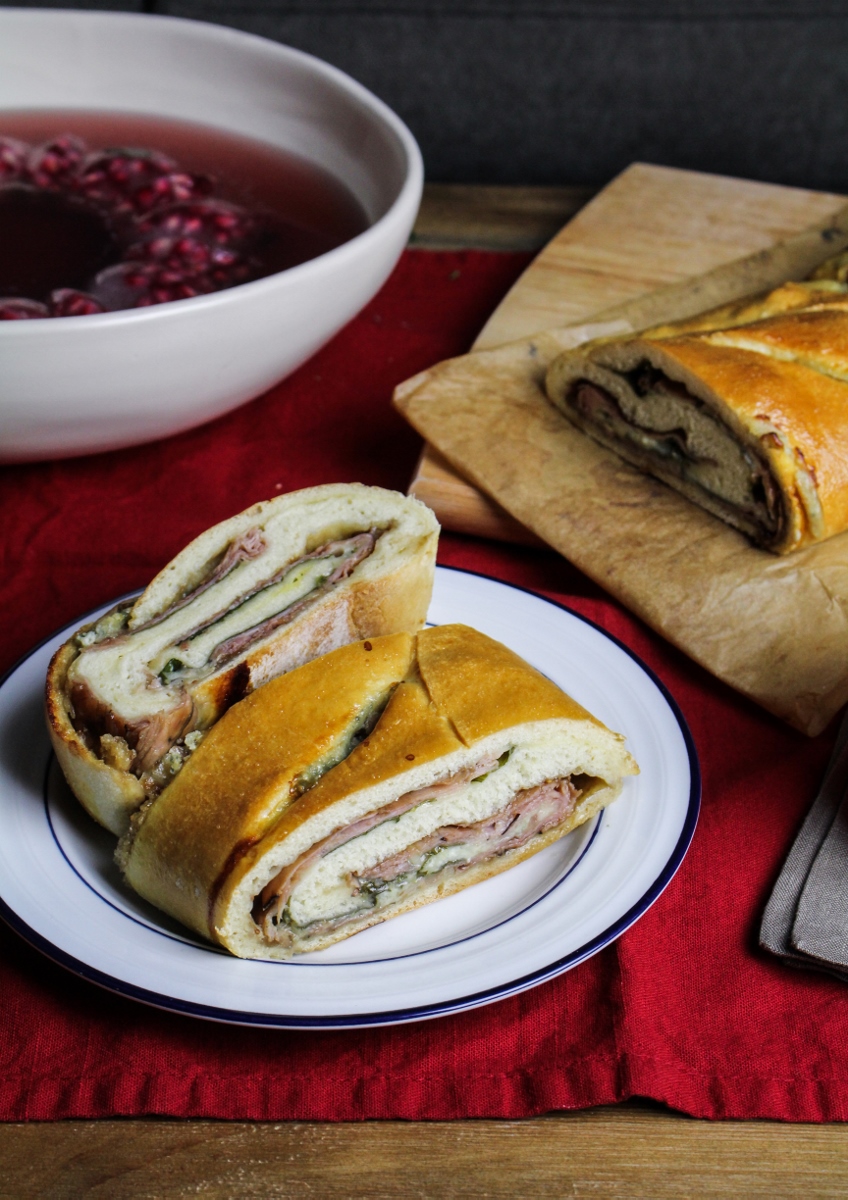 Blue Cheese, Ham, and Fig Jam Stromboli: Similar to a calzone, a stromboli is like the jelly-roll of pizza. It feels slightly fancier than just serving a pizza, but is just as economical when you need to serve a crowd. It also allows easy and mess-free serving, and can be customized to use whatever fillings you have on hand. This one combines fig jam, blue cheese, and ham for a sophisticated and rich flavor combination.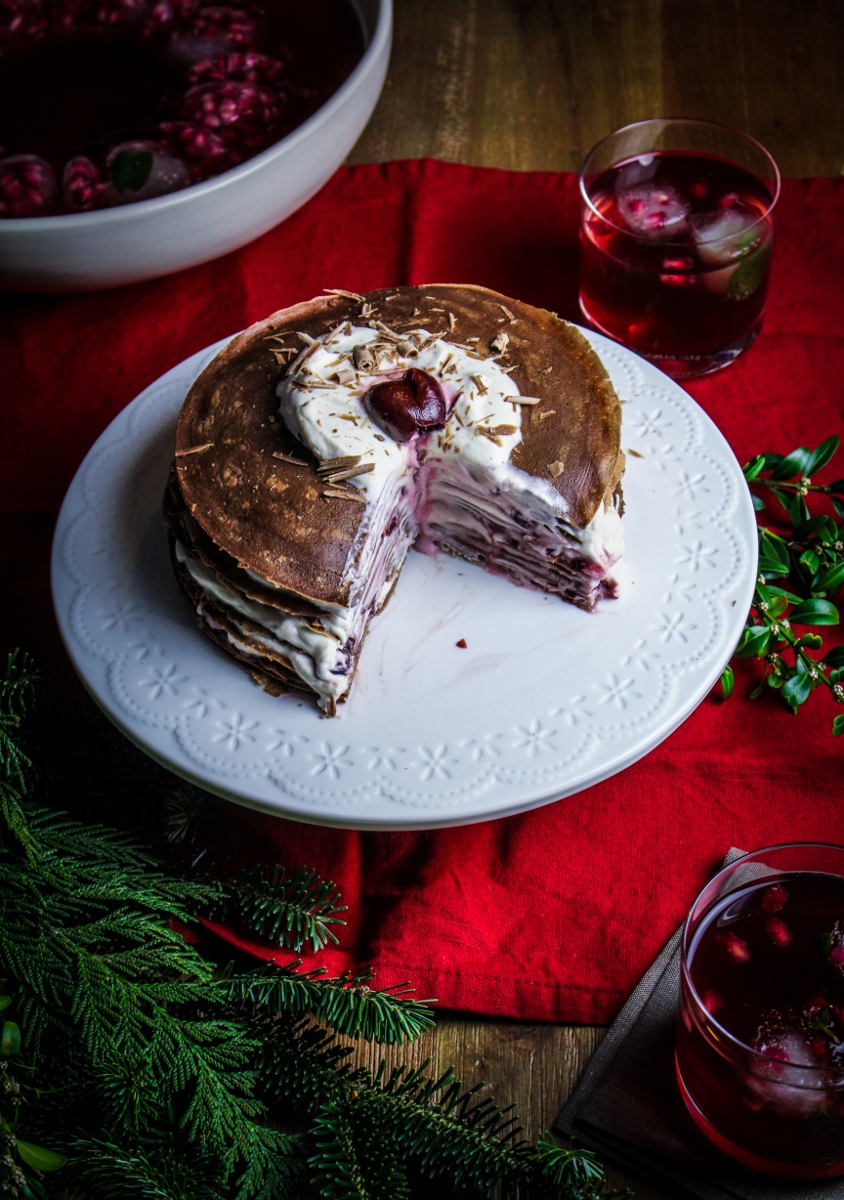 Chocolate-Cherry Crepe Cake: Crepe cakes are similar in concept to a layer cake, except the layers are made from crepes instead of cake – good for those who are intimidated by baking cake from scratch. Assembling this neatly takes a bit of patience, but overall I find it easier than baking and decorating a layer cake. Plus, you get a much better ratio of whipped cream to "cake" then you do with a traditional cake. This crepe cake uses chocolate crepes, espresso whipped cream, and cherry jam.
More like this…
Like what you just read? Subscribe to Katie at the Kitchen Door on Feedly or Bloglovin', or follow along on Facebook, Twitter, Pinterest, Instagram, or Google+. Thanks for reading!
Disclaimer: This post is sponsored by Albertsons. All opinions are honest and my own.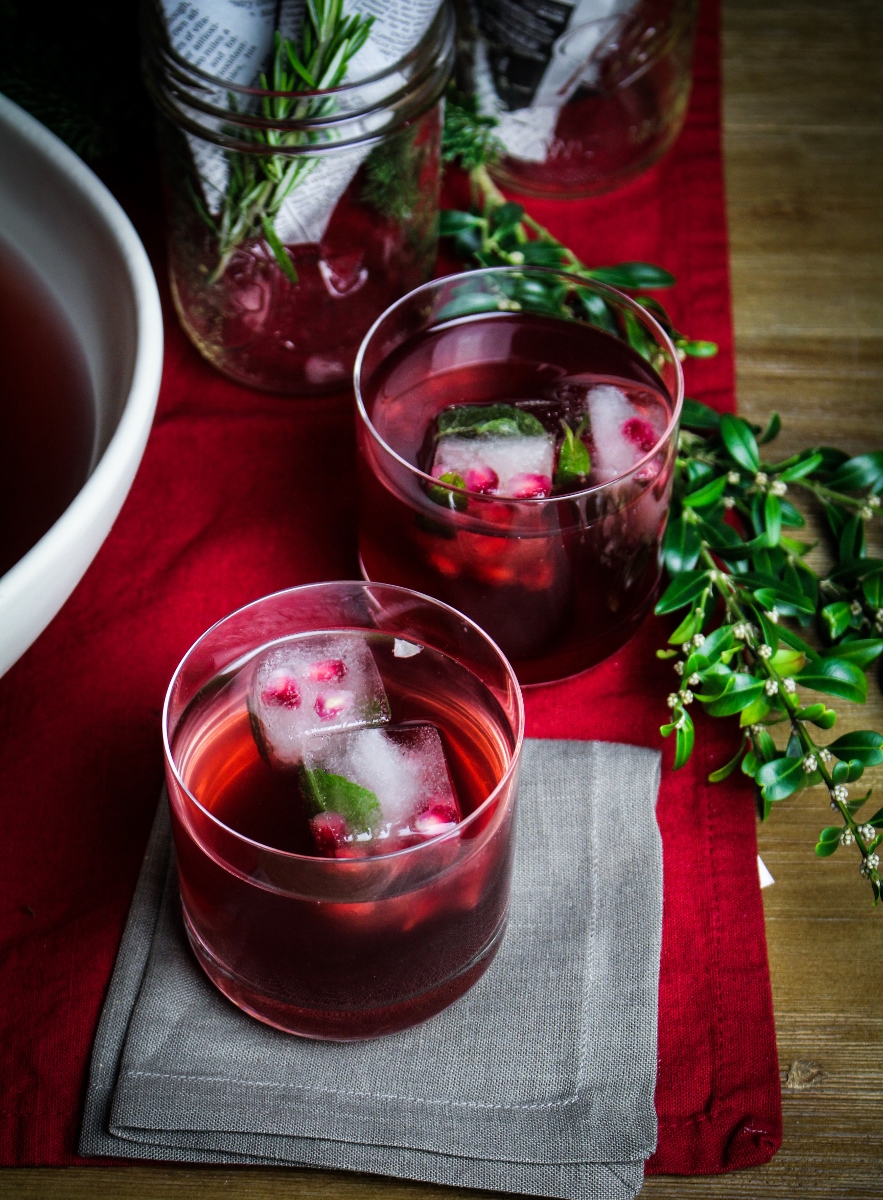 Pomegranate Mojito Punch
Serves 8-10. A Katie at the Kitchen Door original recipe.
1 pomegranate
1 bunch mint, divided
Ice cubes
1 c. sugar
2 ½ c. pomegranate juice
½ c. lime juice, preferably freshly squeezed (from 4-5 limes)
2 c. white rum (optional)
2 c. lime seltzer, chilled
To make the ice ring: remove the arils from the pomegranate. One way to do this is to cut the pomegranate in quarters and peel away as much of the white skin as possible, then gently rub the seeds to release. Place the pomegranate arils in the bottom of a bundt pan. Place 10-12 fresh mint leaves on top of the pomegranate, then cover with a handful of ice cubes (the ice cubes will keep the pomegranate from floating when you add water). Cover the pomegranate arils with water – you should have water about 1 inch deep in the bundt pan. Place in the freezer and freeze until solid, at least 6 hours.
Roughly chop the remaining mint leaves. Add to a small saucepan along with the sugar and 1 cup of water. Bring to a simmer over medium heat, and simmer for 5 minutes. Remove from the heat and let sit for 10 minutes, allowing the mint leaves to further flavor the syrup. Strain the syrup through a fine-mesh strainer into a bowl and set aside, discarding the mint leaves.
Pour the mint syrup, pomegranate juice, lime juice, and rum, if using, into a large bowl. Stir, then cover and chill until very cold, at least 1 hour. Just before serving, take the punch out of the fridge and add the seltzer. Remove the ice ring from the freezer and briefly run the outside under hot water to loosen the ring from the pan, then invert the ice ring to remove from the pan and carefully add to the punch bowl. Serve immediately.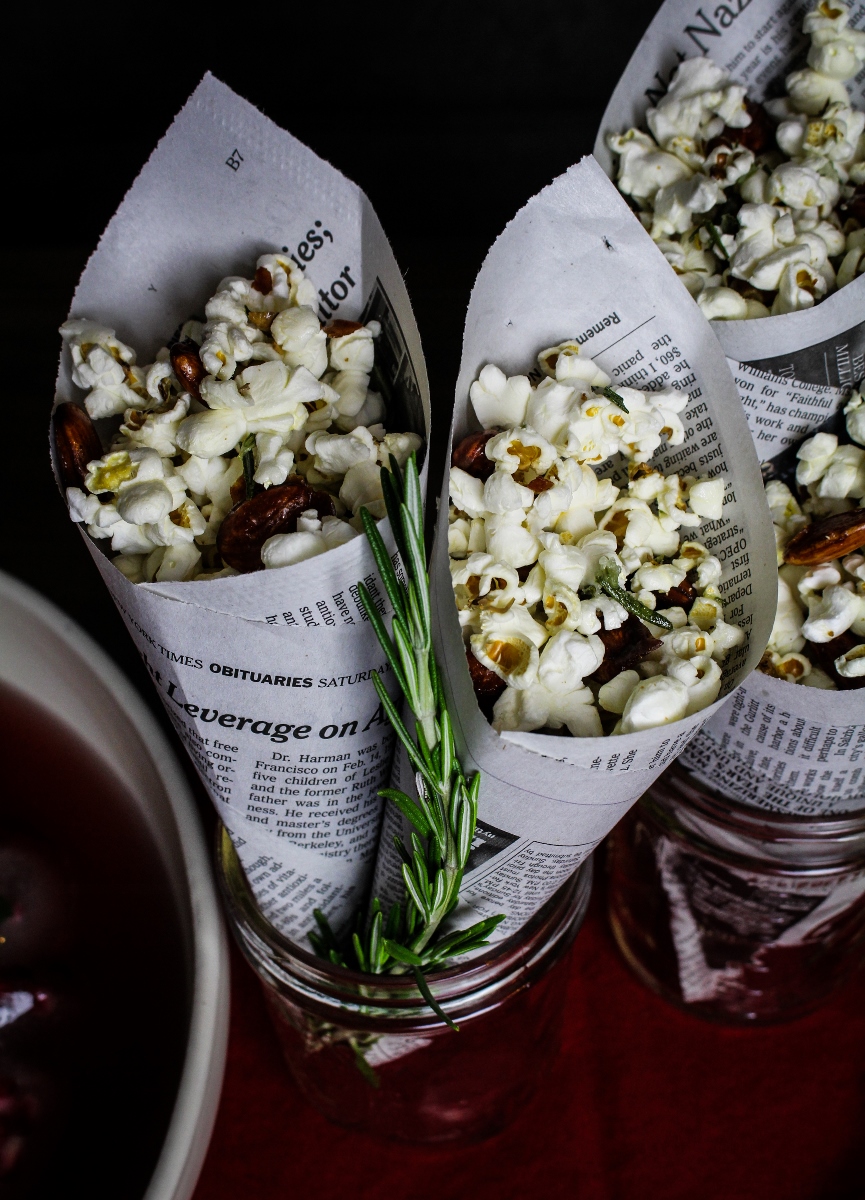 Popcorn with Rosemary Butter and Honey-Chipotle Almonds
Serves 8 as an appetizer. A Katie at the Kitchen Door original recipe.
3 TBS canola oil
½ c. unpopped plain popcorn
4 TBS salted butter, divided
2 sprigs fresh rosemary, leaves removed and finely chopped (about 1 ½ tsp chopped)
1 ¼ tsp coarse sea salt, divided
2 TBS honey
¼ tsp chipotle powder
1 c. whole unblanched almonds
Place the canola oil in a large, heavy-bottomed stockpot with a lid. Heat over medium heat until shimmering, then pour the popcorn kernels on the bottom of the pot in an even layer. Cover with the lid and place over heat until you start to hear the kernels pop. Wearing oven mitts, shake the pot gently from side to side over the heat as the popcorn pops (to prevent kernels from sticking to the bottom and burning). Do this until the pops slow to 1 or 2 per second, then remove from the heat, and shake for another 30 seconds. Once the pops have completely subsided, remove the lid and give the popcorn a few stirs, then cover and set aside.
Preheat the oven to 300° In a small saucepan, place 3 TBS of the butter and the chopped rosemary. Melt over low heat, then pour over the popcorn and stir. Sprinkle 1 tsp of the sea salt over the popcorn and stir.
Place the remaining 1 TBS of butter, ¼ tsp of salt, the honey, and the chipotle powder in the small saucepan. Melt over medium heat, then add the almonds and stir to coat. Cook until the honey sauce has thickened and is bubbling, about 3-4 minutes, then spread the almonds out on a parchment paper lined baking sheet. Bake for 12 minutes, then remove from heat and let cool. Use a fork to break apart any clusters, then stir into the popcorn. Serve the popcorn in individual paper cones for guests to pick up and carry around with themselves.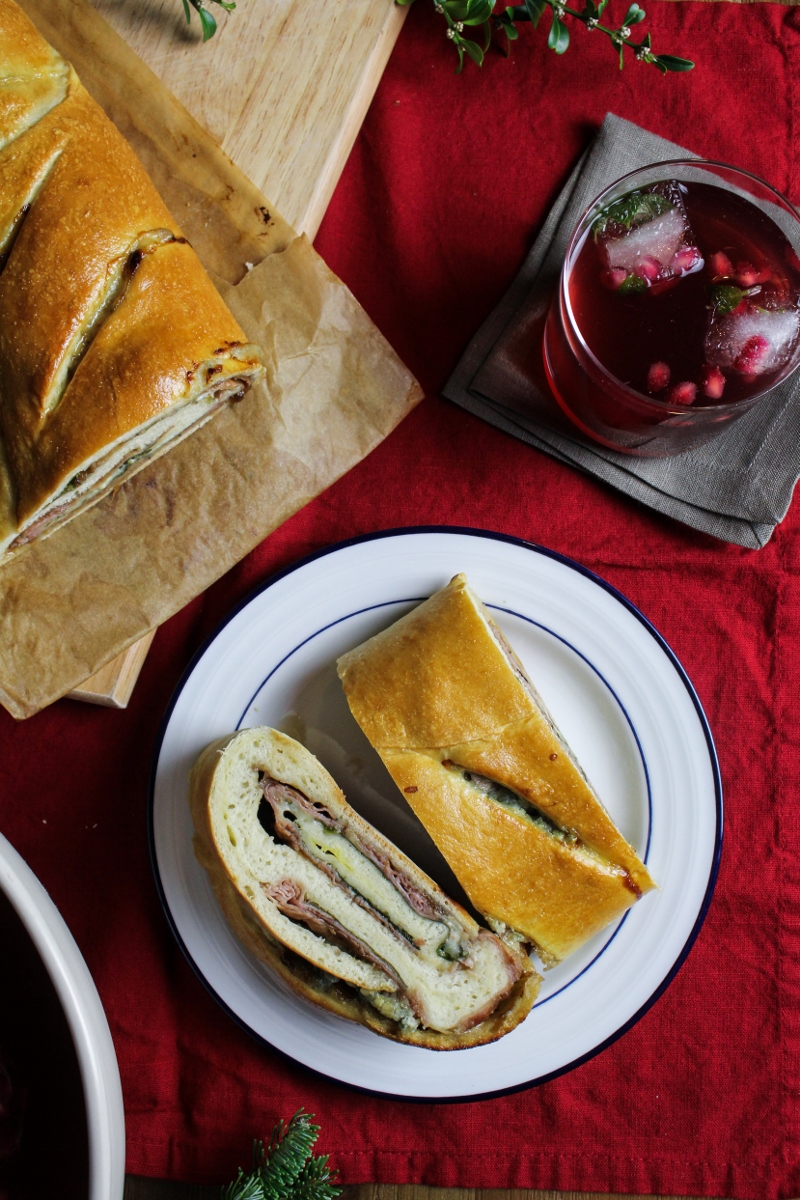 Blue Cheese, Ham, and Fig Jam Stromboli
Serves 8-10. A Katie at the Kitchen Door original recipe.
1 large pizza dough, room temperature (store bought or homemade)
½ c. of fig jam
2 TBS balsamic vinegar
½ lb. ham, thinly sliced
2 c. shredded mozzarella
¾ c. crumbled blue cheese (about 3 oz.)
2 c. baby spinach
1 egg
Preheat the oven to 400°F. Combine the fig jam and balsamic vinegar in a medium bowl. Whisk until smooth.
Roll the pizza dough out into a large rectangle, about 14 inches wide by 20 inches long. Carefully lift the dough and transfer to a large square of parchment paper placed on a rimmed baking sheet (dough will hang over the edges before you stuff it). Spread the jam in a thin layer over the middle of the dough, leaving 1-2 inches of space from all four edges. Place the ham slices over the jam in an even layer. Sprinkle the mozzarella and the blue cheese evenly over the ham, then top with a layer of spinach.
Prepare an egg wash by whisking the egg vigorously with 1 teaspoon of water. Set aside. Fold the short sides of the dough over by about 1 inch, just to cover the edge of the filling. Brush the top of the folded edge with egg wash. Fold one of the long edges over the filling to cover it by one third. Brush the remaining exposed edge with egg wash (to create a better seal when you fold it). Fold the other long edge so that it covers the previously folded portion, pinching along all edges to seal – you should have a long loaf with three layers inside, folded as you would fold a letter. Brush the entire top and sides with egg wash. Using a sharp knife, make a series of diagonal slits on the top to act as steam vents. Bake for 30-40 minutes, until the top is golden brown. Let rest 5 minutes before slicing and serving.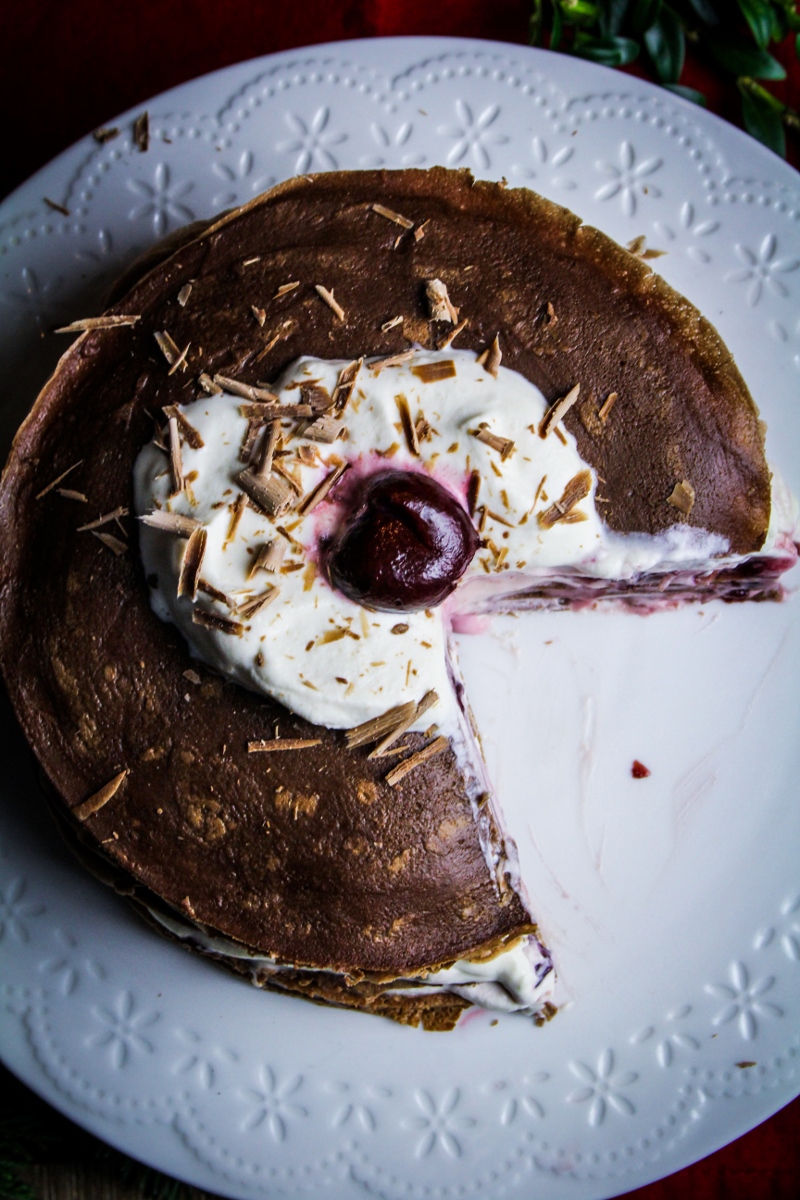 Chocolate-Cherry Crepe Cake
Serves 8. A Katie at the Kitchen Door original recipe.
4 large eggs
1 c. whole milk
1 TBS butter, plus extra for cooking the crepes
1 oz. dark chocolate chips
¾ c. flour, sifted
3 TBS cocoa powder, sifted
¼ tsp salt
1 ½ c. heavy cream
2 TBS sugar
2 TBS freshly brewed espresso or 2 tsp espresso powder
6 TBS cherry jam
1 TBS kirsch, grand marnier, or other fruity liqueur
Put the eggs and milk in a blender and blend on high until smooth, about 30 seconds. Melt the chocolate chips and the butter together, either in a small saucepan over low heat or in the microwave (heat on half power for 15 seconds at a time, stirring in between, to avoid scorching the chocolate). Turn the blender back on and carefully drizzle the melted chocolate mixture into the batter, just until incorporated. Turn off the blender. In a large bowl, whisk together the flour, cocoa powder, and salt. Add to the batter and blend until smooth, another 30-60 seconds. Refrigerate the batter for at least 1 hour.
In a medium frying pan, heat a small pat of butter over medium heat. Once the butter has melted. Pour about ¼ cup of the crepe batter into the pan and swirl the pan so that the batter evenly fills the bottom of the pan. Cook until the visible side of the crepe begins to look tacky, about 60-90 seconds, then flip and cook the other side of the crepe for 30 seconds. Remove to a pan to cool. Repeat until you have used all the batter. Depending on the size of your pan, you should have 12-18 crepes. Chill the crepes until cool to the touch, about 30 minutes.
Add the heavy cream to a large bowl and beat on high until soft peaks have formed. Add the sugar and espresso or espresso powder and beat until stiff peaks have formed, then chill the whipped cream until you are ready to assemble the cake.
When you are ready to assemble the cake, place the cherry jam and the fruit liqueur in a small saucepan and bring to a gentle simmer (you are just trying to thin the jam to a consistency where it is easily spreadable). Remove from the heat. Place a small dollop of whipped cream on your serving platter or cake stand, then place a crepe on the whipped cream to stabilize the cake. Brush a small amount (about 2 teaspoons) of the cherry jam mixture on top of the crepe, then spread a thin layer of the espresso whipped cream evenly on top of the jam. Top with another crepe, pressing very gently. Repeat the process with another layer of jam and whipped cream. Do this until you have used all of your crepes. Chill the cake for at least 45 minutes before serving – this will make it much easier to cut into the layers neatly. Serve chilled.