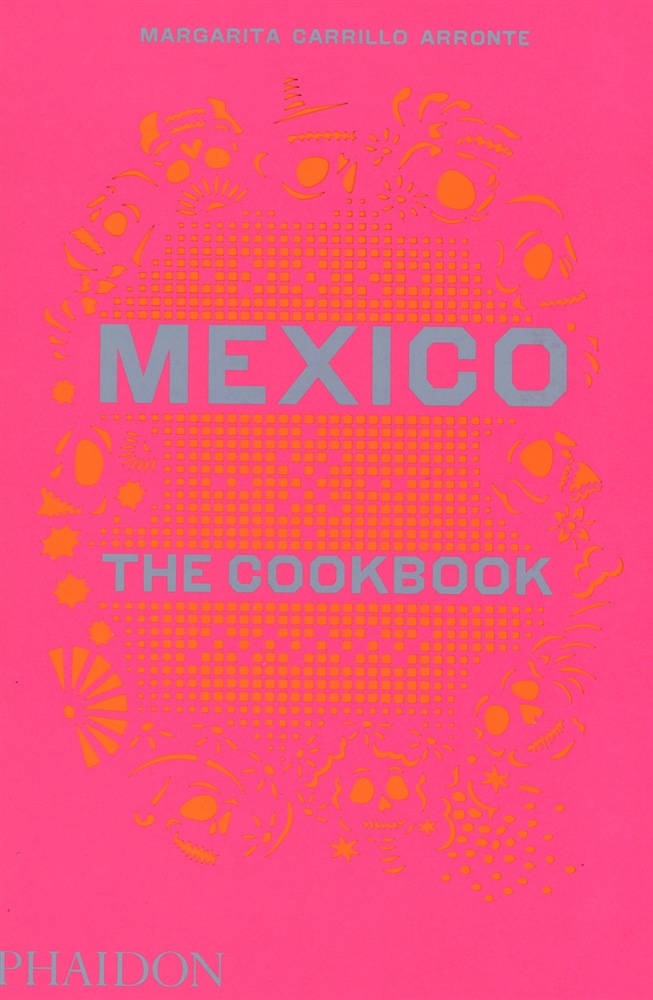 The Book: Mexico: The Cookbook is the latest in Phaidon's line of beautiful, country-specific recipe compendiums. I reviewed Thailand: The Cookbook earlier this year, and was excited to see that a Peruvian book will be released in the spring. All of these books offer a very different experience than most of the cookbooks being released today. They're short on prose – no recipe headnotes or historical sidebars – and while the pictures that are included are lovely, they're not the focus of the books. What these books lack in personality, however, they make up for with sheer thoroughness – Mexico clocks in at over 600 recipes. That volume of recipes means that there will definitely be something new and different to try for everyone who picks up this book. Besides the comprehensiveness, the biggest draw of these books for me is the authenticity – each recipe is tied to a specific region of the country and uses very traditional ingredients and techniques. In the kitchen, that translates to authentic home-style dishes and a deeper understanding of how different cooking techniques can truly open up new flavors. I was a little frustrated with the quality of editing in this book. While I'm sure it's a massive project to edit a book with 600+ recipes in it, I tried four different recipes for this post and all of them had issues with clarity of instruction and ingredients, to the point of listing ingredients that are never used, and, the opposite, calling for ingredients that aren't listed. Confident cooks will be fine adapting as they go, but just a warning to those who get frustrated by a lack of clarity in recipes. Other than that, I'm excited to have added this book to my shelf, and I'm sure it will be one of my primary references for Mexican home-cooking.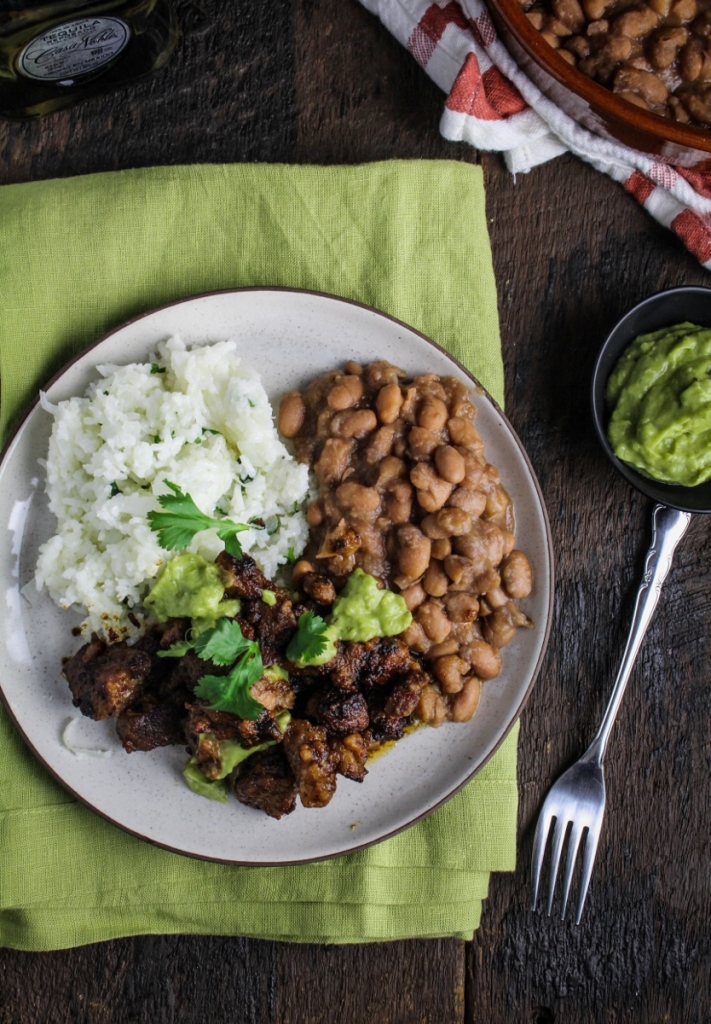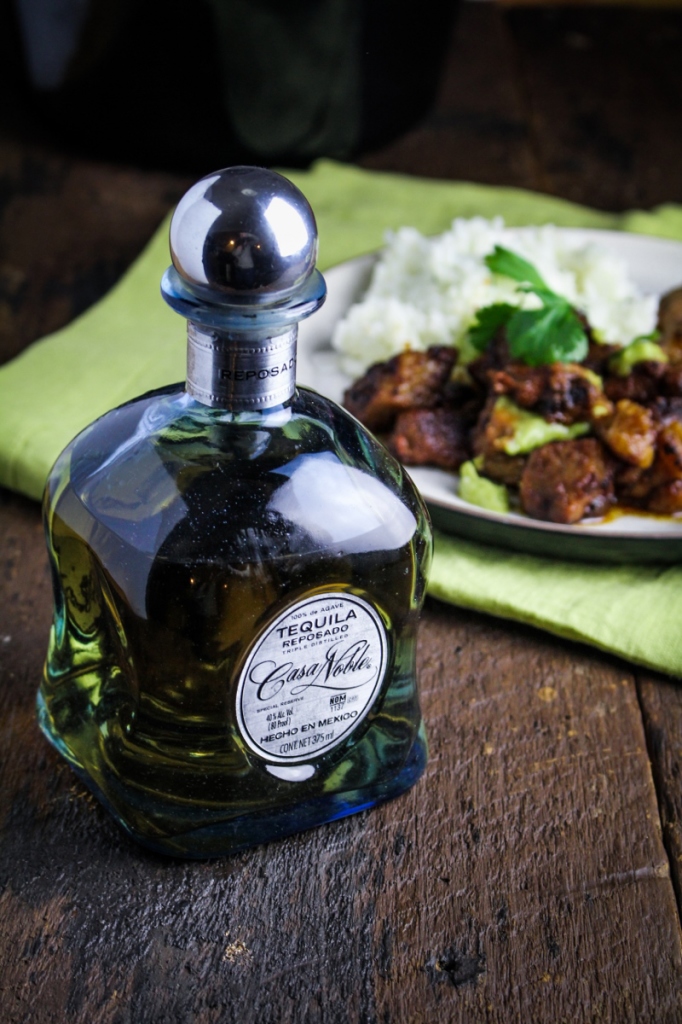 The Food: The team behind Mexico: The Cookbook, has joined forces with the folks at Casa Noble tequila to promote a great cookbook and a great tequila in one shot (no pun intended). Casa Noble offers crystal, anejo, and reposado tequilas, in addition to single-barrel versions of their anejo and reposado. All the tequilas are produced using traditional methods, and aged in French white oak to create a complexity of flavor that elevates the drink above most lower-end brands. Since tequila is my drink of choice most any night, I was eager to try a new brand and do a little boozy cooking. Although tequila tasting is definitely not an art I've mastered, I did take a few little sips (not shots, I promise!) of the reposado without anything to distract from the tequila itself – it's very smooth, and I picked up a certain fruitiness while Trevor got mostly vanilla. The tasting notes also mention chocolate, citrus, and butter, but I don't think my tequila palate is advanced enough to pick up on those.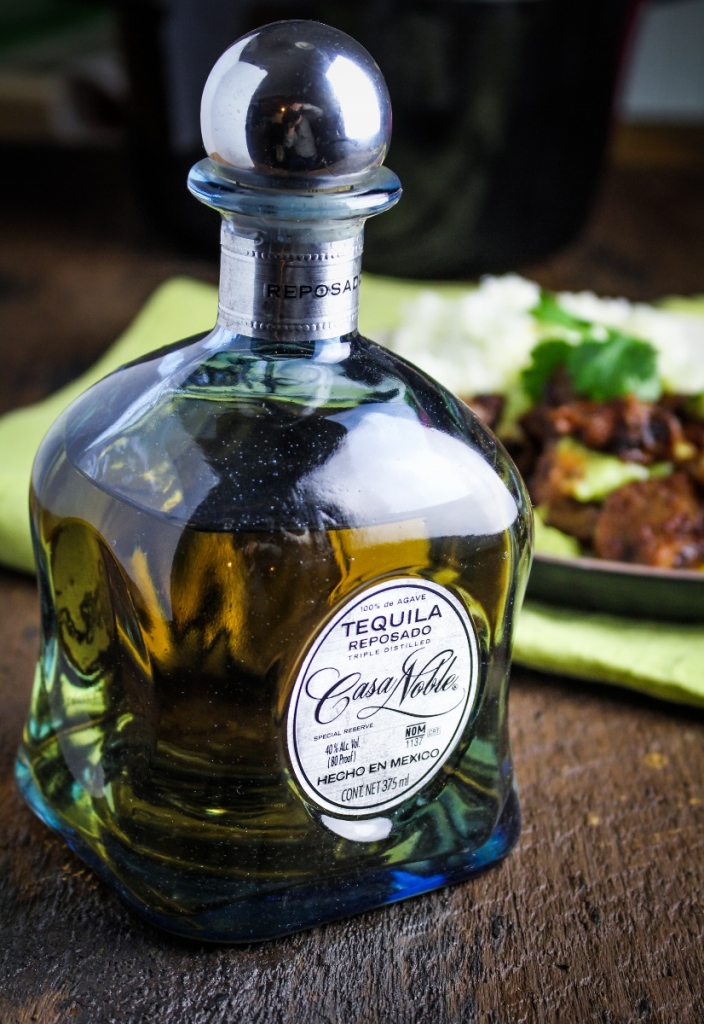 There are about a dozen recipes in this book that call for tequila, including an amazing-sounding recipe for shrimp marinated in sangria and tequila then served in mole sauce, and a tequila-based drink I'd never heard of before, the lagartija. But the recipe that was calling my name the strongest last weekend was the Slow-Cooked Pork in Tequila. It's a fairly simple recipe, calling for pork butt and ribs to be cooked slowly on the stove-top in a chili sauce, then finished up with a quick simmer in tequila. The book recommends serving it with "Pot Beans" and rice, so I made both those recipes as well. And even though it may not be traditional, I decided to make a Michoacan Avocado Salsa to serve with the pork and rice and beans, for a little punch of brightness and color. The combination of the four dishes? Phenomenal. I'm not exaggerating. It was everything I crave in good Mexican food – a little heat, a rich sauce, a certain heartiness, and brightness from the salsa. It tasted like something I could have eaten for dinner in a hole-in-the-wall family restaurant, cooked by a little old abuela. I was particularly enamored with the beans, which could not have been simpler but were incredibly creamy and flavorful. This meal left me so excited to keep cooking from this book – loving four out of four recipes is a pretty good hit rate.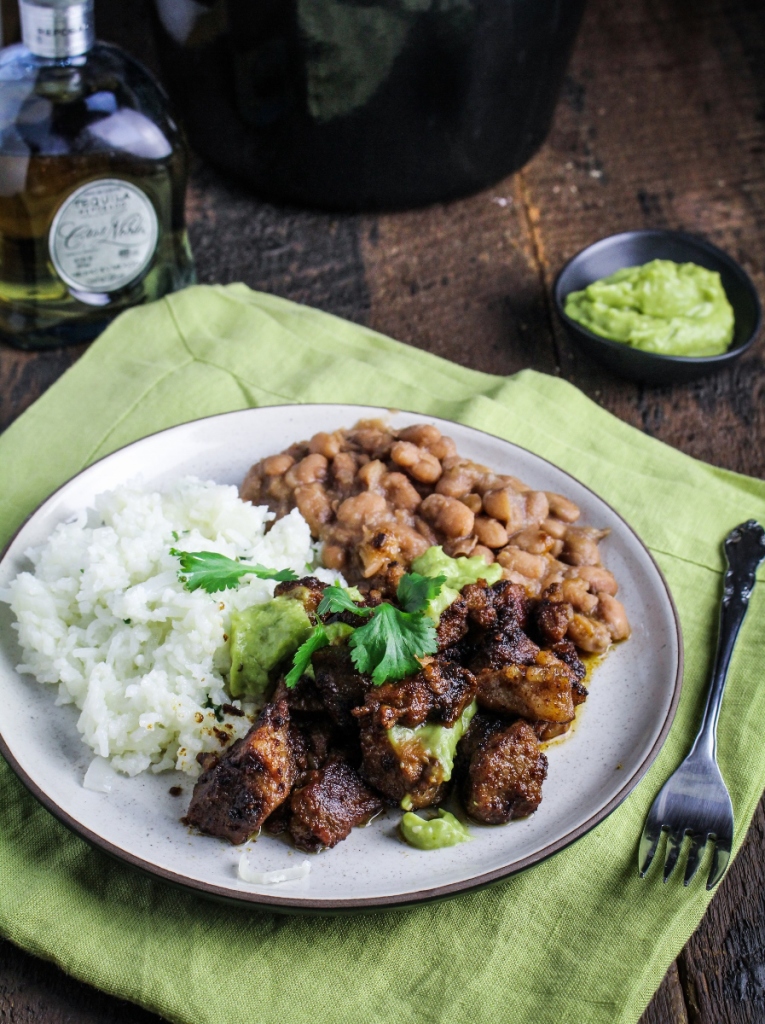 The Giveaway: Casa Noble and Phaidon have generously offered to give away an additional copy of Mexico: The Cookbook, to one Katie at the Kitchen Door reader. To enter the giveaway, please leave a comment below, telling me about your favorite cooking/eating experience involving either tequila or authentic Mexican cuisine (or both!). By entering the giveaway, you are agreeing to the official rules:
No purchase necessary
Void where prohibited
One entry per household, and only entries addressing the question above will be considered!
The sponsors of this giveaway are Phaidon and Casa Noble.
The estimated retail value of the book is $50
The odds of winning will depend on the number of entries received
This contest is only open to U.S. Citizens over the age of 18
The contest will open today, December 10th, 2014 at posting time, and will close at 11PM EST on Friday, December 19th, 2014
One winner will be selected randomly and contacted via email (so please leave an accurate email address!). If I do not hear from the winner within 48 hours, the winner forfeits their prize and an alternate winner will be chosen.
I will post the winner here by Friday, January 2nd, 2015
Recipe Shortlist: Duck in Green Pumpkin Seed Sauce; Short Ribs in Chili and Coffee Sauce; Lamb in Cider Sauce; Goat Stew; Green Chile Soup with Corn; Divorced Eggs; Tuna with Chipotle Crust; Plantain-Stuffed Chiles; Corn Cake with Eggnog Sauce; Mexican Bloody Mary; Caramel Gelatin with Drunken Sauce
Disclaimer: I received a copy of Mexico: The Cookbook, a bottle of tequila, and reimbursement for ingredients from Casa Noble and Phaidon. I was not otherwise compensated for this review and all opinions are honest and my own.
Like what you just read? Subscribe to Katie at the Kitchen Door on Feedly or Bloglovin', or follow along on Facebook, Twitter, Pinterest, Instagram, or Google+. Thanks for reading!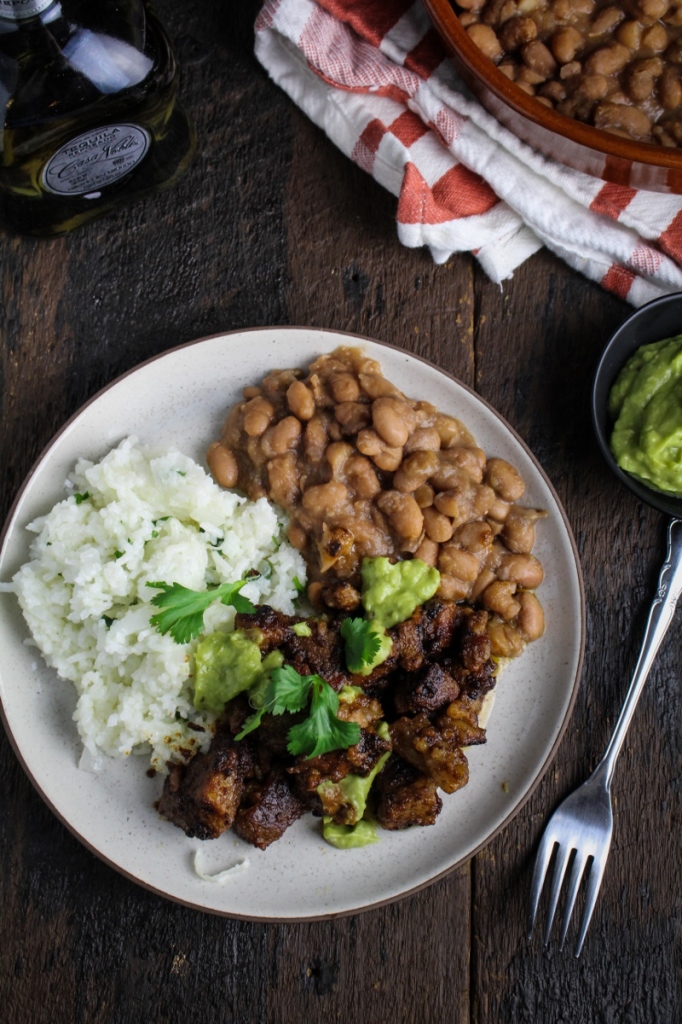 Slow-Cooked Pork in Tequila
Recipe adapted from Mexico: The Cookbook. Serves 6.
Note: I've written the recipe as we've made it, which used significantly less chiles than the original, which called for 200g. I've also included some other notes and clarifications that aren't in the original.
50g mixed dried chiles (preferably a mix of cascabel, ancho, and jalapeno)
3 TBS of canola oil, duck fat, or lard
1 1/2 lb. pork butt, diced into 1 inch cubes
1 1/2 lb. pork ribs, meat cut from bones and diced into 1 inch cubes
sea salt, to taste
1/2 tsp cumin seeds
1/2 tsp dried oregano
3 cloves garlic, peeled
1 large white onion, cut into chunks
4 TBS tequila
white rice, to serve
prepared pinto beans, to serve
Michoacan Avocado Salsa, to serve (recipe below)
Boil a pot of water and pour about 3 cups of boiling water over the chiles in a heatproof bowl. Let steep until chiles are soft and water is a deep red, about 15 minutes.
Heat the oil or fat in a large saucepan. Add the pork butt and pork rib meat and cook over medium-high heat, stirring and turning frequently until evenly browned. Season with salt.
Place the chiles, the chile soaking water, the cumin seeds, oregano, garlic, and onion into a blender and blend on high until smooth. Strain into a bowl, then add the sauce to the pork. Reduce heat to low, cover the pan, and cook, stirring occasionally, for 1 hour, or until the meat is tender and has absorbed most of the sauce. If the sauce begins to look dry at any point, add water.
Add the tequila to the pan and continue to simmer, without the lid, for another 10 minutes. Remove from heat and serve with rice, beans, and avocado salsa.
Michoacan Avocado Salsa
Recipe adapted from Mexico: The Cookbook. Makes about 1 cup.
3 tomatillos, papery husks and stems removed
3 serrano chiles
3 cloves garlic, peeled
1 large avocado, peeled and pitted
2 TBS finely chopped cilantro
sea salt, to taste
Remove the seeds from 2 of the chiles and the stems from all 3. Put the tomatillos and chiles into a small saucepan and cover with water. Bring to a boil and boil for 5 minutes. Remove the pan from the heat and use a slotted spoon to transfer the tomatillos and the chiles to a food processor. Add the garlic to the food processor and process until combined. Add the avocado flesh to the food processor and process until smooth. Stir in the cilantro and season to taste with salt.