So here's something new… I'm handing the blogging reins over to Trevor today. Yes, my silent, handsome, boyfriend is starting to get the blogging bug, and I think it's awesome. The only thing I want to add to his review: I usually will only eat my steak cooked medium-well, because any fatty texture really kind of grosses me out. These steaks though? I devoured them cooked medium-rare, because the steaks held together so well even when only minimally cooked and had a great, chewable texture. It was a great discovery that if the beef is grass-fed, I can stop horrifying chefs by ordering everything medium-well. And now, to Trevor.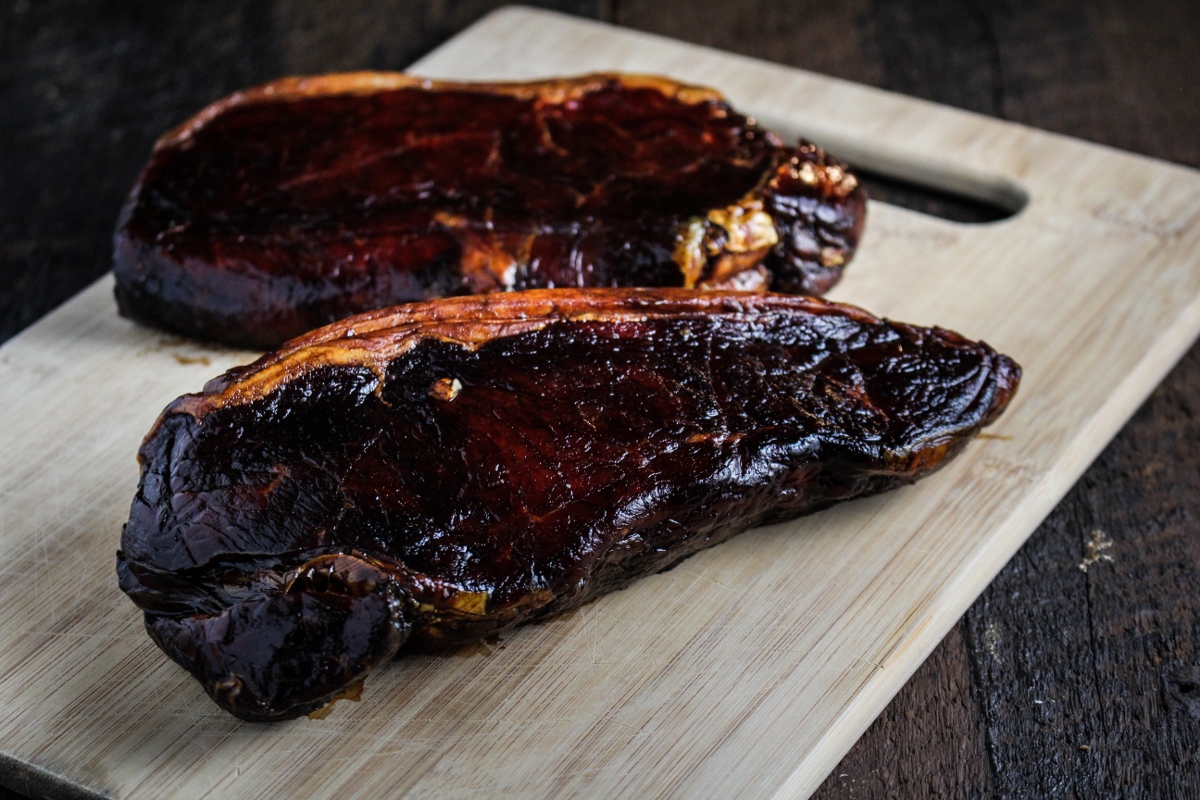 It was a super nice surprise last week to be asked by Marx Foods to sample some grass-fed Beef Strip Steaks from New Zealand. I could definitely get used to receiving last-minute steak deliveries from the friendly folks over there, and it's sure nice to have an excuse to cook a big steak dinner with my best gal. Don't be fooled though! This was a research-heavy endeavor. When I spring for meat, it's either as a part of one of Katie's gourmet super-projects (i.e. rabbit pie, venison ragout, stuffed quail,) or it's the supermarket-special 5-pound pork loin (serves ten), which I proceed to eat solo while Katie jets around Europe for work. So I hit the books, nearly exhausting the meat-related content of Katie's cookbook reference library.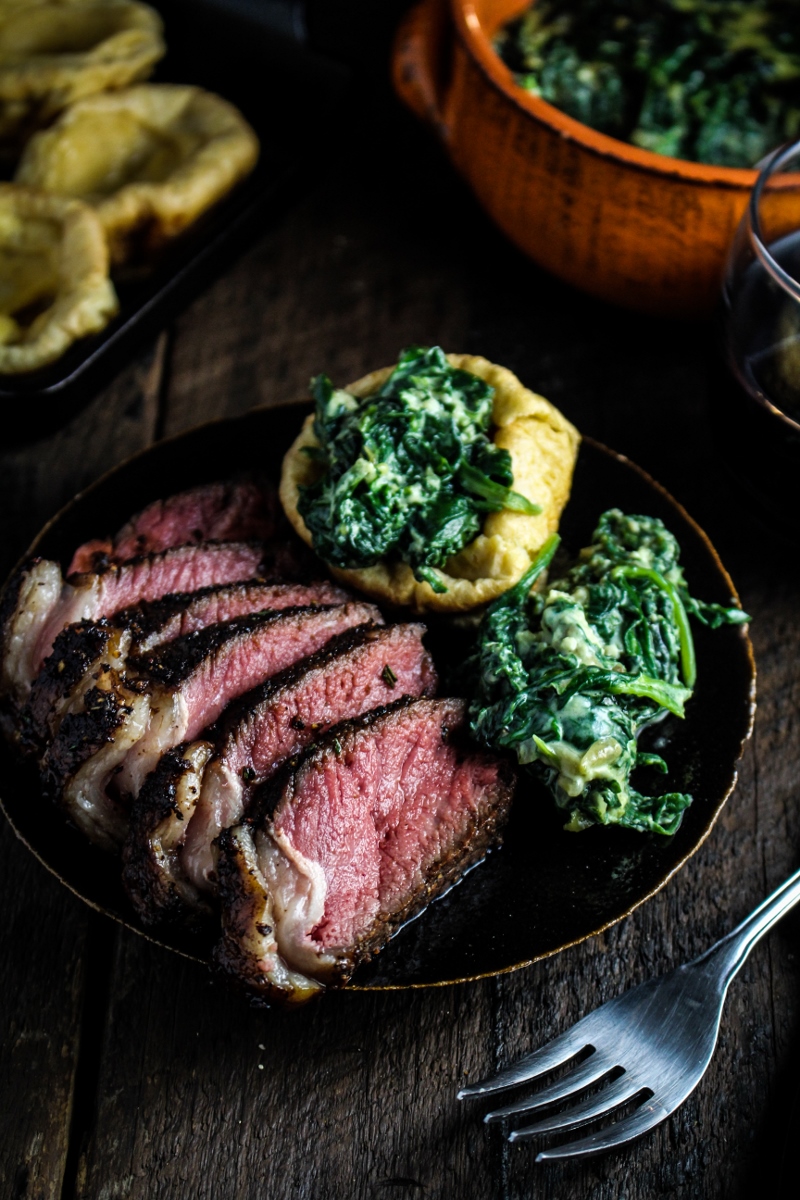 What I found was pretty consistent; to earn the "grass-fed" moniker, the animal has to be raised on grasses, hay, silage or legumes, not finished on a high volume of corn and the low dose of antibiotics typical of commodity beef, and it must spend most of its time in a pasture. The result of these practices is a healthier animal with a lower fat content, with the added benefit of not promoting the evolution of antibiotic-resistant bacteria. What this all means when it comes to cooking grass-fed beef is pretty straightforward:
It doesn't hurt to tenderize: The leaner meat is not as thickly marbleized. Bruce Aidells' The Great Meat Cookbook suggests using a Jaccard.
Aidells and The American Grassfed Association (AGA) agree that leaner cuts can benefit from a marinade.
Cooking rare to medium-rare yields the best results, but grassfed beef cooks more quickly than non-grass-fed.
The perfect preparation was definitely Aidells' marinade-dry rub combo. The steaks sat in a mushroom-flavored dark soy with some smashed garlic, then they got a beautiful porcini-rosemary dry rub which ended up really emphasizing the natural earthy, beefy flavor of the grass-fed beef. Overall, the slight tang from the soy and garlic along with the dark, aromatic, meaty flavor of the beef, made this preparation totally killer. The marinade yielded a nice, tender texture without any sort of unpleasant mealiness. My one regret for this recipe was our current lack of grill. Though a little trickier in terms of temp control, I think doing the initial searing-off on the grill could have added some awesome flavor. Although a little pricey at $13 for each 12 oz. steak, the combination of the gamier flavor and firmer texture makes these steaks worth the occasional splurge.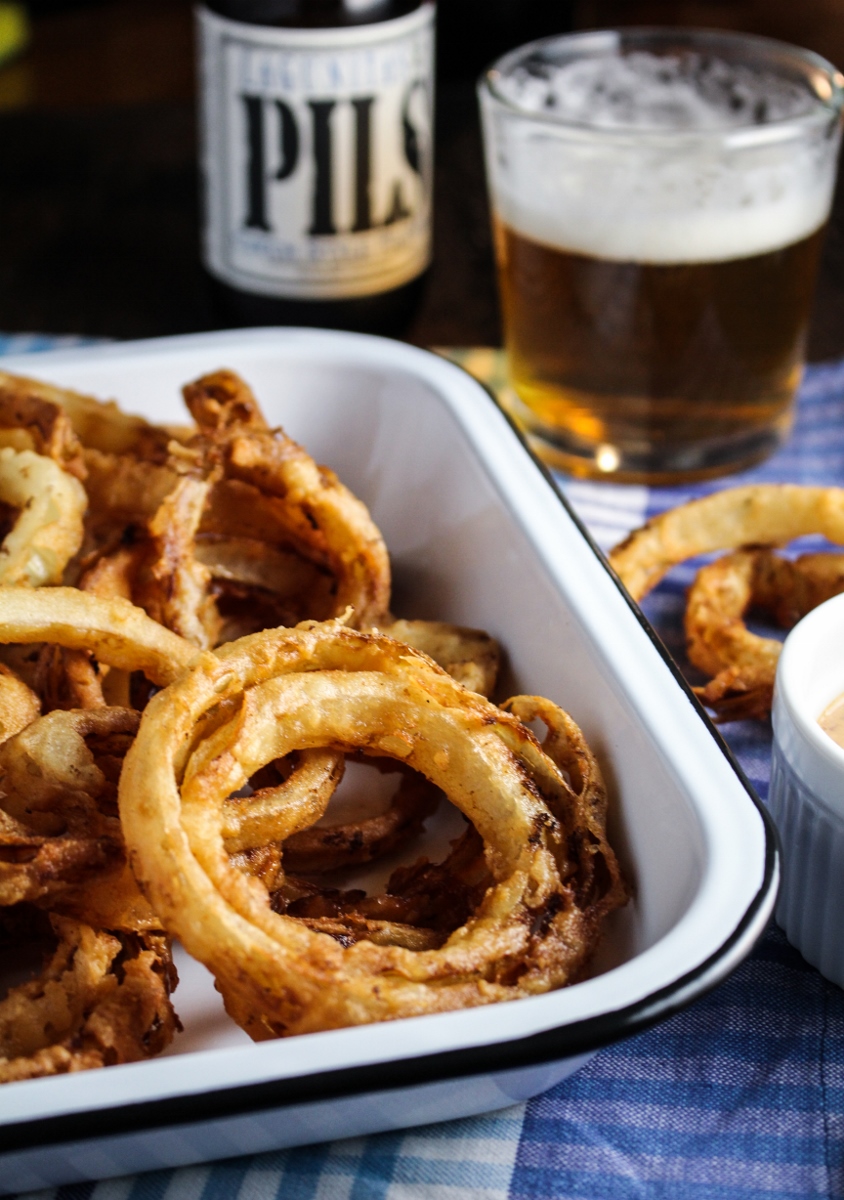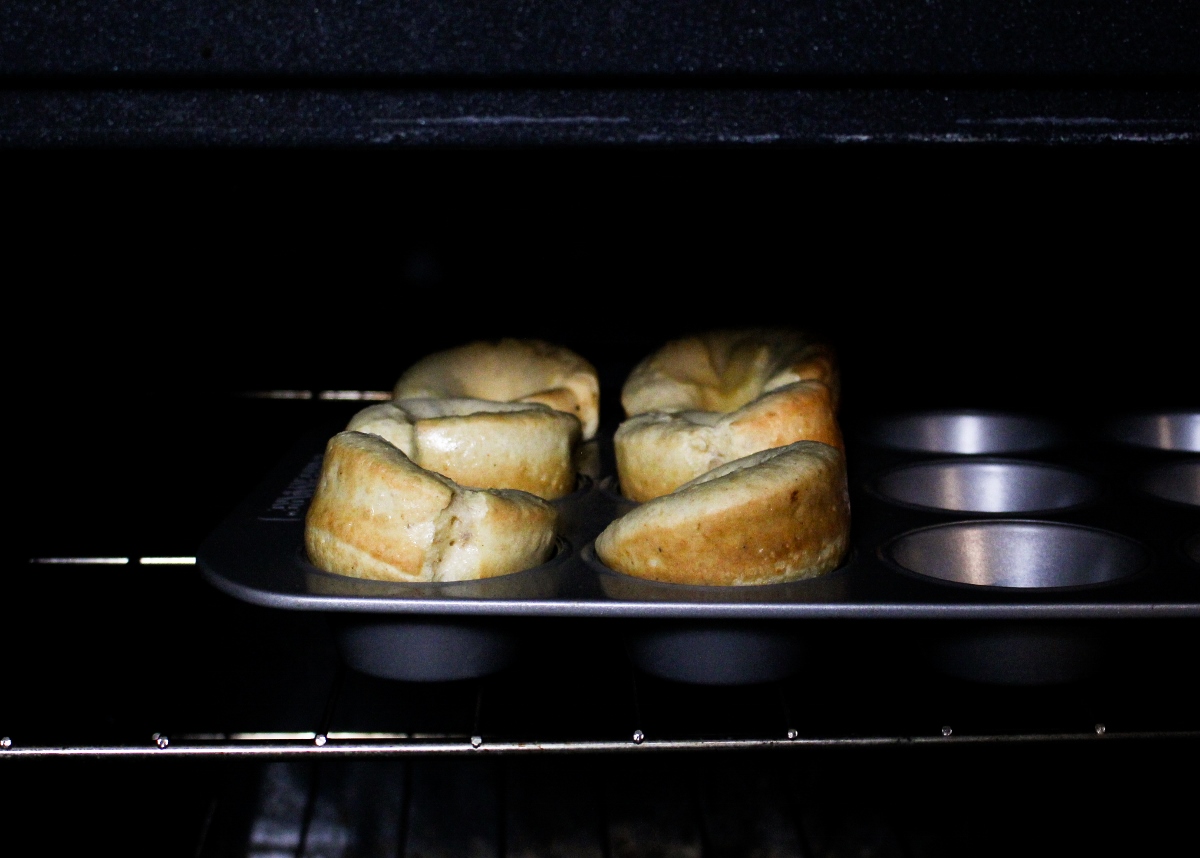 As a meal, the steak could certainly stands alone, or with any steakhouse sides. For this meal though, Katie set her yorkshire pudding with creamed spinach against my beer-battered onion rings with mustard aioli in what turned out to be a delightfully diverse night of overeating. Both side dishes came from Richard Blais' Try This At Home, and while the duck-fat coated yorkshire puddings puffed up beautifully in the oven, the onion rings and the sweet, tangy mustard dip were the clear victor [edit: Katie agrees].
Disclaimer: Marx Foods sent us these steaks free of charge in exchange for our honest review. 10 bloggers received steak samples, and the blogger with the most thorough review will win a credit to the Marx Foods store.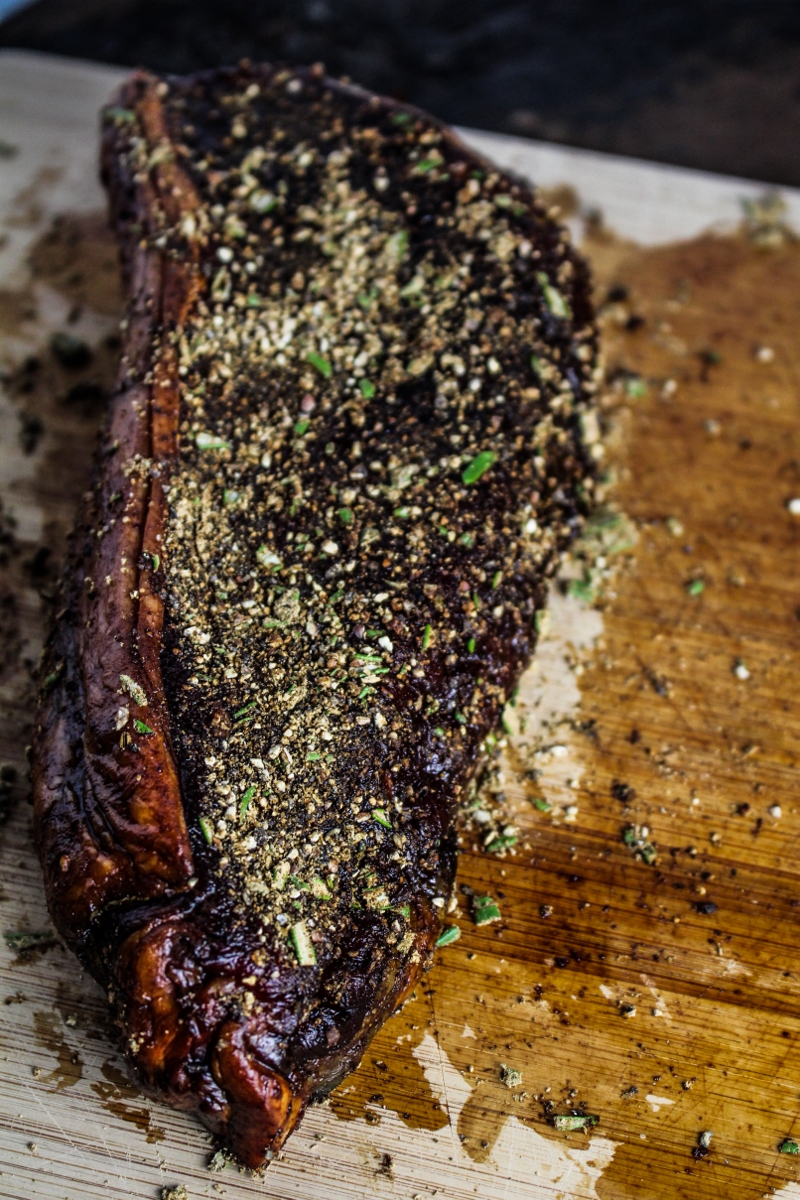 Pan-Seared Grass-Fed Strip Steaks with Porcini and Rosemary Rub
Recipe adapted from The Great Meat Cookbook. Serves 2.
Two 12-oz grass-fed strip steaks
4 garlic cloves, smashed
1/2 c. dark mushroom-flavored soy sauce (available at Chinese groceries)
1/2 c. dried porcini mushrooms OR 2 TBS porcini powder
1 TBS finely chopped fresh rosemary
2 tsp coarsely ground black pepper
1 TBS olive oil
Place the steaks in a ziploc bag. Combine the smashed garlic and the dark soy sauce and pour over the steaks. Seal the bag and shake to thoroughly coat the steaks with the marinade. Let the steaks marinate at room temperature for 2 hours, flipping them over occasionally to distribute the marinade.
Grind the dried porcini mushrooms in a coffee grinder until they are a fine powder. Combine 2 TBS of the porcini powder with the chopped rosemary and black pepper in a small bowl.
Remove the steaks from the marinade, letting the excess drip off. Scrape off any garlic, and pat the steaks dry with a paper towel. Generously sprinkle the porcini mixture over the steaks so that both sides are completely coated.
Preheat the oven to 275°F. Heat the olive oil in a large cast-iron skillet over medium-high heat. Swirl to coat the bottom of the pan with oil. Add one of the steaks and cook for 2 minutes on each side, or until it has a deep brown exterior. Transfer the steak to a baking sheet, and repeat with the second steak.
Place the seared steaks in the oven. After 10 minutes, check the internal temperature – when the temperature reaches 125°F to 130°F they are medium-rare. When they are medium rare, let rest 5 minutes covered loosely with aluminum foil, then serve.
Vidalia Onion Rings with Beer Mustard Aioli
Recipe adapted from Try This At Home. Serves 4.
2 large Vidalia onions
2 c. low-fat buttermilk
1/4 c. + 2 c. AP flour, divided
1/4 c. rice flour
1 c. soda water
4 oz. beer (drink the rest!)
1/2 tsp honey
kosher salt
vegetable oil
beer mustard aioli, recipe below
Peel onions without cutting through them, then slice each onion crosswise into 1/4 inch thick slices. Separate the slices into individual rings. Place the onion rings in a shallow pan and cover with the buttermilk.
In a large bowl, whisk together the 1/4 c. AP flour, rice flour, soda water, beer, and honey until smooth. Place the remaining 2 c. flour in a shallow pan and season with kosher salt.
Fill a large heavy pot with at least 3 inches of vegetable oil, and heat over medium-high heat to about 350°F. Working in batches, lift the onion rings from the buttermilk and shake off the excess. Dredge them in the flour and toss until coated, then dip them one by one into the batter, shake off the excess, and carefully add to the hot oil. Fry, turning often with heat-proof tongs, until golden brown, about 3 or 4 minutes. Remove from oil and drain on paper towels, then sprinkle with salt while they are still warm. Serve warm with beer mustard aioli.
Beer Mustard Aioli
Recipe from Try This At Home. Makes 1 1/2 cups.
1 c. high quality mayonnaise
1/2 c. Dijon mustard
2 TBS molasses
1 tsp ground cinnamon
1/2 tsp beer extract OR an additional 1 TBS molasses
pinch of cayenne
Whisk all ingredients together in a small bowl until well combined. Store in an airtight container in the fridge for up to 1 month.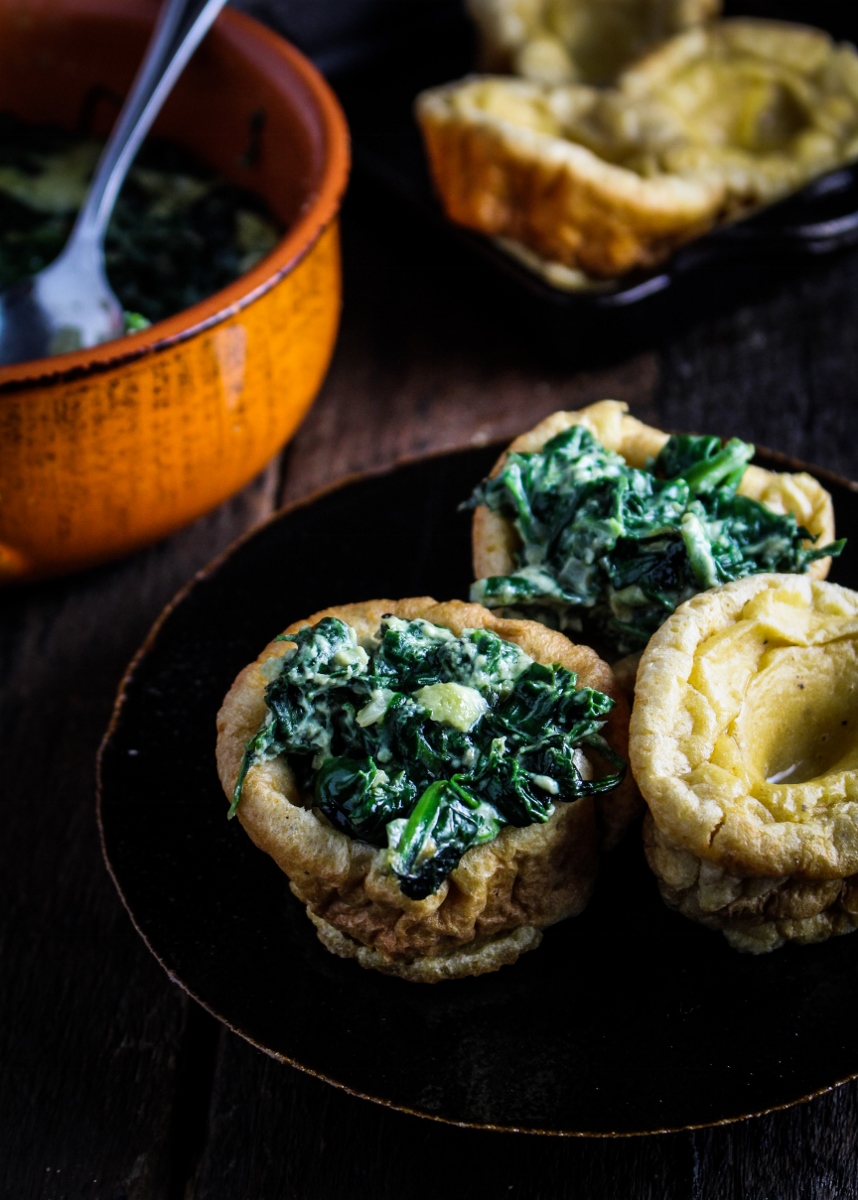 New Yorkshire Pudding with Licorice-Spiced Creamed Spinach
Recipe adapted from Try This At Home. Serves 4.
1 TBS olive oil, plus more for greasing the pan
1 small garlic clove, minced
1 small shallot, minced
2 whole star anise
1 1/2 lbs. fresh spinach, trimmed, washed, and sliced into thin ribbons
1/2 c. heavy cream
3 large eggs, divided
kosher salt and freshly ground black pepper to taste
1/4 c. + 2 TBS whole milk
2/3 c. flour
3/4 tsp pastrami spices, recipe below
1 TBS duck fat or bacon grease
1 TBS cold water
Preheat the oven to 325°F. Grease a small baking dish with olive oil, and set aside.
Heat the 1 TBS olive oil over medium heat in a large saute pan. Add the garlic, shallot, and whole star anise and saute until the garlic and shallot are softened, about 3-5 minutes. Add the spinach and cook, using tongs to continuously toss the spinach so that all sides are exposed to the heat, just until spinach is wilted, about 2-3 minutes. Immediately place the spinach in a colander and let drain. Discard the star anise.
Whisk together the cream, 1 of the eggs, and salt and pepper to taste in a small bowl. Squeeze the spinach to rid it of any excess water, then add the spinach to the prepared baking dish. Pour the cream mixture over the spinach and stir to combine. Bake for about 30 minutes, until center of spinach is set, then remove from oven and cover with tinfoil to keep warm.
Increase the oven temperature to 400°F. In a large bowl, whisk together the flour, pastrami spices, and salt to taste. Add the remaining 2 eggs and the milk, and stir to combine. Divide the duck fat between 4 cups of a jumbo muffin pan or 8 cups of a regular muffin pan and place the pan in the oven until the fat begins to sizzle and smoke, about 5-8 minutes. Remove from the oven, quickly whisk the cold water into the pudding batter, then fill each muffin cup about 1/3 of the way full with the batter (the yorkshire puddings should puff up dramatically while they bake). Return the pan to the oven. Bake until puffed and golden brown – if using a jumbo muffin pan, about 30-35 minutes, or 15-20 minutes for a regular muffin pan.
Remove the puddings from the oven, cut a slit in the top, and stuff with a spoonful of the creamed spinach. Serve hot.
Pastrami Spices
Recipe from Try This At Home. Makes about 1/4 cup.
2 TBS whole coriander seeds
1 TBS whole yellow mustard seeds
1 TBS whole black peppercorns
1 1/2 tsp paprika
Toast the coriander seeds, mustard seeds, and peppercorns in a dry skillet over medium heat, shaking the pan frequently to prevent them from burning. Toast until fragrant, about 3-4 minutes. Cool completely, then grind coarsely in a spice or coffee grinder. Stir in the paprika. Store in an airtight container at room temperature for up to 6 months.