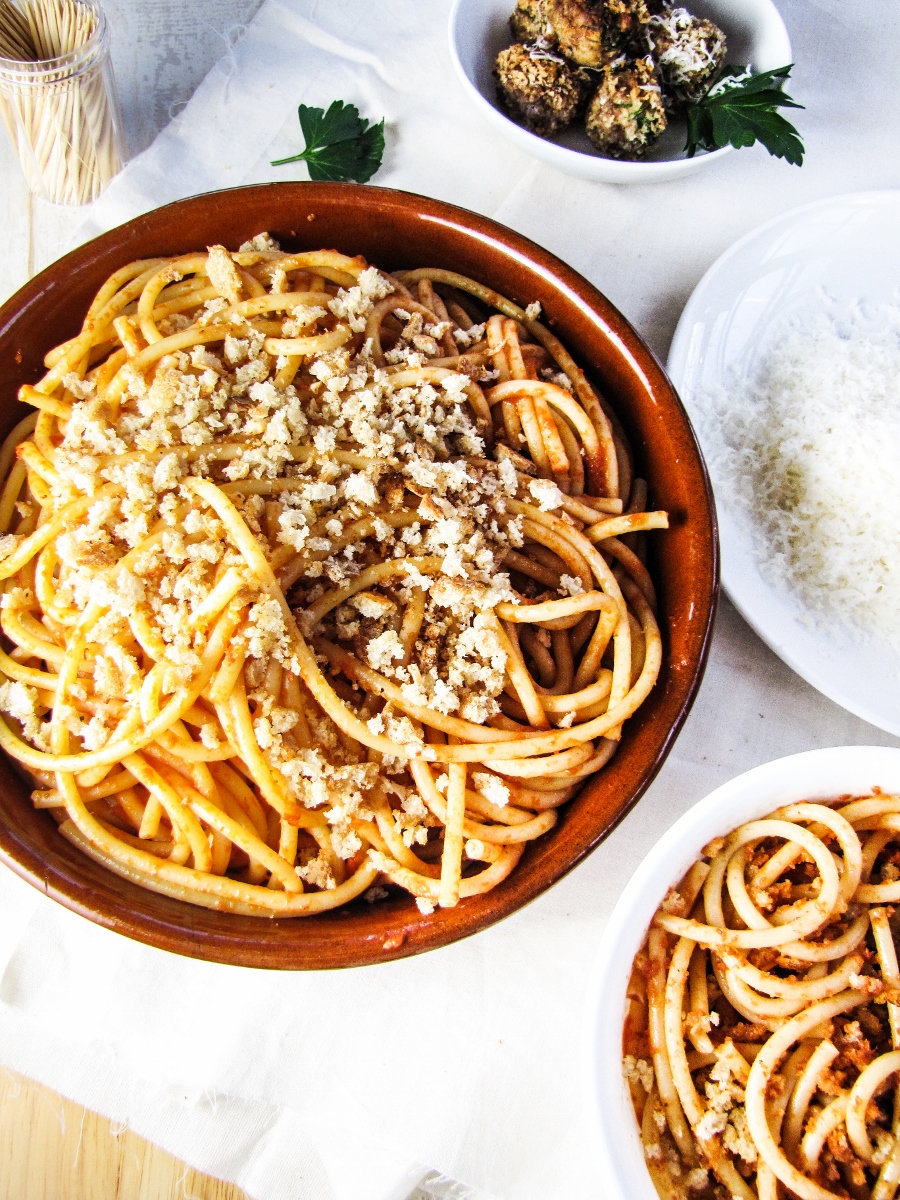 At the end of April, Trevor and I are headed to Italy for a ten day vacation. I am beyond excited. It will be my first time abroad since returning from Prague in 2009 (unless you count two whirlwind days in Madrid for work last summer), and I've been daydreaming about the trip since we booked the tickets in January. I've also been practicing my Italian, drooling over hotels in Rome and Florence, and thinking about what, exactly, I want to eat and drink while I'm there. So the arrival of these two regional Italian cookbooks – Venezia in Cucina: The Flavors of Venice and Sicilia in Cucina: The Flavors of Sicily – could not have been more timely for me.
I have to start off by telling you: the pictures in these books are incredible. Not just pretty, stunning. Many times while reading these books I've stopped to linger for several minutes over one image or another – an explosion of red and green paper confetti in front of an ornate church; a man mid-jump off a cliff into a serene ocean, the sky pink and a smoking volcano in the background; an earthenware bowl of spaghetti on a sun-dappled table. These books are full of art, and it's art that brings another culture to life on the page. Although I received review copies, I would have bought them for the photography inspiration alone.
As for the food, the recipes are authentic and the instructions are simple – oftentimes, there are no ingredient amounts listed for anything that could be considered seasoning. It will simply say "season with lemon, salt, parsley" or "dissolve 3 TBS tomato paste in hot water." While I could imagine this being a deterrent for an inexperienced cook (how much lemon? how much hot water?), I felt that it added to the over all… Italianness of the books. I like that it gives you the freedom to add flavor as you go and taste for seasoning, and I also like the feeling that that's how an Italian grandmother might tell you to do it – "you know, add parsley until there is enough parsley. Bene, basta." The recipes from Venice focus heavily on seafood, with only a few non-fish dishes to be found. You'll find plenty of pasta – tagiolini pasta with spider crab and cherry tomatoes – antipasti – scallops au gratin with tomato – and mains – baked turbot with summer vegetables. The recipes from Sicily are still influenced by the sea, but there's more variety. High on my list are the fried cheese balls with chili-honey sauce, lamb stuffed with potatoes and pistachio pesto, and spaghetti with ricotta and fresh pecorino. Both books also have dessert chapters, as well as sections spotlighting local wines and unique regional ingredients.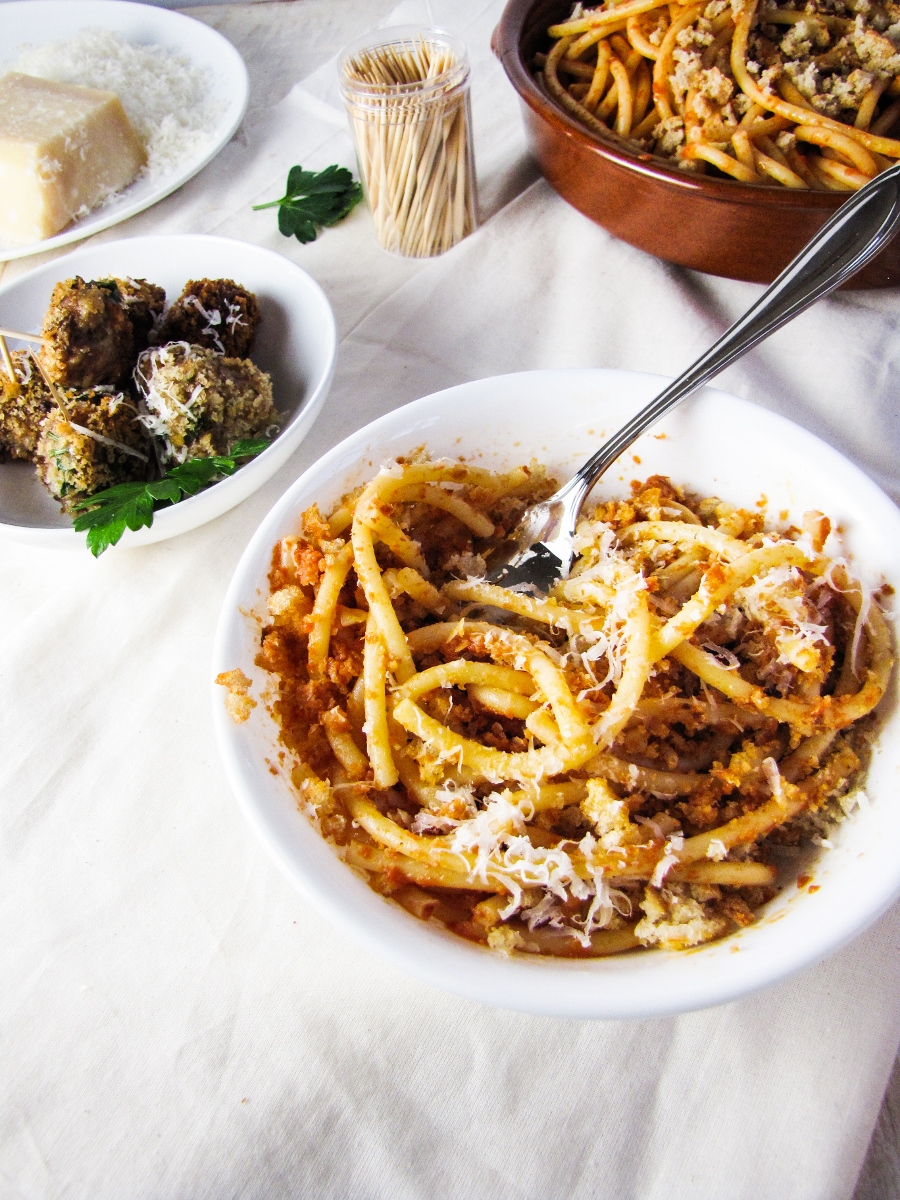 A final point – I love that everything, from the section intros to the ingredients to the cooking instructions, is in both English and Italian – it totally indulges my inner language-learning nerdiness.
These books are like a travel advertisement in the best way possible. But they are also useful in the kitchen, as a cookbook should be. To test out the two books, I made three recipes for a large and indulgent Saturday lunch/ as food to welcome Trevor back from his week-long business trip. I'm sharing the first two recipes today – spaghetti in a tomato-anchovy sauce with breadcrumbs, from Sicilia in Cucina, and mini Parmesan meatballs, breaded and fried in olive oil to make them extra savory and crunchy, from Venezia in Cucina. Both recipes were simple, tasty, and filling, in a rustic sort of way. I'd make them both again for a quick dinner any night. The third recipe was an apple-custard tart which I could have eaten all of in one sitting – but you'll have to wait a few days for that recipe.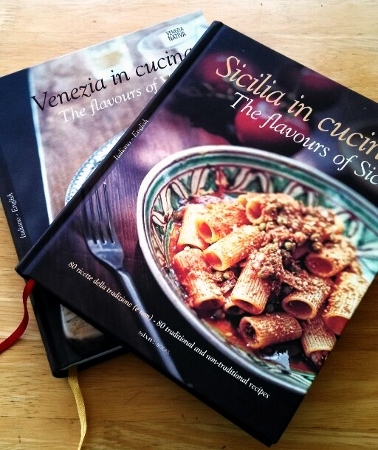 The bottom line: These two books – Venezia in Cucina and Sicilia in Cucina – are a beautiful glimpse into the food and culture of two specific areas of Italy. I would happily have bought them for the photographs alone, as they depict far more than just beautiful food and create a gorgeous visual tale of life in another place. The recipes are simple, regional, and authentic, although in some cases the lack of specificity in the instructions may be a deterrent to a beginner cook. The fact that these are dual language books in both English and Italian was icing on the cake for me – now on my upcoming trip, I'll be ordering dinner like a pro. I'd recommend these two books for anyone who daydreams about Italy, foodie or not.
Disclaimer: Ammo Books, the U.S. distributor of these books, sent me free review copies of both Venezia in Cucina and Sicilia in Cucina. I was not otherwise compensated for writing this review, and all opinions are my own.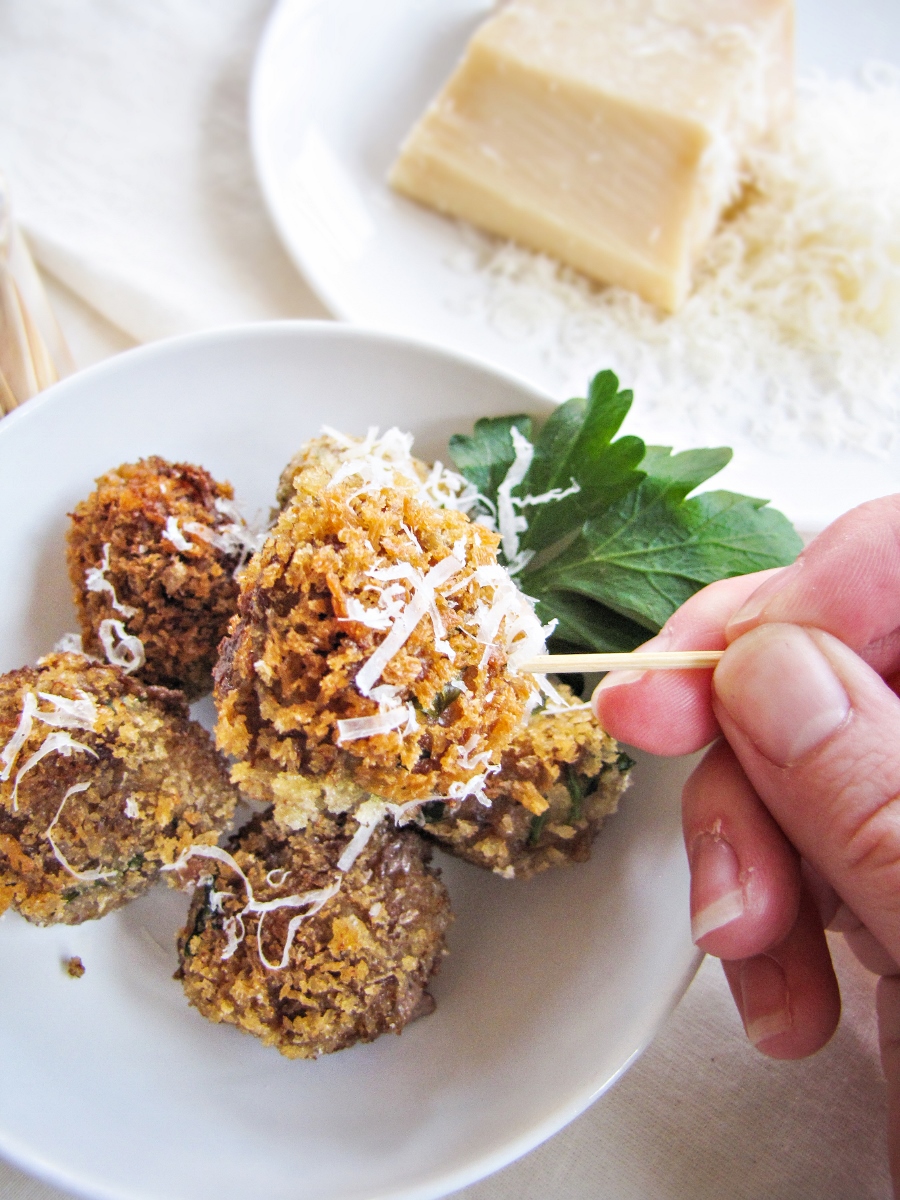 Spaghetti with Breadcrumbs
Adapted from Sicilia in Cucina. Serves 4-6.
1 lb. dried thick spaghetti or bucatini

3 TBS olive oil, divided
2 cloves garlic, finely chopped
4 anchovies
4 TBS tomato paste
1 c. hot water
1 c. fresh breadcrumbs
salt and pepper
Bring a large pot of heavily salted water to a boil. Add the pasta and cook according to package directions, until just barely al dente.
While the pasta is cooking, heat 1 1/2 TBS of the olive oil over medium heat in a large frying pan. Add the garlic and anchovies and saute for 2-3 minutes, until fragrant, breaking up the anchovies with the back of a wooden spoon so they dissolve. Mix the tomato paste with the hot water in a small bowl until they have an even texture, then add to the anchovies and garlic. Let simmer on low, stirring occasionally, for 10-15 minutes.
In a separate pan, heat the remaining 1 1/2 TBS of olive oil. Toast the breadcrumbs in the oil until golden brown, about 3-4 minutes, then sprinkle with salt to taste.
Remove the spaghetti from the pot as soon as it is al dente and drop straight into the simmering sauce. Turn off the heat and toss the spaghetti with the sauce. Add about half the breadcrumbs and stir to coat. Divide the spaghetti between bowls and top each with a handful of the remaining breadcrumbs
Fried Mini Meatballs with Parmesan
Adapted from Venezia in Cucina. Makes 25 1-inch meatballs.
1/2 lb of ground pork

1/2 lb of ground beef
1/2 c. of grated parmesan cheese (about 40g)
2 TBS of flour
1/4 c. of finely chopped fresh parsley
1/4 c. breadcrumbs plus more for frying
2 large eggs
salt and pepper
olive oil
In a large bowl, mix together the pork, beef, cheese, flour, parsley, 1/4 c. of breadcrumbs, and eggs until they form a smooth mixture. Season generously with salt and pepper, and stir to combine. Cover, and let stand for 1 hour to allow the flavors to meld. If it's going to be any longer than 1 hour, refrigerate while you wait.

Heat 1/2 inch of olive oil in a large frying pan over medium-high heat. Form the beef-pork mixture into meatballs about 1 inch in diameter. Spread a generous amount of breadcrumbs on a plate, and roll the meatballs in the breadcrumbs to coat. Test the temperature of the oil by adding a few breadcrumbs to it – if they sizzle and fry up quickly, the oil is hot enough. Fry the meatballs in batches, using tongs to rotate every few minutes to ensure that they cook on all sides. When they are browned all over, check inside to ensure they have cooked all the way through. If they have, remove to a plate covered with a paper towel to drain. Serve hot, with tomato sauce for dipping.