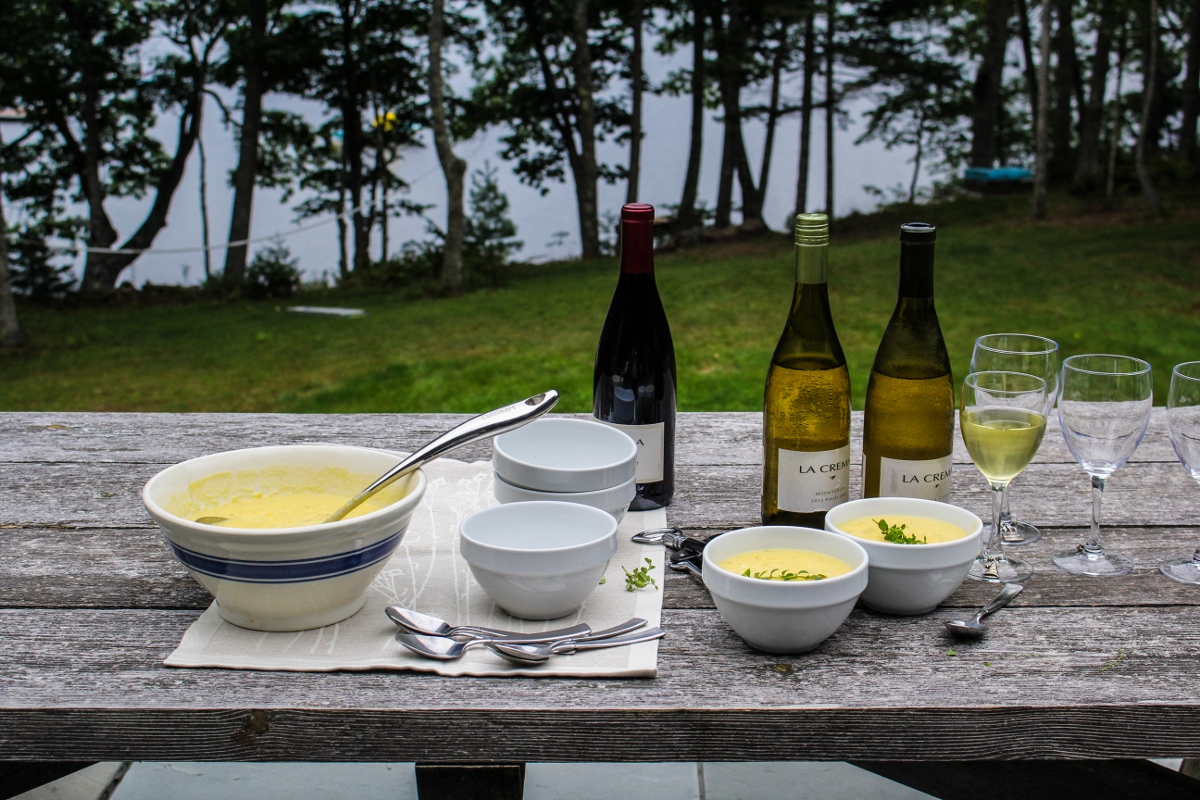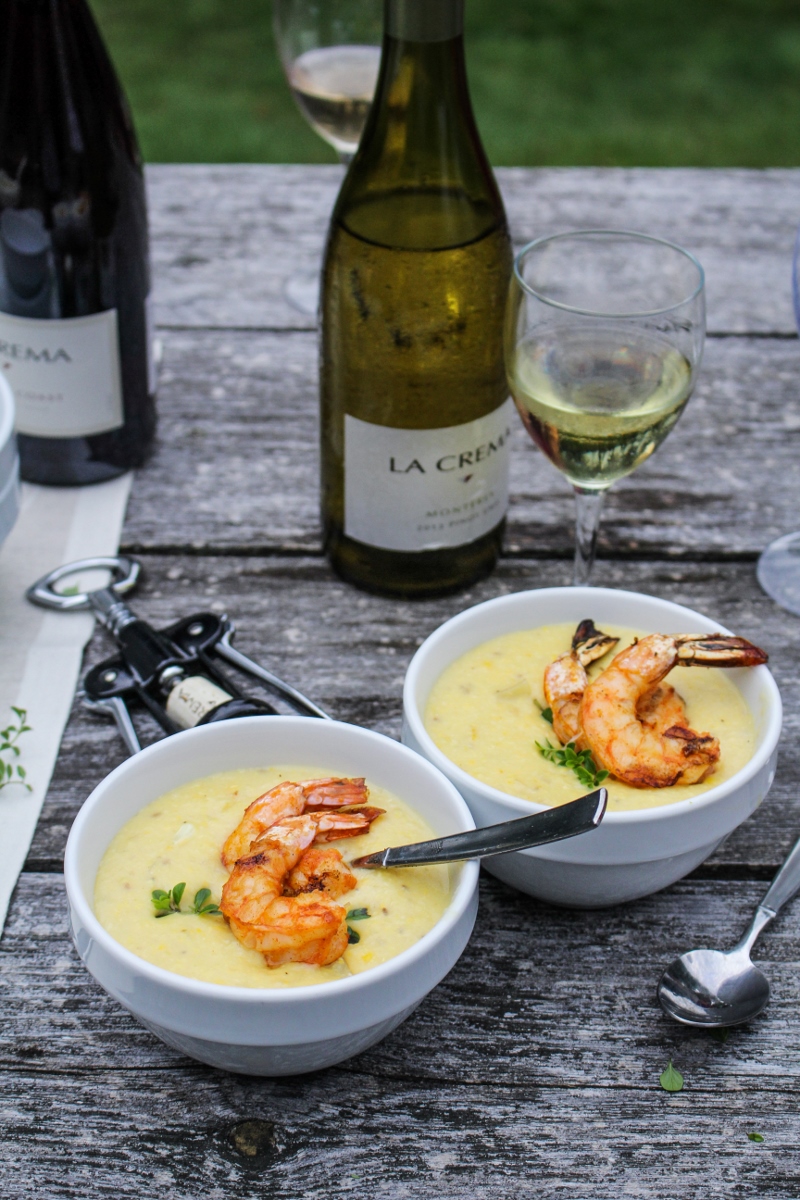 We hosted our second wine dinner last weekend, this time with three lovely, very drinkable wines provided by La Crema Winery in California. It's hard to believe that our first wine dinner was way back in February – I had originally planned to do them more frequently, but it's actually very tricky to get wine shipped to Massachusetts. Starting in January, the legislation will loosen up – maybe then we can do more of these dinners – but until then, having the wine shipped to my family's place in Maine is the best option. The hidden benefit of this is having a built-in guest list composed of people who love to drink wine: my family. So Trevor and I headed North for Labor Day weekend for one last summer visit during which we could cook some good food and drink some good wine.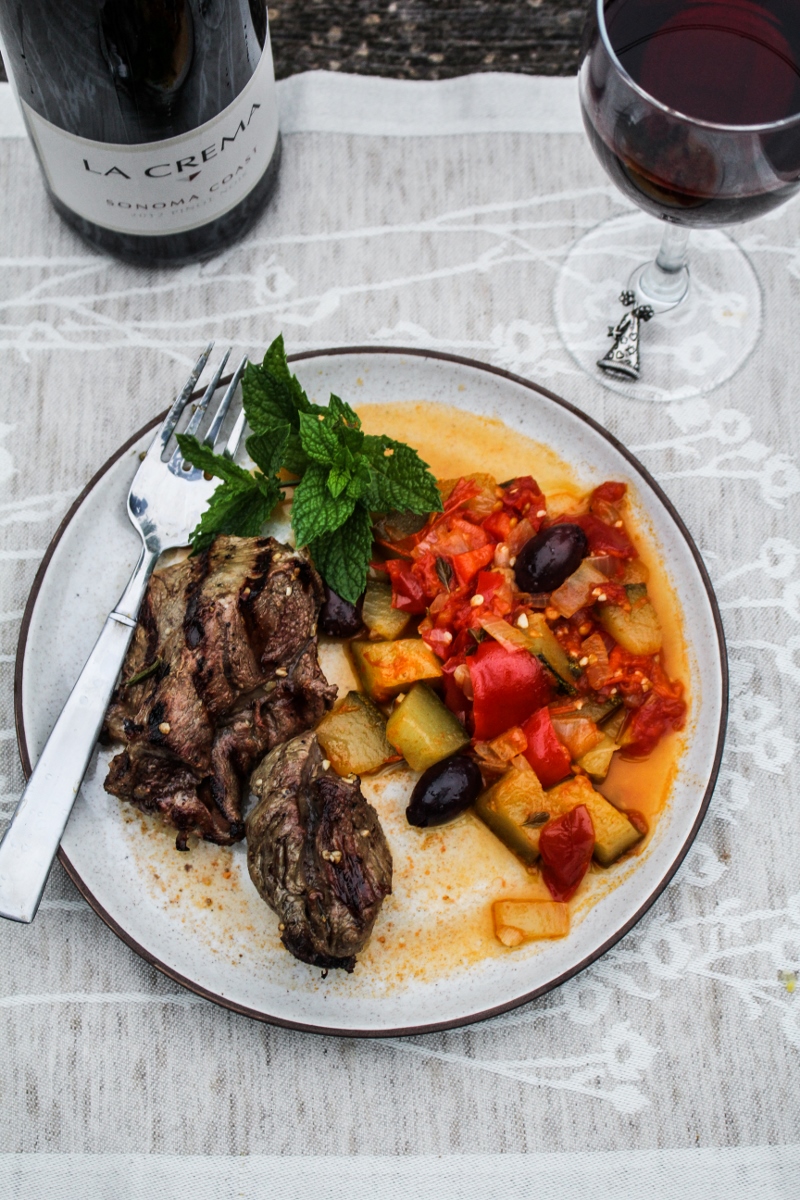 The team at La Crema was kind enough to send us three bottles of wine for this dinner – a Chardonnay, a Pinot Noir, and a Pinot Gris. All three bottles retail in the $20-25 range, and are solid, straightforward table wines. None of them left a particularly lasting impression but all were easy to drink and true to their type, and no one turned down a second glass of any of the three varietals. Since all three wines were relatively light-bodied and good for patio-drinking, we designed a menu with an "end-of-summer in California" vibe to complement the wines and the season, and call to mind the wines' terroir. Most of the menu was done on the grill, and it featured plenty of end-of-summer produce, but the dishes were a little heartier than mid-summer fare and everything was served warm. We started with a corn chowder topped with paprika-grilled shrimp, the main was a grilled leg of lamb with ratatouille, and the dessert was rosemary pear bars served with whipped cream. I was very happy with how all three dishes turned out – the product of days of brainstorming – and even happier with how quick the whole thing was to throw together. I don't think I've ever served a meal that was such a snap to cook with such stellar results. Of course, I have to give a big heap of the credit to Trevor (and to my other sous-chef, Aunt Robin!) as both the shrimp and the lamp were perfectly grilled, a skill I certainly don't have in my repertoire.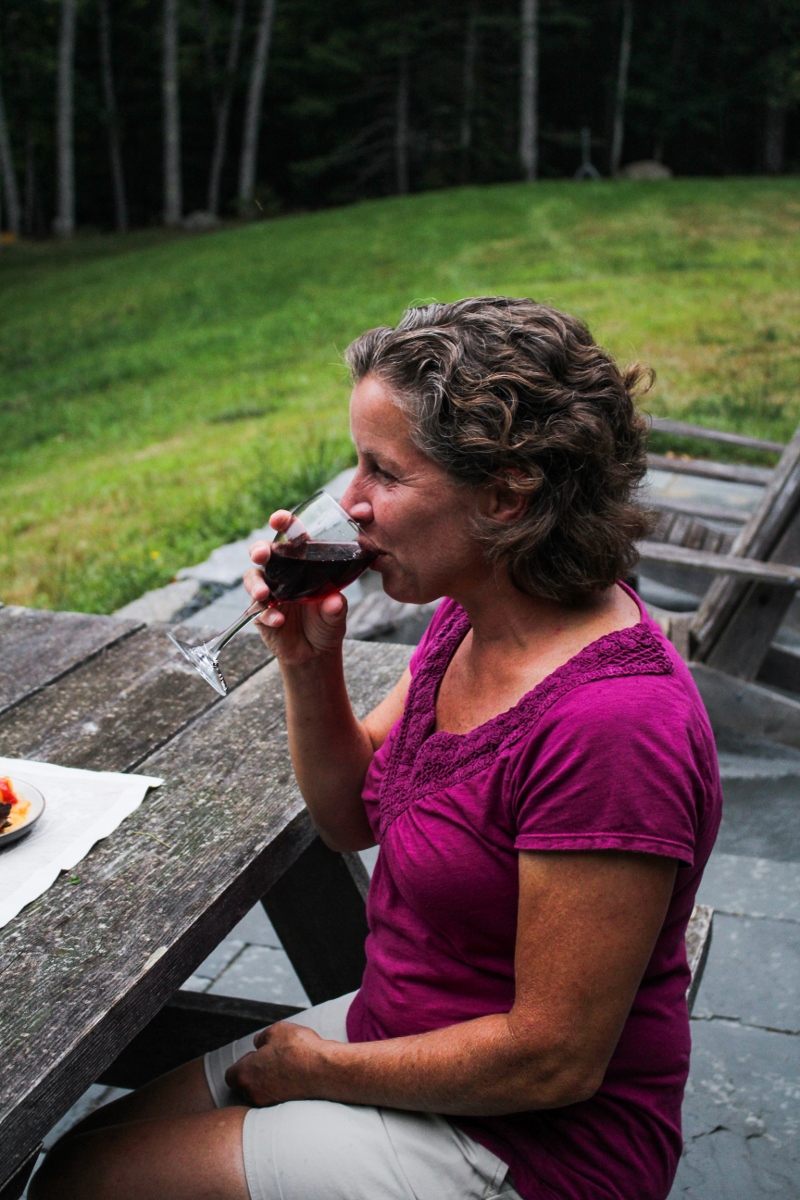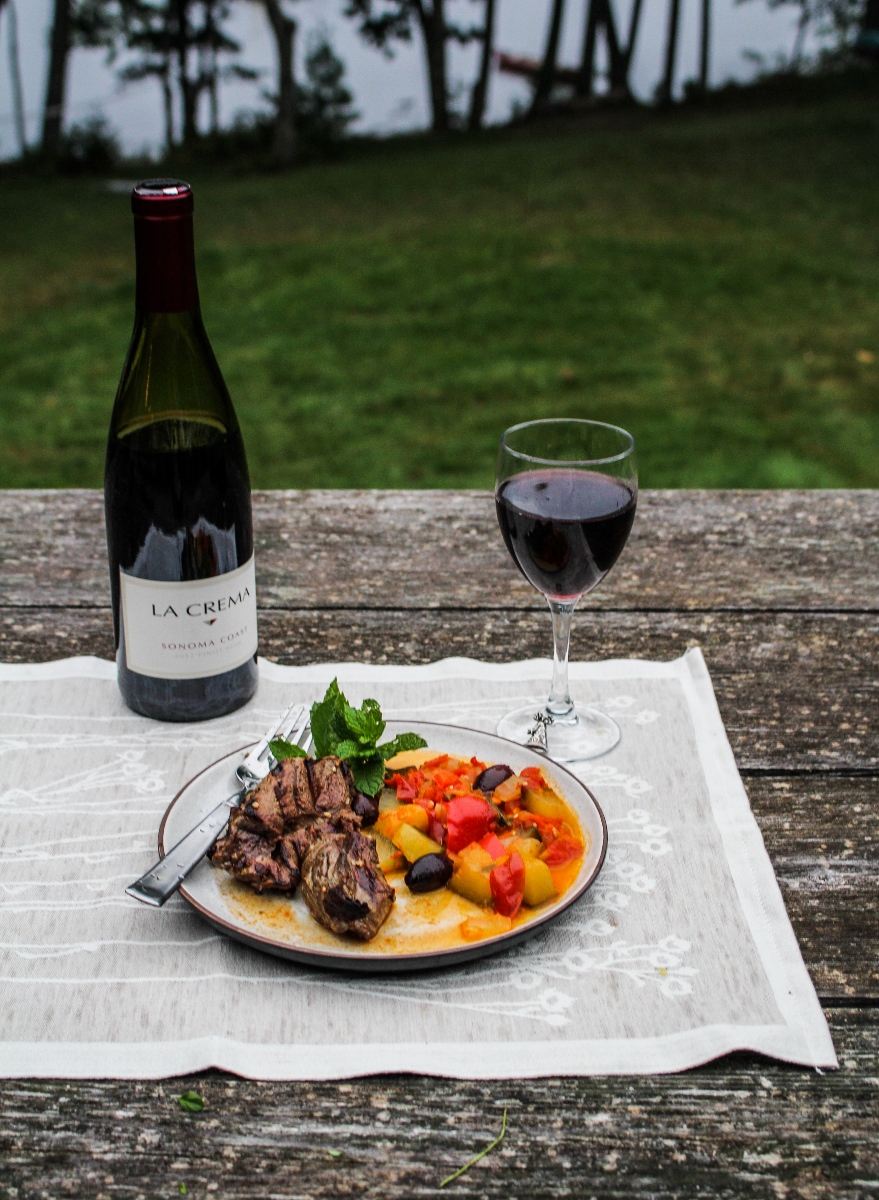 I knew ahead of time that the forecast was not good for Sunday, our planned dinner day, but the clouds cleared out early in the day and we ended up with plenty of sun all afternoon. Sadly, as dinnertime approached, the clouds rolled back in and I found myself racing to get the picnic table set before the rain began. Just as I ladled the chowder into bowls the first drops began to fall, so I snapped as many pictures as I could and we shuffled everything back inside. Although I'll admit I was disappointed not to have the beautiful outdoor evening I had been imagining, the food and wine were perfect and the night still ended with tequila shots, a giant bag of peanut M&Ms, and my mom and Aunt Robin dancing in the rain – any night that ends that way is a success in my books.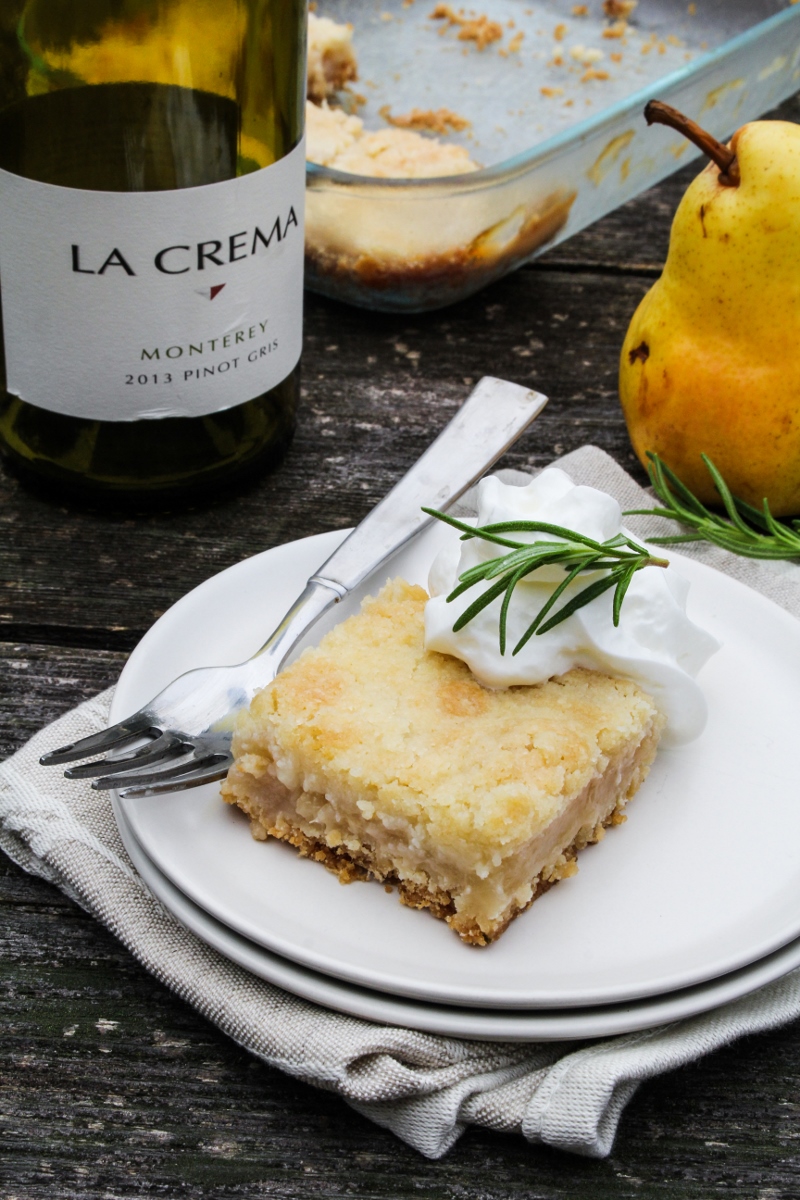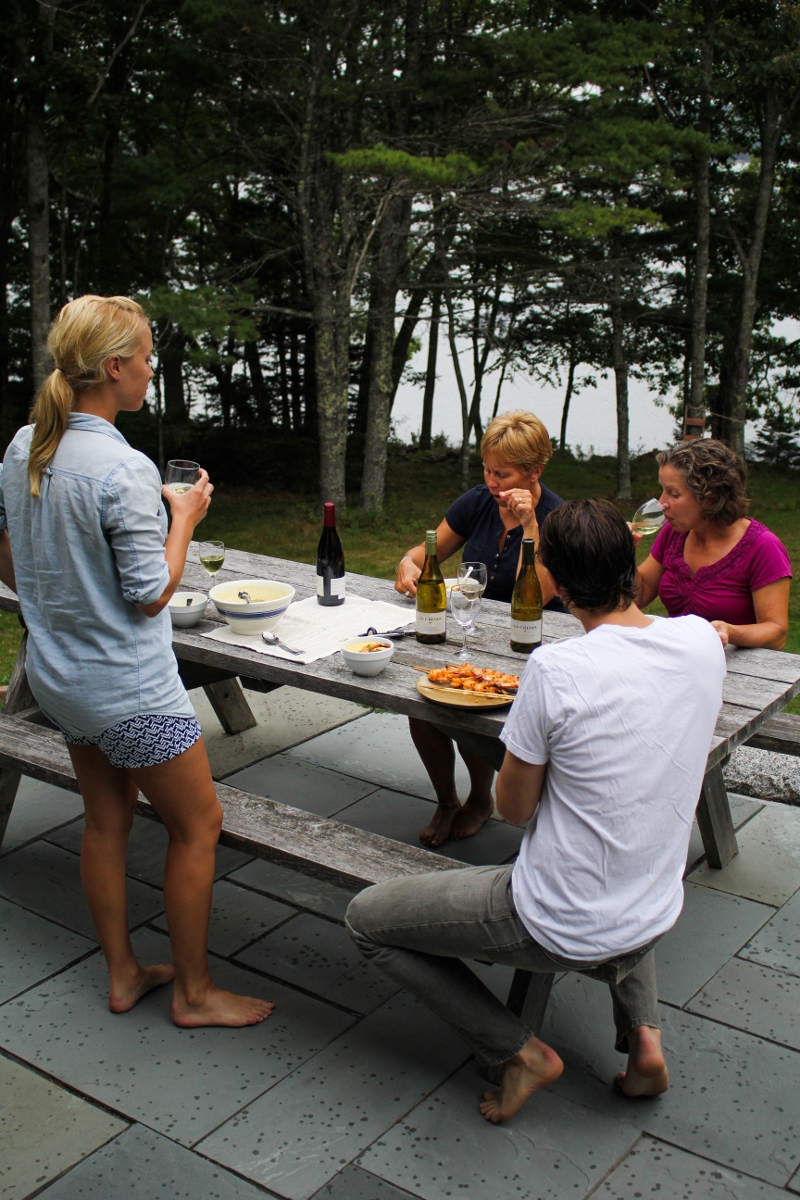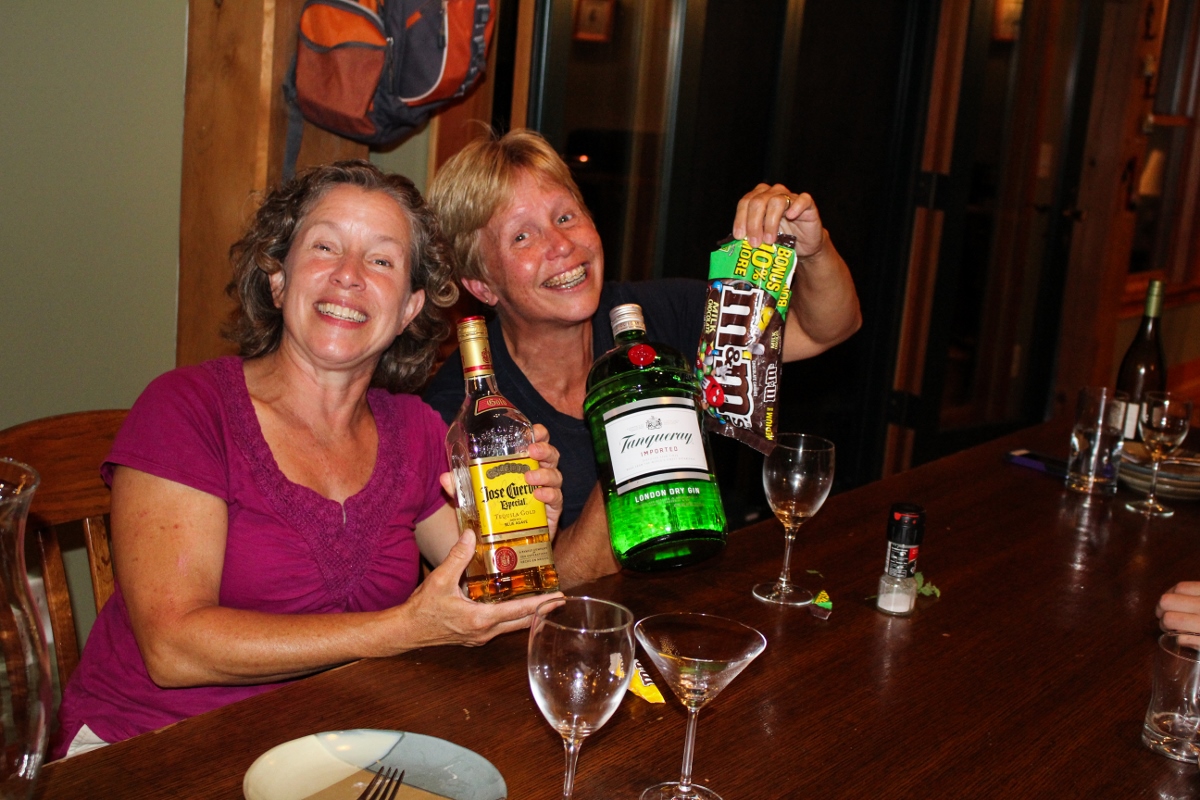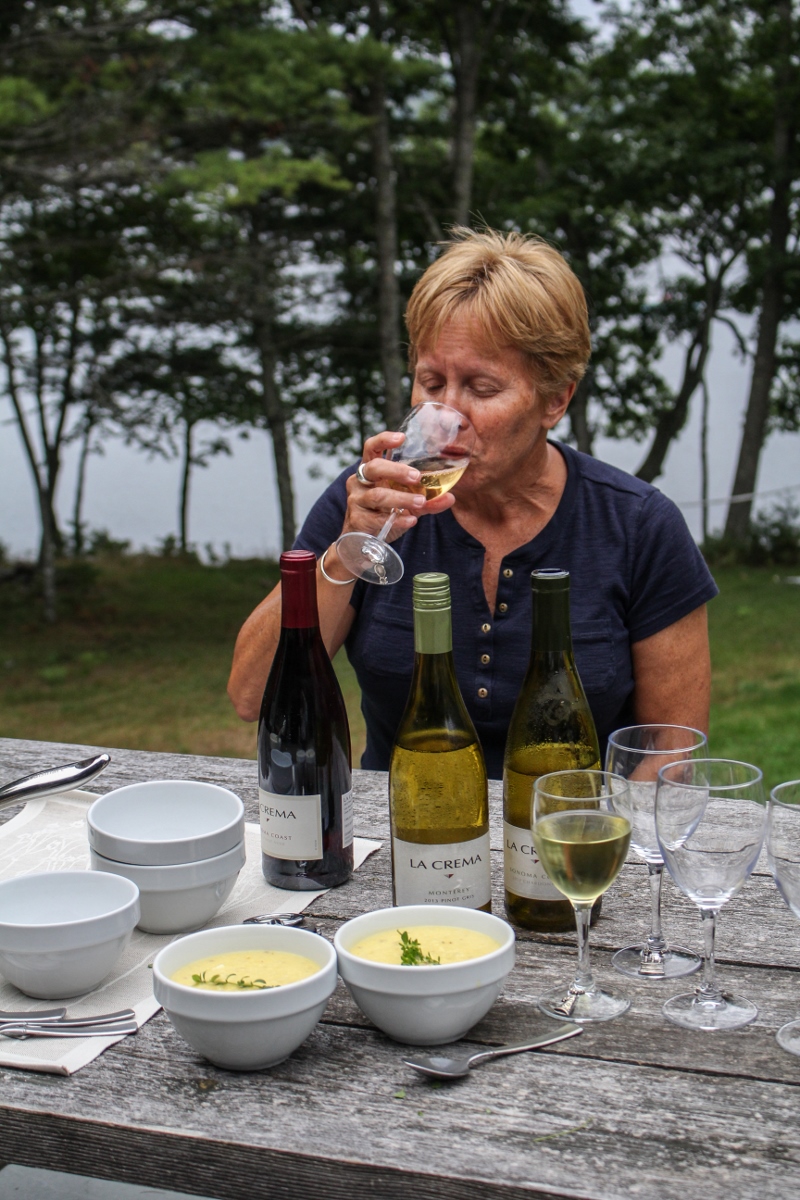 The Details
First Course: La Crema 2012 Sonoma Coast Chardonnay with Corn Chowder with Paprika-Grilled Shrimp. La Crema produces seven different Chardonnays, and their Sonoma Coast line is one of the most affordable. The wine is quite tart, opening with a lot of acidity up front, but quickly mellowing into a buttery finish. You can certainly taste oakiness, but it's subtle and not a dominant characteristic. I personally found it to be a bit more citrusy than I like in a Chardonnay, but my mother, who is not usually a Chardonnay person, really loved this one. We served this with a creamy, pureed corn and potato chowder, using super sweet end of summer corn. The chowder was topped with a few grilled shrimp which had been marinated in a mix of garlic, lemon, olive oil, and smoked paprika. Although I dislike most seafood, I loved these shrimp – they were perfect on top of the rich chowder, and the wine cut through the richness nicely.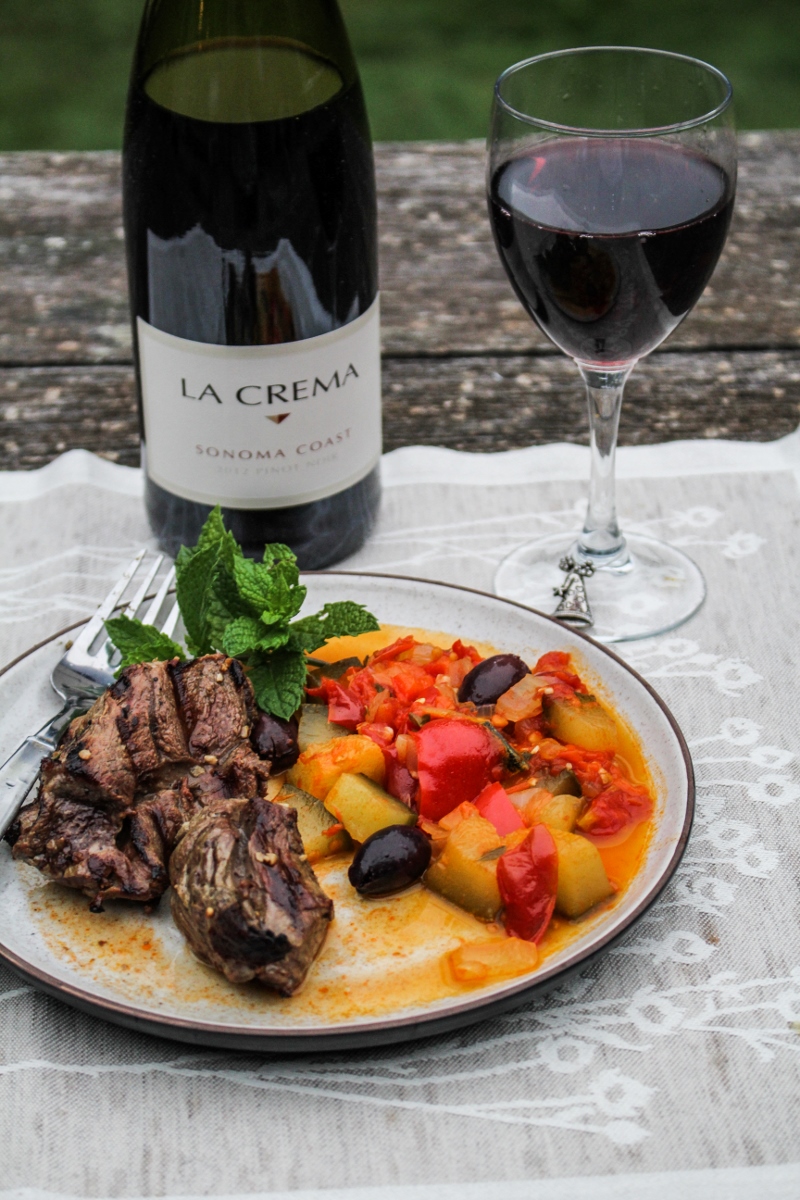 Second Course: La Crema 2012 Sonoma Coast Pinot Noir with Grilled Leg of Lamb with Ratatouille. The Pinot Noir was my favorite wine of the night, another release from the more affordable Sonoma Coast line. It was fairly dark in color compared to some Pinots, but light-bodied. Smooth and fruity, it was very drinkable, without feeling overly sweet or boring. For this pairing, we went a little on the heavy-side, grilling a sizeable piece of butterflied leg of lamb as the main course. We balanced the gaminess of the lamb with a meyer lemon and rosemary marinade, and kept the plate bright and acidic by serving the lamb with a tomato and kalamata olive ratatouille. This was basic, Mediterranean-inspired food – simple but well-executed fare for a simple but well-executed wine.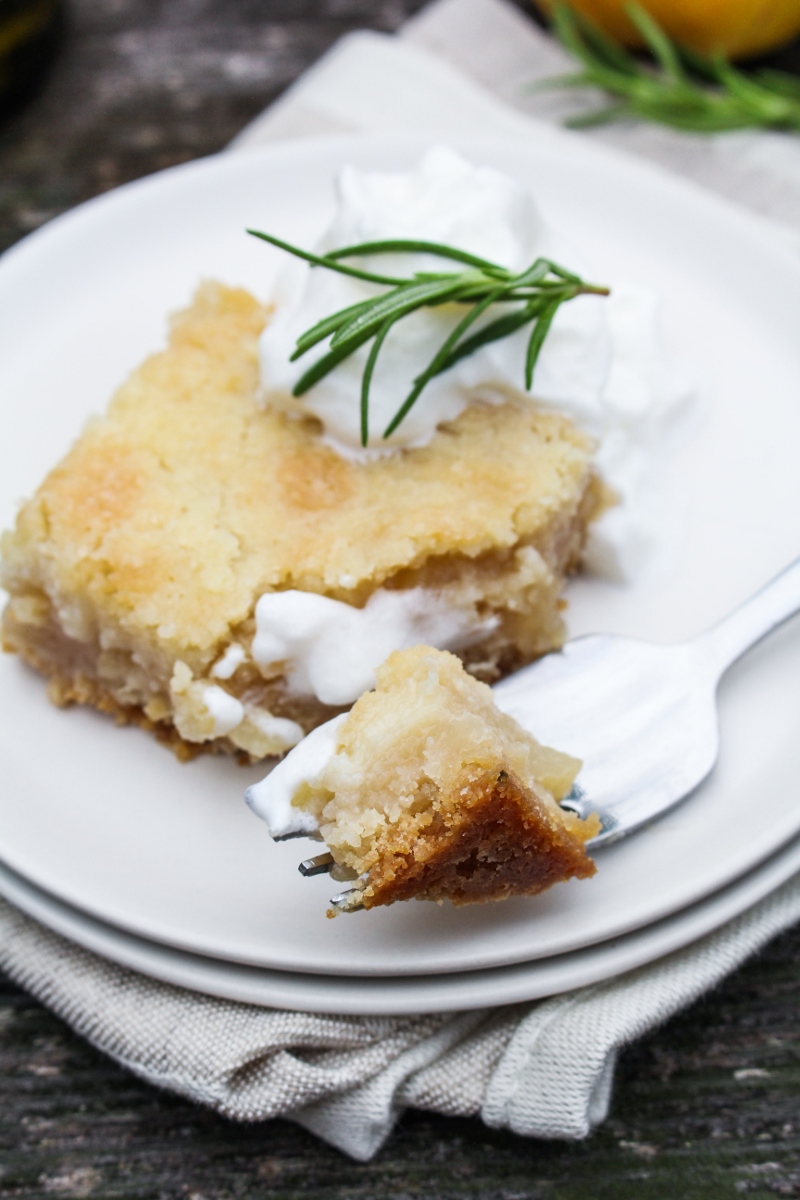 Third Course: La Crema 2013 Monterey Pinot Gris with Pear and Rosemary Crumble Bars. To be honest, by the time we poured the Pinot Gris my note-taking was getting a little sloppy, but I'm going to count that as a good sign overall. I did note that the Pinot Gris had a fairly strong minerality, and was heavy on the citrus flavor. La Crema's tasting notes also indicate that it has a subtle note of Asian pear, which is the pairing I chose to pursue for the dessert course. Of course, serving a wine that is not a dessert wine with a sweet dessert is tricky, but the whole table felt that the Pinot Gris and the rosemary and pear crumble bars went very well together. The bars were composed of three parts: a rosemary shortbread crust, ripe pears poached in a mixture of Pinot Gris and honey, and a simple butter-and-sugar crumble topping. After an hour in the oven, the pears turn into an intense, caramelly jam while the crumble and the crust stay a buttery golden brown. I had initially planned to serve these with a rosemary-vanilla whipped cream, but a few missteps left me with some very delicious rosemary-vanilla butter that could not be brought back from the brink. Whipped cream from the can was a fine substitute.
The Menu
Corn Chowder with Paprika-Grilled Shrimp served with La Crema 2012 SC Chardonnay– see recipe below
Grilled Leg of Lamb with Ratatouille served with La Crema 2012 SC Pinot Noir – see recipe below
Pear and Rosemary Crumble Bars served with La Crema 2013 Monterey Pinot Gris – see recipe below
Like what you just read? Subscribe to Katie at the Kitchen Door on Feedly or Bloglovin', or follow along on Facebook, Twitter, Pinterest, Instagram, or Google+. Thanks for reading!
Disclaimer: La Crema provided me with the wine for this post free of charge, but I was not otherwise compensated and all thoughts and opinions are my own.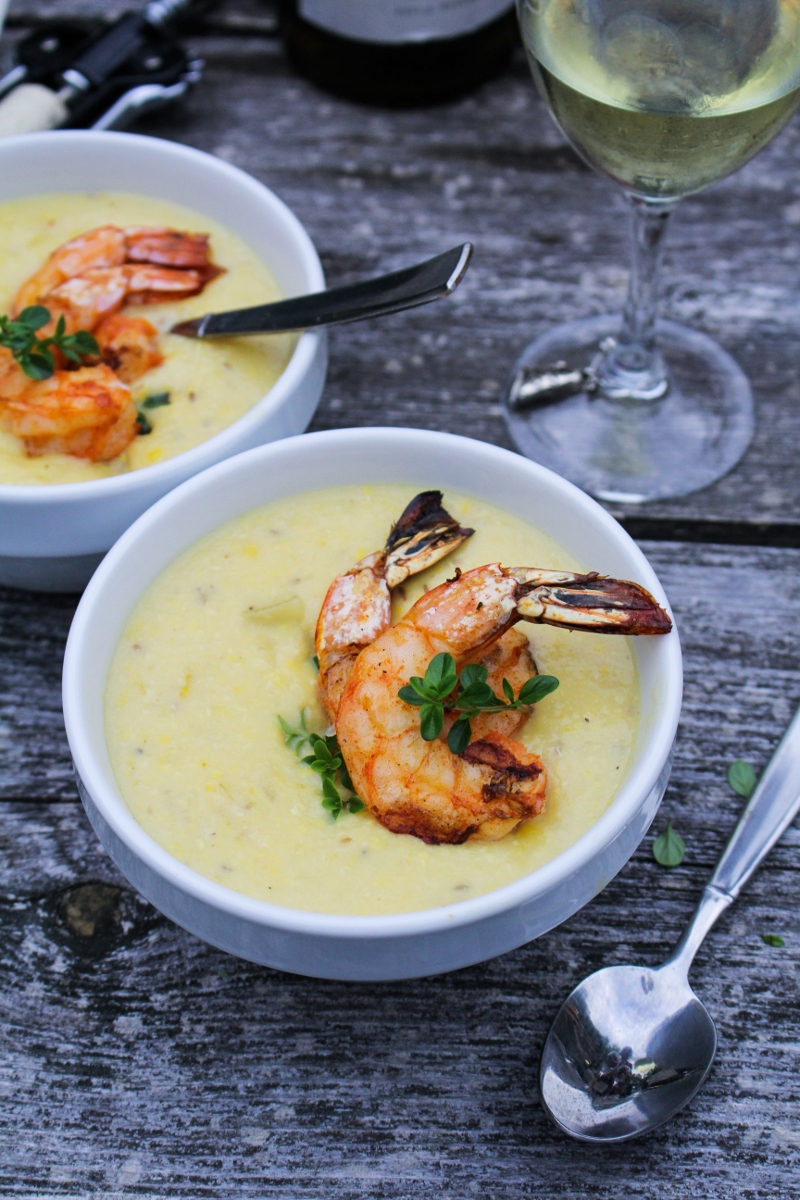 Corn Chowder with Paprika-Grilled Shrimp
Chowder recipe adapted loosely from Serious Eats. Serves 6.
Note: You will need wooden grilling skewers to prepare the shrimp.
1 lb. 16-20 ct. shrimp, peeled and deveined
1 1/2 tsp smoked paprika
3 cloves garlic, finely minced
3 TBS freshly squeezed lemon juice
1/4 c. olive oil
5 ears corn
4 c. chicken or vegetable stock
3 TBS butter
1 medium onion, diced
1 tsp whole cumin seeds
1 1/2 c. diced Yukon gold potato (about 2-3 medium potatoes)
1 c. heavy cream
In a large bowl, whisk together the paprika, garlic, lemon juice, and olive oil. Add the preapred shrimp and toss to coat. Cover, refrigerate, and let marinate for 2 hours. Place your grilling skewers in a large container of water and let soak for 30 minutes.
To make the chowder, cut the corn kernels from the ears using a serrated knife. Set corn kernels aside. Add the stock to a large pot, then break the corn cobs in half and add to the stock. Bring to a simmer over medium heat and simmer for 15 minutes to infuse the stock with the corn cob flavor. Remove from heat, remove and discard cobs, and set stock aside.
In a large pot, melt the butter over medium heat. Add the diced onion and cumin seeds and saute until onions are translucent and cumin is fragrant, about 5 minutes. Add corn kernels and saute in the butter for 2 minutes, then add reserved stock. Add the diced potatoes and bring to a simmer, simmering until potatoes are tender, about 10 minutes. Remove from the heat and stir in the heavy cream.
Blend the soup in batches in a blender, until each batch is smooth. Blend 3/4 of the soup in total, leaving 1/4 of the soup chunky. Season to taste with salt and pepper.
Preheat the grill to medium-high, skewer shrimp on pre-soaked skewers. Grill shrimp until just cooked through, about 2 minutes per side. Serve the chowder with 2-3 grilled shrimp on top.
Grilled Leg of Lamb with Ratatouille
Serves 6.
For the lamb:
4 lbs. of butterflied leg of lamb, cut into 6-8 pieces
1/2 c. olive oil
juice from 2 Meyer lemons
3 cloves garlic, peeled and minced
3 sprigs of rosemary, needles removed and roughly chopped
1 tsp salt
For the ratatouille:
2 TBS olive oil
1 medium onion, roughly chopped
3 cloves garlic, peeled and minced
leaves from 4 sprigs of thyme
1 large red bell pepper, seeded and roughly chopped into bite-sized pieces
4 medium Heirloom tomatoes, cored and roughly chopped into bite-sized pieces
1 medium zucchini, roughly chopped into bite-sized pieces
3/4 c. pitted kalamata olives, roughly chopped
salt and pepper to taste
Place the olive oil, Meyer lemon juice, garlic, rosemary, and salt in a large bowl and whisk to combine. Add the leg of lamb and massage the marinade into the lamb. Cover the bowl, refrigerate, and let marinate 3-4 hours.
About 30 minutes before you intend to serve the lamb, heat 2 TBS of olive oil over medium heat in a large skillet. Add the onion, garlic, and thyme, and saute until onion is translucent, about 5 minutes. Add the bell pepper and cook until soft, 3-5 minutes. Add the tomato and zucchini and bring to a simmer. Simmer the sauce, stirring occasionally and using the back of a wooden spoon to crush the tomatoes, until tomatoes have released all their juices and zucchini is soft, about 10 minutes. Continue simmering over medium-low heat for another 10-15 minutes, until sauce has thickened slightly, then stir in olives and season to taste with salt and pepper.
Preheat the grill to medium-high. Grill the lamb until medium rare, about 7-8 minutes per side. Set aside on a plate and let rest for 5-10 minutes. Serve lamb with the ratatouille sauce underneath.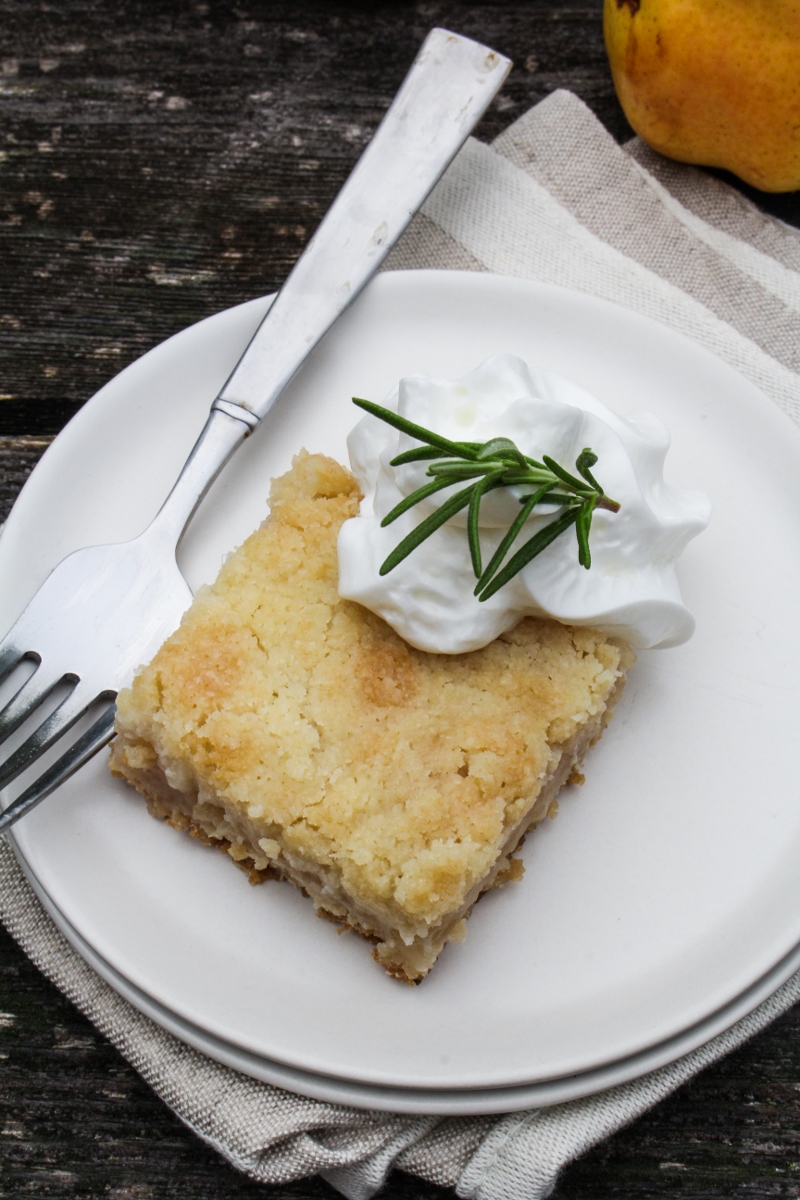 Pear and Rosemary Crumble Bars
Serves 8-10.
1 stick salted butter, at room temperature
6 TBS salted butter, chilled
1/3 c. light brown sugar
1 1/2 c. flour, divided
1 tsp chopped fresh rosemary
1/3 c. white sugar
4 ripe pears
1 1/2 c. water
1/2 c. Pinot Gris or other white wine
6 TBS honey
Preheat the oven to 350°F. In a large bowl, beat 1 stick of room temperature butter until smooth. Add 1/3 c. light brown sugar, 1 c. flour, and 1 tsp chopped rosemary to the butter and stir to create a thick crumbly paste. Lightly grease an 11×7 inch or 8×8 inch baking pan, and press the rosemary shortbread crust evenly into the bottom of the pan. Bake the crust until golden brown, about 18-20 minutes, then remove from the oven and set aside.
To prepare the crumble topping, whisk the remaining 1/2 c. flour and the 1/3 c. white sugar together in a medium bowl. Cut in the 6 TBS of chilled butter, and use a pastry cutter or a fork to mash the butter into the flour until the butter is pea sized and thoroughly coated in flour. Refrigerate this mixture until ready to use.
To prepare the poached pears, peel and core the pears, then thinly slice. In a large, wide-bottomed sauce pan or dutch oven, mix together the water, white wine, and honey. Bring to a simmer over medium heat, then gently add the pears to the simmering mixture. Simmer the pears until soft and fragrant but not falling apart about 5-8 minutes, then use a slotted spoon to remove. Layer the pears evenly over the rosemary crust and set aside. Continue to simmer the juices in the pan until they have reduced to a thick, caramel-colored syrup – this will take about 20 minutes. Once you have a syrup, pour it evenly over the pears.
Take the crumble topping from the fridge and sprinkle it evenly over the pears. Bake the crumble bars for 45-55 minutes, until crumble topping is golden brown and pear filling is thick and bubbling. Remove from the oven and let cool to room temperature before slicing. Serve with whipped cream.