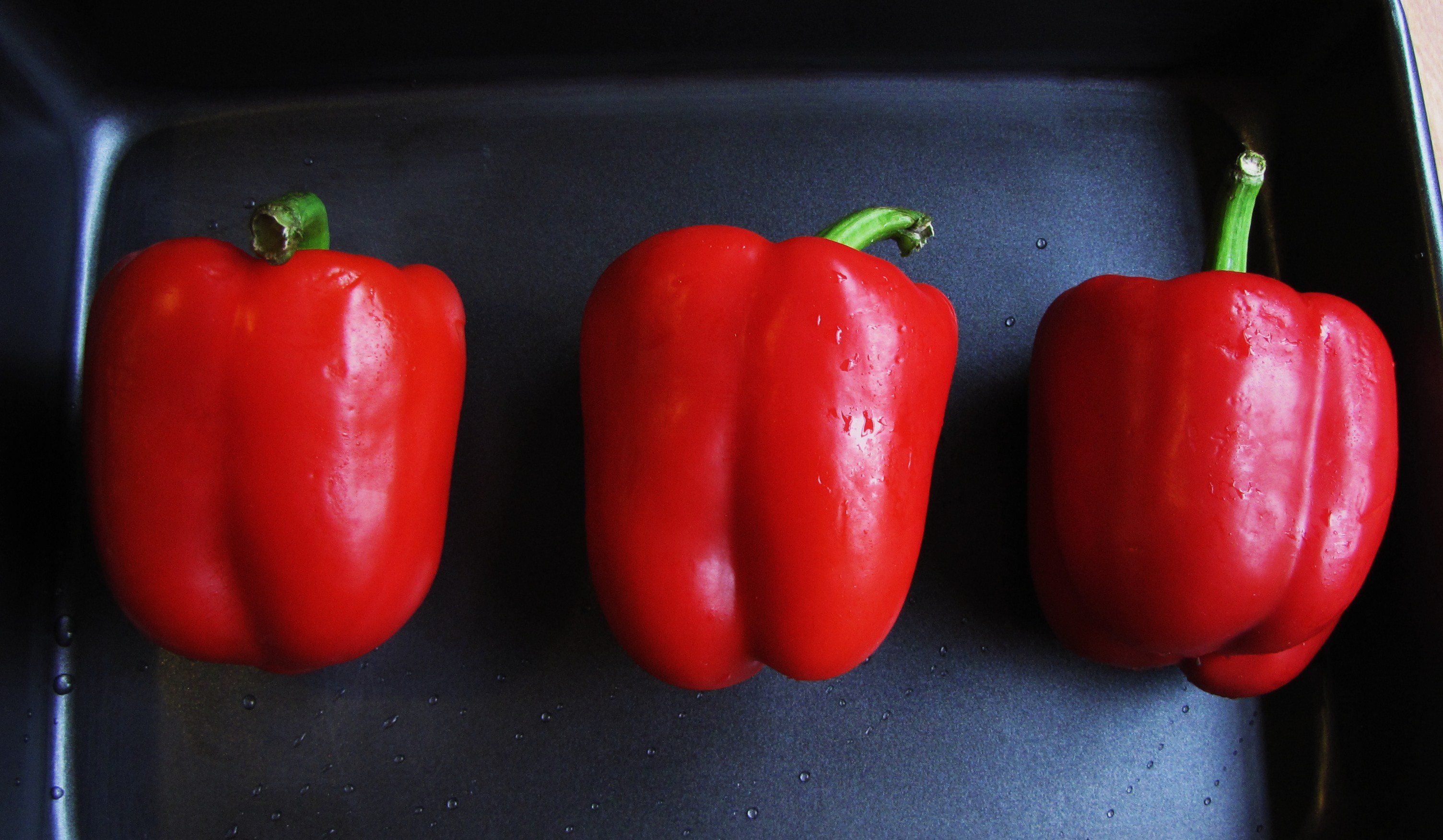 It's a wine at 4:30 sort of day.  Nothing really bad happened, but I just can't seem to get today right.  I forgot my umbrella and had to walk home in the rain without it.  I tried to heat up some leftover gnocchi for lunch but accidentally put uncooked gnocchi in the sauce which resulted in cheesy dough.  Duh.  I dropped a pile of sage on the floor along with pretty much every kitchen utensil I used.  The vacuum cleaner actually expelled dirt instead of sucking it up.  You know, that kind of thing.  I need to snuggle.  But since snuggling is not an option until next Friday when I get to go home again (for eleven whole days!) I will go with the next best thing – soup and my king-sized fleece blanket and maybe a movie.  And another glass of wine?  Wow, I'm really living it up for a Monday.
I think I eat too much soup.  Yesterday I had 3 bowls of kale soup in between the hours of 5 and 9.  It was just one continual dinner.  And I still have half a batch of vegetarian chili in the freezer yet I'm making another tomato based soup tonight.  It's just that soup is so great.  It's quick.  It has a tremendous range of flavor.  It's the best way to get vegetables.  It's warm.  It's comforting.  And you can slurp it.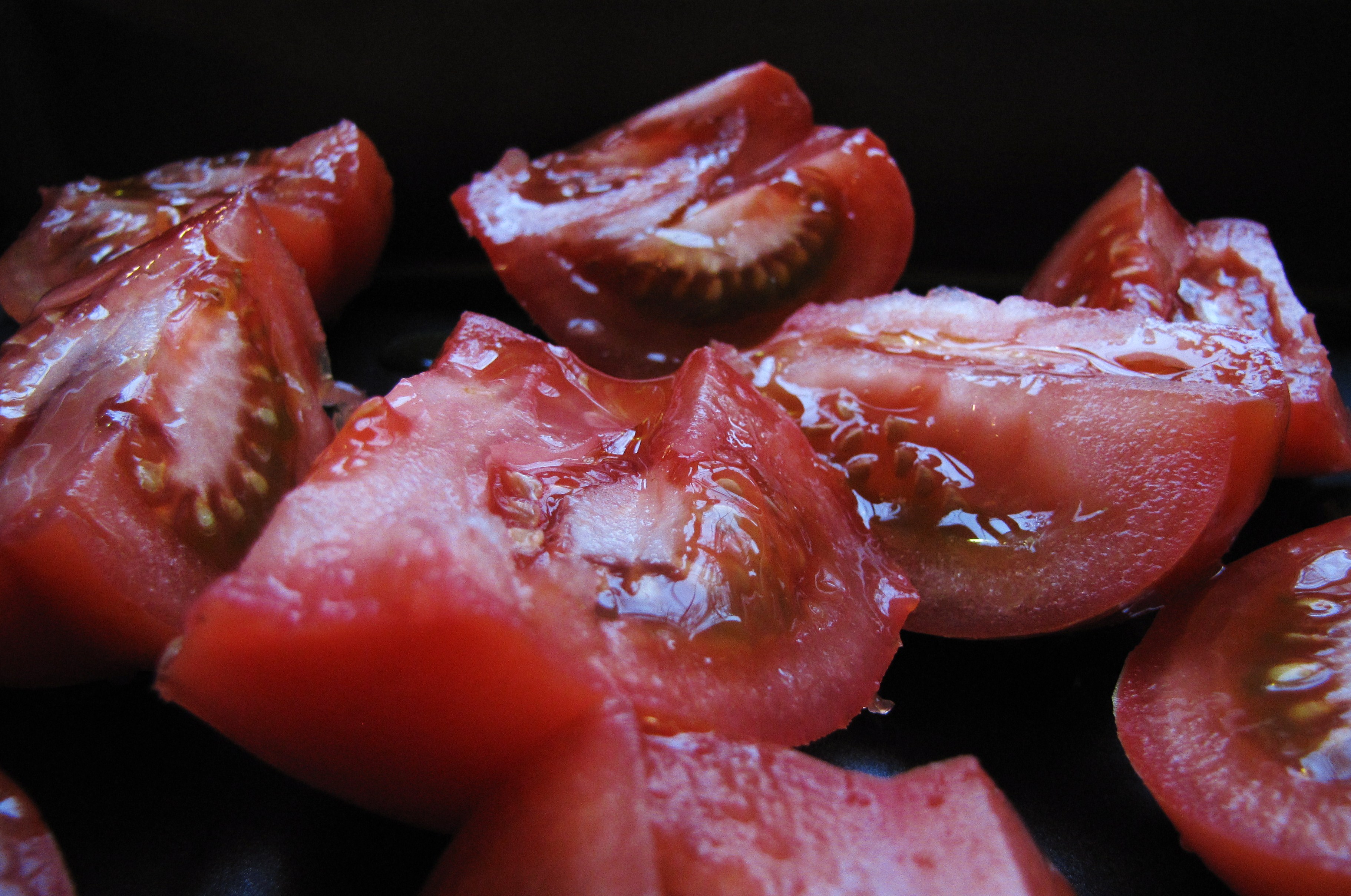 Tonight's soup is roasted red pepper and (roasted) tomato.  The only other ingredients are garlic (also roasted), onion (yep, roasted), and vegetable broth.  Plus a little kosher salt and oil but I'm not sure those really count as ingredients.  The last time I made this was over Christmas vacation, when I spent 5 blissfully peaceful days in Maine with my family and Trevor.  Trevor and I got the green light to plan a meal, which is always super fun but also undoubtedly a production, and this was our first course.  I'm not really a tomato person, so I was surprised that I liked this so much – enough to eat the leftovers within 24 hours.  It was inspired by 101 Cookbooks, one of my absolute favorite food blogs, but I seriously adjusted the ratios to get more sweet red pepper flavor.
Making this soup is easy – just roast and blend.  If the veggies by themselves are too mild for you, a little kosher salt goes a long way towards punching up the flavor of the soup, but that's really all it needs.  Mmm, veggie goodness.  Okay I lied, I also put a little gorgonzola on top but it doesn't really need it, I'm just kind of a cheese addict.  And the final perk of this soup – spending a few hours roasting vegetables can really improve a Monday.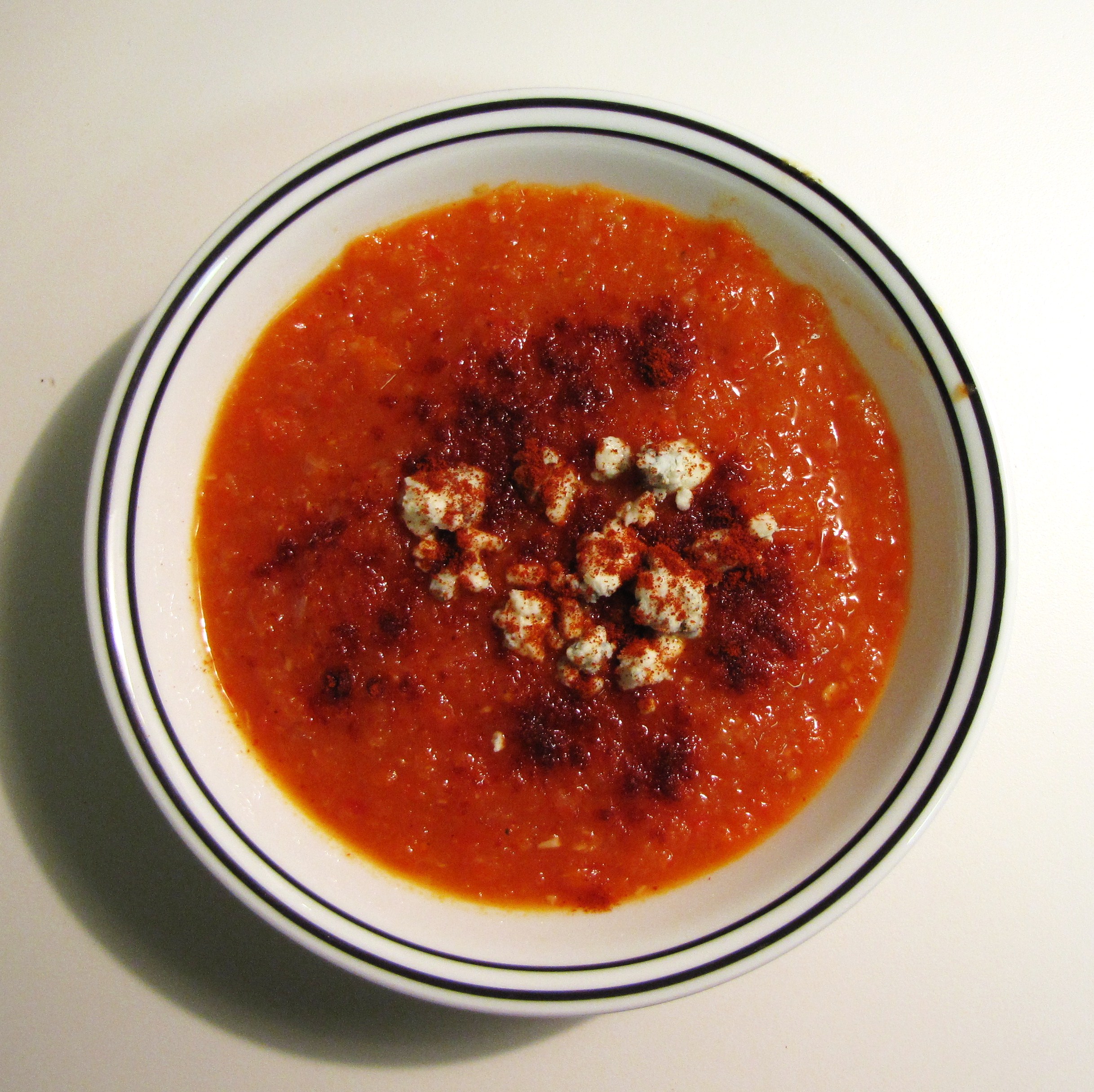 Roasted Red Pepper and Tomato Soup
3 red peppers, whole
3 tomatoes, quartered
5-10 cloves garlic
2 medium onions, quartered
1-2 c. stock (vegetable or chicken)
olive oil
kosher salt
paprika and gorgonzola for garnish
Roast peppers – Place clean peppers whole on baking tray under broiler (on high).  Keep a close eye on them, turning them frequently with tongs.  They are done when the skins are blackened all around the pepper.  Remove from oven and place immediately in an airtight container – a covered bowl or plastic bag – for 15 minutes to allow steam to loosen skins.  When cool, peel skins from peppers.  Then, cut off stems and remove seeds.  Cut peppers in half and drizzle with oil.
Preheat oven to 375°F.  Place quartered onions and tomatoes in pan.  Drizzle with oil and sprinkle with kosher salt.  Roast for 45-55 minutes.  Tomatoes should be on the verge of falling apart.  Onions should be starting to caramelize – turn them halfway through to prevent burning.
Once tomatoes are in oven, place garlic cloves, unpeeled, in tinfoil.  Drizzle with a small amount of oil and close foil over top.  Place on oven rack next to roasting pan and roast for approximately 30 minutes.  Cloves should be soft inside peels.
When all the veggies are ready, blend them together in batches with a small amount of stock.  Place blended ingredients in saucepan over medium heat and add stock, salt, and paprika until the consistency and flavor are as desired.  Garnish each bowl with gorgonzola and paprika.