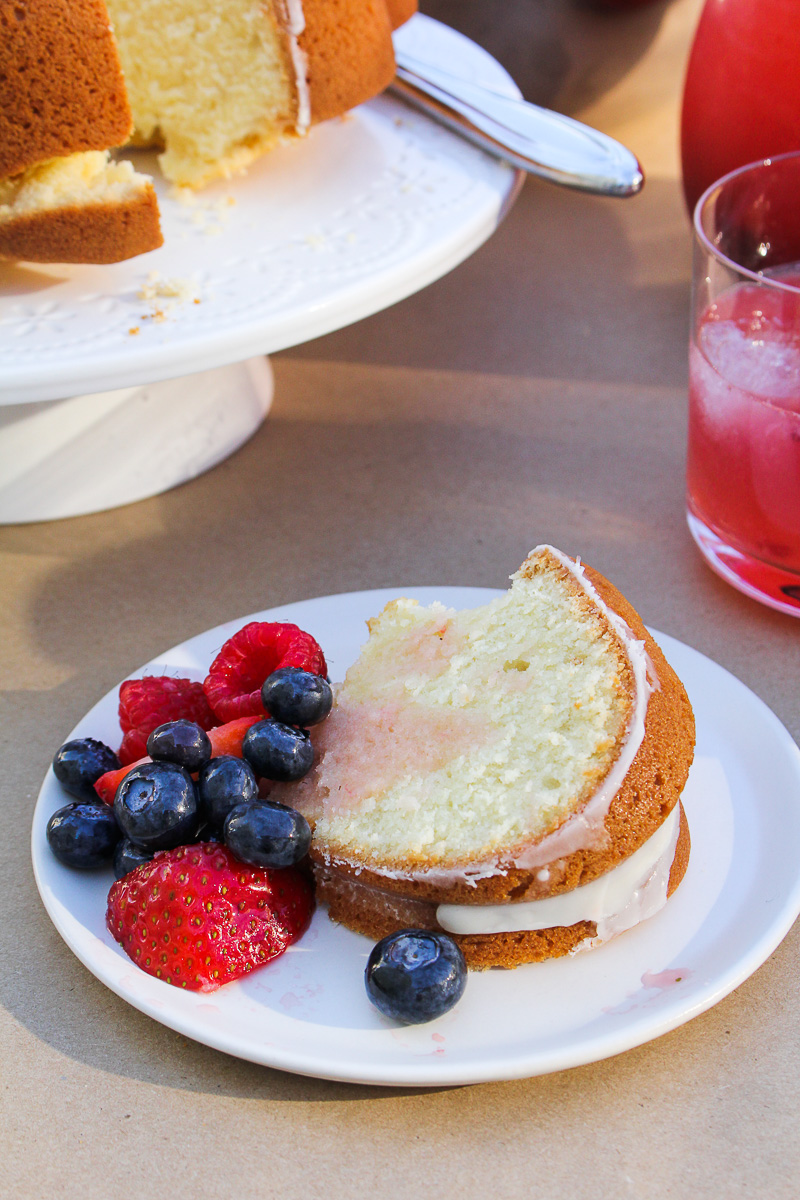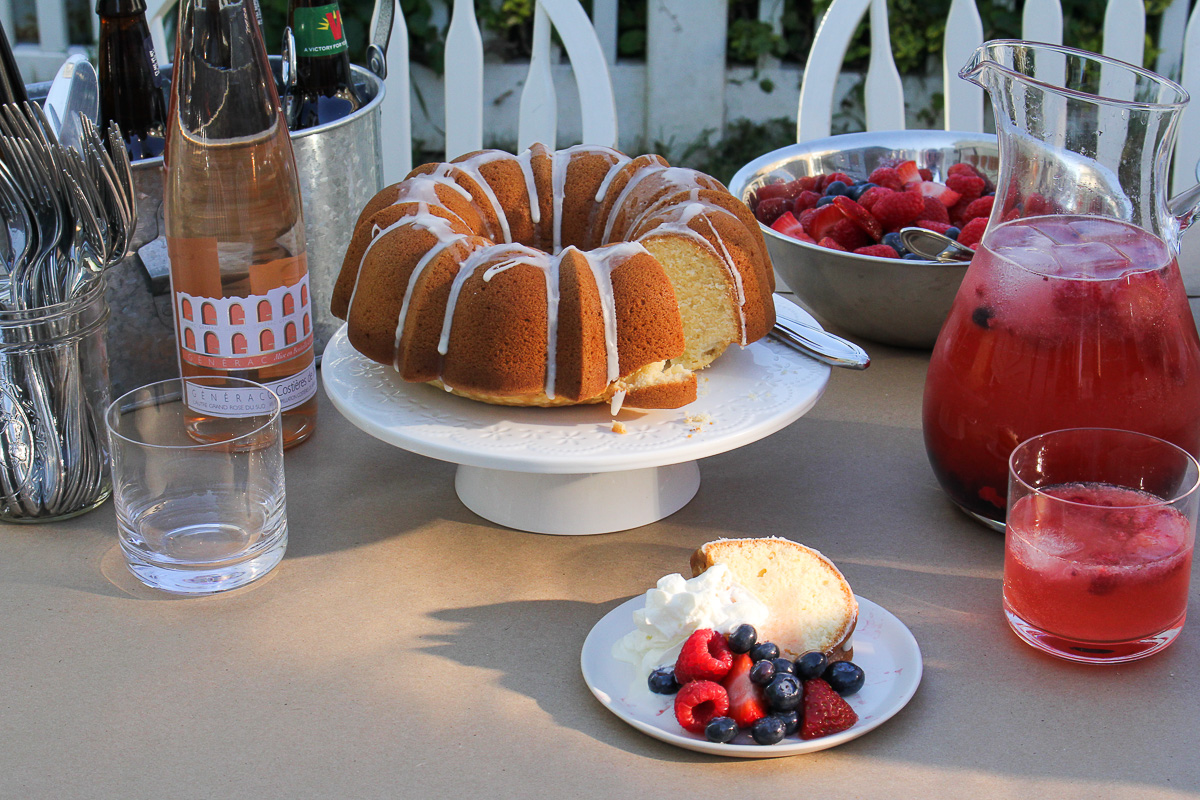 2017 Update: This one-bowl lemon pound cake remains a perennial favorite with my family, making appearances at most summer dinners. I love that it's so easy and requires almost no planning ahead. It also turns out consistently time after time, the true measure of a great recipe. I served it at a backyard dinner party at my house and took the opportunity to update the photos and the recipe below. This one is worth rediscovering!
Sitting in bed, listening to the crickets chirp and snuggling under the down comforter to ward off the lovely night breeze reminding me that fall is just around the corner, I'm feeling pretty good about today.  The rain finally stopped, the humidity that's been hanging over everything and making it impossible to breathe lifted, and the sun came out with a fresh breeze to accompany it.  I woke up more refreshed than I've felt in days, having finally spent a night by myself in my own bed. I spent the day swimming and sunning and watching my brothers and cousins mess about in boats.  At lunch I had a few spoonfuls of the creamiest homemade peppermint stick ice cream, and after lunch it got quiet enough at the dock for the loons to swim up and be photographed.  I went for a jog at dusk, then sat down to a steaming bowl of this pork and black-eyed pea chili, followed by a slice of this incredible lemon pound cake you see here, topped with wild raspberries and blackberries that I picked along Lily Lane yesterday afternoon.  I've been uncharacteristically anxious and stressed these past few weeks, and it's nice to step back and appreciate the calm and joy of simplicity.  Days like this should not be taken for granted, they should be savored.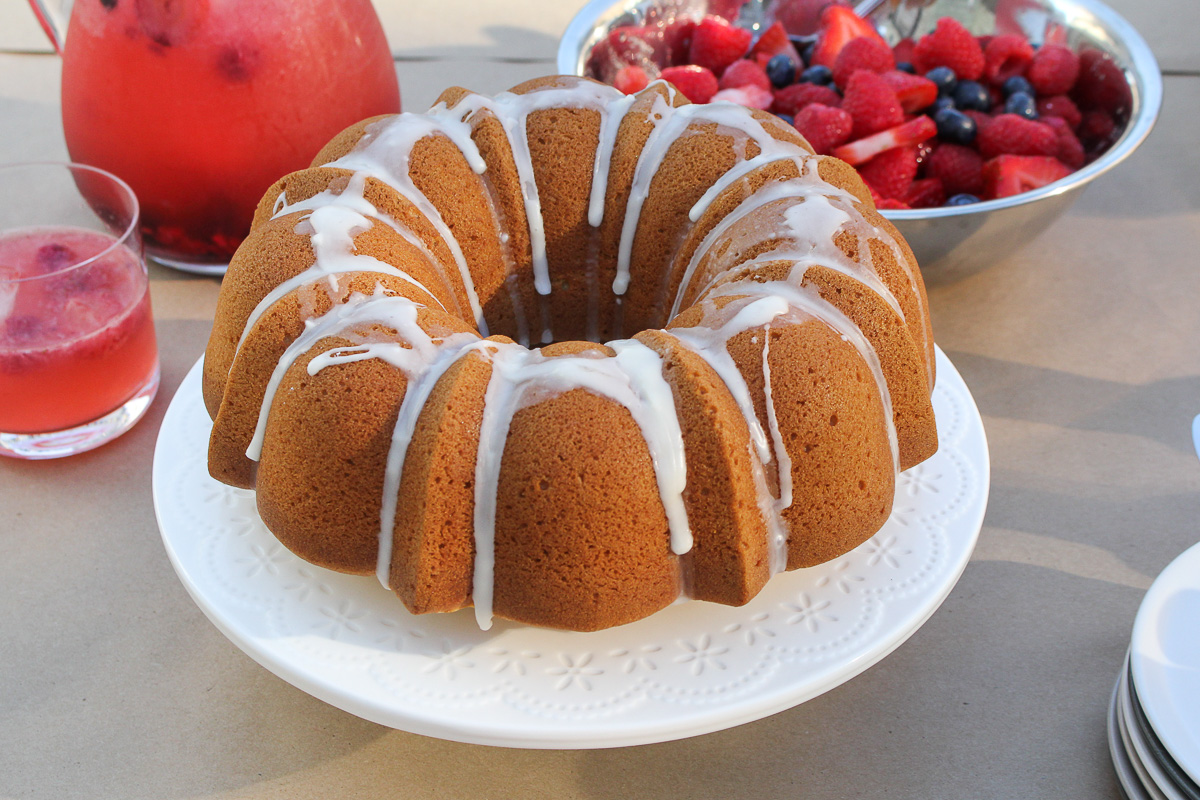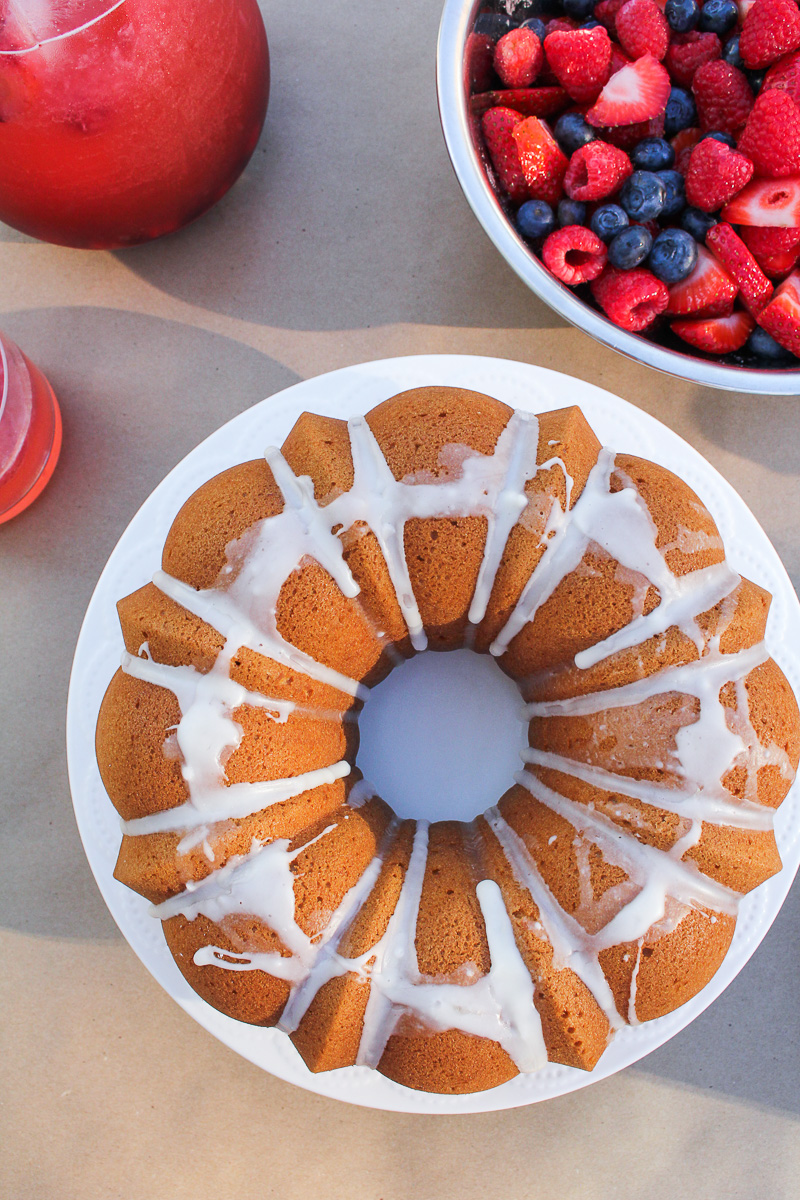 Like this one-bowl lemon pound cake. Because this cake recipe is one of the best ever.  I don't know where it came from, or how old it is, I just know that it's nearly perfect.  It's one of those recipes that's been passed from mother to mother at bake sales and pot lucks, scribbled down from memory on a notecard.  My own mother makes it at least once every two weeks in the summer, when fresh berries, the cake's perfect foil, are abundant and super-sweet.  She received it from a friend at a church picnic, and we love it so much that she even used to send it to us as a care package at school.  We've shared the recipe with aunts and friends, and one of my aunts even shared it with the owner of a bakery, who immediately added it to her menu.  It's that good.
In addition to its sweet lemon flavor and perfect consistency, a few other things make this cake noteworthy. First, it uses exactly one bowl. No separating dry ingredients from wet ingredients, just beat everything together and pop it in the oven. It even goes into a cold oven and bakes from there.  Both of these characteristics make me think that this recipe is from another decade. It's exactly the kind of cake I can see grandmothers making 60 years ago – no fuss, with so few ingredients that it can easily be made from memory.  You don't even need to plan far enough ahead to preheat the oven.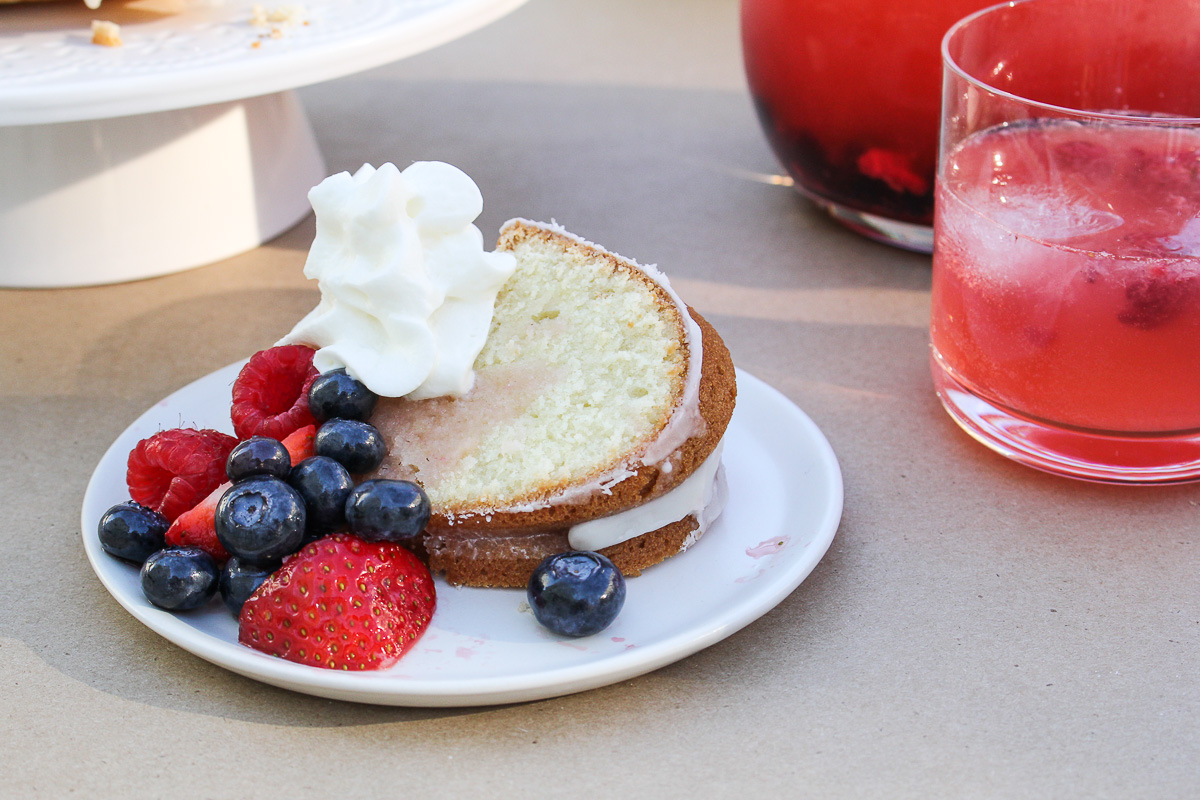 It couldn't be easier to make, or more of a crowd-pleaser to serve.  Dress it up with a drizzle of lemon glaze or a bowl of fresh berries and homemade whipped cream, and it's elegant enough for company. Or wrap it up in a bit of plastic wrap and stick it in a lunchbox, and it becomes the perfect mid-morning snack.  The almond and lemon extracts give it the perfect scent and flavor, the inside of the cake is dense and moist, and the outside gets a crackly-sweet glaze as it bakes. My brothers and I can never resist breaking off little pieces of the sweet "crust" as the cake cools.  If you make this cake, which I sincerely hope you do, please make it exactly as written at least once before changing it.  Generally, I adjust recipes as I think best – even if it's just changing the type of sugar or the amount of extract, but this one is well tested.
Like what you just read? Subscribe to Katie at the Kitchen Door in the box on the right, on Feedly or Bloglovin', or follow along on Facebook, Twitter, Pinterest, and Instagram. Thanks for reading!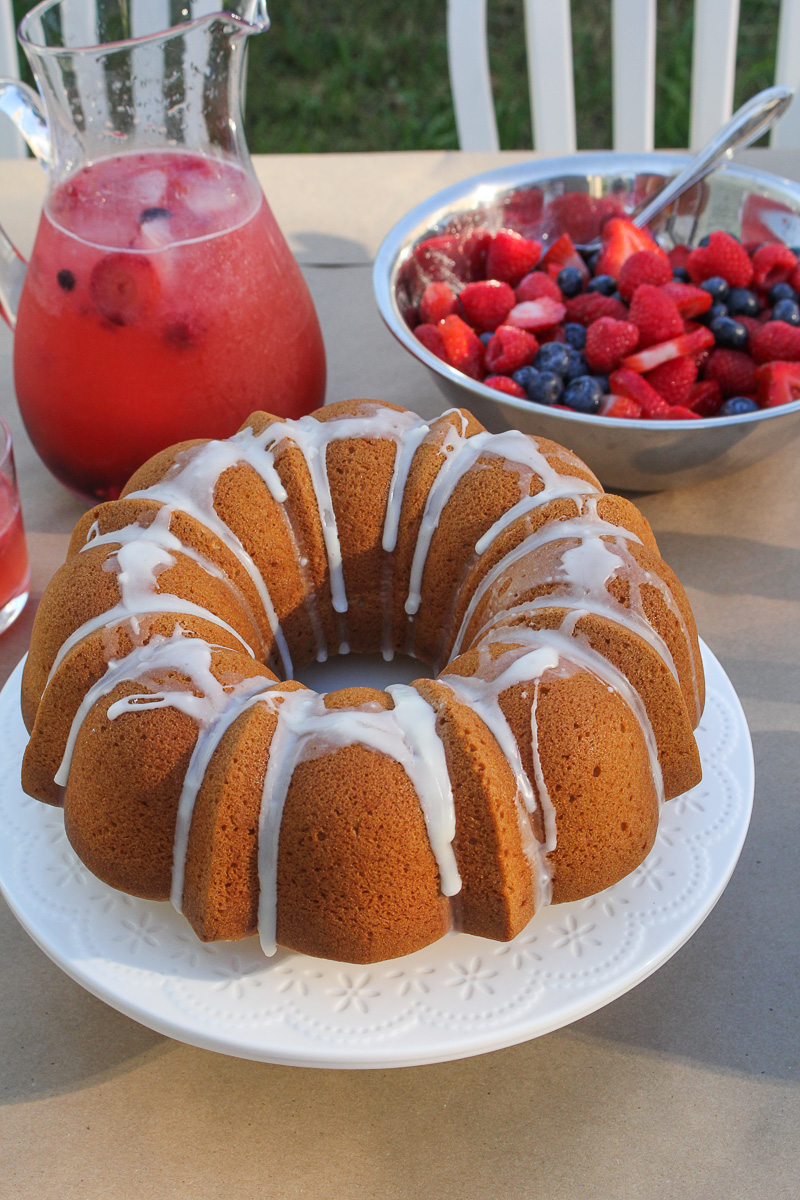 Print
One-Bowl Lemon Pound Cake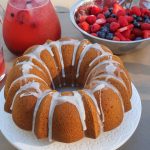 This Lemon Pound Cake is a favorite family recipe in the summer. We always serve it with berries and whipped cream, although sometimes a simple lemon glaze is nice as well (or both! What's stopping you?). It's an easy, consistent cake that feeds and pleases a crowd.
This recipe came to my family through a friend at a picnic, and my mother has been making it ever since. If anyone knows the original source, please share!
Author:
Yield:

16

Category:

Dessert
Ingredients
3/4 c. butter, softened
2 1/2 c. sugar
5 eggs
2 1/2 c. flour
1 c. whipping cream/heavy cream
1/2 tsp lemon extract
1 tsp vanilla extract
1/2 tsp almond extract
Instructions
Prepare a large bundt pan by greasing and flouring the inside.  A cooking spray works best to get all the creases of the bundt pan.  In an electric mixer or large bowl, cream the butter and sugar together on medium speed.  Since the ratio of sugar to butter is so high, the creamed butter will not get as fluffy as in some recipes, and may remain grainy.  This is fine – it's not a fussy cake!  Add the eggs one at a time, leaving the mixer on low speed, or beating by hand until fully incorporated in between additions.
Add 1 1/2 c. flour to the batter, and beat until incorporated.  Next, add 1/2 c. of the heavy cream and beat until incorporated.  Add and incorporate the remaining 1 c. of flour, followed by the remaining 1/2 c. of cream.  Beat until smooth and fully incorporated.  Mix in the lemon, vanilla, and almond extracts.
Pour the batter into the prepared bundt pan.  Place pan in cold oven, then turn heat to 300°F, and bake cake for 90 minutes.  Cake top will be beginning to crack when cake is done.  Turn oven off and leave cake in oven for 15 minutes longer.  Remove cake from oven, and allow to cool for 15 minutes in pan.  Then, turn cake over onto a cooling rack and allow to cool completely before serving.  Serve with fresh berries tossed with a bit of sugar, and a dollop of homemade whipped cream.
0