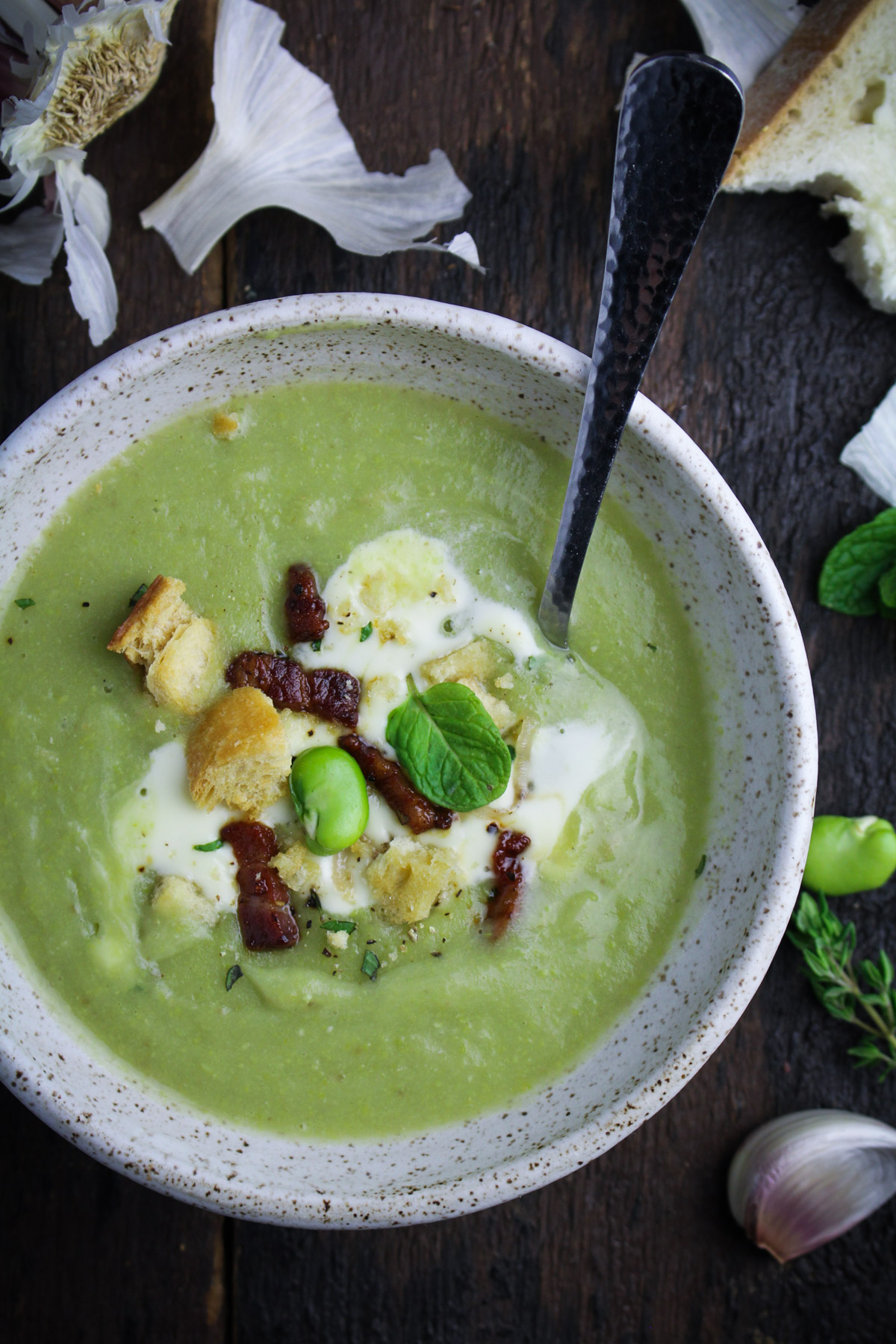 It's very clear to me what I should be eating and drinking in May. Perhaps more clear than any other month of the year. May is for fava beans, as many as I can get my hands on. It's for ramps, garlicky and pungent, worth the splurge. It's for chilled glasses of rosé, on both warm days and cold days. And finally, at the very end of the month, it's for the first strawberries, tiny and bright red.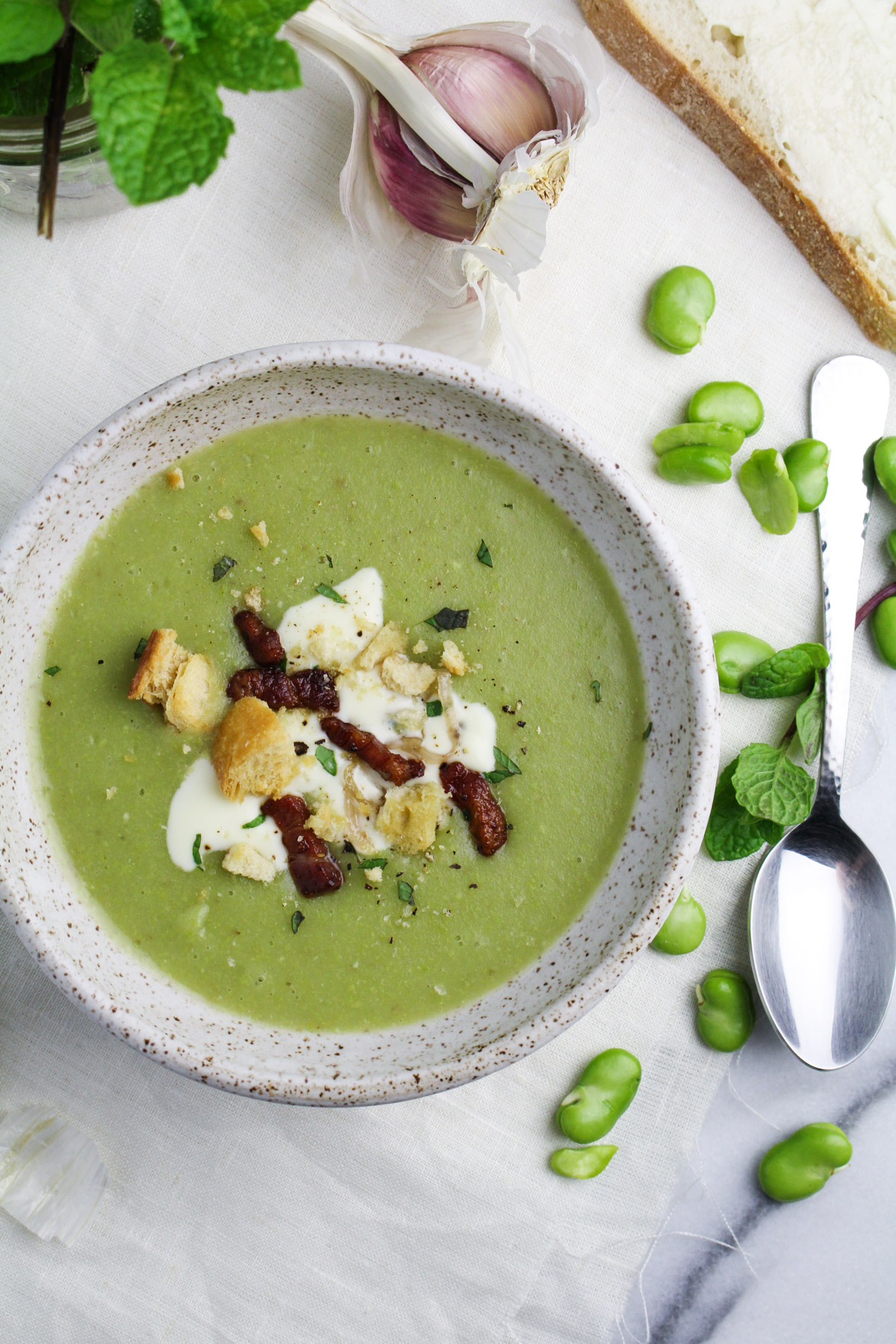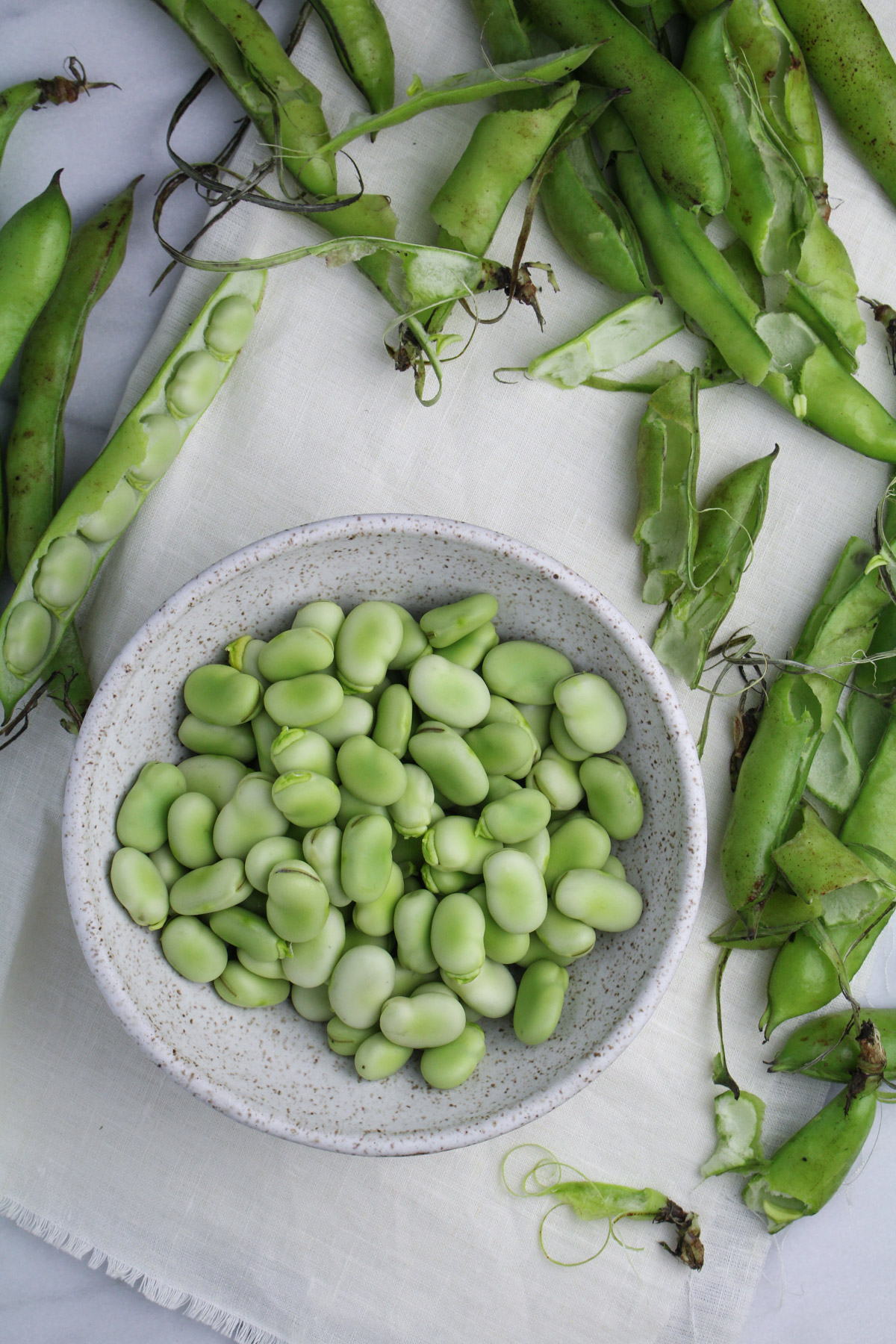 This year, on May 2nd, I found myself standing over a pile of fava beans, happily shucking the beans from their fuzzy-pods. (This is only a happy activity the first time. After that it's a chore and a half but still worth it.) I had just opened the first bottle of rosé, a lovely Chilean blend. And then, I realized that I had lived this exact moment the previous year – the first fava beans, the first rosé, the apple blossoms just reaching their peak outside the window. What a beautiful moment! The world is better for its patterns.
In celebration of this particular moment in the year, I'm bringing back a series that's been quiet for years: ingredient of the week. It's been 3 years since I last did one, but it's always at the back of my mind. What's in season now that I can only get my hands on for a week or two? How can I make the most of it's brief appearance before it's gone for another year? After my Sunday Dinner series, it's the series that best reflects why I write this blog – finding interesting recipes to celebrate seasonal ingredients. Of course, given my current blogging pace of 4 posts a month, putting together 5 posts in a week seems a bit Herculean. So much cooking and writing and photo editing, not to mention the fava bean shucking! But I've planned ahead, and I think we've got this.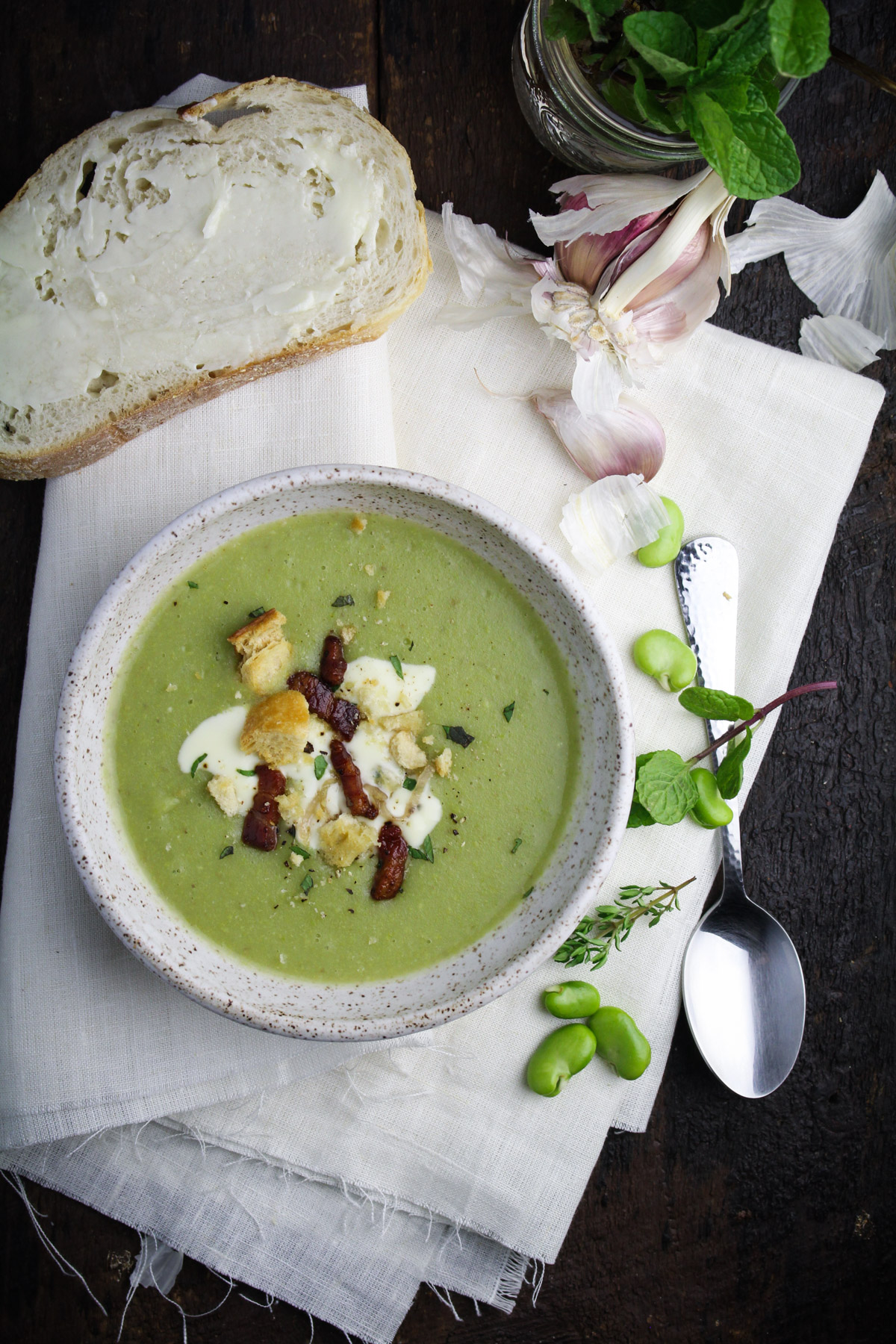 Fava beans have a very distinct flavor, grassy and slightly bitter. This soup is the essence of that flavor, undistilled, unsweetened. It's a good recipe to kick off this week, a pure celebration of spring flavors. It's all about the toppings – don't skip them. The soup needs the saltiness of the pancetta and the crunch of the croutons and the subtle sweetness of the mascarpone. It even needs the mint, that little bit of herbality humming in the background. Without all of those flavors to highlight and offset the grassy fava beans, the soup is a bit one dimensional and overwhelmingly green tasting. But all together, it's the very essence of spring.
More Fava Bean Recipes…
Like what you just read? Subscribe to Katie at the Kitchen Door in the box on the right, on Feedly or Bloglovin', or follow along on Facebook, Twitter, Pinterest, and Instagram. Thanks for reading!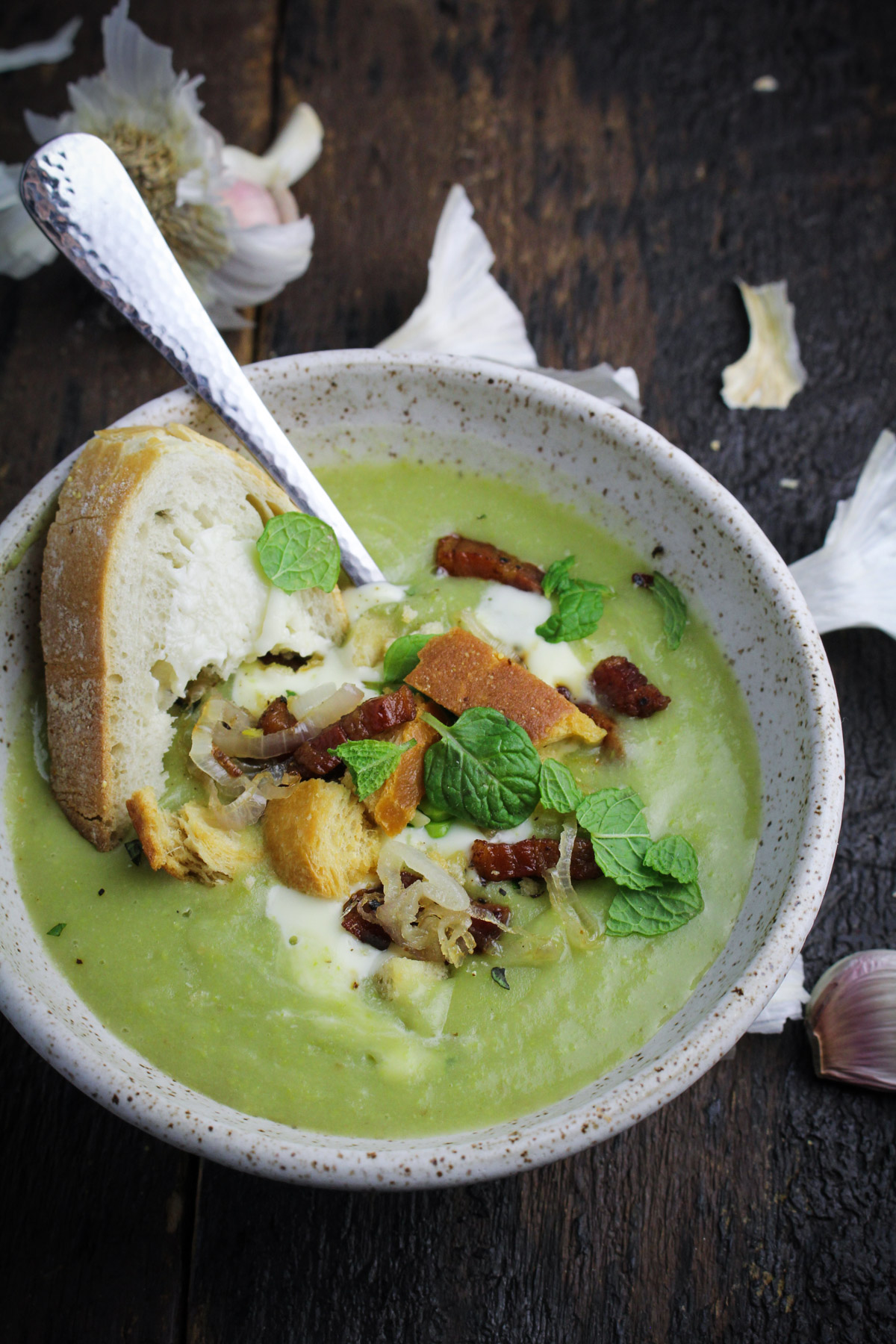 Print
Fava Bean Soup with Mascarpone, Mint, and Pancetta
A vibrant, spring soup. Packed with grassy flavor from the fava beans, sweetness from mascarpone, and salty crunch from the pancetta and croutons.
Adapted from A Kitchen in France. 
Author:
Yield:

4

Category:

Soup

Cuisine:

French
Ingredients
4 slices crusty French bread, cut into 1/4 inch cubes
3 TBS olive oil, divided
sea salt and black pepper to taste
3 oz. pancetta, cut into 1/4 inch cubes
1 small onion, peeled and minced
3 cloves garlic, peeled and minced
1 large Yukon gold potato, cubed
4 cups chicken or vegetable stock
2 pounds of fresh fava beans in their pods (about 1 1/2 cups shelled)
1/4 cup heavy cream (optional)
3 sprigs mint, leaves roughly chopped
1/2 cup mascarpone
Instructions
Preheat the oven to 350°F. Toss the bread cubes with 2 TBS of the olive oil and some sea salt, then spread in a single layer on a baking sheet. Bake for 12-15 minutes or until golden and crisp, stirring once halfway through. Remove the croutons from the oven, turn off the heat, and set aside.
Heat the remaining 1 TBS of olive oil in a soup pot over medium heat. Add the cubed pancetta and fry until browned and crispy all over, about 10 minutes. Stir frequently while cooking – pancetta gets a slow start but goes from almost done to burnt in just a minute or so, so keep an eye on it. When it's done, use a slotted metal spoon to scoop the pancetta out and let the grease drip back into the pan. Place the pancetta in a bowl and set aside. Drain all but 1 TBS of the pancetta grease and discard. Return the pot to the stove and add the onion to the remaining pancetta grease. Saute until translucent, about 4-5 minutes, then add the garlic and cook for another 60 seconds. Add the potato and the chicken stock and bring to a boil.
Shuck the fava beans, then peel off the outer layer of skin and discard the skin. When the potato is almost tender, add the fava beans to the soup pot. Cook for 5 minutes longer, just to cook the beans through. Remove from the heat and season to taste with salt and pepper. Let cool slightly then ladle the soup into a blender. Always use caution when blending hot liquids, and only use a blender that is designed for it. If your blender is not suitable for hot liquids, allow the soup to cool first. Blend until smooth and thick, thinning with a little heavy cream if desired. Reheat the soup gently if needed, then pour into bowls. Top each bowl of soup with croutons, fried pancetta, chopped mint, and a spoonful of mascarpone. Serve immediately.