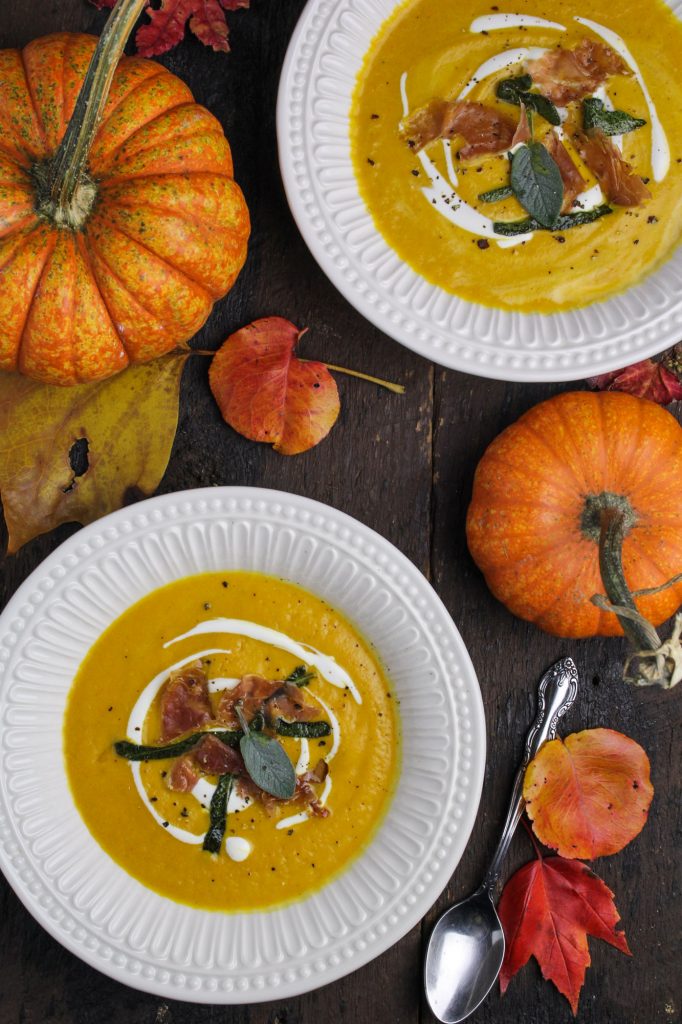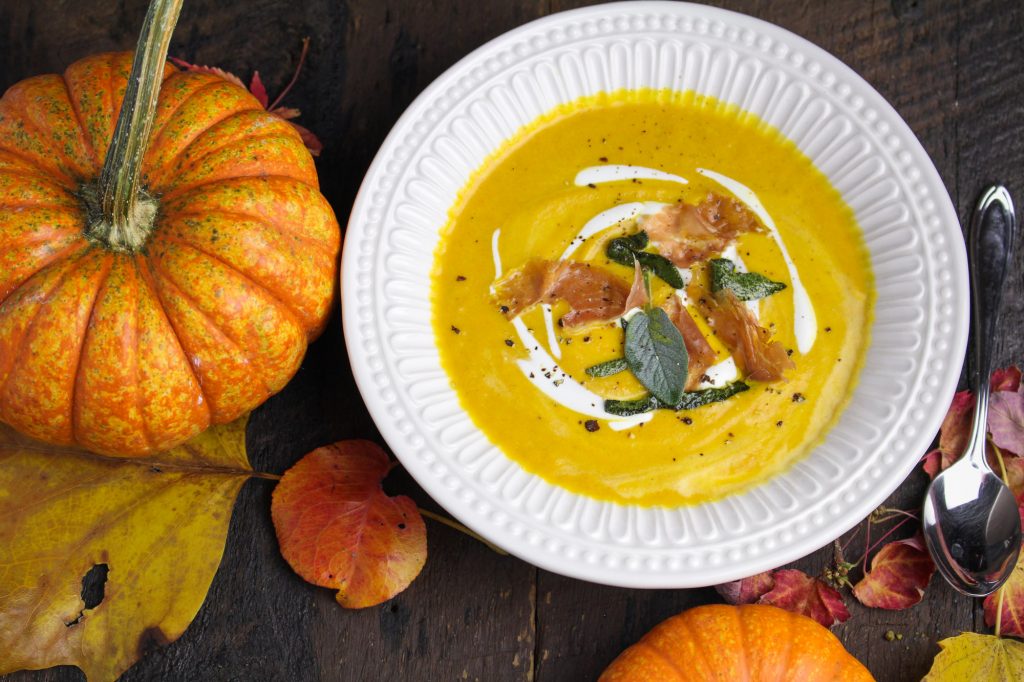 I'm so happy that I've had this week at home. I expected fall to be over by the time I got back from Portugal last Friday night, but instead, I woke up early Saturday to find a brilliant, glowing fall morning. I went for a walk at sunrise (jet lag problems) and reveled in the pink sky, the orange leaves tinged with sunlight, the blue-green frost on the grass, the smell of woodsmoke, even the cold, which is still exhilarating and festive feeling, and not yet the menacing cold of January and February. All week I've been marveling in the outdoors, as well as in the simple pleasure of being home. It's weeks like this that make me think I will always end up back in New England, no matter how far afield my adventures take me.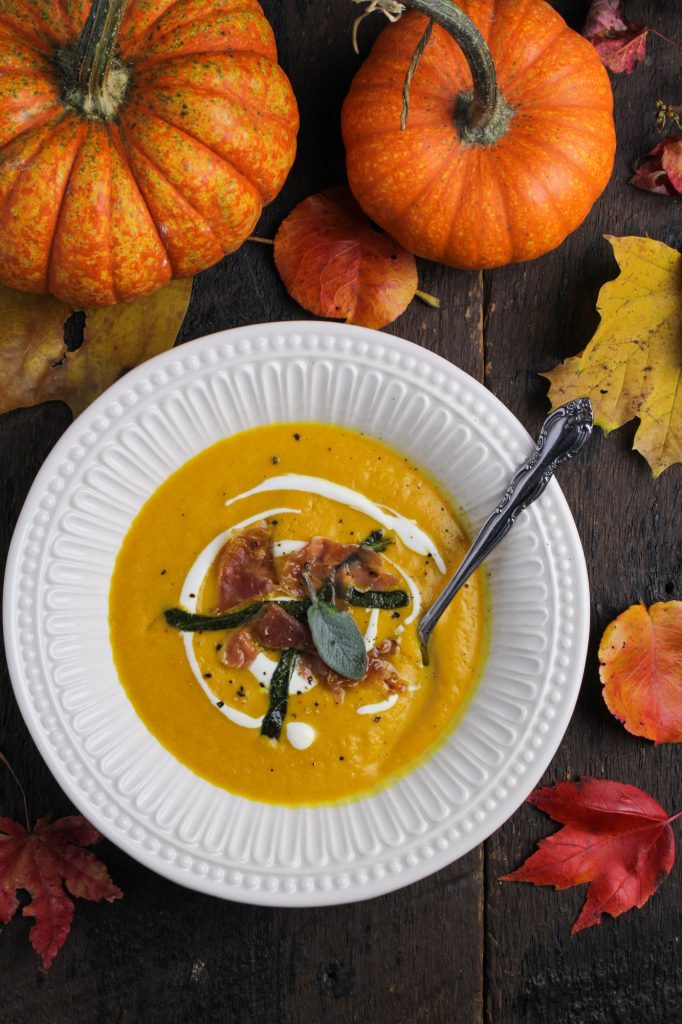 This week was also a bit of a roller coaster, for many. In my circles at least, there was a lot of negative emotion being dumped into the world – shock and anger and frustration. No matter what your political opinions are, it's difficult to be surrounded by people who are upset. We all absorb each other's emotions – empathy is a critical component of being able to function in our society – but when that emotion is overwhelmingly negative sometimes I feel the need to withdraw. So this weekend I am taking things slow, taking care of myself, fighting off the beginnings of a cold before I get on a plane again tomorrow night. And part of that care is this soup, into which I crammed as many autumnal flavors as I could. The base of this soup is roasted pumpkin and carrots tossed with curry powder, then pureed into a light and creamy bisque and topped with fried prosciutto and sage. I'm glad to have gotten at least one pumpkin recipe up this fall before we transition into holiday flavors (is it possible that there are only 7 weeks left this year? How absurd). I hope you enjoy the soup and these last few days of autumn!
Like what you just read? Subscribe to Katie at the Kitchen Door on Feedly or Bloglovin', or follow along on Facebook, Twitter, Pinterest, Instagram, or Google+. Thanks for reading!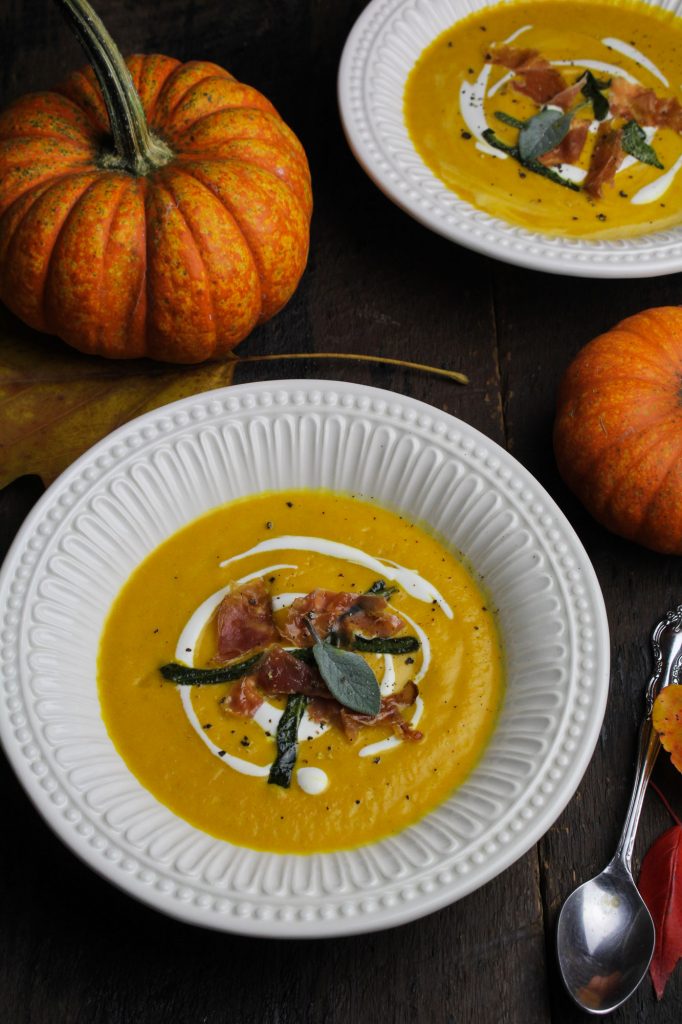 Curried Pumpkin Bisque with Prosciutto and Sage
A Katie at the Kitchen Door original recipe. Serves 4-6.
1 medium (3 lb.) sugar pumpkin or acorn squash
2 carrots, peeled and cut into one inch pieces
4 TBS olive oil, divided
1 1/2 tsp curry powder, divided
sea salt
2 TBS butter
1 large onion, peeled, halved, and sliced into thin half moons
8 sage leaves, divided
1 TBS minced fresh ginger, from a 1 inch piece of ginger
1/2 tsp cumin seeds
4 cups chicken stock
1/3 cup heavy cream, plus more for garnish
3 thin slices prosciutto, torn into pieces
Preheat the oven to 375°F. Cut the top off the pumpkin and set aside. Carefully slice the pumpkin in half lengthwise. Scoop out the seeds and pulp and discard or save for roasting. Cut the pumpkin halves into thick wedges and place on a large rimmed baking sheet, along with the carrot pieces.
In a small bowl, whisk together 3 TBS of the olive oil, 1 tsp curry powder, and about 1/2 tsp sea salt. Drizzle over the pumpkin and carrot, using your hands to rub the oil onto both sides of the vegetables. Roast until the pumpkin and carrot are tender, about 30-40 minutes, flipping once halfway through. Use a spoon to scoop the soft roasted pumpkin flesh away from the skin, saving the flesh and discarding the skin.
In a large soup pot, melt the butter over medium heat. Add the sliced onion and saute until translucent and tender, about 5-7 minutes. Roll 4 of the sage leaves into a cylinder and thinly slice, then add the slices to the onions and butter. Add the minced ginger. the remaining 1/2 tsp curry powder and the cumin seeds to the pot as well and saute until fragrant, about 3 minutes. Add the roasted carrots, roasted pumpkin flesh, and chicken stock to the pot and bring to a simmer. Simmer for for about 10 minutes, then remove from the heat and add the heavy cream. Transfer the soup to a blender (or use an immersion blender) and blend until very smooth and creamy. (Always be careful when blending hot liquids! If your blender is not designed to blend hot liquids, wait for the soup to cool to room temperature before blending). If necessary, thin out the soup with more cream or chicken stock until it reaches the desired consistency.
Before serving, heat the remaining 1 TBS of olive oil in a small frying pan. Roll the remaining 4 sage leaves into a cylinder and thinly slice, then add to the olive oil. Fry sage until crispy, about 3-4 minutes, then add the prosciutto pieces and fry until prosciutto is crispy, another 1-2 minutes. Remove from heat.
To serve, divide the soup between bowls. Drizzle with a little cream and top with the fried sage and prosciutto. Serve immediately.