Olives, Lemons, & Za'atar: The Best Middle Eastern Home Cooking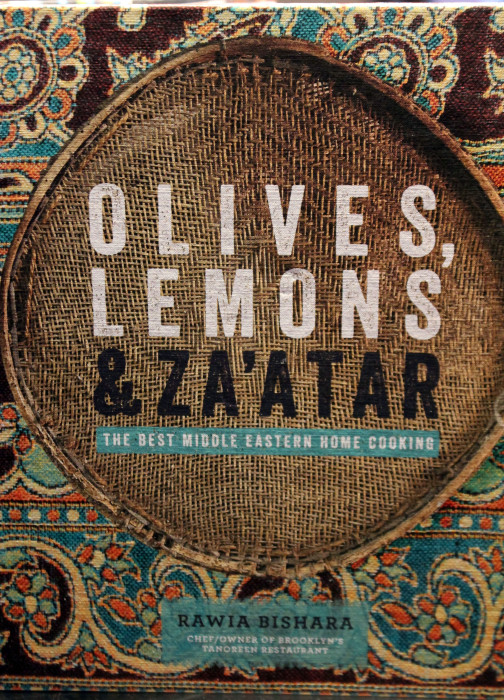 The Book: This spring has seen a lot of Middle-Eastern themed cookbook releases, including Istanbul, Flavors of the Middle East, and Under the Shade of Olive Trees. The first one to grace our bookshelves is Rawia Bishara's Olives, Lemons, and Za'atar. By the chef-owner of Tanoreen restaurant in Brooklyn, it's a book filled with recipes that feel both modern and traditional, an elevated but still accessible take on a rural cuisine. Rawia does not treat her family's cooking style rigidly, but rather lets it grow and evolve based on inspiration from her travels throughout Europe and her years in New York. Many of the resulting recipes are loaded with summer produce, which feels a little bit like torture right now, but is also filling me with inspiration for what to do with all those eggplants and peppers we'll have come August. I especially can't wait to try the Eggplant Napoleon, a stack of fried, pesto-marinated eggplant slices served with a slather of baba ghanouj, fresh tomatoes, and more pesto. I'm also drawn toward the big family dinner and feast dishes that she shares – big platters of meat and grains and vegetables, all heavily spiced and sauced – they feel festive and complete and make me want to gather friends around my table more often. The bright flavors that Rawia presents are echoed heavily in the book's clean design and photography – the pictures in the book are wonderfully colorful and energetic, immediately transporting me to a warmer climate where food and color are abundant. It's a book filled with light, flavor and summertime, for sure.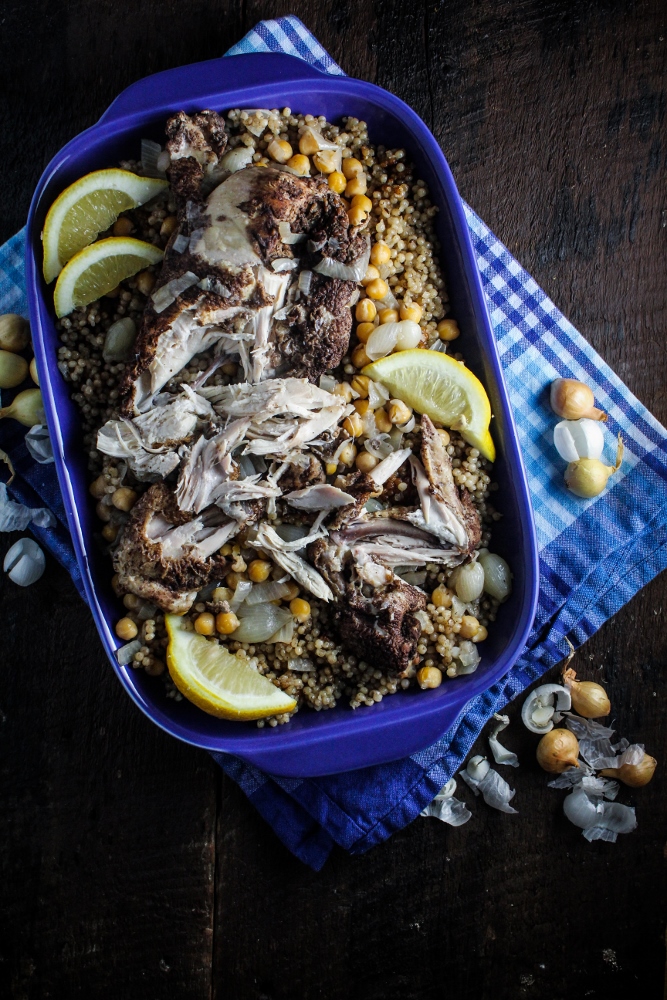 The Food: So far, we've made two dishes from Olives, Lemons, and Za'atar, and both were probably more appropriate for a grand feast than for dinner for two, but I have no regrets about either of them. Featured here is Maftool, the word for Palestinian (better known as Israeli) couscous, but that also refers to a traditional feast dish that uses the couscous as a base. This recipe adorns the couscous with chicken, chickpeas, and pearl onions, all beautifully spiced with a mix of caraway, allspice, cumin, coriander, and other warm spices. I really liked the technique for this dish – after spice-coating and browning the chicken, you add the chickpeas, onions, and several quarts of water to a pot with the chicken to simmer until the chicken is very tender, simultaneously making a gorgeous spiced chicken broth. Then, when it's time to cook the couscous, you ladle the broth out of the pot onto the couscous, meaning the whole meal is infused with the flavors of the broth and spices. I cooked the couscous just a moment too long, leaving me with a crunchy, caramelized layer on the bottom of the pot – but after trying those crunchy couscous bits, I wouldn't cook it any other way. The meal is served on one platter – couscous topped with the chicken pieces, lightly shredded, the chickpeas, and the pearl onions. It's an aromatic, filling, and wholesome dish, perfect for serving a crowd in the winter. As an aside, the recipe headnote states that this dish makes enough for four, but we got at least eight servings out if it – it really makes an obscene amount of food. Plus as a byproduct, you have a delicious pot of chicken and chickpea soup, which I quickly stashed in the freezer for my next cold. The other dish we tried was a braised lamb shank dish which Trevor prepared, served with potatoes and a fresh tomato sauce. Again, the meat was beautifully spiced, and the addition of a cup of basil made it smell like summer. I think we'll be cooking from this book for a while.
Recipe Shortlist: Brussels Sprouts with Tahini, Pomegranate Molasses, and Panko; Za'atar Bread; Cauliflower Salad with Tahini and Pomegranate; Sweet Pea and Kafta Stew; Eggplant Napoleon; Smoked Wheat with Lamb; Garlic Sauce for Roasted Chicken; Flower-Scented Custard with Pistachios
Like what you just read? Subscribe to Katie at the Kitchen Door on Feedly or Bloglovin', or follow along on Facebook, Twitter, Pinterest, and Instagram. Thanks for reading!
Disclaimer: I received a review copy of Olives, Lemons, & Za'atar free of charge from Kyle Books, but I was not otherwise compensated and all thought and opinions are my own.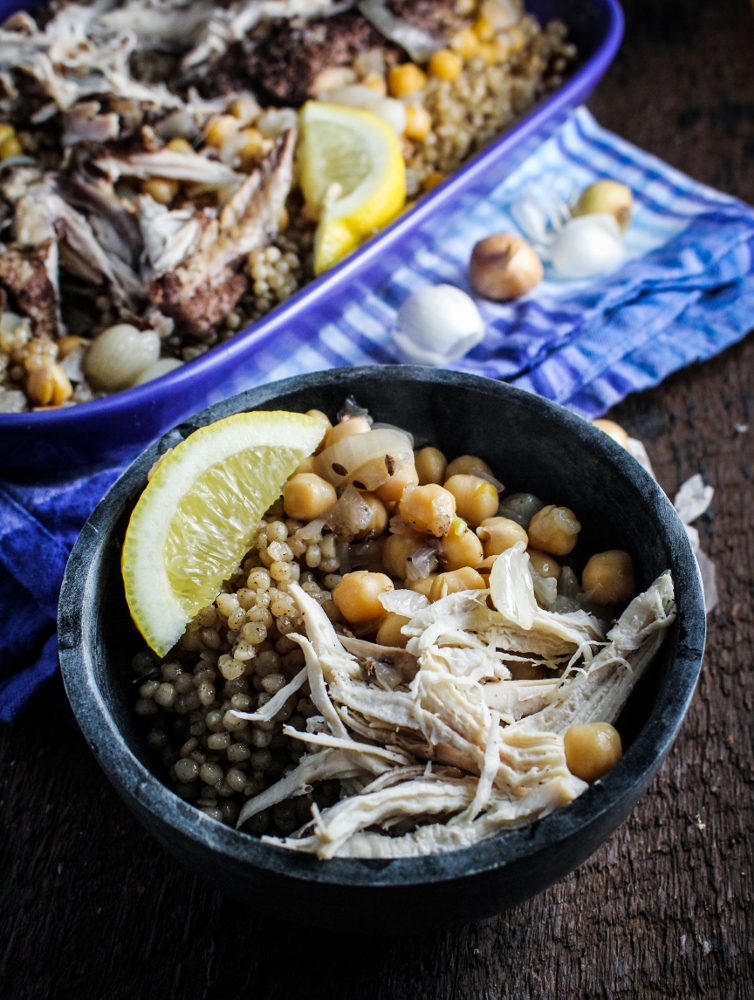 Maftool: Palestinian Couscous with Chicken, Chickpeas, and Pearl Onions
Recipe adapted slightly from Olives, Lemons, & Za'atar. Serves 8.
2 TBS ground caraway seeds
1 TBS ground allspice
1 TBS ground cumin
1 TBS ground coriander
1 TBS sea salt
1 TBS freshly ground black pepper
1/2 tsp ground nutmeg
1/2 tsp ground cardamom
1/2 tsp ground cinnamon
1 chicken (2 1/2 to 3 pounds), cut into 8 pieces
8 TBS olive oil, divided
2 lbs. fresh pearl onions, peeled (blanch first to make peeling easier)
3 yellow onions, roughly chopped
1 lb. dried chickpeas, soaked overnight, then boiled until tender; or 2 (15 oz.) cans of chickpeas, drained and rinsed
2 lemons
2 lbs. Israeli couscous
In a small bowl, combine the first 9 ingredients, stirring to mix. Rub half of this spice mixture all over the chicken pieces. Set aside the other half of the spice mix.
Add 4 TBS of olive oil to a large, heavy-bottomed stock pot. Heat over medium heat, then add the chicken pieces in batches, skin-side down, being careful not to crowd the chicken. Brown the chicken for 6-8 minutes per side, until golden brown. Use tongs to transfer the chicken pieces to a plate. Repeat with any remaining chicken pieces.
Add the pearl onions and chopped yellow onions to the olive oil and saute until they begin to brown, about 5 to 7 minutes. Return the chicken pieces to the pot and add the chickpeas and 3 quarts of water. Raise the heat and bring to a boil, skimming any foam from the surface of the pot. Reduce the heat, cover, and simmer until the chicken is falling off the bone, 45 minutes to 1 hour. Stir in the juice of 1 lemon, and remove from heat.
About 20 minutes before the chicken is done, add the remaining 4 TBS of olive oil to a large saucepan and heat over medium heat. Add the couscous, stirring to coat with the olive oil, and saute until fragrant, about 2-3 minutes. Add the reserved spice mixture and stir to coat grains, then saute for 1 minute. Ladle 6 cups of the broth from the chicken pot into the couscous and bring to a boil. Reduce the heat, cover, and simmer until the couscous is tender and the liquid is absorbed, about 10-15 minutes. Remove from heat and let stand for 10 minutes.
To serve, spoon the couscous onto a large platter and top with the chicken pieces, chickpeas, and onions. Reserve any leftover broth for another use (or it makes a delicious soup on its own with some of the extra chicken in it).