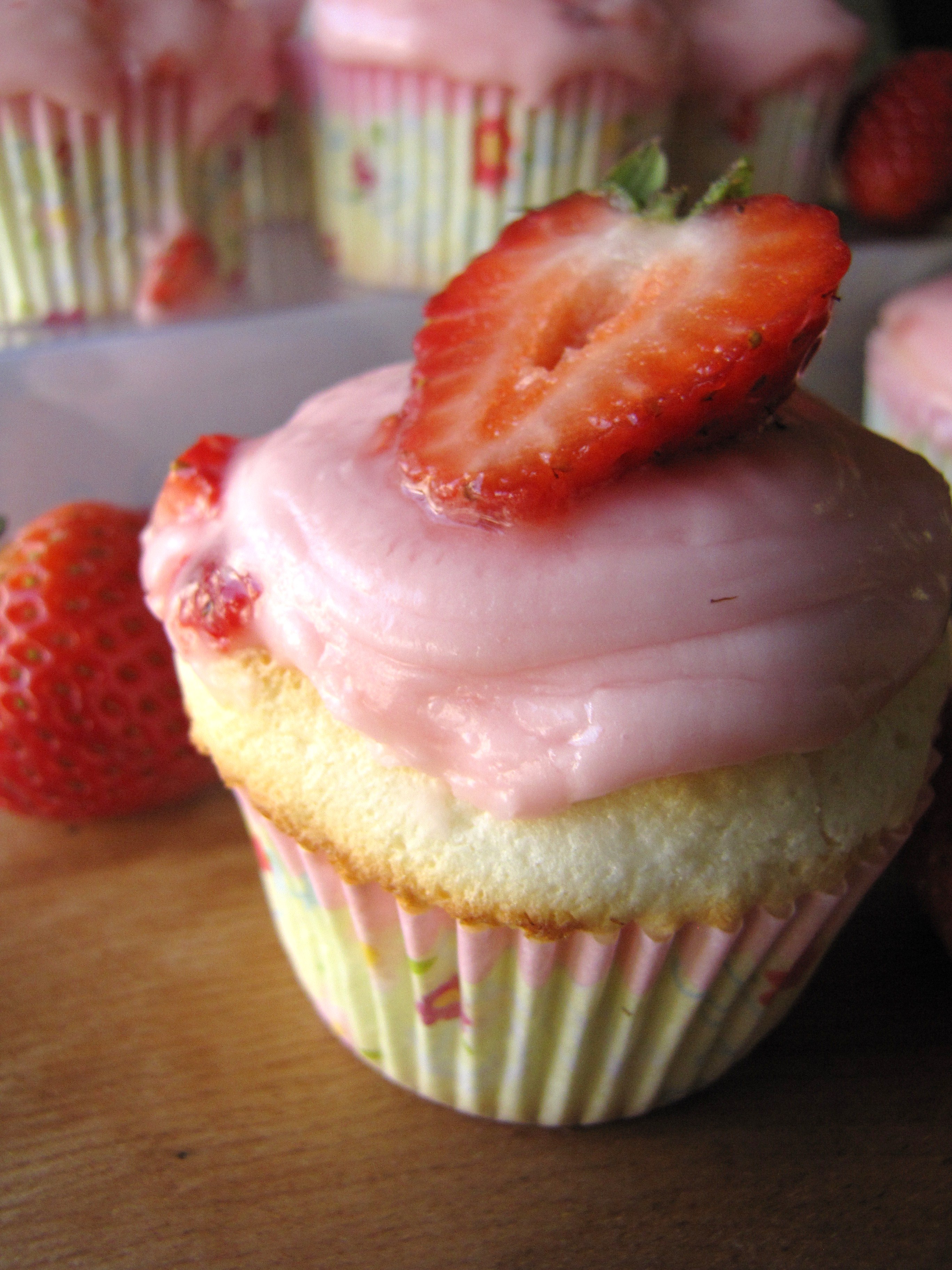 Four of my best girlfriends have their birthdays in between mid-September and the end of October.  For each of them, I am making cupcakes, because that is the best way that I can think of to show my love. And also because who doesn't love things that are small, pink, delicate, and, most importantly, edible?  I'm of the opinion that everyone should have something both cute and slightly indulgent on their birthday.  Because each of my friends is lovely and wonderful and unique, each of them clearly had to have their own highly-personalized batch of cupcakes.  Here's what I made, for whom, and why.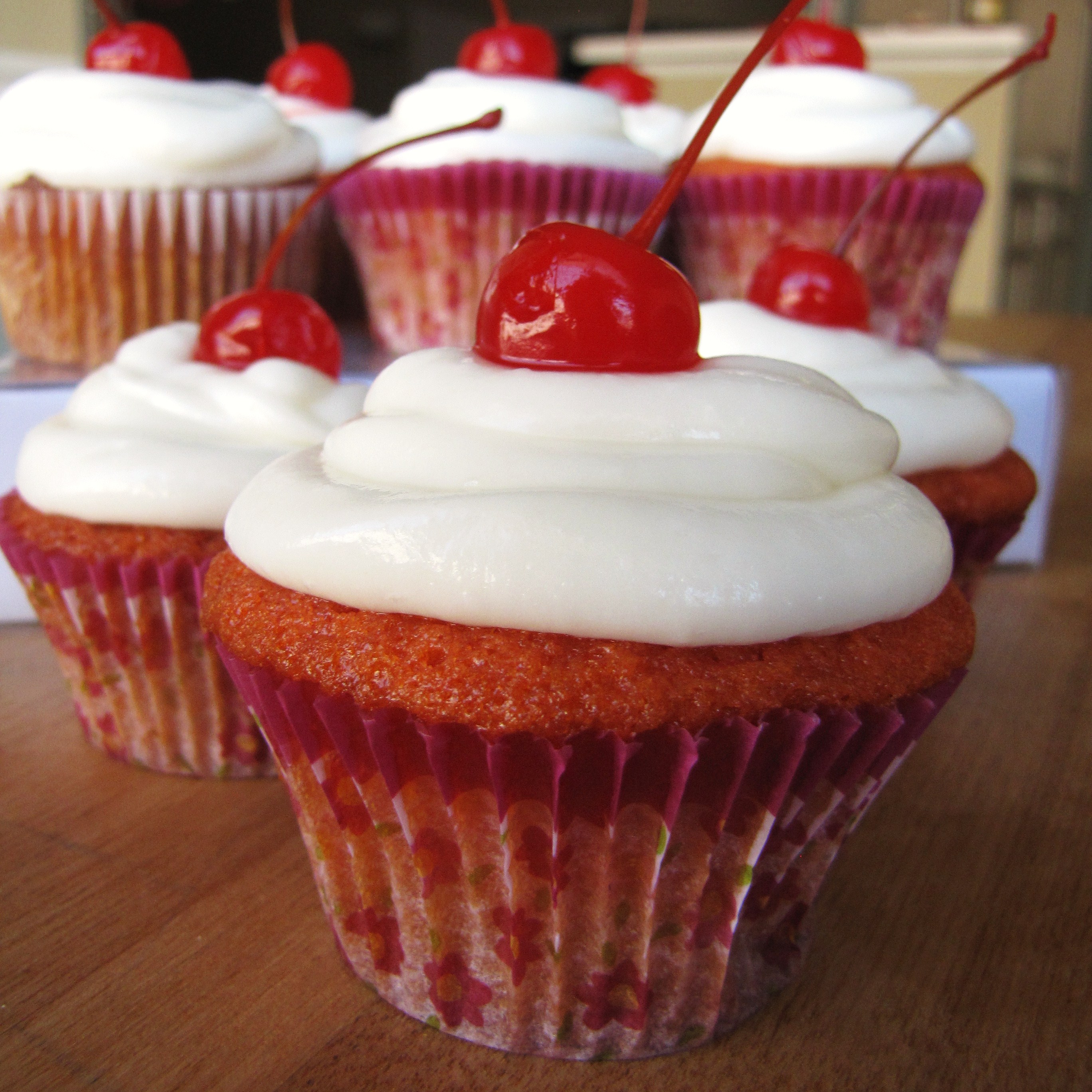 Becky. Shirley Temple Cupcakes. Becky and I have been friends for an extremely long time.  In fact, I think she might be the oldest friend I have whom I'm still in touch with, besides like, my baby brother.  And my mom.  You know.  We used to jump rope together and write stupid ridiculously girly letters to boys while at the beach.  We used to have a fake joint AIM account we used to harass our crushes.  I went to her bat mitzvah.  She threw me an incredible surprise birthday party in 8th grade.  I have some really epic pictures of us in our awkward stages.  We ended up at the same high school, where we grew apart a little, but would still go on long, long walks once every few weeks to catch up and then we would get cold and it would be gray and we would continue talking in long uninterrupted streams in Starbucks.  We both got accepted at Duke, and by complete chance ended up two doors apart from each other in our freshman year.  We got close again, made the same friends, dressed in matching outfits to go to parties, had a few drunken adventures.  We started an excellent tradition of girl talk with Megan and Phoebe.  And now we're seniors, we live a few buildings apart, and we've officially been friends for 11 years.  Wow.
It's because of all this… past, that I decided to make shirley temple cupcakes for Becky.  Because we were already close when we were young enough to get excited about ordering shirley temples out at dinner.  And I seem to have a very vague memory of some chicken fingers and shirley temples and something that felt unbearably funny late at night during a jump rope trip.  And they are just innocent and sweet and their appeal is enduring, and it seemed appropriate.  The cupcakes have a grenadine based cake batter topped with a lemon-lime cream cheese frosting.  They came out well – a lovely color, fluffy texture that reminded me of the box mix texture that can be hard to achieve from scratch, very sweet, and a simple flavor.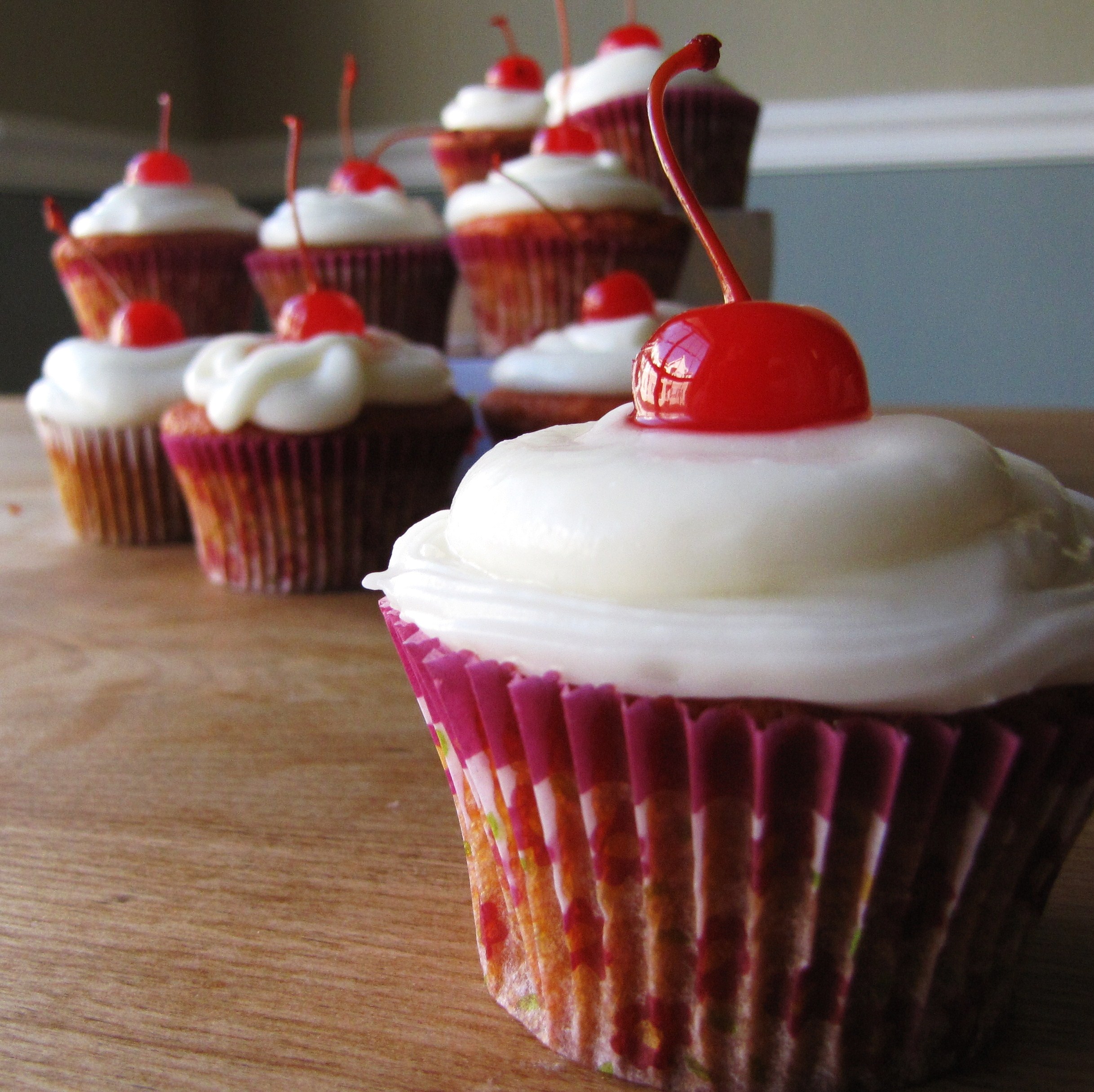 Shirley Temple Cupcakes
Recipe from The Cupcake Project. Makes 15.
1/2 c. lemon-lime soda
1/2 c. grenadine
1 tsp vinegar (cider, white wine, or white will all work)
3/4 c. sugar
1/3 c. canola oil
1 1/3 c. flour
3/4 tsp baking soda
1/2 tsp baking powder
1/2 tsp salt
4 oz. neufchatel cheese, room temperature
3 tsp lemon juice
2 tsp lime juice
3 c. powdered sugar
15 maraschino cherries with stems
Preheat oven to 350°F.  Line muffin pan with cupcake liners.
In a large bowl, whisk together soda, grenadine, and vinegar.  Let stand for a few minutes, then add sugar and canola oil and whisk until frothy.
In a separate bowl, sift together flour, baking soda, baking powder, and salt, and stir to combine.
Add flour mixture to liquid.  Stir together just to combine fully; do not overmix.  Spoon batter into cupcake liners, filling half way (they will rise a lot).  Bake for 17 minutes.  Let cool completely.
In a medium bowl, beat cheese until smooth.  Add lemon and lime juices (a small amount of lemon and lime extracts might work better here, but I couldn't find them in my local grocery store) and beat to combine.  Add powdered sugar 1 cup at a time, beating to incorporate fully.  Continue adding powdered sugar until taste and consistency are as desired – you may need more or less than 3 cups of sugar, and you may need to add more lemon or lime juice to achieve the desired flavor.  Refrigerate the finished frosting for half an hour.
Frost the cooled cupcakes.  Top with a maraschino cherry.  Refrigerate until ready to serve.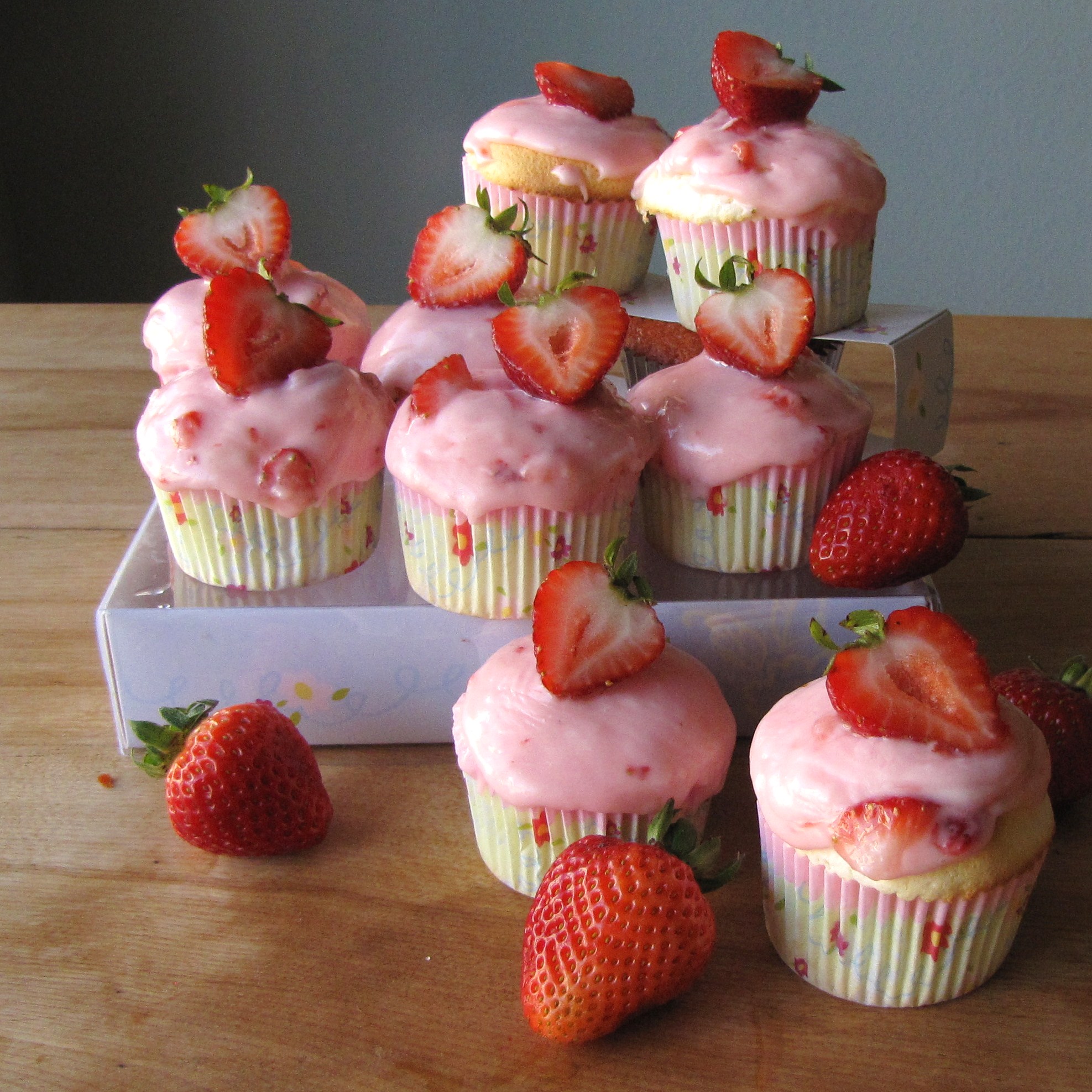 Phoebe.  Strawberry-Lemonade Angel Cakes. Phoebe and I were hall neighbors freshman year.  I don't really remember when we went from awkwardly saying hi in the hallway to having intense late night conversations sitting on the bathroom floor, but it happened, and I'm glad.  Now, although we don't see each other very frequently, she is one of my absolute favorite people to talk with.  We both spent the summer trapped in Durham and we spent a significant part of every week sitting in the library chatting and debating and laughing while she pretended to study for orgo and I pretended to do research.  Although I'm pretty sure she actually did accomplish learning orgo while the achievements I made in my research this summer were minimal.  Not that I didn't try.  I think frustration is the point of research.  Anyway.  One of the things I love about Phoebe is her respect for people's individuality.  She always makes me feel good about what makes me me – loving to be outside, wanting to take care of people, being mellow when it comes to my social life – and she shows equal dedication to and respect for friends that are completely different from me.  And also she's intelligent and focused and way cooler than me and beautiful.
I made Phoebe lemon-based angel food cupcakes because she loves them.  The first time I made a similar batch we ate them sitting out on the dock by the scummy Belmont pond, and she told me how her mom used to make angel food cake for her birthday every year, and so how could I not make them?  This version of the recipe was super good, at least in my opinion.  The cake had a true lemonade tang and the fresh strawberries really shone through in the frosting.  They were zippy.  I could eat a lot of them.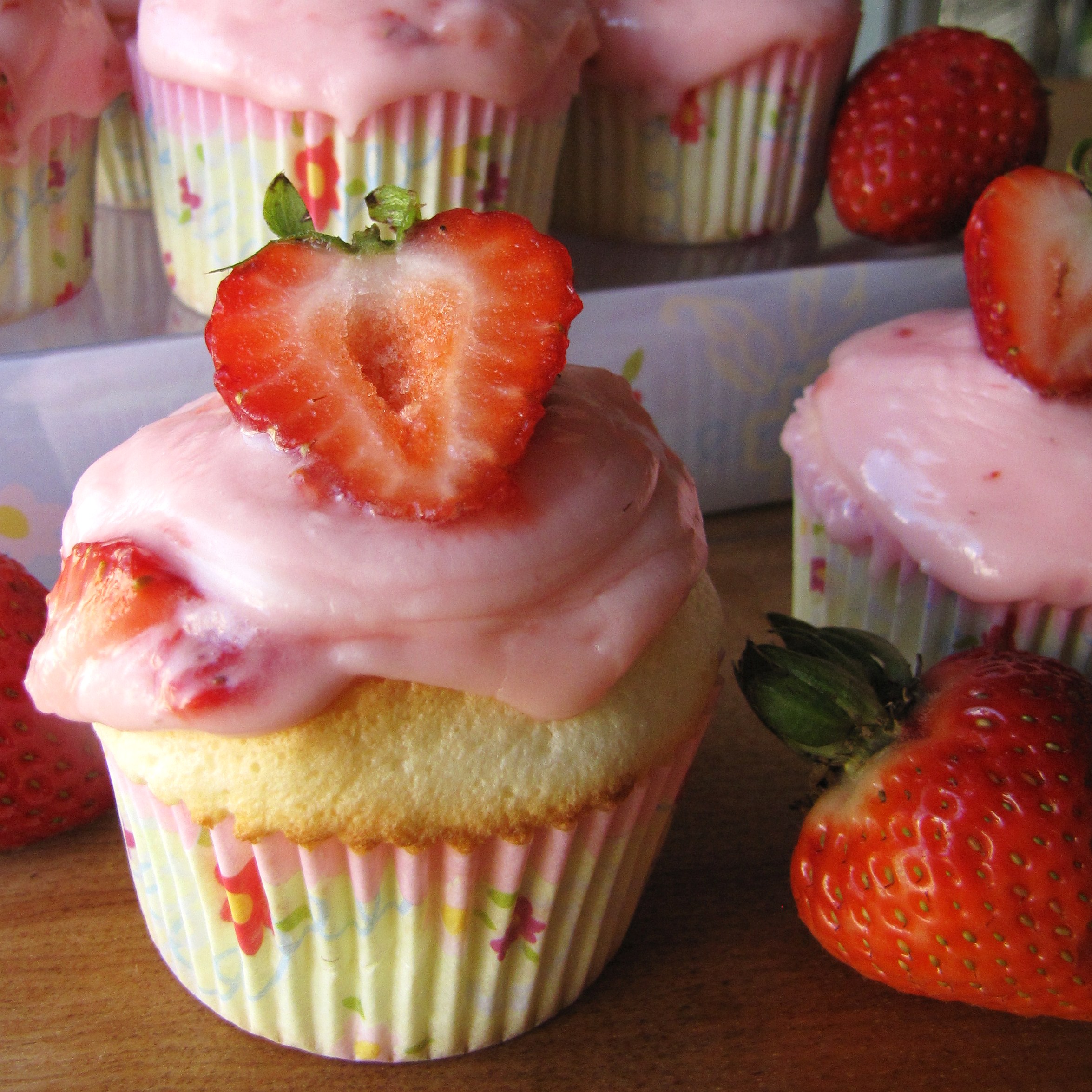 Strawberry-Lemonade Angel Cakes
Makes 12.
1/4 c. sugar
1/2 c. cake flour
5 egg whites
1/2 tsp cream of tartar
1/2 tsp salt
1/2 c. sugar
2 tsp lemonade mix powder
4 oz. neufchatel cheese, room temperature
2 tsp lemon juice
5-8 fresh strawberries, diced
3 c. powdered sugar
Preheat oven to 350°F.  Line muffin pan with cupcake liners.
In a small bowl, sift together 1/4 c. sugar with cake flour.  Set aside.
Beat egg whites until they begin to foam.  Add cream of tartar and continue beating until they are white and fairly fluffy.  Add salt, incorporate.  While continuing to beat egg whites vigorously, slowly add remaining 1/2 c. of sugar in a slow stream.  Beat until egg whites form soft peaks.
Fold flour mixture into egg whites, mixing just to incorporate flour fully.  Add lemonade powder (I used 2 packets of crystal light to go) and fold in.
Spoon batter into cupcake liners, filling 3/4 of the way.  Bake for 15 minutes.  Allow to cool completely.
In a medium bowl, beat neufchatel cheese until smooth.  Add lemon juice and strawberries and stir to incorporate.  Add powdered sugar 1 cup at a time until desired consistency is reached.  You may need more or less than 3 cups of sugar.
So happy birthday September girls!  And Megan, Margie, get excited.   Start leaving me hints about your favorite flavors.  Or, better yet, start trying to get me to associate your personality with the type of cupcake you want.  That could be a fun experiment.
Want some more?