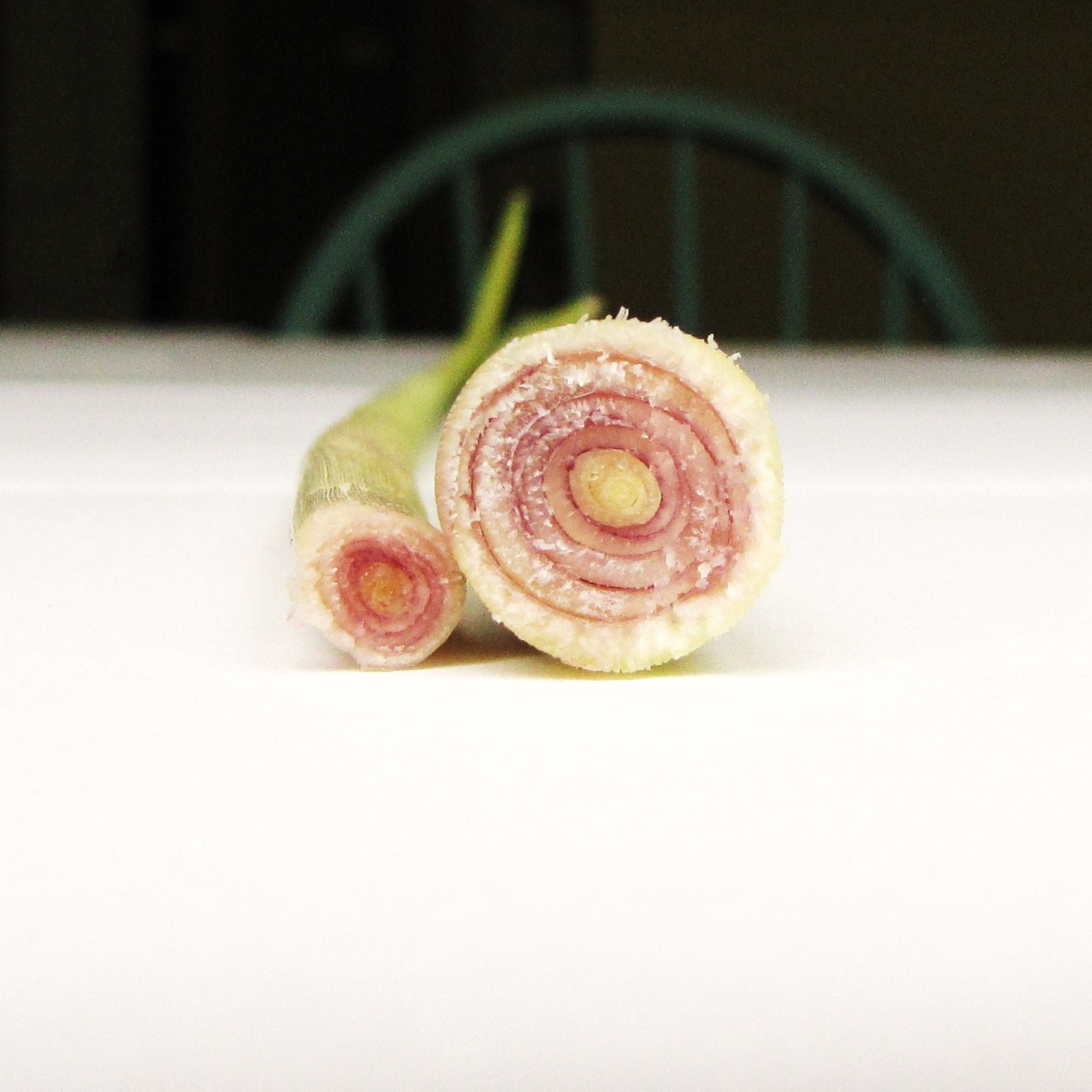 The internet gods have been smiling down on me.  Sometimes, when I don't feel like exercising, or doing my homework, or socializing, or doing my finances and realizing all of the things that I can't buy, I enter contests.  Like, I hunt them down and enter them.  OK, maybe its not that extreme, but its sort of fun to daydream about places you've never been and books you don't have when there's the tiniest hint of real possibility there.  And this weekend, within the time span of 12 hours, I was the lucky winner of not one but two contests.  Me.  Winning.  On the internet.  Even better than winning the party.  And who do I have to thank for this wealth of good luck (besides the internet gods of course)?  Number 1, Pam at Project Foodie, for hosting a wonderful cookbook giveaway while running their annual James Beard Cookbook Awards nomination guide.  I will now be pastry-ing with much greater expertise with the help of The French Culinary Institute.  And number 2, thank you to Georgina at Culinary Travels for hosting a fun mortar and pestle giveaway, which I am very excited to be the winner of.   One day, this blog will be big enough that I'll be able to host my own giveaways.  That's mah goal.  But let's be honest, I'd be just as happy winning stuff forever.
So with that little internet gratitude spiel out of the way, let's get down to business.  Business this week involves not eating so much damn chocolate and purchasing only the things on my grocery list, which does not include a 6 pack of klondike bars and a box of red velvet cake slices.  Business this week involves things like edamame and bean sprouts.  And lemongrass, which is my food-I've-never-had-before of the week.  (Last week was artichokes, the week before that was radishes.  You miss out on a lot when you're a white bread kid.)  Business this week involves using all that time I have from not taking finals to run and cook protein and veggie rich meals… I mean to study.  Business this week involves a lot of motivation from self.com.  Yes, you got it, it's a week of healthy(-er than usual) living.  Please hold me accountable.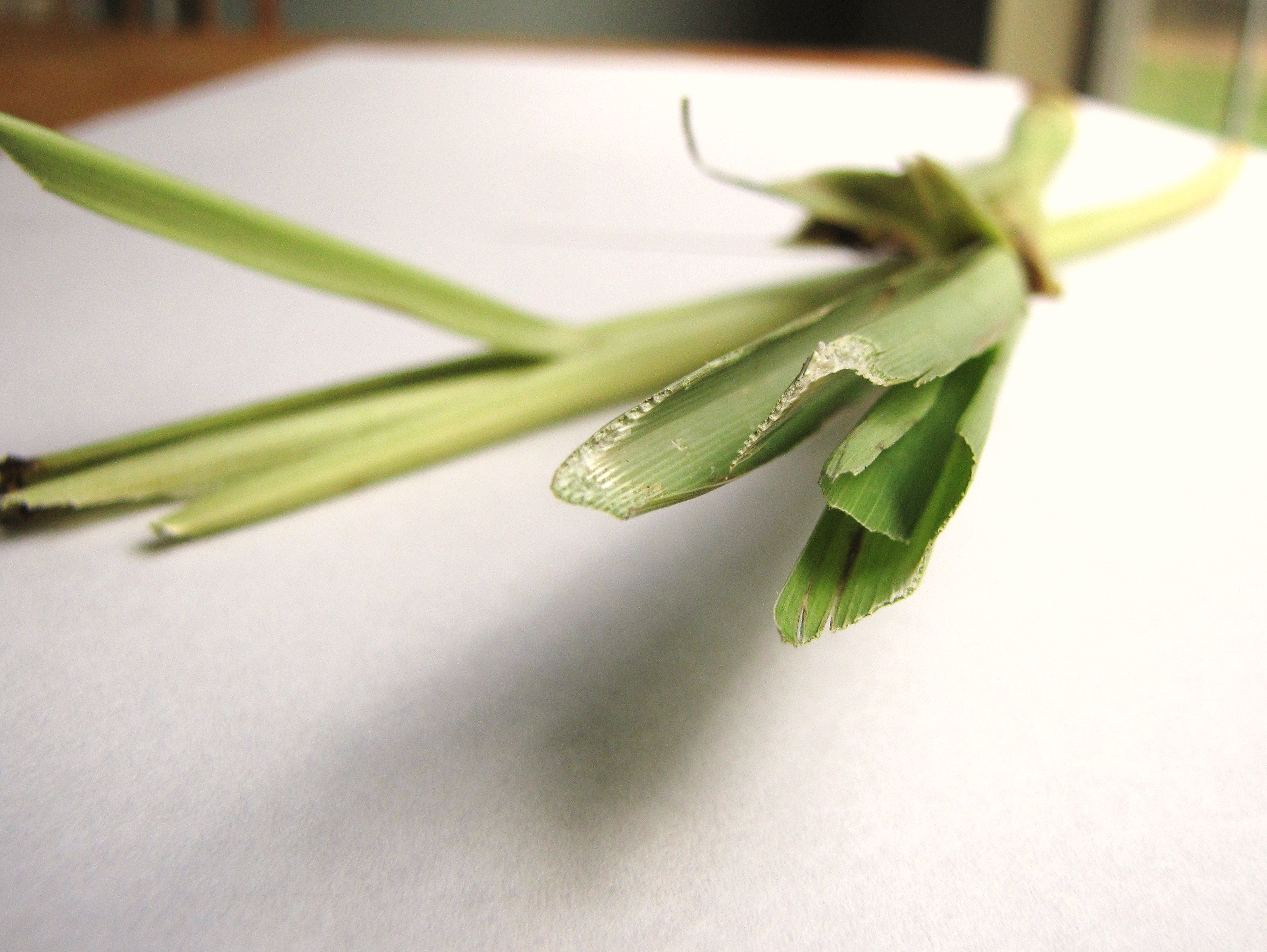 So about that lemongrass.
Lemongrass is a tall, grass-like plant native to India, and is most often associated with Thai cuisine.  It is used like an herb to flavor curries, soups, and to make tea, and it smells incredible.  Plus, it has cancer-fighting properties.  Big win for lemongrass.  Lemongrass is playing its part in my kitchen this week as the co-star of a lemongrass-ginger chicken dish.  The chicken came out sweet, a little bit punchy, and very tender.  I would make it again but not in a huge hurry.  The marinade smelled and tasted delicious on its own though, so I might use it as a dressing or sauce for a curry dish or stir fry.  There are possibilities here.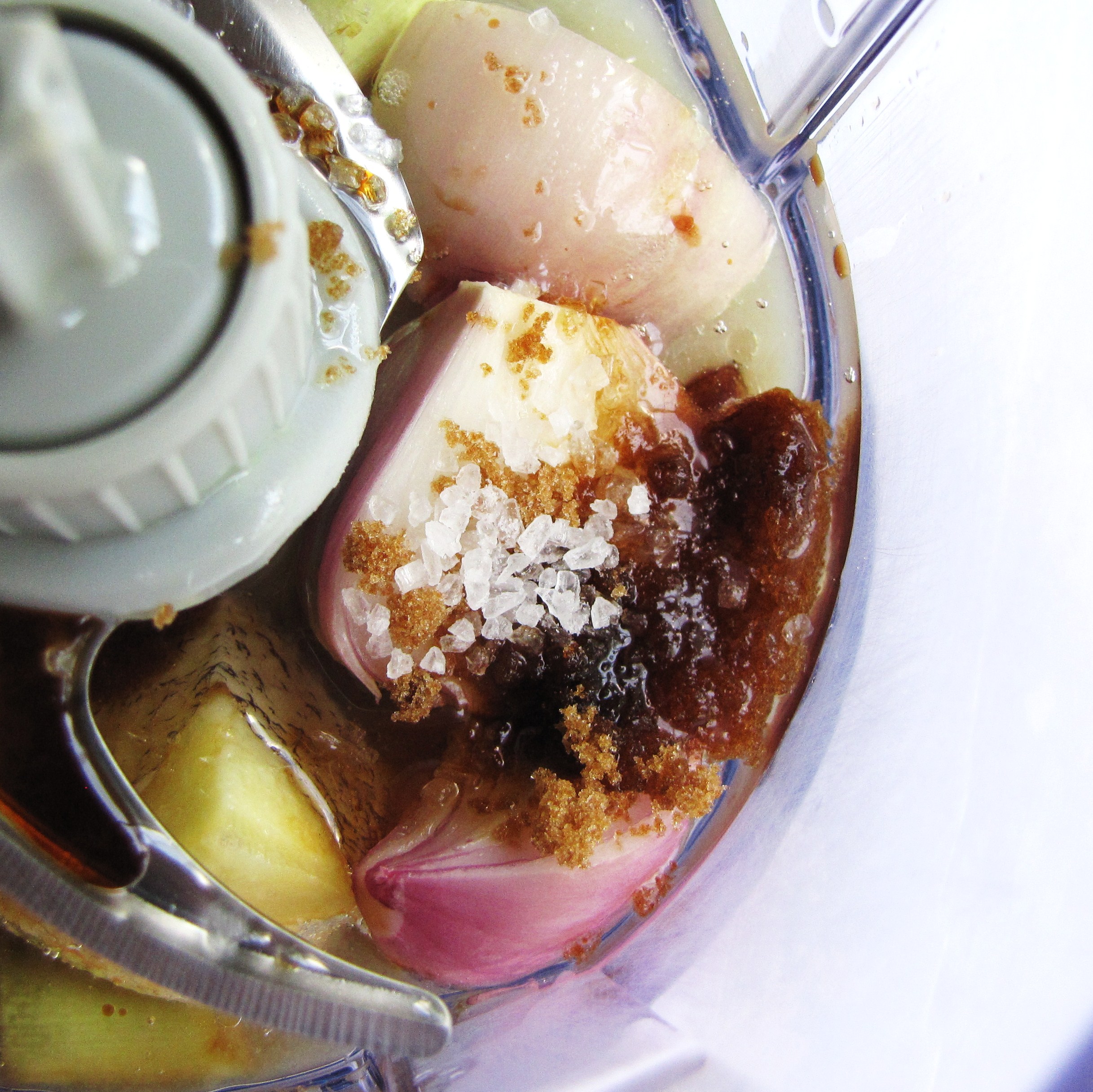 And the edamame?
Edamame, soybeans that are harvested while they're still young and green, have a myriad of health benefits.  They're a complete protein and are high in fiber, meaning they're extremely filling, but a half cup serving only contains 120 calories.  They're full of vitamin C, and they're good for your heart, your bones, your kidney, your cholesterol, and probably everything else too.  I used them in a light salad recipe that was a great surprise – it was fresh, bright, filling, and packed with flavor and texture.  I will now be making it all the time, and since it only takes 5 minutes and a handful of ingredients, I recommend you try it too.  Its really good.  Like, really.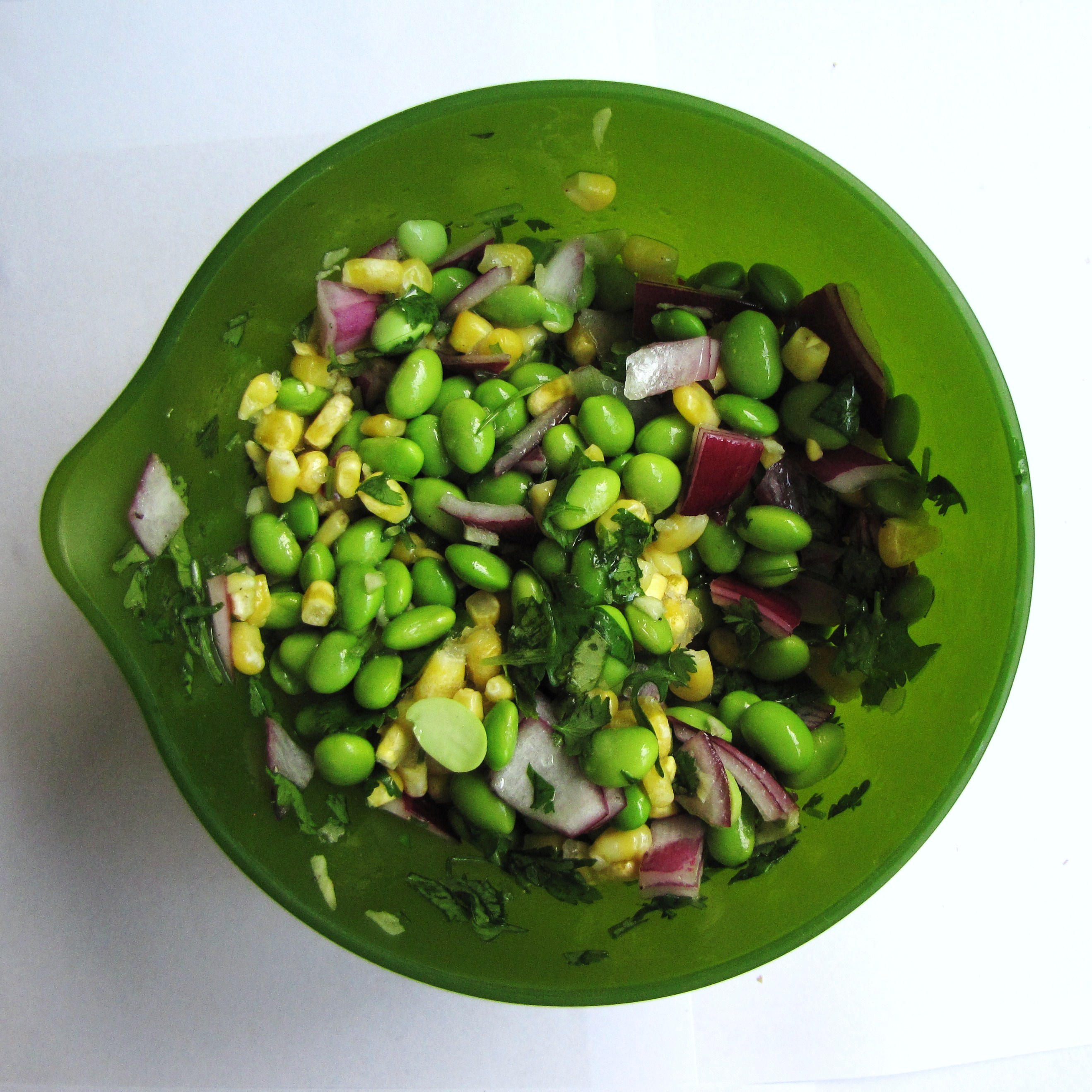 So thus began my healthful week.  I may have accidentally maybe also baked and possibly consumed a strawberry-rhubarb crumble to follow the edamame and chicken meal, but I'm blaming that entirely on the rock-bottom strawberry prices.  And the fact that strawberries happen to taste delicious when baked in sugar and lemon juice and covered with crumbly buttery topping.  Which isn't my fault.  But I'll try not to let it happen again… this week.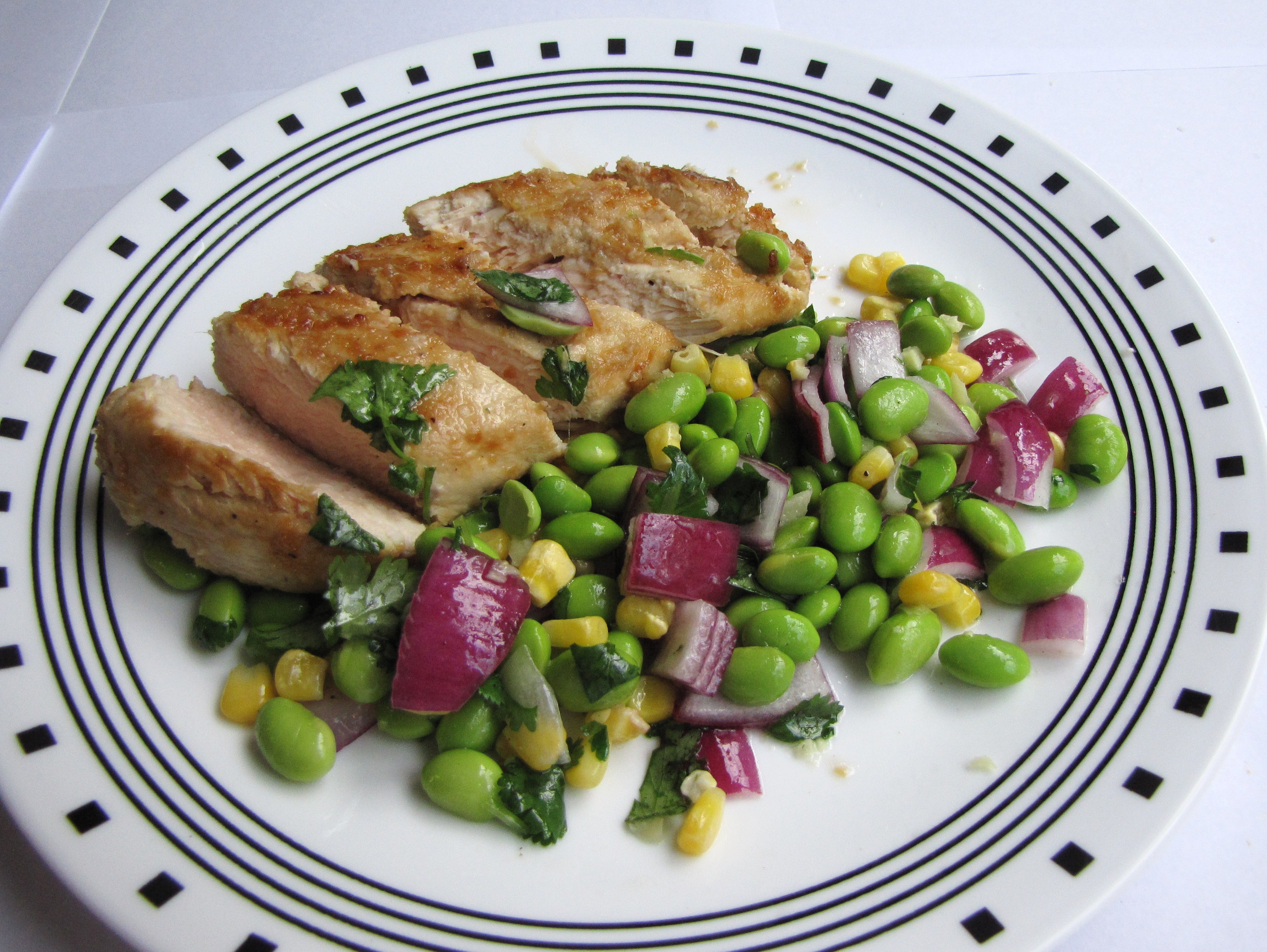 Lemongrass-Ginger Chicken
Adapted very slightly from SELF
4 skinless boneless chicken breasts
3 stalks fresh lemongrass
2 medium shallots, peeled and quartered
1 inch piece of fresh ginger, peeled
1/4 c. canola oil
1/4 c. fresh lime juice
2 TBS brown sugar
1 TBS soy sauce
1 tsp ground coriander
1 1/2 tsp kosher salt
1 tsp black pepper
Prepare the lemongrass: peel the tough outer leaves of the stalk off so that the softer, yellow part is exposed.  Remove the bulb by cutting about an inch off of the bottom of the stalk.  Discard bulb.  Slice remainder of stalk into 1 inch pieces, stopping after 3/4 of the stalk has been removed.  Discard the top 1/4 of the stalk (green, leafy), or save and use as garnish or to flavor soups/curries.  Don't eat the top part of the stalk.  See about.com for picture guide to preparing lemongrass.
Place prepared lemongrass, shallots, ginger, canola oil, lime juice, brown sugar, soy sauce, coriander, salt, and pepper in blender or food processor.  Blend/process until smooth.
Place chicken in large ziploc bag.  Pour marinade over chicken and close bag.  Gently shake/squeeze bag to coat chicken thoroughly with marinade.  Place chicken in fridge for at least 1 and up to 6 hours.
Remove chicken from fridge.  Heat a small amount of canola oil over medium-high heat in large frying pan.  Place chicken breasts in pan and cook for 2 minutes on each side.  Reduce heat to medium and continue to cook chicken until it is cooked through, about 6 minutes per side.
Edamame and Corn Salad
Adapted from SELF
1 c. frozen corn
1 c. frozen edamame
1/2 large red onion, diced
3 TBS chopped fresh cilantro
1 TBS olive oil
1 1/2 TBS fresh lemon juice
1 inch piece fresh ginger, peeled and finely chopped
1 tsp kosher salt
1/2 tsp black pepper
Cook edamame according to package instructions.  Let cool slightly.
Mix all ingredients in medium bowl, tasting as you go and adjusting proportions accordingly.
Refrigerate and serve cold.