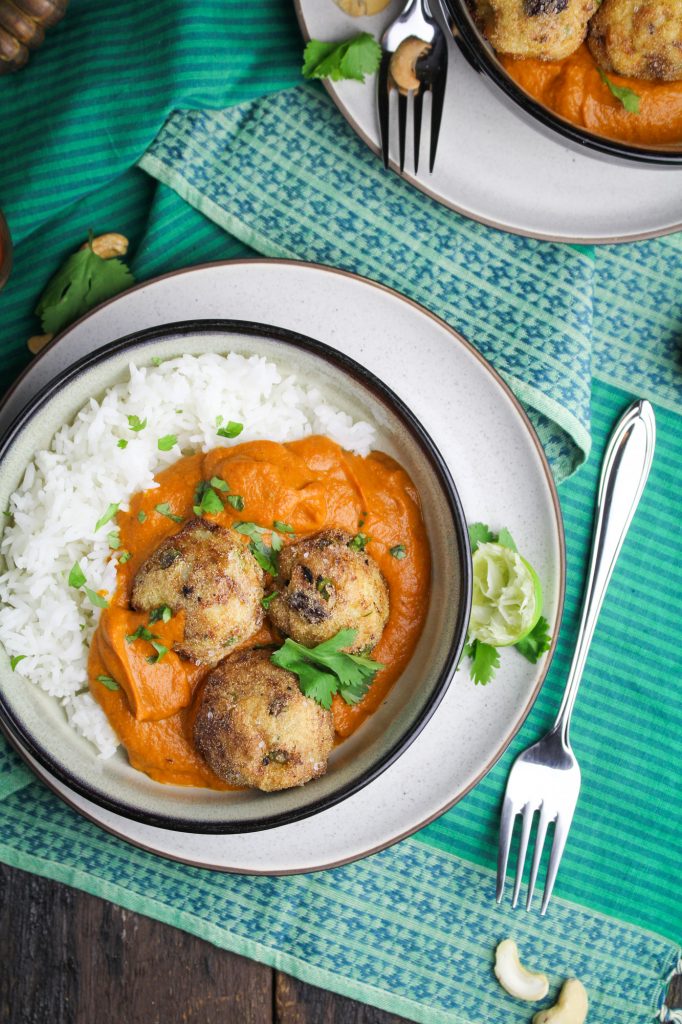 I always tell myself I'm not going to order Indian food when I get home from an international flight, but I'm pretty much never right. Typically, it's a Friday, and I've been on a plane all day, zoning out on movie after movie. We land, I go through customs, pick up my luggage, get in a taxi. It all feels like a bit of a time warp, difficult to remember how long you've been in between places. In between away and home. When I walk through my front door, into my warm house, I'm always so happy to be there.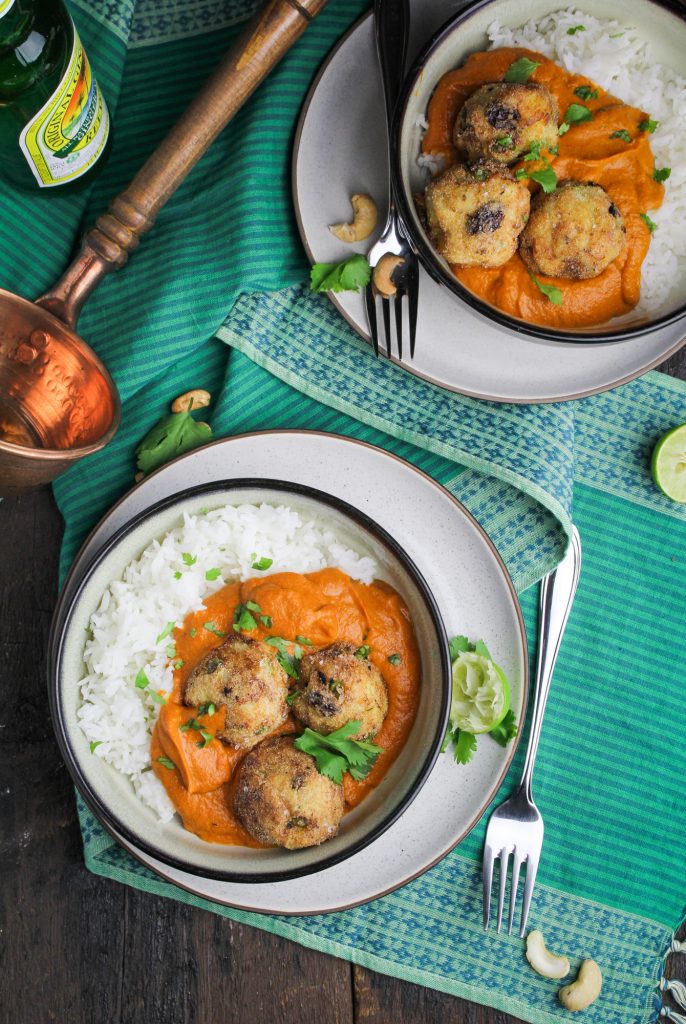 When I get home, I check the fridge, thinking that I'm going to find some magical answer to my post-flight comfort food craving. But after being in transit for 12+ hours, mustering the energy to cook is just not realistic. So I cave and order malai kofta and naan and butter chicken (because it always takes two entrees to meet the delivery minimum) and $40 later I'm sitting on the couch, tucking in to the most delicious, creamy, comforting Indian food. It's not the healthiest or most budget-conscious habit, but it's a hard one to break.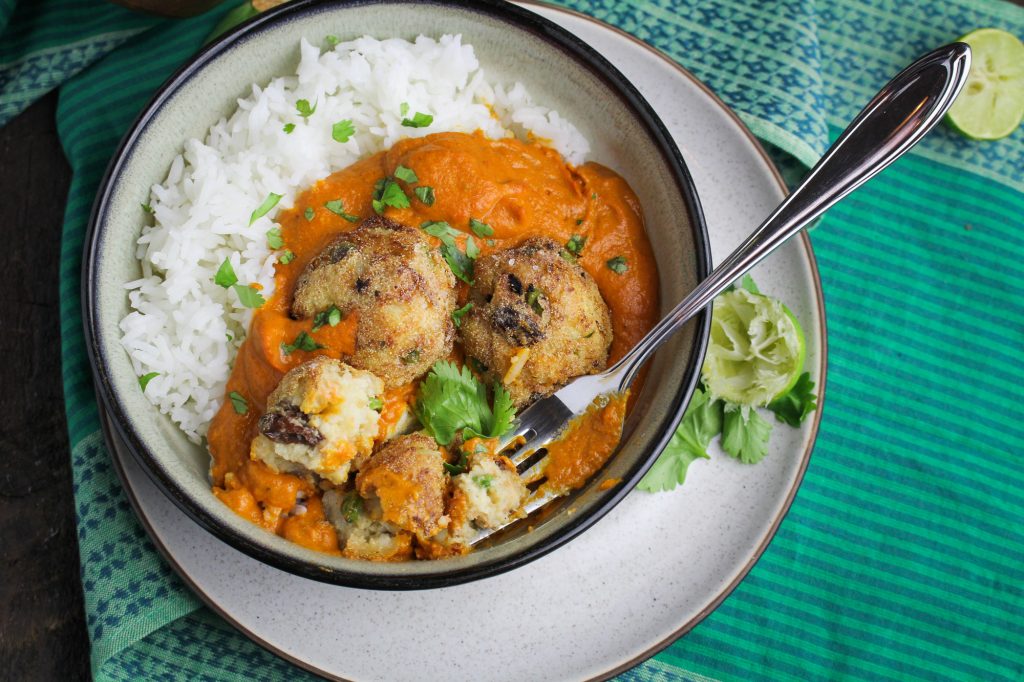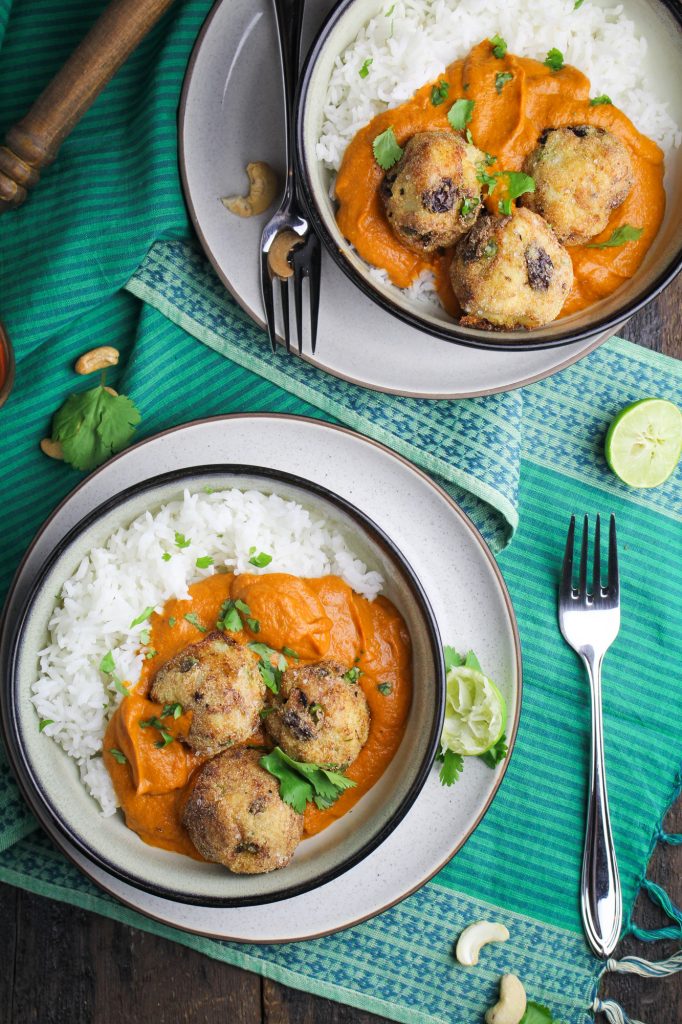 The last time I did this, a few weeks back, I found myself wondering: what if I had my favorite Indian food in the freezer, waiting for me? That might solve the problem. Even at my most disoriented, I can usually manage to simmer rice. So I resolved to learn how to cook malai kofta and stash some away before my next trip.
Malai kofta is one of my favorite take-out orders. If you're unfamiliar, they're sort of a vegetable meatball served in a thick, tomato-based curry sauce. I've ordered them for years without ever really knowing what's in them. When I made them myself, it became quite obvious why they're one of my favorite foods – they're basically fried potato and cheese balls served in a spicy tomato cream sauce. It's probably not possible to get more of my favorite foods into one dish.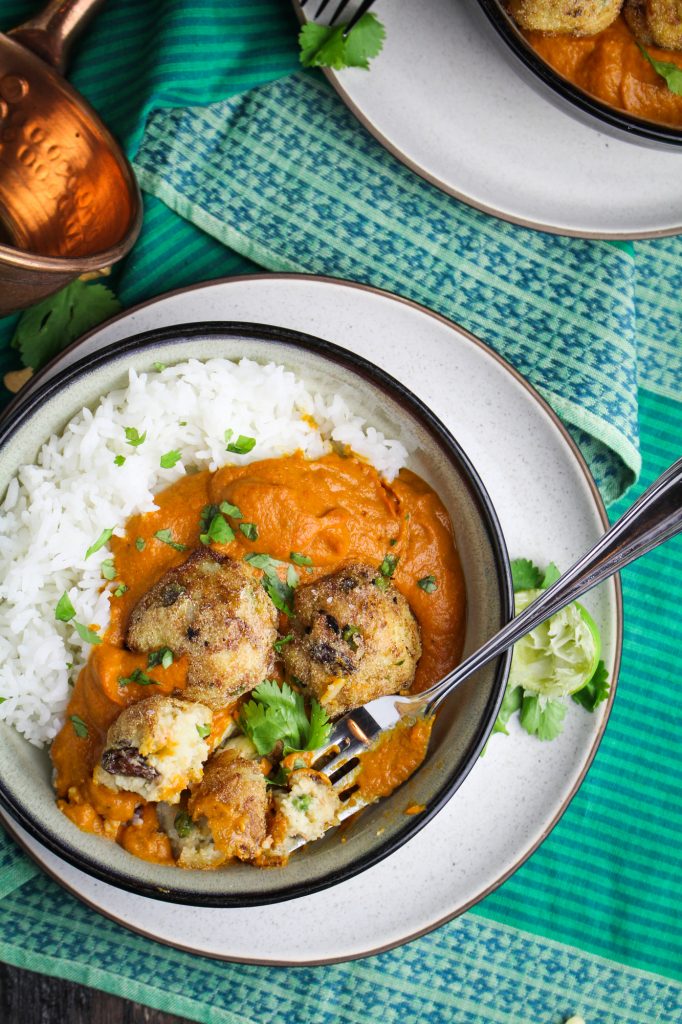 I have a little experience cooking Indian food but not very much, and it can be hard to get the same richness and balance of flavors as restaurant-quality takeout. These, however, were a very close approximation of my favorite malai kofta (and better than some of the ones I've had from inferior Indian restaurants). They're still not particularly healthy – they are made of fried cheese and potatoes – but they are much more economical to prepare. And so good. Seriously, even if you don't make these at home, promise me you'll order them the next time you get takeout.
My plan to make this and stash it in the freezer for my next homecoming was good in theory. In practice, Trevor and I ate two thirds of this the first night. We couldn't bring ourselves to freeze what was left, either – the idea of eating the leftovers for lunch the next day was too tempting. At least now I know how to make them. And since it's not that difficult to scale up, next time I'll make a double batch so that at least a little bit makes it into the freezer.
Like what you just read? Subscribe to Katie at the Kitchen Door in the box on the right, on Feedly or Bloglovin', or follow along on Facebook, Twitter, Pinterest, and Instagram. Thanks for reading!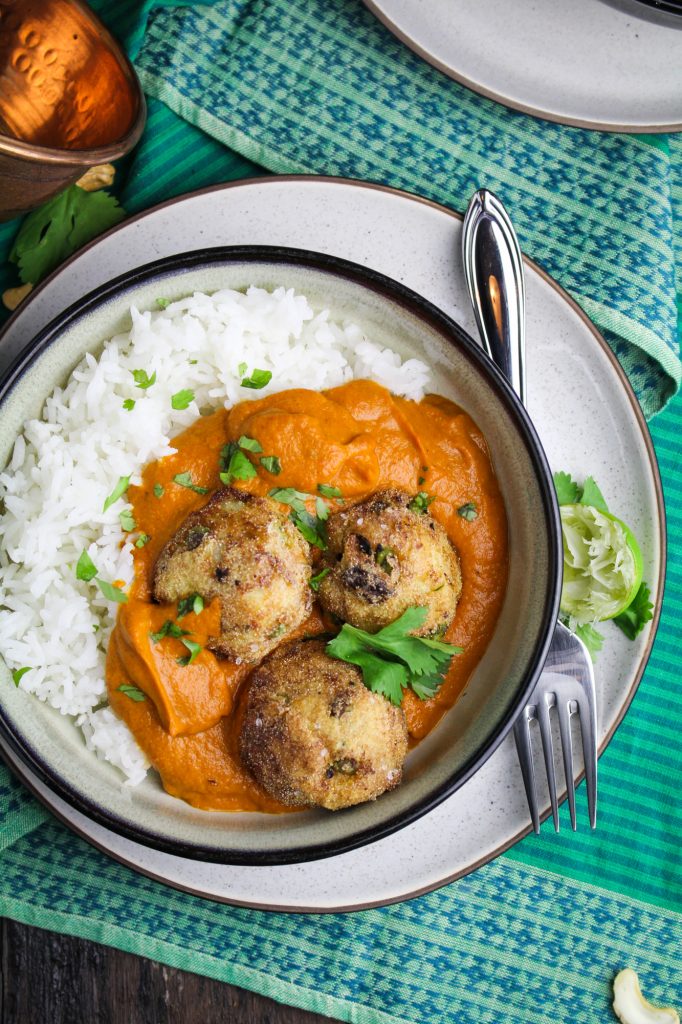 Print
Malai Kofta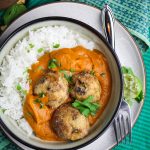 Author:
Yield:

4

Cuisine:

Indian
Ingredients
For the kofta:
3 medium red-skinned potatoes, peeled and quartered
8 oz. paneer cheese, grated or finely crumbled
1/3 c. frozen peas
1/4 c. grated carrot
2 TBS raisins
3 TBS finely chopped cashews
1 Thai green chile, chopped finely
3 TBS cornflour, plus more for rolling
1 tsp sea salt
1/2 tsp ground cumin
1/2 tsp ground coriander
canola oil, for frying
For the masala sauce:
2 TBS canola oil, divided
1 medium onion, peeled and finely chopped
2 cloves garlic, peeled and pressed or pounded into a paste
2-inches fresh ginger, peeled and pounded into a paste
2 cups. crushed tomatoes
12 cashews
1/4 tsp turmeric powder
1/2 tsp red chili powder
3/4 tsp ground coriander
1/2 tsp garam masala
1/2 cup water
1 TBS butter
2 cloves
1 bay leaf
2-3 cardamom pods
1/2 tsp caraway seeds
1/4 cup heavy cream
Instructions
For the kofta:
Place the potatoes in a saucepan and cover with cold water. Bring to a boil and boil until potatoes are very tender, about 15-20 minutes. Drain potatoes.
Add potatoes, grated paneer, peas, grated carrot, raisins, cashews, and chopped chile to a bowl. Mash the potatoes with a fork, then mix everything together thoroughly. Use your hands if it's easier.
Stir in the 3 TBS of cornflour, sea salt, ground cumin, and ground coriander. Mix until evenly combined.
Roll mixture into golf-ball sized balls, pressing together gently with your hands. Pour the extra cornflour into a bowl and roll the balls through the cornflour so there is a light coating on the outside.
Pour enough canola oil into a high-sided frying pan to reach 1/4 inch up the sides. Heat over medium heat until a piece of potato mixture dropped into the oil sizzles on contact. Add two or three of the potato balls to the oil and fry until golden brown all over, using tongs to carefully turn the balls as each side cooks. When they are done, use tongs to transfer them to a plate lined with a paper towel.
For the masala sauce:
Heat 1 TBS of the oil in a large frying pan over medium heat. Add the onion and saute, stirring frequently, until golden brown, about 5 minutes. Add the garlic and ginger paste and saute until fragrant, another 1 minute. Add the tomatoes, salt, cashews, and all the ground spices. Bring to a simmer and simmer for 10 minutes, stirring frequently. Then remove from the heat.
Transfer the sauce to a blender (let cool first if your blender can't process hot liquids). Add 1/2 cup of water to the sauce and blend on high until a very smooth sauce is formed. Set aside.
Rinse or wipe the frying pan out. Heat the remaining 1 TBS of oil and 1 TBS of butter in the pan until the butter has melted. Add the cloves, bay leaf, cardamom pods, and caraway seeds. Fry for 60-90 seconds, then add the blended sauce to the pan. Cook, stirring frequently, until the oil begins to pool on the top of the sauce, about 5 minutes. Remove from the heat and stir in the heavy cream. Add the kofta to the sauce, and serve over basmati rice.
10