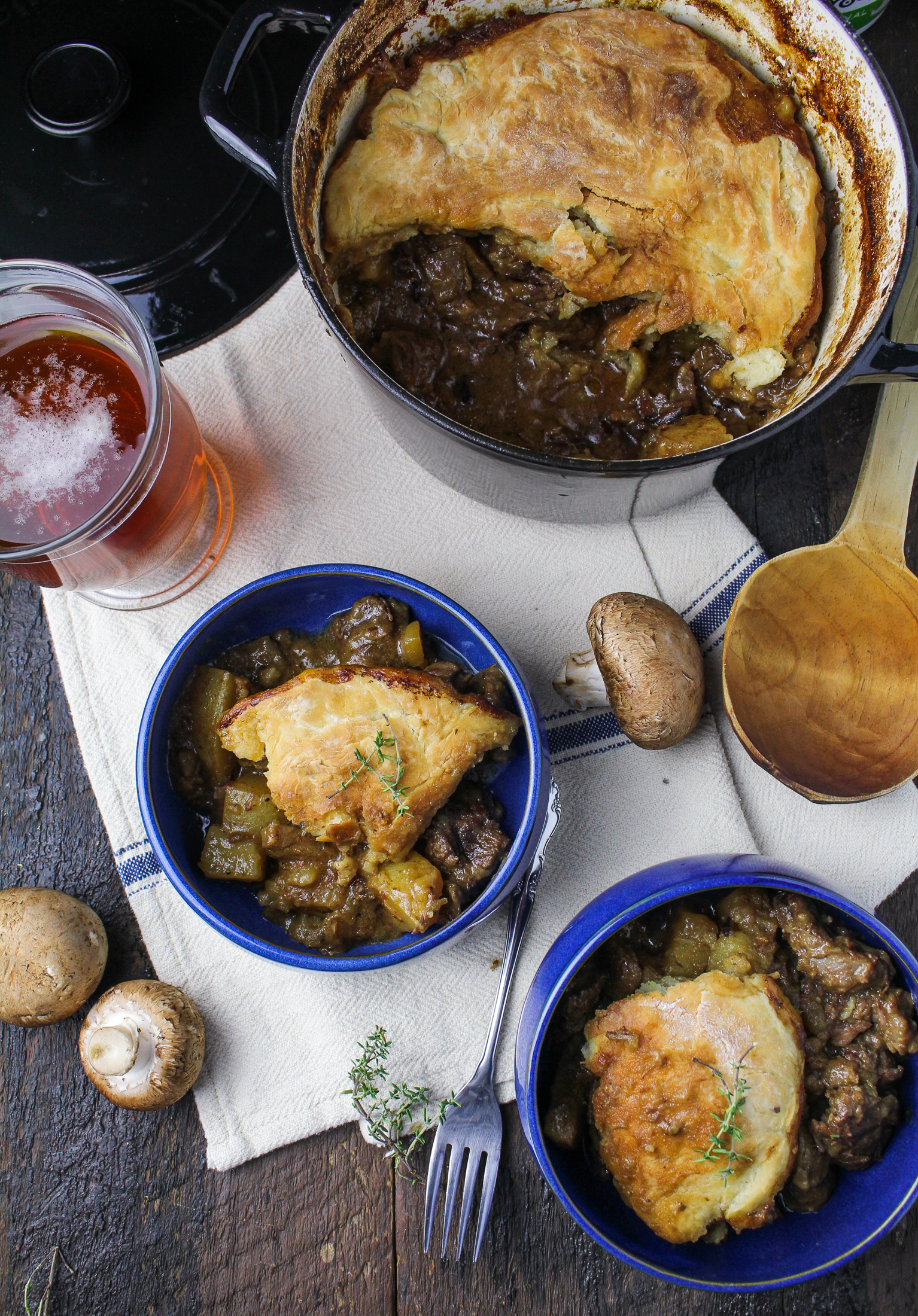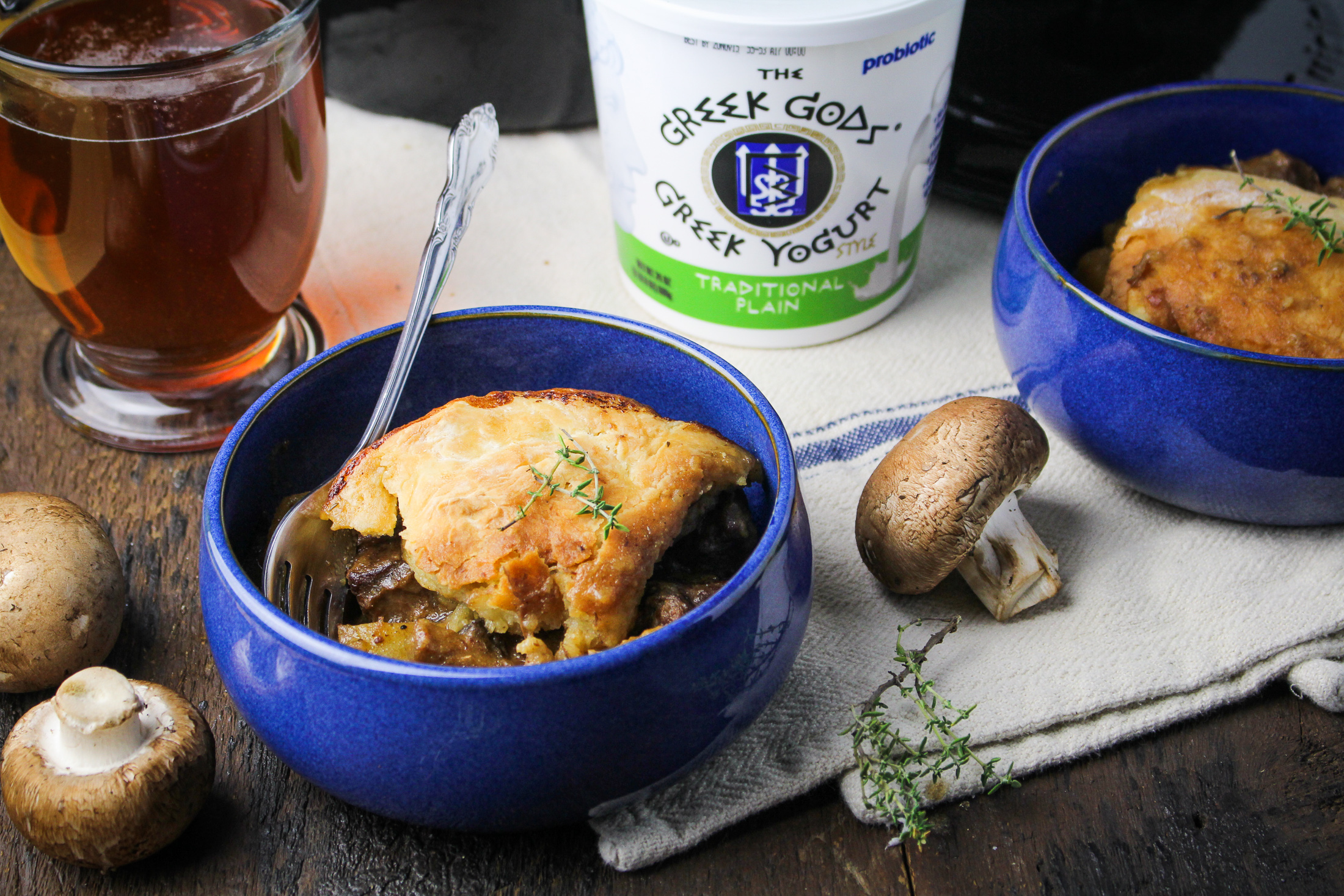 I can't believe how quickly this month is slipping by. I had been hoping to get a few more blog posts published in the past few weeks, but find myself too preoccupied / overwhelmed by the combination of preparing for our short-term move to Hong Kong in January, trying to get the basics of a wedding planned before we leave, continuing to slowly renovate the house (although the burden of this one has primarily fallen on Trevor), and the general busy-ness that comes with the holidays every year. All of the things going on in our lives right now are good – they're so good! – but they're also big things, things that might be stressful at times on their own, and are definitely a little stressful taken all at once. Still, despite the stress, I'm enjoying having this season at home, and I've been making a point of taking the little extra time I do have to savor the loveliness of fall – whether it's a quick afternoon walk on those last few warm, golden days of the year; a cup of hot chocolate as a break from work; or a savory pot pie like this one on a chilly Friday night.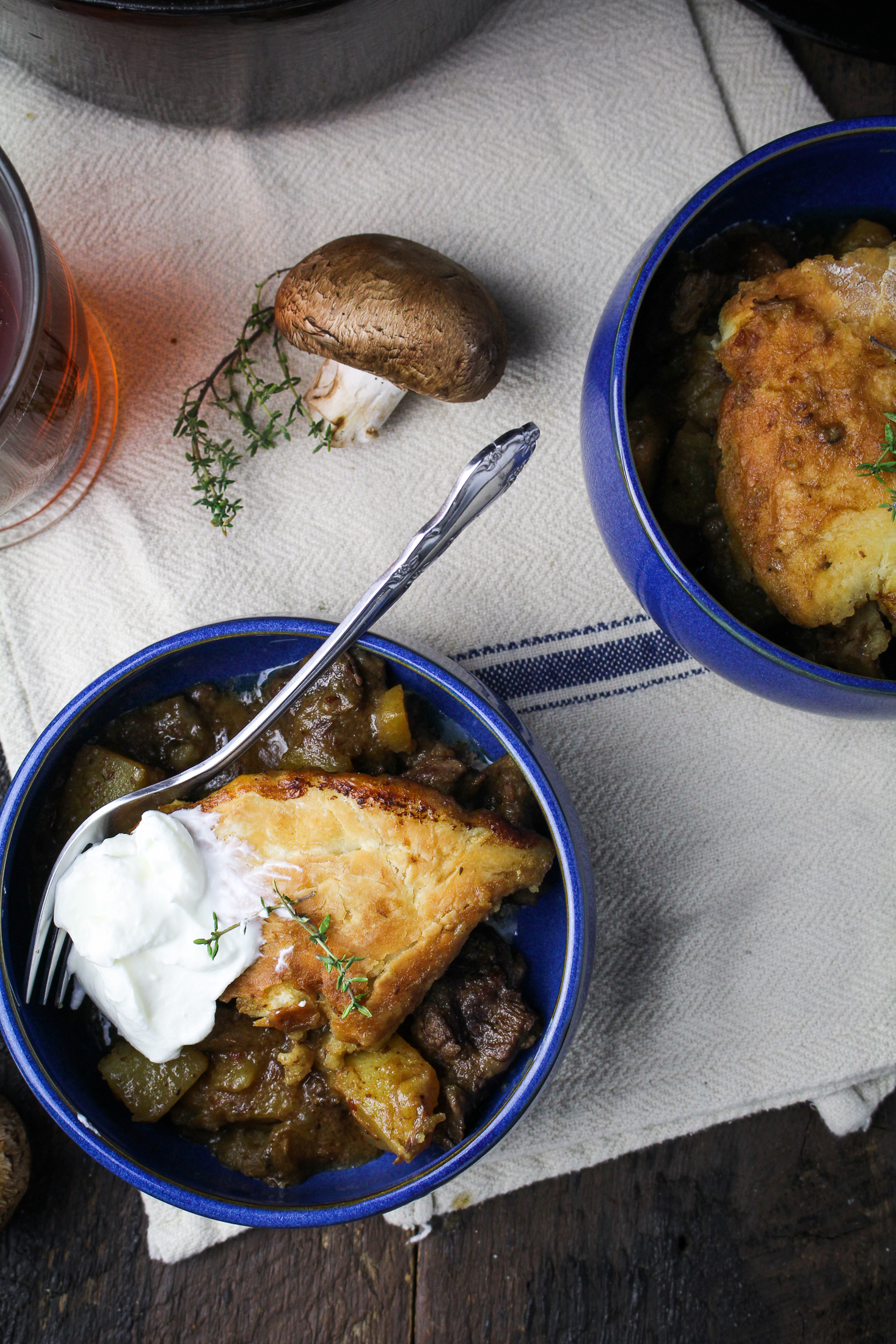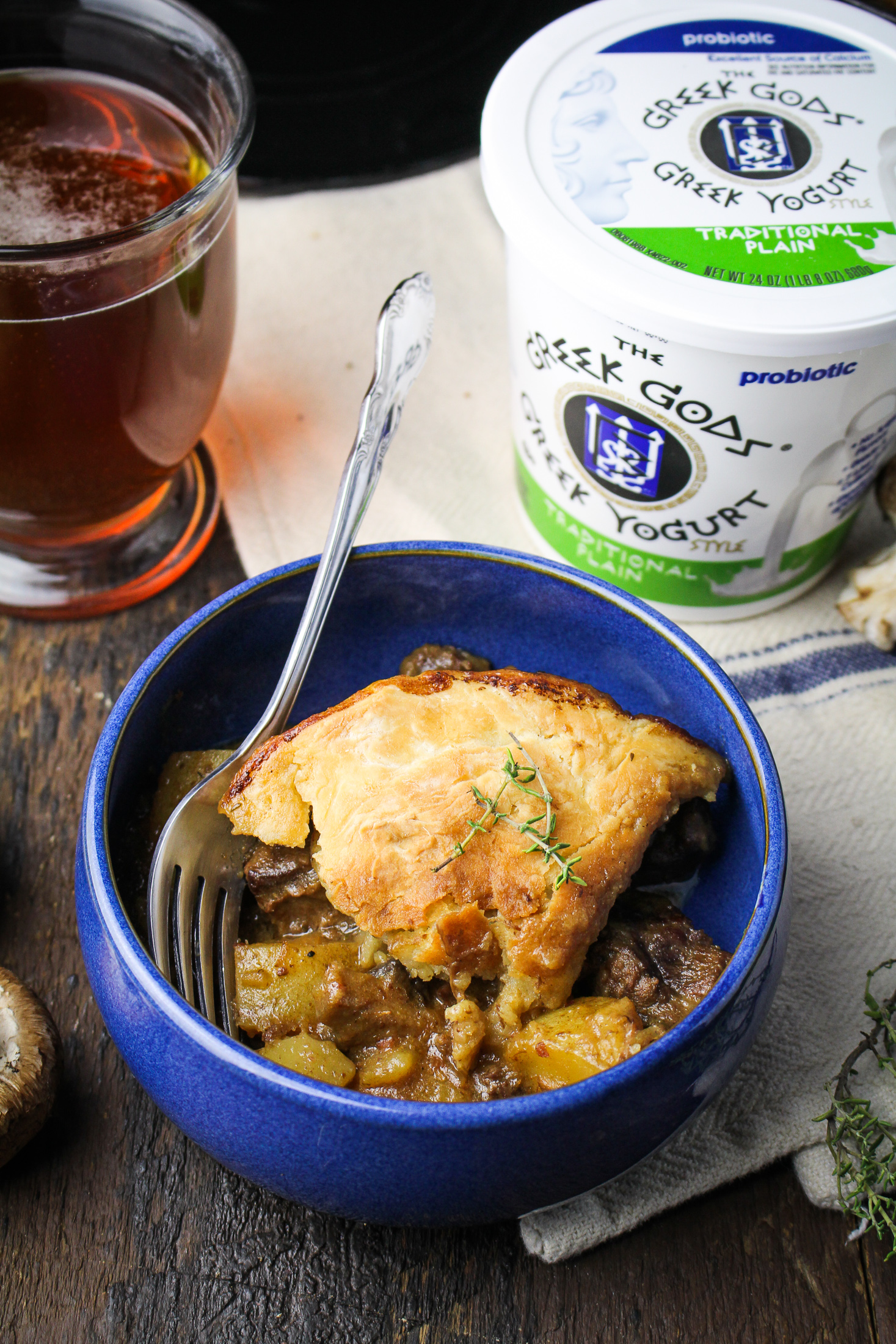 Last month, Greek Gods Yogurt reached out to me about working with them to develop a pie recipe featuring one of their thick, tangy Greek yogurts. I can safely say that pie is one of my favorite food groups, so I was quick to agree to the collaboration. I love savory pies, especially after all the incredible ones I had in Russian (this rabbit and mushroom pie is one of my all-time favorites), so I decided to go a savory route with this recipe. This pot pie is filled with thick-cut chunks of beef, saucy mushrooms, pancetta, and tender potatoes. The sauce is a mixture of beef stock, dark ale, and a few heaping spoonfuls of Greek yogurt. The yogurt adds an incredible richness and tanginess to the savory filling, elevating the hearty flavors just a touch and giving each bite a smooth and creamy mouthfeel. I was really pleased with the way this recipe turned out – it's another one that I left in the fridge to keep Trevor fed while I was in Hong Kong, but I was seriously disappointed that I only had a chance to have one serving. I guess that just means I'll have to make it again sooner rather than later.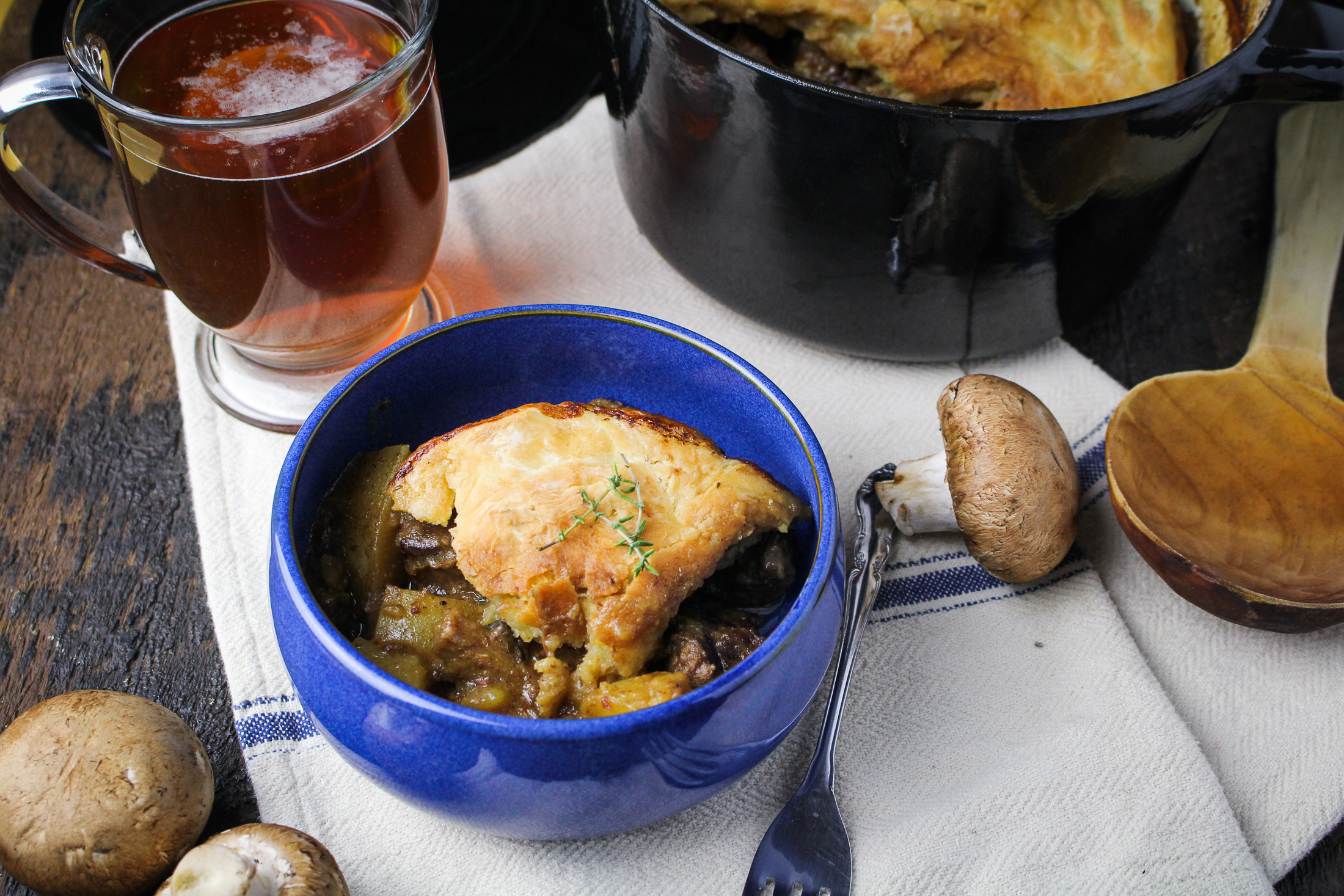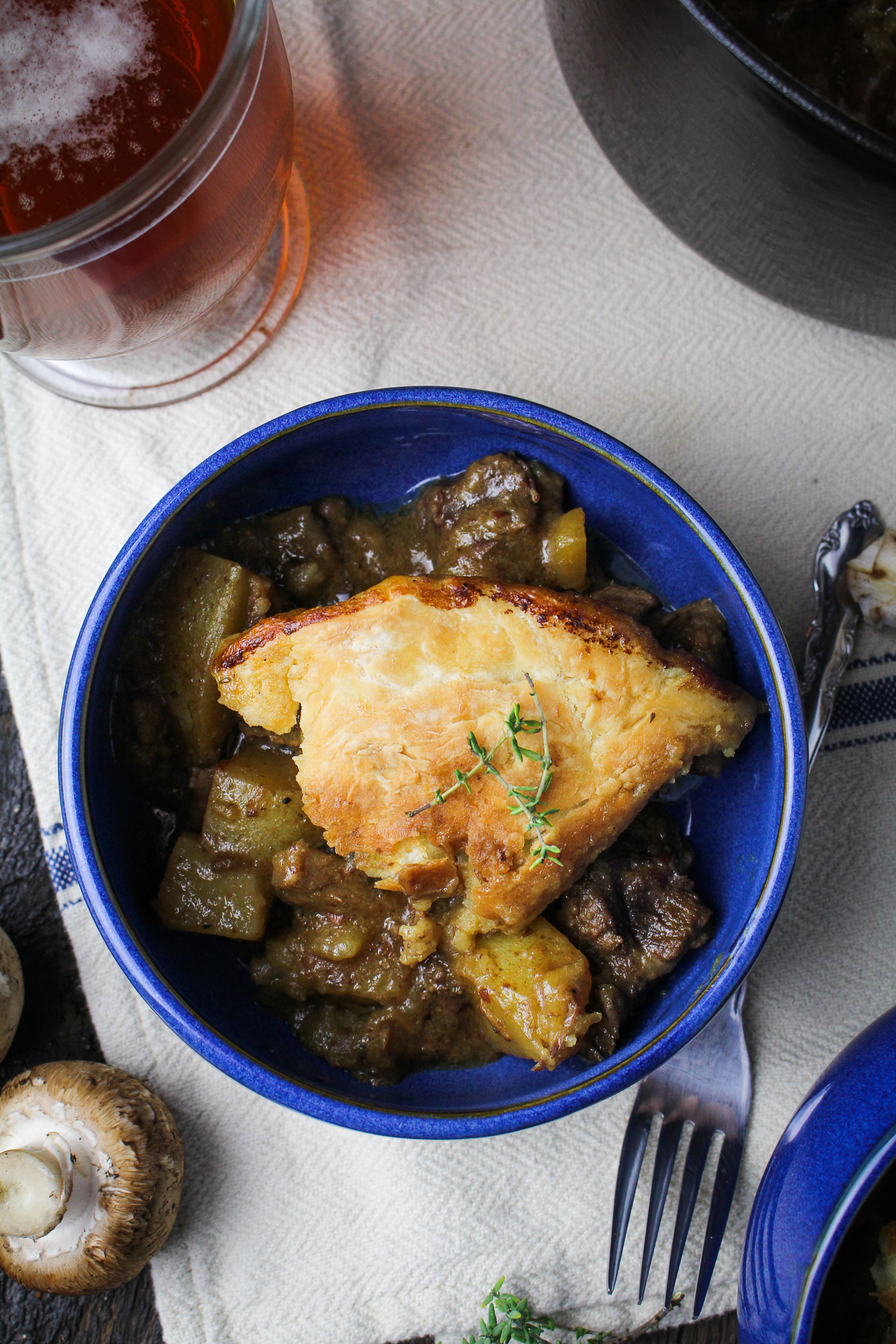 I used Greek Gods' plain variety for the pie recipe, but I also had the opportunity to try a number of their other flavors. My favorite was definitely the Honey Salted Caramel, which was great on its own or with granola for breakfast, but was particularly delicious served on top of the Salted Caramel Apple Cake I made last month to celebrate our engagement. Greek Gods Yogurt is sharing a number of other delicious-looking pie recipes, sweet and savory, over on their Facebook page – head on over if you're looking for pie inspiration for next week.
Disclaimer: This post is sponsored by Greek Gods Yogurt. All opinions are honest and my own.
Like what you just read? Subscribe to Katie at the Kitchen Door on Feedly or Bloglovin', or follow along on Facebook, Twitter, Pinterest, Instagram, or Google+. Thanks for reading!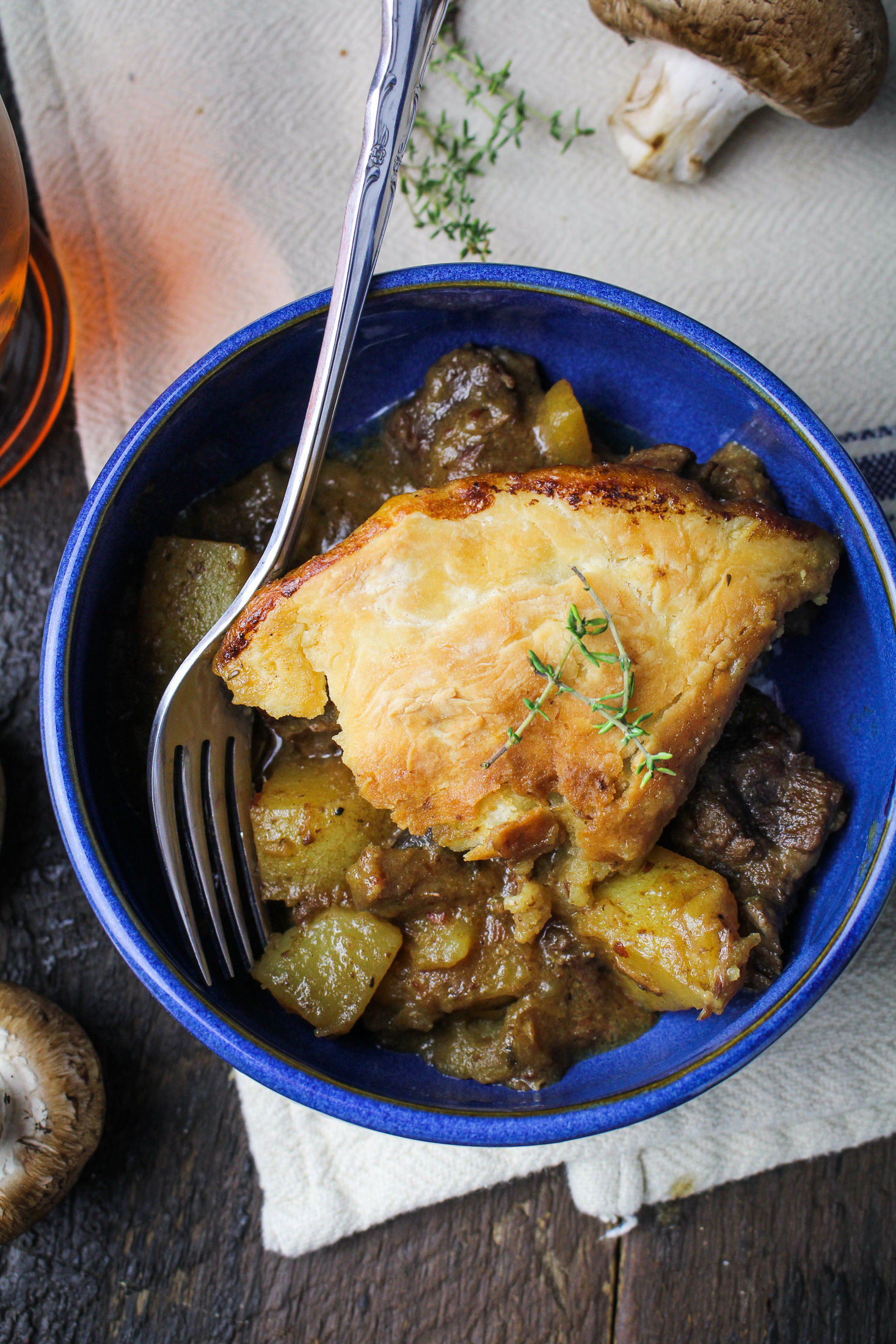 Beef, Mushroom, and Ale Pot Pie
Serves 6.
2 TBS olive oil, divided
4 oz. pancetta, cut into 1/4 inch cubes
1 medium onion, peeled and diced
10 crimini mushrooms, quartered
sea salt and pepper to taste
1 tsp fresh thyme leaves
2 lbs chuck roast, cut into bite-sized cubes
1 TBS flour
1 c. dark ale
1 c. beef stock
1 TBS worcestershire sauce
1 TBS soy sauce
1 TBS mustard
2 medium Yukon Gold potatoes, cut into 1/2 inch cubes
1/2 c. Greek Gods Yogurt plain Greek yogurt
1 recipe kulebyaka dough, using yogurt in place of sour cream (another pie dough or puff pastry will work equally well for the crust)
Preheat the oven to 350°F. Heat 1 TBS of the olive oil in a large dutch oven or cast-iron casserole over medium heat. Add the pancetta and saute, stirring frequently, until crisped all over, about 3-5 minutes. Add the onion, mushrooms, and thyme and saute until golden brown and reduced in volume by half. Season to taste with salt, then transfer to a bowl.
Add the remaining 1 TBS of olive oil to the dutch oven and add the beef cubes to the pan. Brown the beef on all sides, which should take about 5 minutes. Add the flour to the beef and stir to coat. Add the mushrooms and pancetta back to the beef, along with the ale, beef stock, worcestershire, soy, and mustard. Stir to combine everything, then place the lid on the dutch oven and transfer to the oven. Roast, covered, for 1 hour. After an hour, remove the lid, add the chopped potatoes, and continue roasting, uncovered, until beef and potatoes are tender and sauce is reduced, about another 45 minutes.
At this stage, remove the dutch oven from the oven and stir the Greek yogurt into the filling. Roll out your prepared pie crust or puff pastry and place on top of the pot pie, carefully covering the edges of the dutch oven (don't touch the hot pan!). Return to the oven and bake until the crust is golden brown, about 20-30 minutes longer. Let cool slightly before cutting and serving.