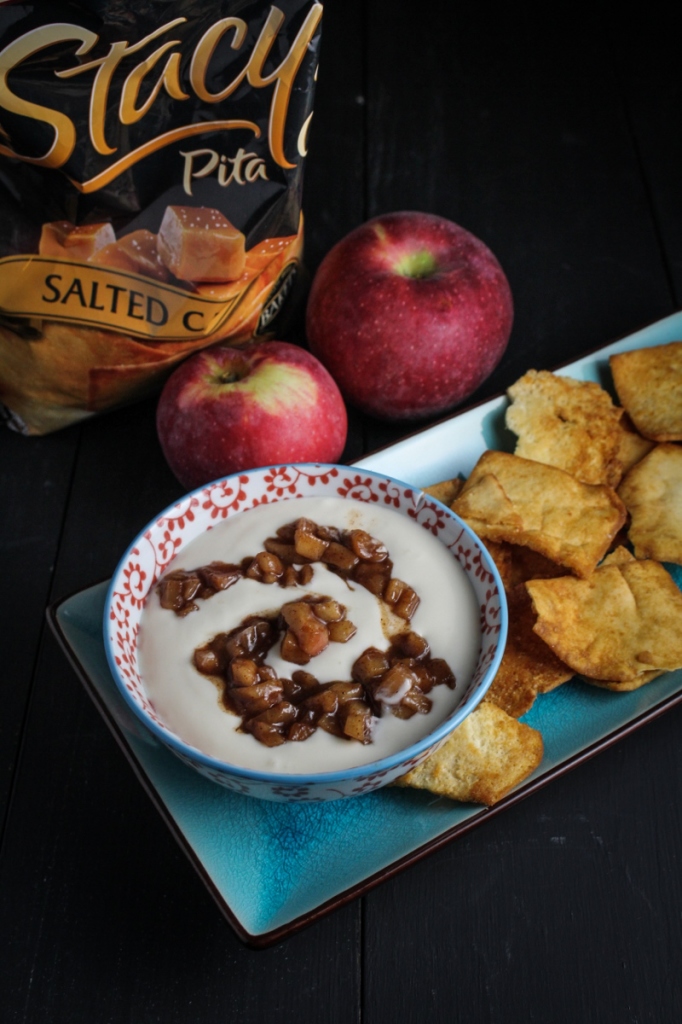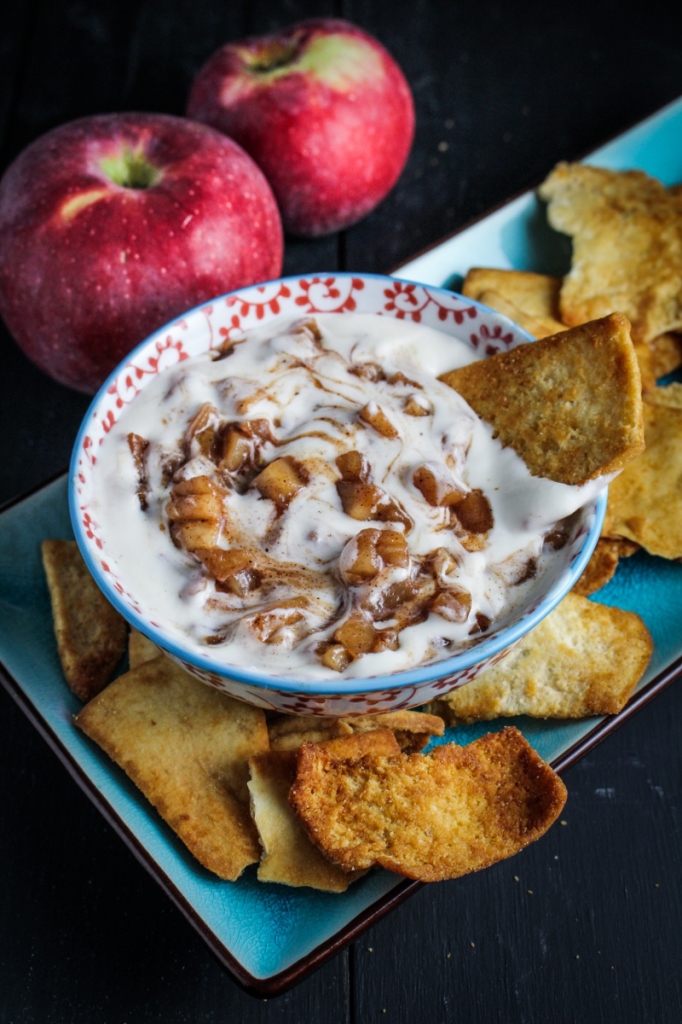 Although I'd be hard-pressed to argue with you if you told me that the combination of pita chips and a really good hummus couldn't be beat, some situations just call for something a little sweeter. Stacy's, long known for making tasty, extra crunchy pita chips, has released a limited edition flavor that meets just this need: Stacy's Salted Caramel Pita Chips. When the team at Stacy's challenged me to come up with a dip that would pair well with their latest flavor, I readily agreed. I've been a fan of Stacy's pita chips since I was a kid – they make a great snack, and are one of the best vehicles for scooping up hummus, muhamarra, and other Middle Eastern dips.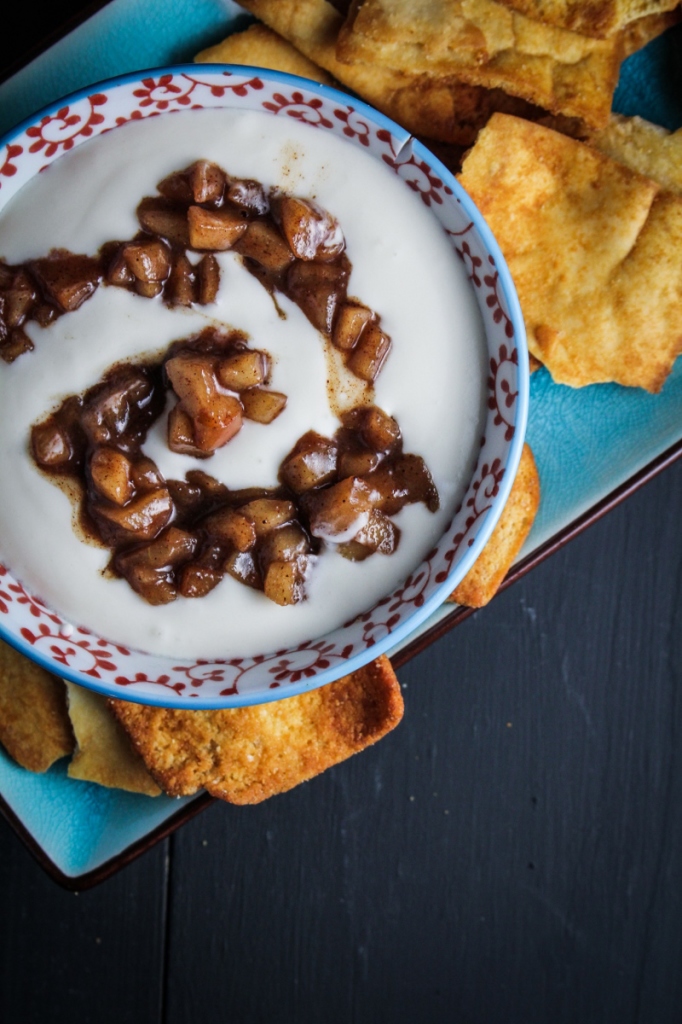 I knew I wanted to put together a dessert dip, but I really didn't want it to be cloyingly sweet or overly rich. I initially intended to use whipped mascarpone as the base, but at the last minute decided that a whipped Greek yogurt would add some much needed tang, as well as reduce the caloric implications of indulging in this dip. I think it was the right choice – the dip is light and airy, with a hint of sourness from the yogurt balanced by the sweetness of the apple mixture. It definitely has an apple pie flavor – the slightly salty, buttery chips serving as the crispy crust, the apple mixture a similar consistency and flavor to pie, and the sweet whipped yogurt like a very generous portion of whipped cream (or melted ice cream, if that's more your style). If you're looking for an appetizer or dessert to add to your holiday party menus this year, consider whipping up some of this. Check out Stacy's Pinterest board for more fun dip ideas, too.
Disclaimer: This post is sponsored by Stacy's Pita Chips. All opinions are honest and my own.
Like what you just read? Subscribe to Katie at the Kitchen Door on Feedly or Bloglovin', or follow along on Facebook, Twitter, Pinterest, Instagram, or Google+. Thanks for reading!
Cinnamon-Apple and Whipped Greek Yogurt Dip
A Katie at the Kitchen Door original recipe. Makes about 1 1/2 cups.
1 large Macintosh apple, peeled
1 TBS salted butter
2 TBS brown sugar
1/2 tsp cinnamon
1/8 tsp allspice
1/4 c. apple cider
1/8 tsp sea salt
1/3 c. heavy cream
One 6 oz. container of Greek yogurt, vanilla or maple flavored
3 TBS powdered sugar
Stacy's Salted Caramel Pita Chips, for serving
Core the apple and slice into pieces about 1/4 inch thick, then dice slices into small cubes. Add the butter to a wide frying pan and melt over medium heat. Add the brown sugar, cinnamon and allspice and stir until sugar is melted and spices are evenly mixed in. Add the diced apples, then add the apple cider. Cook until apples are tender but not mushy and cider is mostly evaporated, about 4 minutes. Stir in salt. Remove from heat and set aside.
Beat the heavy cream on high with a stand mixer or hand-held mixer until the cream has formed soft peaks. Add the yogurt and beat until incorporated. Sift the powdered sugar through a fine mesh strainer into the yogurt mixture, and beat until the mixture has a light consistency and the sugar is completely incorporated. Note that the final consistency will not be as light as whipped cream is on its own, but it should be significantly airier than yogurt.
Place the whipped yogurt into a bowl, and top with a swirl of the apple mixture. Alternatively, mix the two together to thoroughly combine. Serve the dip with Stacy's Salted Caramel Pita Chips or other sweet dipper.