Hi friends. This one's a guest post from my better half, who's the grill-master in our relationship. I did do some quality testing though, so I can confirm that these are worth making. And definitely worth eating if someone else makes them for you!
Growing up, ribs were something my father worked on perfecting over infinite summer afternoons. Along with your other excellent suburban traditions, early morning soccer and football in the backyard, grilling was a must during weekends in the summer. We'd absolutely crowd the grill with racks and racks of market-cut beef ribs, trimmed up and spiced with an ever-improving rub. It was always, and still is, an eternity to wait for ribs to be done perfectly. So we'd stand in a circle on his porch and make giant indian smoke signals every time the grill cover came off, checking on coals barely glowing through the supreme pile of meat. Dad would admire the Boston skyline, just visible from his back porch in the neighborhood-on-a-hill, and I can remember needing to sprint around the yard, just to diffuse my excitement. I'm personally ready to eat ribs at the first sizzle of meat on grill, and to this day, I'm not entirely sure how long it took to cook those massive cuts. But in the end, I'm grateful it helped stretch out those Saturdays in summer.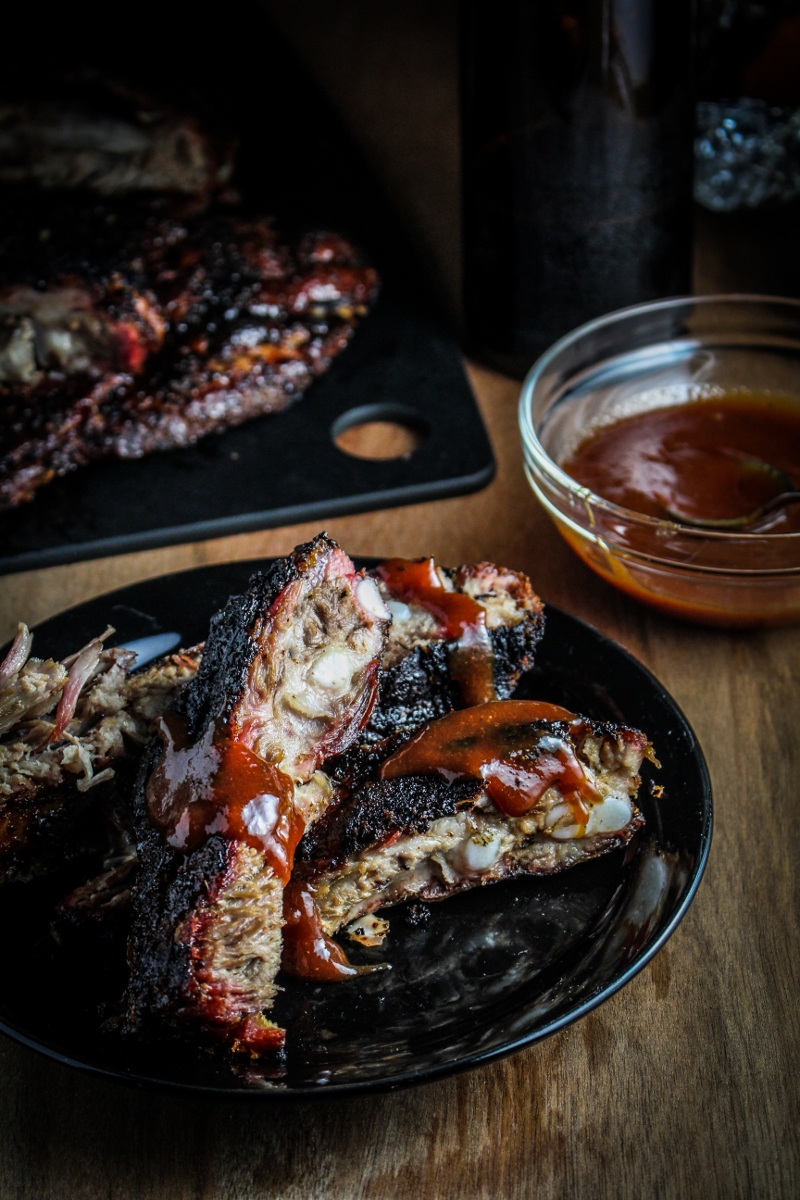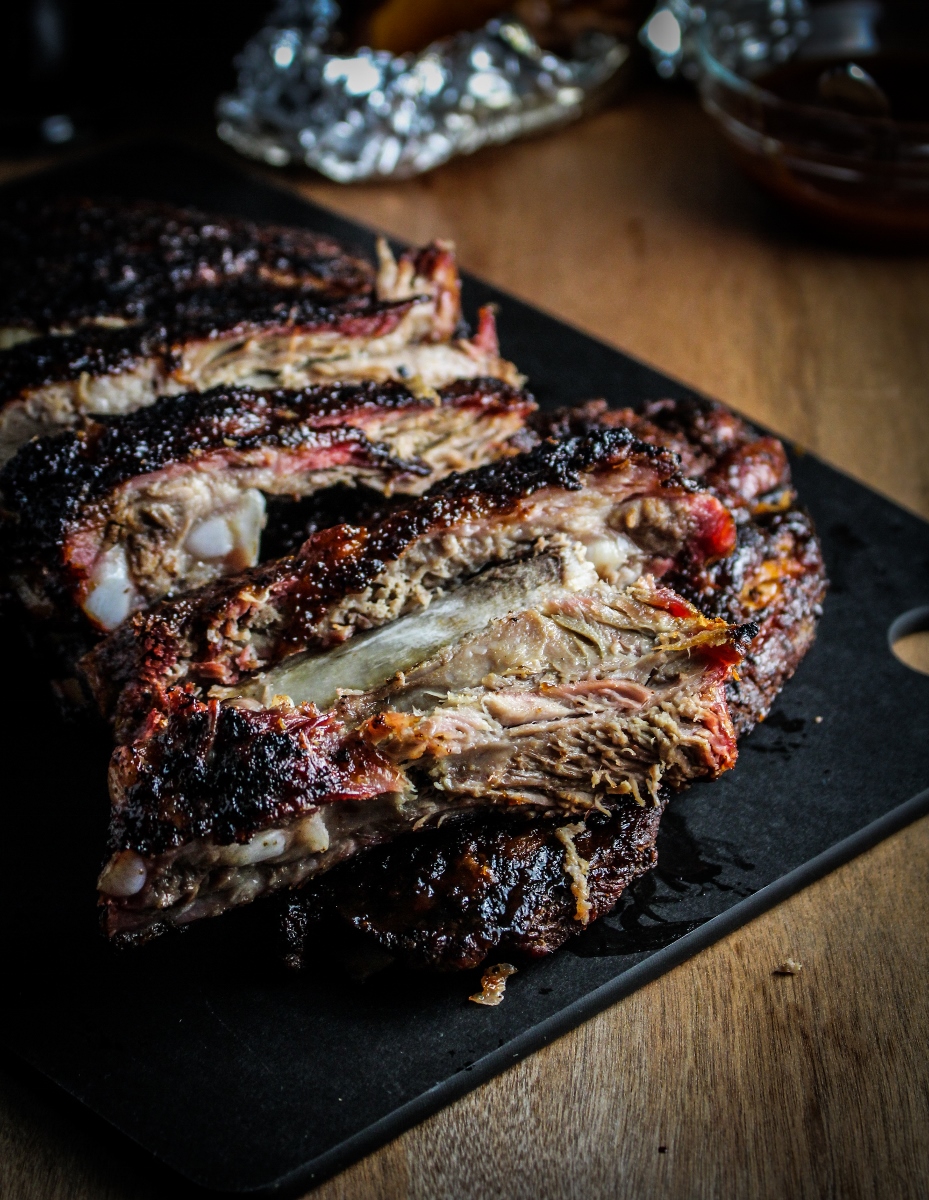 Both my brother and I had our roles in the process; I'd tackle the sauce, while Andrew would handle the rub, and we'd trade off working on sides. My dad would trim up the ribs and handle the art/science of developing the long slow fire, which got perfectly smoky when the fat started dripping. The smells are incredible, and tasting the tenderest bite through a layer of crunchy, smokey caramelization to me is unparallelled. The result was always a consistent, falling of the bone, sweet tender and smokey feast.
I recently spent a very nice long weekend with my dad and my brother and my stepmom, in my dad's own childhood hometown for a family reunion. Over a bottle of Noah's Mill and a fair few cigars, the men got down to a little reflecting. Andrew is great in the kitchen and regularly cooks from this website (often providing unsolicited feedback). My stepmom and dad are vegetarians and super accomplished crossfitters, and stronger than I'll ever be. But, we equally enjoyed those memories of summer Saturdays, and we each were sure it was perfect.
At any rate, now that Katie and I have a grill, I'm making my own attempt at perfection. With the old tricks still fresh in my mind, I've been working a rib recipe that's good enough to share. I'm definitely using some non-traditional flavors, but the philosophy is the same. So this probably isn't the final product, but I think it's a pretty good effort, and a good place to reflect on the way.
Like what you just read? Subscribe to Katie at the Kitchen Door on Feedly or Bloglovin', or follow along on Facebook, Twitter, Pinterest, Instagram, or Google+. Thanks for reading!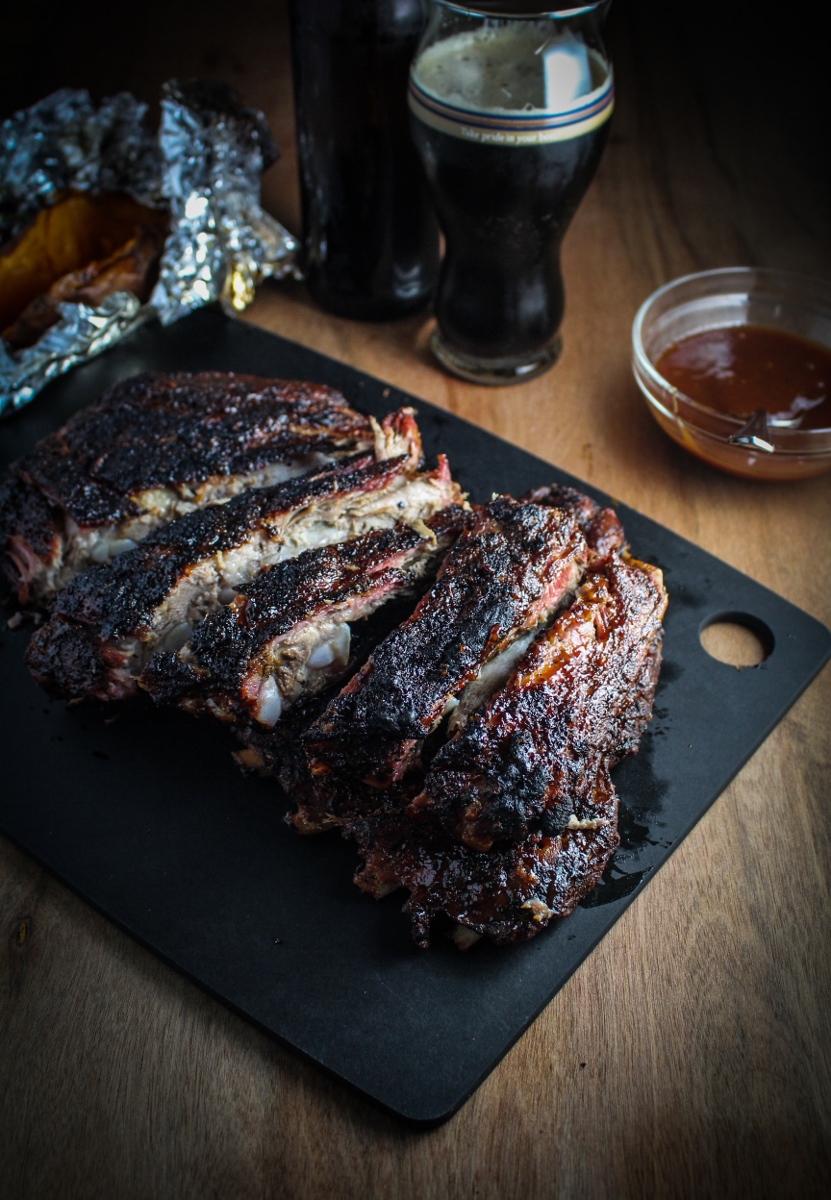 Guava-Glazed Grilled Ribs
A Katie at the Kitchen Door original. Serves 2-3.
Note: Ribs are like an art project. All times, ingredients, implements and instructions are approximate. This is simply what has been working for me.
1 rack untrimmed  pork or beef ribs, about 4-5lbs. (increase cooking time for larger racks)
For the rub:
2 tsp fresh ground black pepper
2 Tbsp sumac
2 tsp salt
1 tsp cumin
1 tsp cayenne
1 tsp smoked paprika
1 tsp garlic powder
For the sauce:
14 oz guava paste
½ cup soy sauce
¼ cup Worcestershire sauce
¼ cup water
1 Tbsp Sriracha
salt and pepper to taste
Trim any loose bits from the inside and edges of the rack.
Mix together all seven rub spices in a bowl. Completely cover the rack (and trimmings) with the rub and refrigerate for at least 3 hours and up to 12.
Light grill, maintaining medium heat (300-350°F). Sear ribs on both sides for 5-10 min a side.
Move ribs to the perimeter of the fire and grill for about 2.5 hours, flipping every 30 minutes.
While the ribs are cooking, mix together all the ingredients for the sauce, until smooth. If the guava paste is lumpy, heat sauce gently over medium heat while stirring to help smooth it out.
Just before you are ready to take the ribs off the grill, brush the ribs liberally with the sauce, then allow the ribs to cook for 2-3 minutes a side, monitoring carefully to ensure the sauce does not burn. Remove the ribs from the grill, let rest for 5-10 minutes, then serve.