Wild Rosemary & Lemon Cake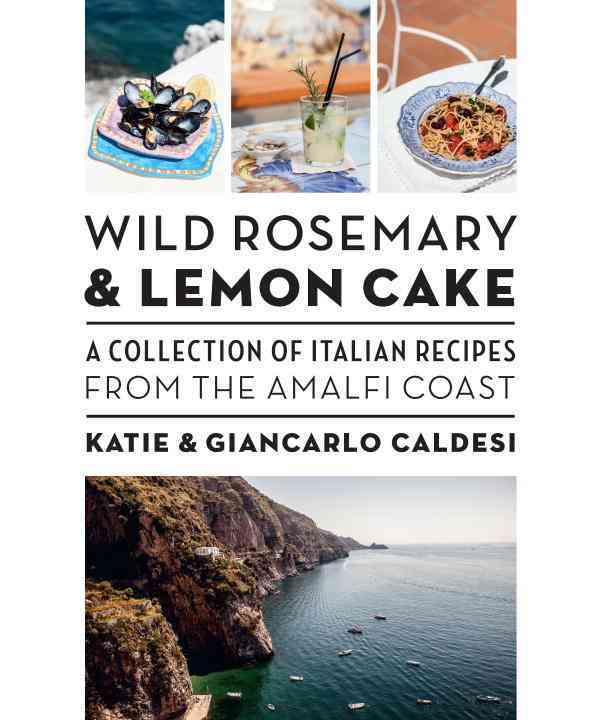 The Book: Wild Rosemary & Lemon Cake is a new Italian cookbook that explores recipes from the Amalfi Coast, that beautiful strip of sparkling blue water and dramatic rocky coastline that brings thousands of people to Southern Italy each year. The authors, Katie and Giancarlo Caldesi, are the owners of several Italian restaurants and a cooking school in England, and have created a beautiful book to document their knowledge of the food of Southern Italy. I love the clean, bright design, the bold typefaces, and the inviting travel photos, not to mention the delicious snaps of pizzas, pastas, and seafood. The book is very cohesive and does a great job capturing the warmth and light of Southern Italy, giving it a strong sense of place – it's a pleasure to flip through. The recipes are heavy on tomatoes, anchovies, and other seafood, and I was pleased to find several recipes that were completely new to me (I own a lot of Italian cookbooks). I do have to note – one of the recipes we tried never listed an oven temperature, just a baking time. We defaulted to 350°F, and it came out fine, but that's the kind of omission that could throw a new cook for a serious loop, and disappointing to find in an otherwise great cookbook.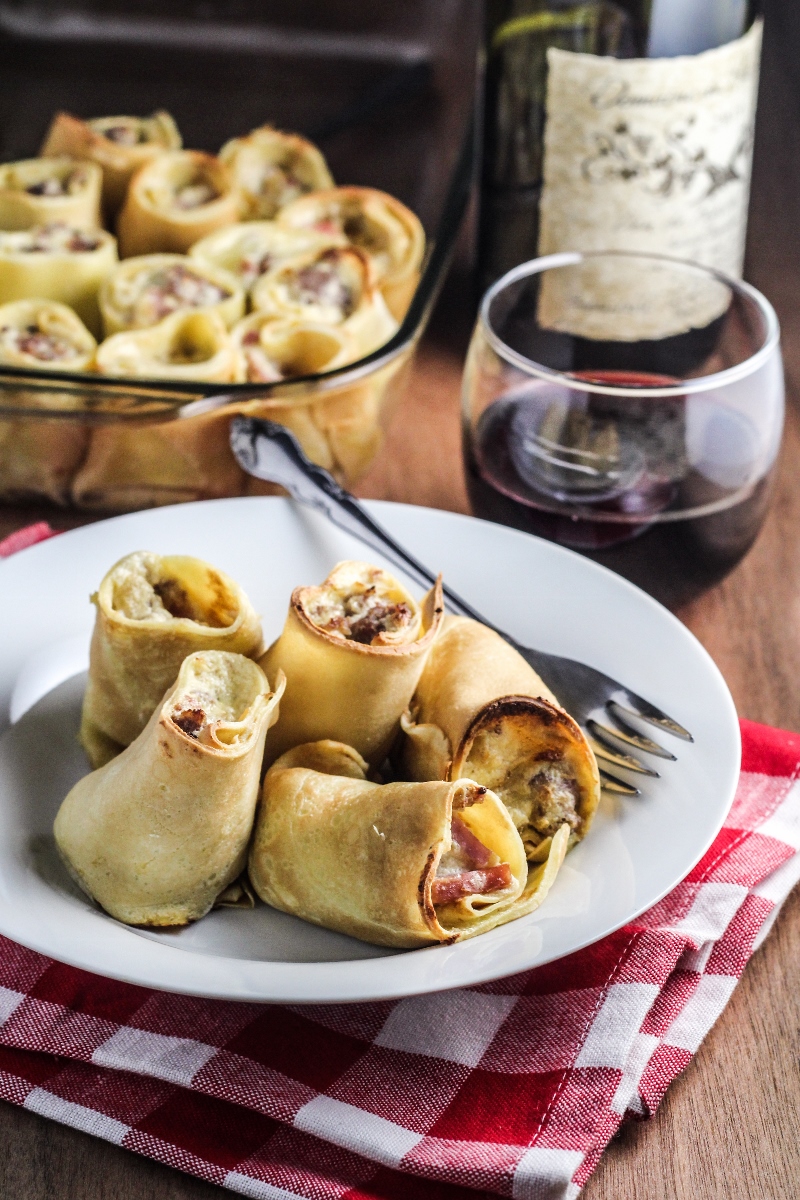 The Food: So far, I've made two recipes from Wild Rosemary & Lemon Cake – the day I received it, we made "Enza's Aubergines," a roast of anchovy-topped eggplants served with cherry tomato sauce. Having just harvested a bunch of eggplant, tomatoes, and garlic, the recipe caught my eye and we immediately gave it a try. It was a good eggplant recipe, and one I could see myself repeating when we have an abundance of eggplant, but the flavors were nothing revolutionary. For this post, we made Ravello-Style Stuffed Crespelle – olive oil crepes, stuffed with a mix of sausage, ham, and three kinds of cheese, rolled up, stuck in a pan, and baked. It's like a luxurious take on lasagna, and everything you want Italian comfort food to taste like – meat, cheese, and pasta. We served them plain, but I think they would also be great with a very smooth, classic tomato sauce. Given the ingredient list, it's no surprise that these were delicious, but I liked that the concept was new to me, and I would definitely make these to impress company. Also, we've tried a lot of crepe recipes and this was a great one – the crepes were tender and thin without tearing, and they crisped up nicely. Scroll down for the recipe.
Recipe Shortlist: Anchovy-Pesto Stuffed Peppers; Potato Croquettes with Smoked Cheese; Borlotti Bean and Pasta Soup; Smoked Cheese and Prosecco Risotto; Homemade Fusili; "Rabbit from Ischia"; Lemon Domes filled with Lemon Cream; "Sunset in Amalfi" Sundae
Le Petit Paris: French Finger Food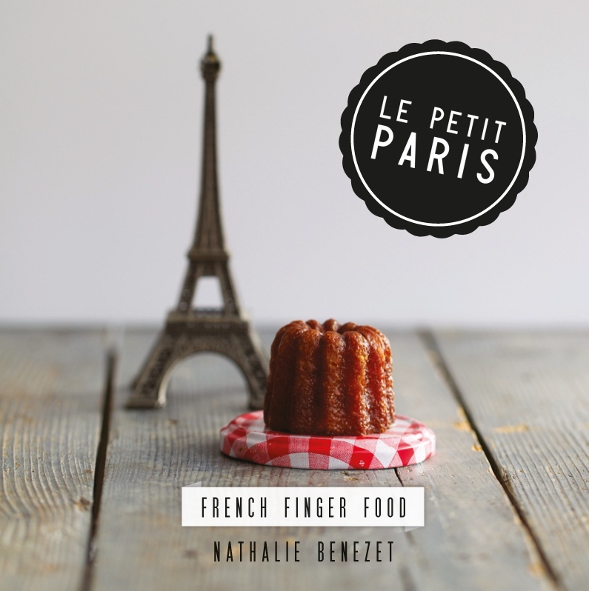 The Book: Le Petit Paris is a cute little book containing a collection of 40 classic French recipes that have been downsized to finger food treats, perfect for your next cocktail party. I love the book's small format and the pretty color photos that accompany almost every recipe – and at only $14 on Amazon, I kind of think it would make a fun hostess gift. Since the recipes included really are classics (think fondue, French onion soup, crepes, and madeleines), French cooking aficionados won't find much new here besides a few interesting twists (like the foie gras burgers), but newer cooks trying to replicate their favorite flavors from a trip to Paris will be thrilled. It would also be the perfect book for putting together a French-themed dinner or cocktail party – most of the recipes seem simple to put together yet highly craveable, making for a high result to effort ratio when you want to entertain a group.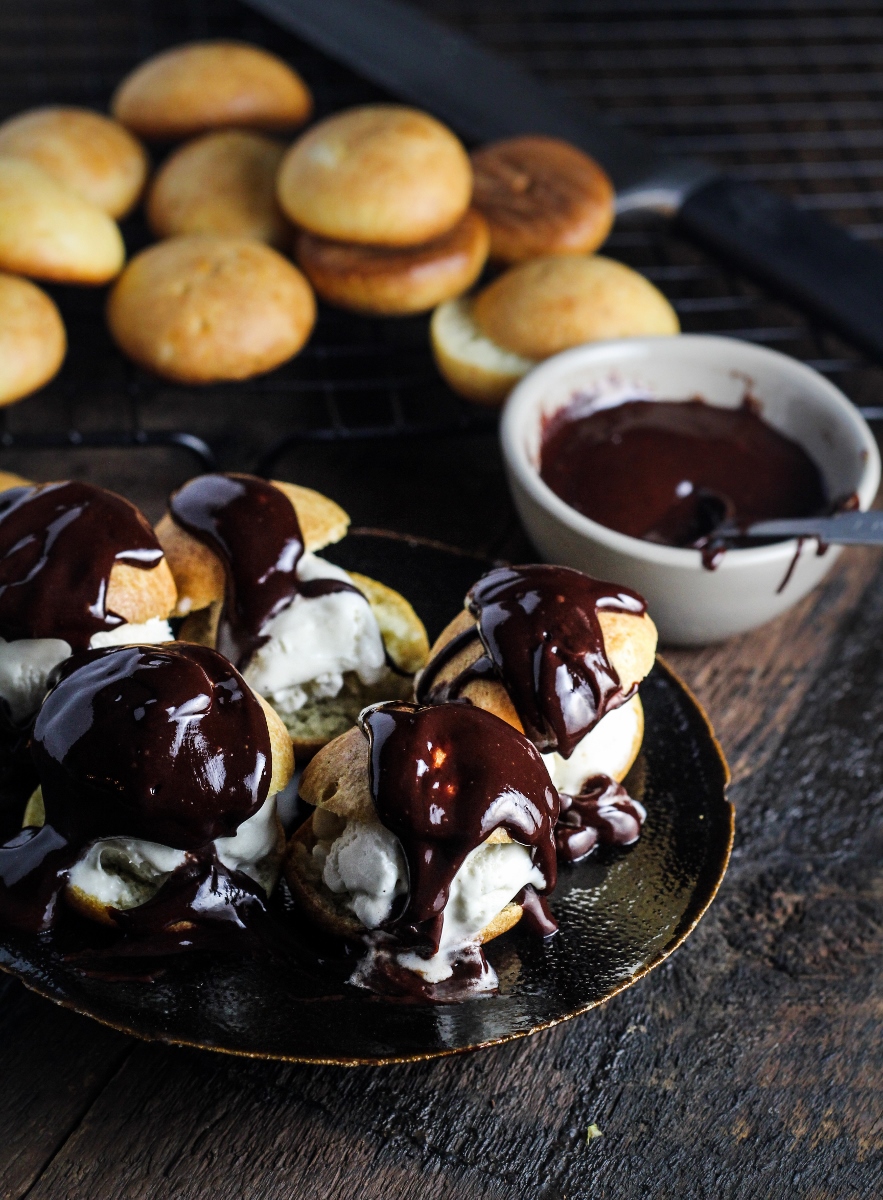 The Food: I had initially planned to make the chocolate eclairs, but I was thrown off by the need to purchase fondant, so I moved to the eclair's choux pastry cousin – profiteroles. Unfortunately, we struggled a little bit to get this recipe to work – the batter definitely needed a rest in the fridge to firm up before it would pipe correctly, and the chocolate sauce had a tendency to break. We eventually got both parts to look/taste pretty good, and the final product was super yummy, but this made me a little nervous about the rest of the book. Of course, French pastry is challenging in general, so perhaps it was just user error on our part. Scroll down for the recipe.
Recipe Shortlist: Mini Croque Monsieurs; Foie Gras Burgers; Pissaladiere Tartlets; Creme Brulée Teaspoons; Champagne Granita with Strawberries
Recipes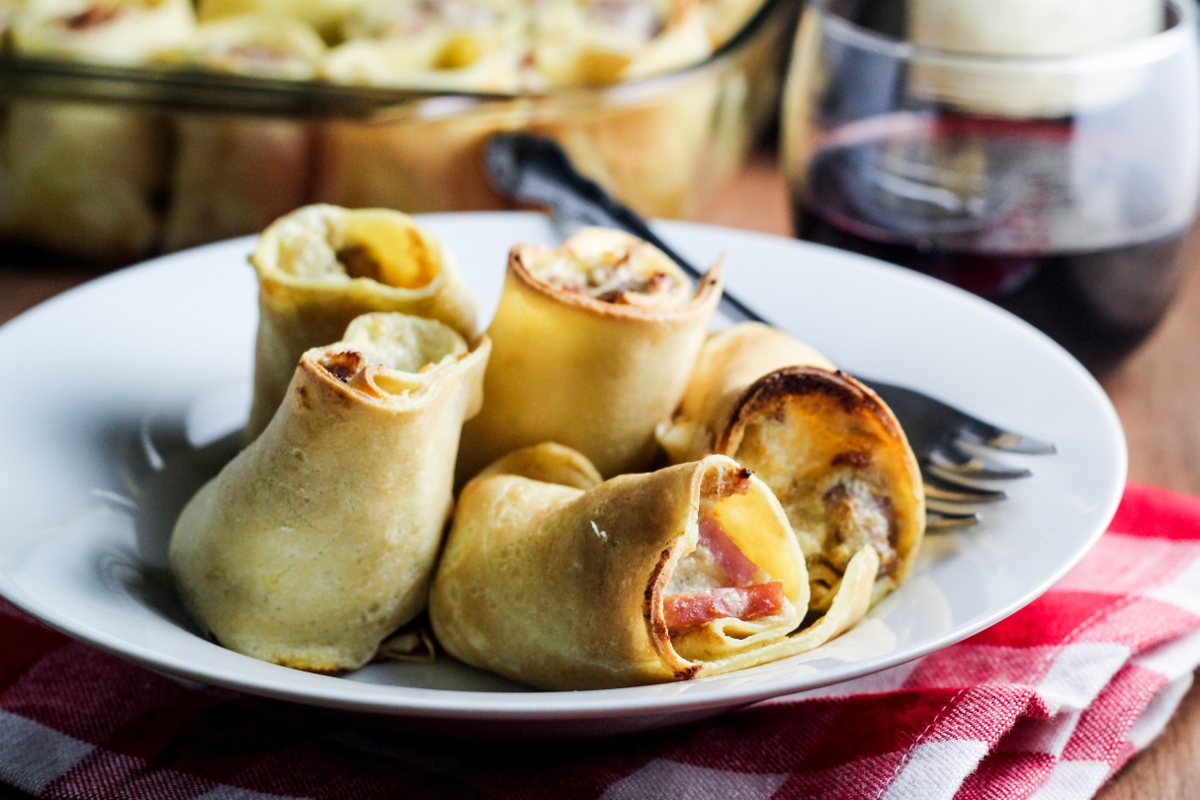 Ravello-Style Stuffed Crepes
Recipe from Wild Rosemary &  Lemon Cake by Katie & Giancarlo Caldesi. Serves 6-10.
6 eggs, divided
1 1/2 c. flour
4 TBS olive oil, divided
1 tsp salt
1 3/4 c. whole milk
neutral oil (such as canola or sunflower), for frying
1 medium white onion, finely chopped
14 oz. Italian sausage
1/3 c. white wine
14 oz. ricotta
3 1/2 oz. cooked ham, cut into 1/2 inch cubes
2 1/2 oz. grated Parmesan (about 3/4 cup)
7 oz. smoked mozzarella, cut into 1/2 inch cubes
black pepper to taste
Make the crepes: whisk together 4 of the eggs and the flour, then gradually whisk in 2 TBS of the olive oil, the salt, and the whole milk. Beat vigorously to make a very smooth batter. Heat a little canola oil in a large non-stick frying pan over medium heat. Once the oil is hot, spoon about 1/4 cup of batter into the pan. Swirl the pan to spread the batter evenly around the bottom, cook for about 1 minute, until edges of crepe are beginning to curl and bottom is golden brown, then flip and cook on the other side. Transfer to a plate and continue with the rest of the batter.
Make the filling: heat the remaining 2 TBS olive oil over medium heat in a large non-stick frying pan. Add the chopped onion and cook until soft, about 5-7 minutes. Remove the meat from the sausages by squeezing out of the casing into the pan, chopping up with the back of a wooden spoon. Cook until browned, about 5 minutes, then pour in the wine and let reduce for 2-3 minutes. Remove the pan from the heat and spread the meat on a large baking sheet or plate to let cool. Once cool, transfer to a bowl and stir in the remaining 2 eggs, the ricotta, cubed ham, grated parmesan, and cubed mozzarella. Season to taste with black pepper.
Assemble and bake: Preheat the oven to 350°F and generously butter a 9×13 baking dish. Spoon about 1/3 cup of filling into each crepe, then roll up and cut in half. Fold the non-cut side of the crepe loosely over the bottom, then place the crepe halves snuggly in the pan with the cut-side facing up. Bake for 20-25 minutes, until golden brown and crisp on top. Serve warm.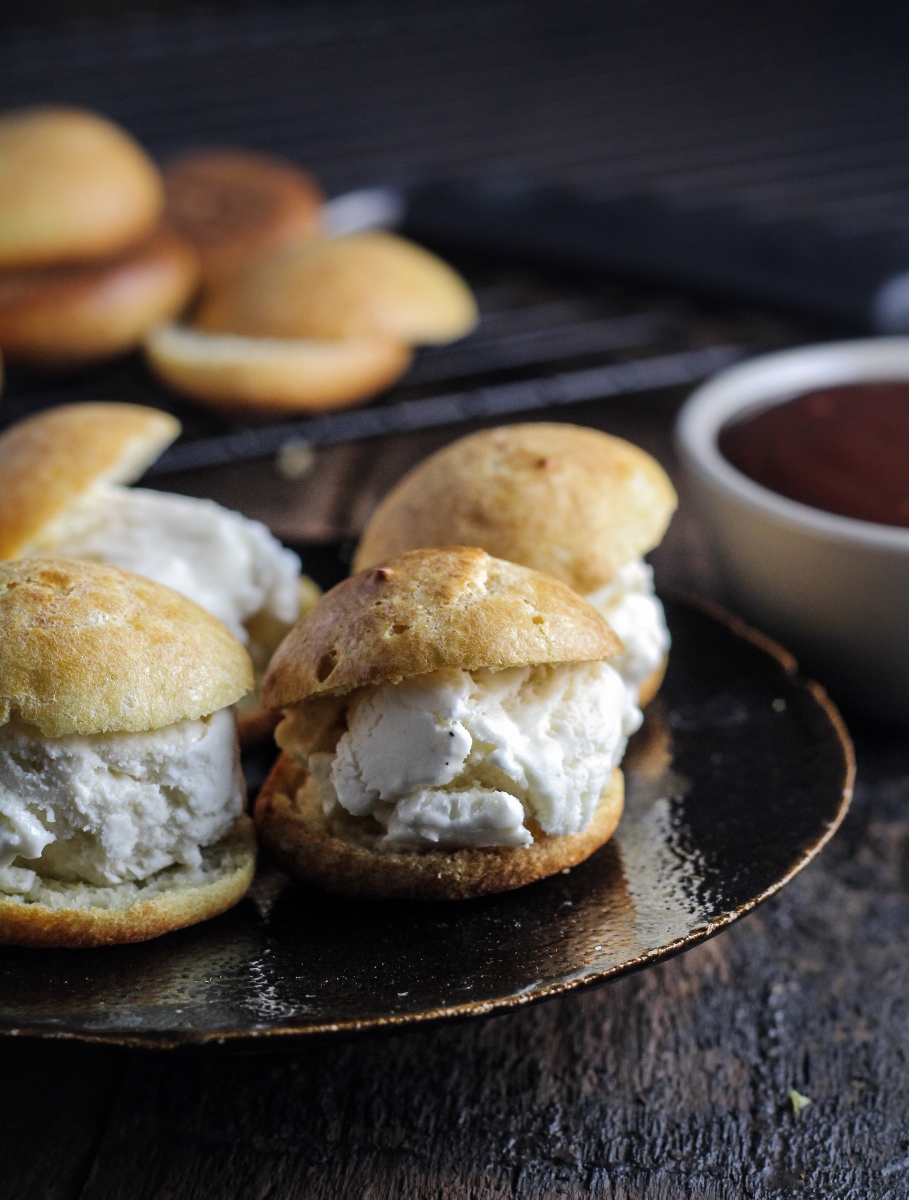 Ice Cream Profiteroles
Recipe from Le Petit Paris by Nathalie Benezet, Hardie Grant 2013. Makes about 20.
For the choux pastry:
1/2 c. milk
1/2 c. butter, cubed
1 tsp salt
1 tsp sugar
1 1/4 c. plain flour
5 eggs, beaten together
Preheat the oven to 375°F and line 2 baking trays with parchment paper.
Place 1/2 cup of water in a large saucepan. Add the milk, butter, salt, and sugar, and heat over low heat until the water just begins to boil and the butter has melted. Remove from the heat and stir in the flour, beating hard with a wooden spoon until a smooth dough forms and pulls away from the sides of the pan. Return to medium-low heat and cook, stirring strongly the whole time, until the dough begins to thicken and dry, about 2-3 minutes.
Transfer the dough to a large mixing bowl and allow to cool for 5 minutes. Add the beaten eggs to the dough in four additions, beating well after each addition. Continue stirring until all eggs have been incorporated and the dough is completely smooth.
Spoon the dough into a piping bag with a 1/2 inch nozzle. Pipe 1-inch rounds of dough onto the baking sheets, leaving about an inch in between the rounds. If dough seems to thin, let firm up in the fridge for 30 minutes. Bake the profiteroles for 10-15 minutes, until golden and firm. Remove from the oven and pierce the bottom of each with a wooden skewer. Cool on a wire rack with the holes facing upwards. Once cool, cut the profiteroles in half lengthwise with a serrated knife
For the chocolate sauce and assembly:
5 oz. bittersweet chocolate, finely chopped
3 TBS butter
2 TBS sugar
1/2 c. heavy cream
Bring a large pot of water to a gentle boil. Place a heatproof bowl over the top of it, and add the chocolate, butter, sugar, and heavy cream to the bowl. Heat until chocolate has melted and sugar has dissolved, stirring frequently. Once melted, remove from heat. If sauce is broken (the butter seems to have separated) whisk vigorously to help it come together.
Place a small spoonful of ice cream inside each profiterole, then drizzle with the warm chocolate sauce. Serve immediately.
Disclaimer: I received a review copy of both these cookbooks from Hardie Grant Books free of charge, but was not otherwise compensated for writing this review.