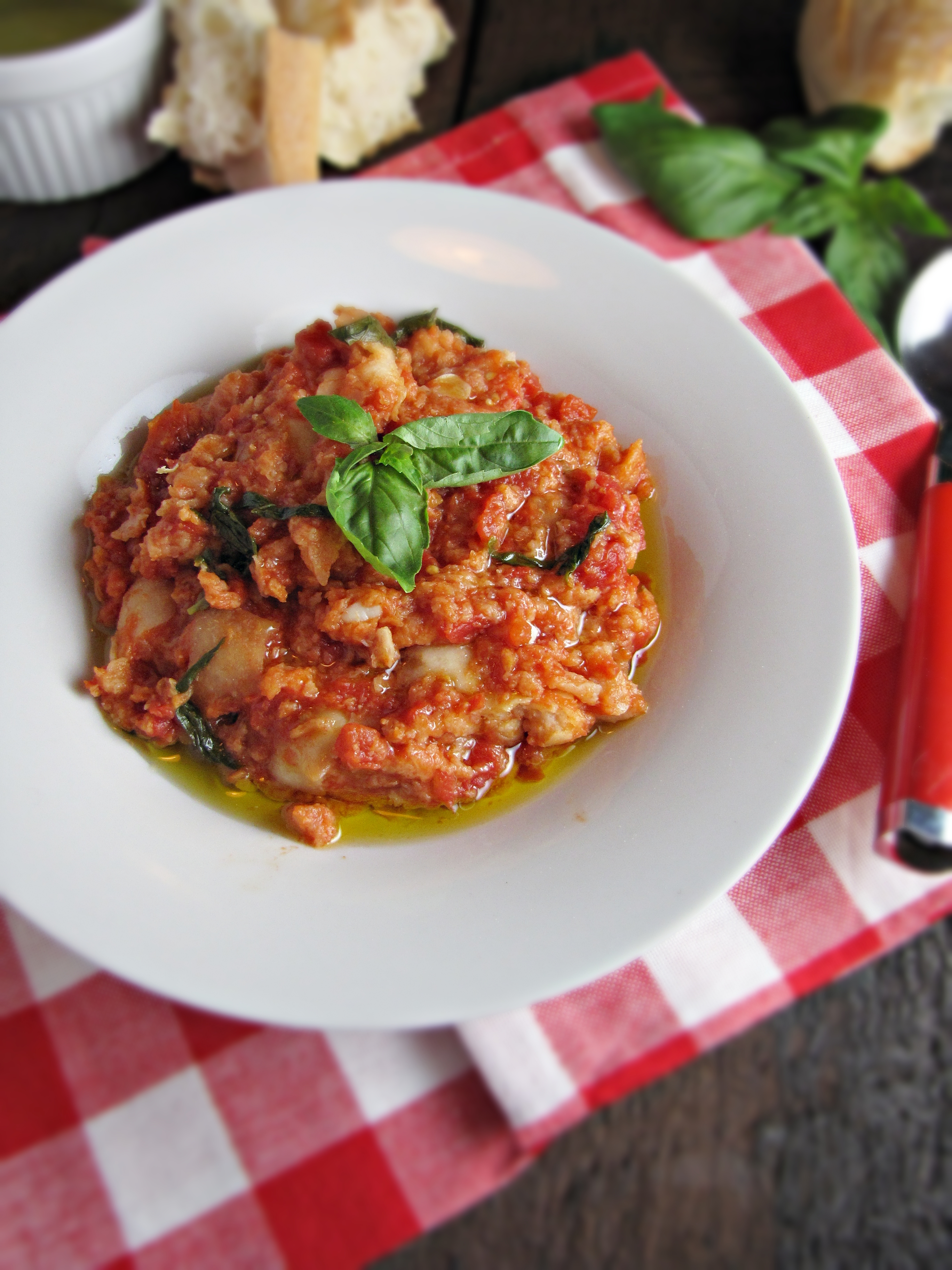 This month's cookbook of the month is Radically Simple by Rozanne Gold.  I love this cookbook – it's 100% true to its title, and in my mind, simple food that manages to generate "radical," bold, exciting flavor is pretty much the goal of home cooking.  As Rozanne quotes in her introduction: "In cooking, as in all the arts, simplicity is the sign of perfection" – Curnonsky.
Rozanne's definition of simplicity is three-fold; it encompasses the number of ingredients, time, and technique.  A recipe doesn't necessarily need to be simplistic in all three areas to be "simple" – it's more about the balance between them all.  It is impressive that nearly all of the recipe instructions are stated in 140 words or fewer – when cookbooks so frequently elaborate the details of a three-part recipe over a series of 5 pages, the clear, minimalist instructions are refreshing.  The style of the book also mimics its theme, with clean, minimally styled (but lovely) photographs scattered throughout, and a strong focus on the content of the recipes – not a lot of storytelling going on here.  I think perhaps a good word to describe this book is useful –   it's inspiring and informative without any fluff.  I can actually see this being an excellent cookbook for my friends that don't cook much, or the ones that don't think they're good at it.  The ingredient lists are short enough to be non-intimidating, the techniques are basic, and the recipes are universally appealing.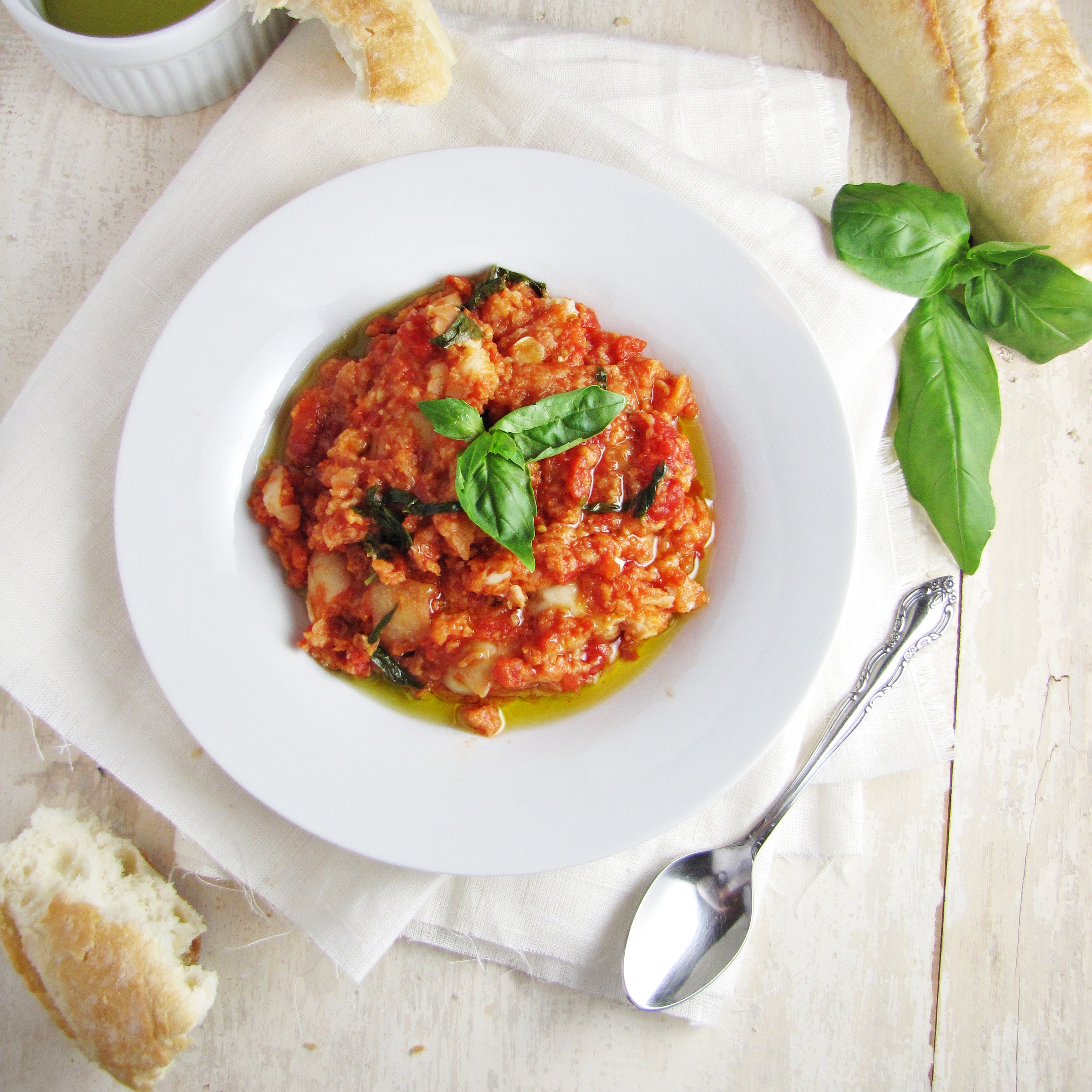 And the outcome of the recipes?  So far, I've been very pleased with everything I've tried.  In fact, I've been pleased enough to make some of the recipes multiple times, which is something of a rarity in my kitchen.  I shared two other recipes from Radically Simple this month: pea and wasabi soup, and lemon buttermilk ice cream.  Other recipes I've tried and enjoyed include campanelle with caramelized onions, peas and mint; onion soup with apple cider and thyme; and pappa al pomodoro (tomato-bread soup), which is featured here.  All of them were delicious, and I have a lot more recipes bookmarked.  Have I convinced you that I love this book yet?
When I first saw the recipe for pappa al pomodoro I got really excited.  Soup that's made from tomatoes, basil and… french bread?  Count me in!  I proceeded to make this on a chilly summer evening and be utterly satisfied.  It's only cooked for about 15 minutes in total, so all of the flavors – garlic, tomato, basil, pecorino, red chili flakes – sing their own notes to great combined effect.  It's kind of like eating a bowlful of pizza, except in an appetizing way.  Comfort food at it's finest.  Serve this nice and hot, with a drizzle of olive oil and a small sprinkle of cheese, and prepare to be happy.  And stay tuned for a final recipe of Rozanne's this weekend (spoiler alert: it includes grits and bacon), as well as another tomato-ey comfort food recipe for my Greatist post on Friday!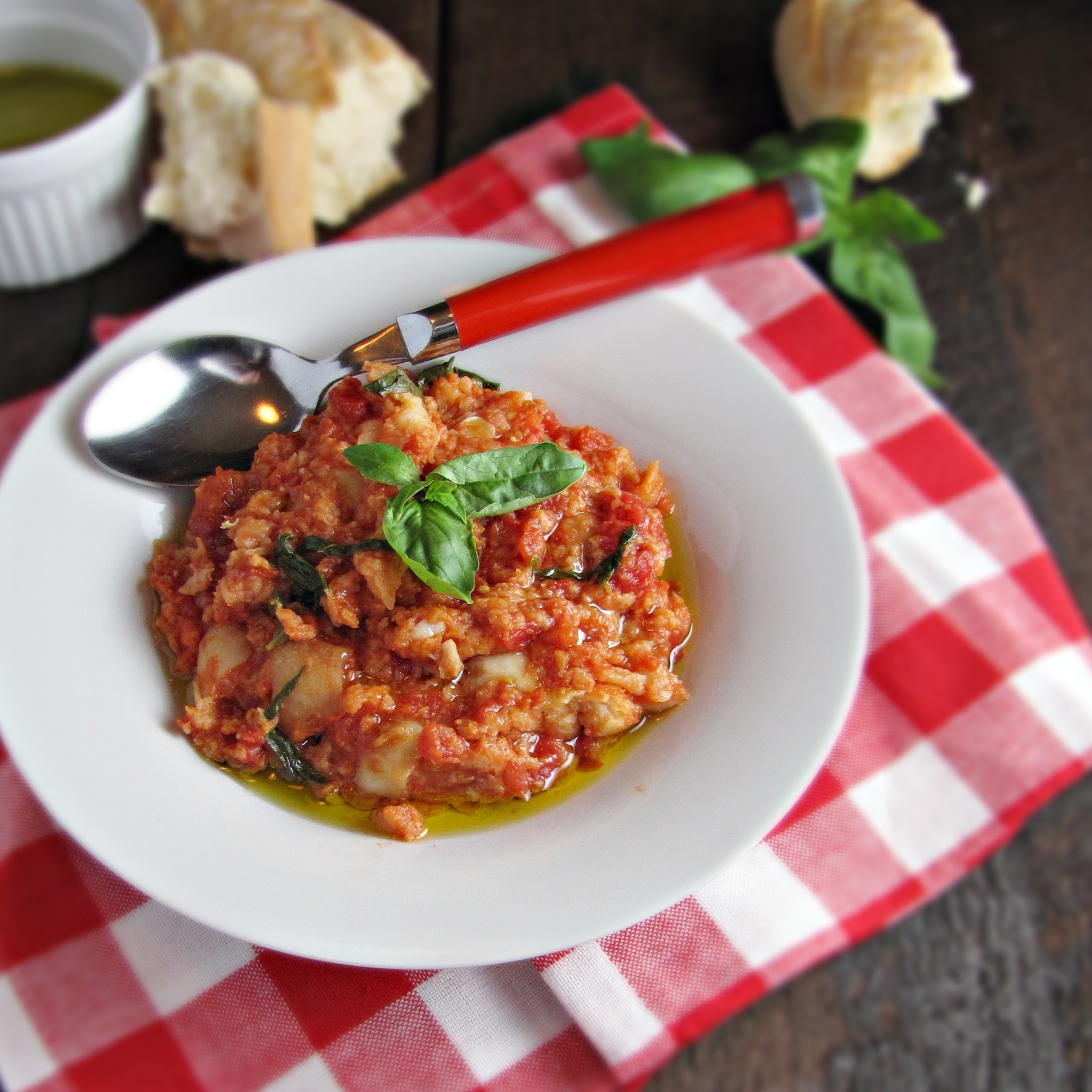 Pappa al Pomodoro
Adapted slightly from Radically Simple.  Serves 3 as a main.
2 TBS olive oil, plus more for drizzling
5 large garlic cloves, sliced
28-oz. can crushed San Marzano tomatoes
1 c. water or chicken stock
1/2 standard-sized baguette, torn into pieces (about 4-5 c. of bread pieces)
1/2 c. chopped fresh basil
1/8 tsp red pepper flakes
1/2 c. pecorino romano or parmesan cheese
Heat olive oil in a large pot.  Add garlic and cook for 2-3 minutes, until softened.  Add the tomatoes and the water/stock to the pot and bring to a boil, then reduce the heat and let simmer for 5 minutes.  Add the bread pieces, and cook, stirring, for 5-8 minutes, until bread is very soft.  Remove from heat, and stir in basil, red pepper flkaes, and cheese.  Serve hot with a drizzle of oil and extra grated cheese.