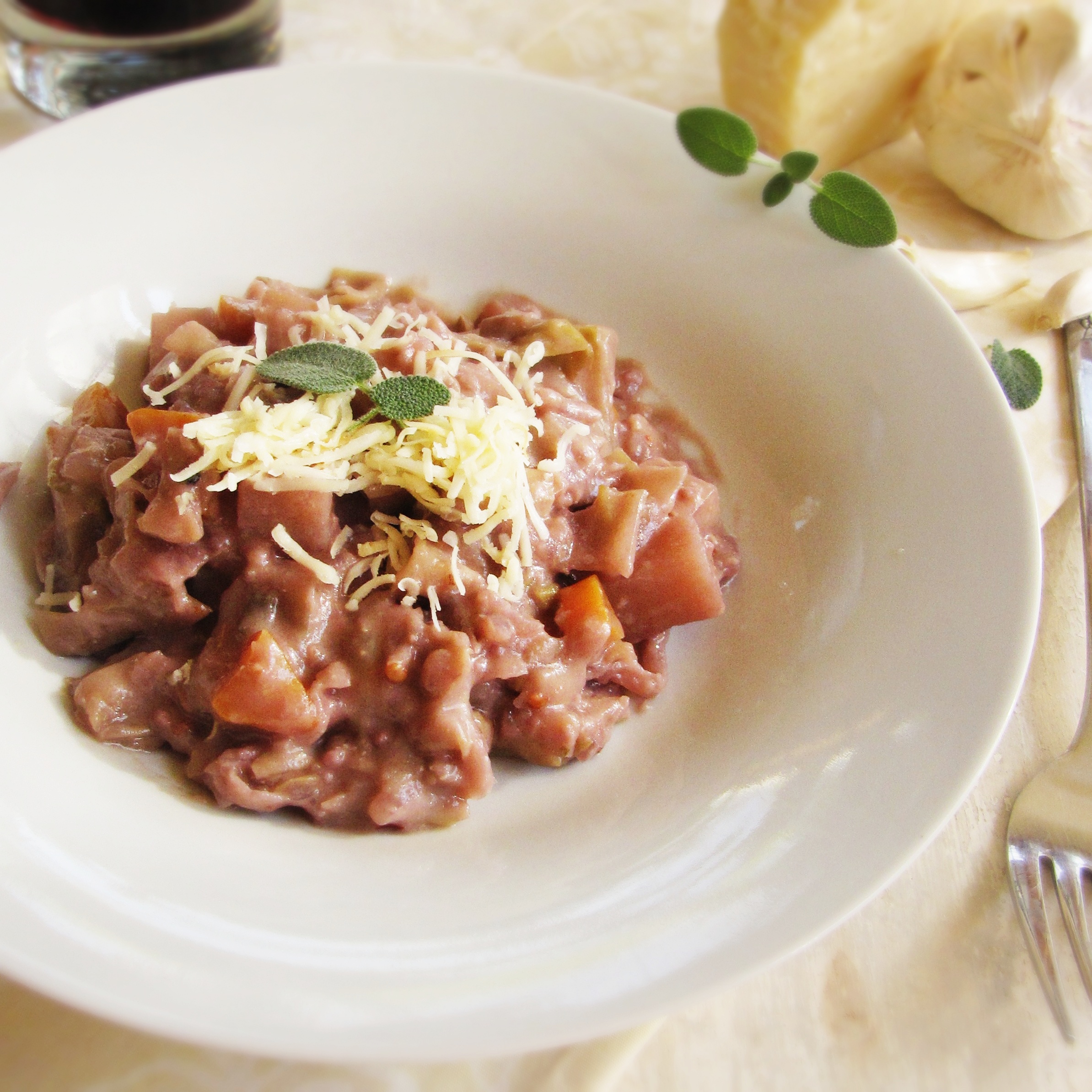 I know it's the day before Thanksgiving and everyone else is probably writing about Thanksgiving food… but I'm not.  I am actually making things to bring to Thanksgiving this year – specifically this roasted beet and carrot salad with goat cheese dressing, and this pear and celery salad, but they aren't actually in existence yet and so I can't take any pretty pictures or tell you how they were.  What I can do, however, is tell you about November's Cookbook of the Month – Peter Berley's Modern Vegetarian Kitchen
.
Compared to most cookbooks that I tend to grab off the bookstore shelves – generally the flashy, hot-off-the-press ones that I've seen popping up all over the internet – this cookbook is ancient.  Published in 2000 by Peter Berley and Melissa Clark, it's not toted as a culinary classic, but since it has flawless reviews on Amazon, I decided to take a look.  Sometimes I find that cookbooks written more than 10 years ago are already out of date – food trends seem to vary as quickly as other trends – hey, remember pogs? furby? how about silly bandz? – and recipes that were hip and new in 2000 have either gone out of style or become culinary staples.  In some instances, this book fell into the no-longer-that-interesting category for me – the vegetable chapter, for example, was sorely uninspiring, with only one recipe (for caramelized fennel) catching my eye amidst the pages of recipes for roasted root vegetables, sauteed garlicky greens, and steamed new potatoes.  However, other chapters were jam packed with great ideas, like the pasta chapter – recipes for chickpea flour pasta with zesty leek and tomato sauce, white bean ravioli in herbed vegetable and saffron broth, whole wheat pasta with creamy walnut-portobello sauce, and chestnut pasta with porcinis, pumpkin and leeks all surprised me with their originality.  This book also has strong Asian influences throughout, with a lot of sesame and seaweed used, but that influence is not overwhelming and is balanced by French, Indian, and German touches.  One of the books strongest points is its commitment to truly cooking from scratch – it includes recipes for several creative vegetable stocks, homemade curry powders, sourdough starters, and 5 or 6 kinds of homemade pasta, using wholesome and readily available ingredients.  It is also packed with recipes, and would be a great starter book for someone just starting down the vegetarian path and looking for both staples and a few more creative recipes.  I should also note that, as someone who eats meat with relish and just happens to cook mostly vegetarian because I find it more interesting and economical, that I whole-heartedly avoid any recipe that calls for tofu, seitan, or tempeh, so I'm not rating the book on that front, although it includes plenty of recipes for using those particular ingredients.  All-in-all, it's a solid, if slightly outdated, vegetarian tome that I'm likely to cook from again – I'll give it 4 out of 5 stars.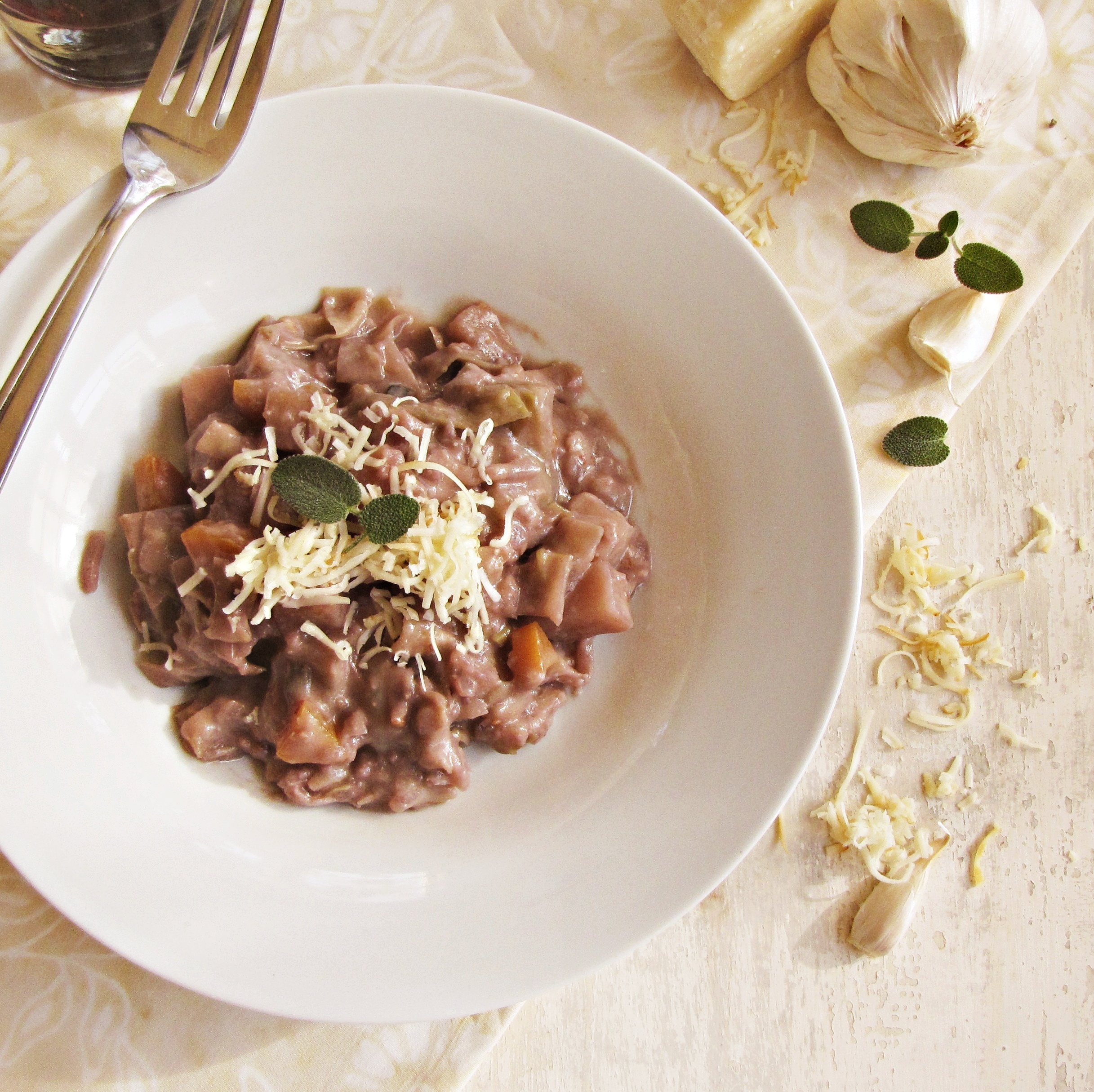 I've already shared two recipes adapted from this book – these sesame-cranberry-maple cookies (incredible!) and these white bean ravioli.  The recipe I'm sharing today is one for pizzoccheri, a traditional Swiss dish.  Unfortunately, I somehow managed to only copy down the ingredient list before preparing this, and totally neglected to write down the actual instructions.  I realized this just after I had prepped my vegetables and heated up my pot.  Not having the book around for reference, all I had to work with was a story from the header of the recipe about a Swiss host mother making this dish nightly by making a big vegetable soup, with red wine, then boiling buckwheat noodles in the soup, and finishing it with cheese.  It sounded straightforward enough, so I just went for it, and it turned out great!  I now have a copy of the book in front of me again, and it turns out that the brief description was all I needed – I came up with almost exactly the same recipe that was printed.  That being said, this does not seem to be the traditional recipe for pizzoccheri.  A quick google search will reveal that it's generally a dish with similar ingredients, but layered and baked with buckwheat noodles like a lasagna, rather than served as a sauce.  I've never tried the traditional version, but I loved this one.  I actually preferred the dish without the buckwheat noodles, although I did make them by hand, and think that the sauce can stand alone as a meal – like a thick, hearty stew.  I'm printing the recipe the way I made and enjoyed it (i.e. without the pasta) rather than how it is originally written, since that's the way I ate it.  If you want a more authentic glimpse into the recipes in this book, check out the cookie or ravioli recipes listed above, or grab a copy for yourself.  It's only $15 on Amazon, and in my opinion well worth the amount of material it contains.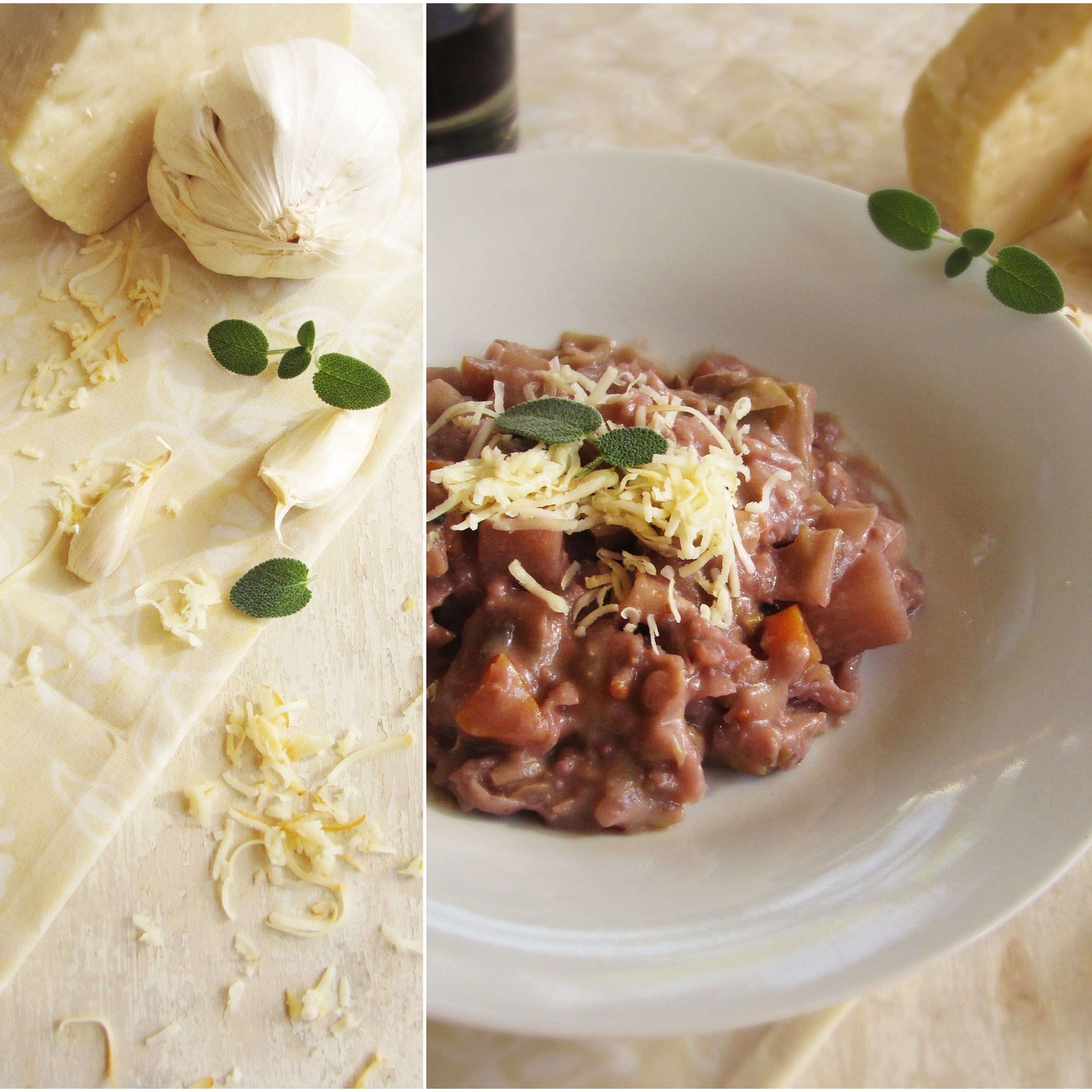 Pizzoccheri
Quite loosely adapted from Modern Vegetarian Kitchen
, by Peter Berley.  Serves 4.
2 TBS salted butter
1 red onion, thinly sliced
sea salt
2 c. chopped green cabbage (1 small head)
1 russet potato, washed and cut into 1 inch cubes
1 carrot, peeled and cut into 1 inch cubes
6 garlic cloves, sliced
6 sage leaves, minced
pinch red pepper flakes
1 c. red wine
1 c. water
1/2 c. grated smoked gruyere
salt and pepper to taste
Melt the butter in a large saucepan over medium heat.  Add the onion and a pinch of salt and cook until onions are very tender.  Add cabbage, potato, carrot, garlic, sage, and red pepper flakes and cook for 3-4 minutes.  Add red wine and water and turn heat down so that stew is simmering gently.  Cook, uncovered, for about an hour, adding more water as necessary to keep vegetables just covered, until all vegetables are tender and sauce has reduced and thickened to an applesauce-like consistency.  Turn off heat and stir in grated cheese, then season with salt and pepper.  Serve hot, either alone, with a thick slice of fresh bread, or on pasta.