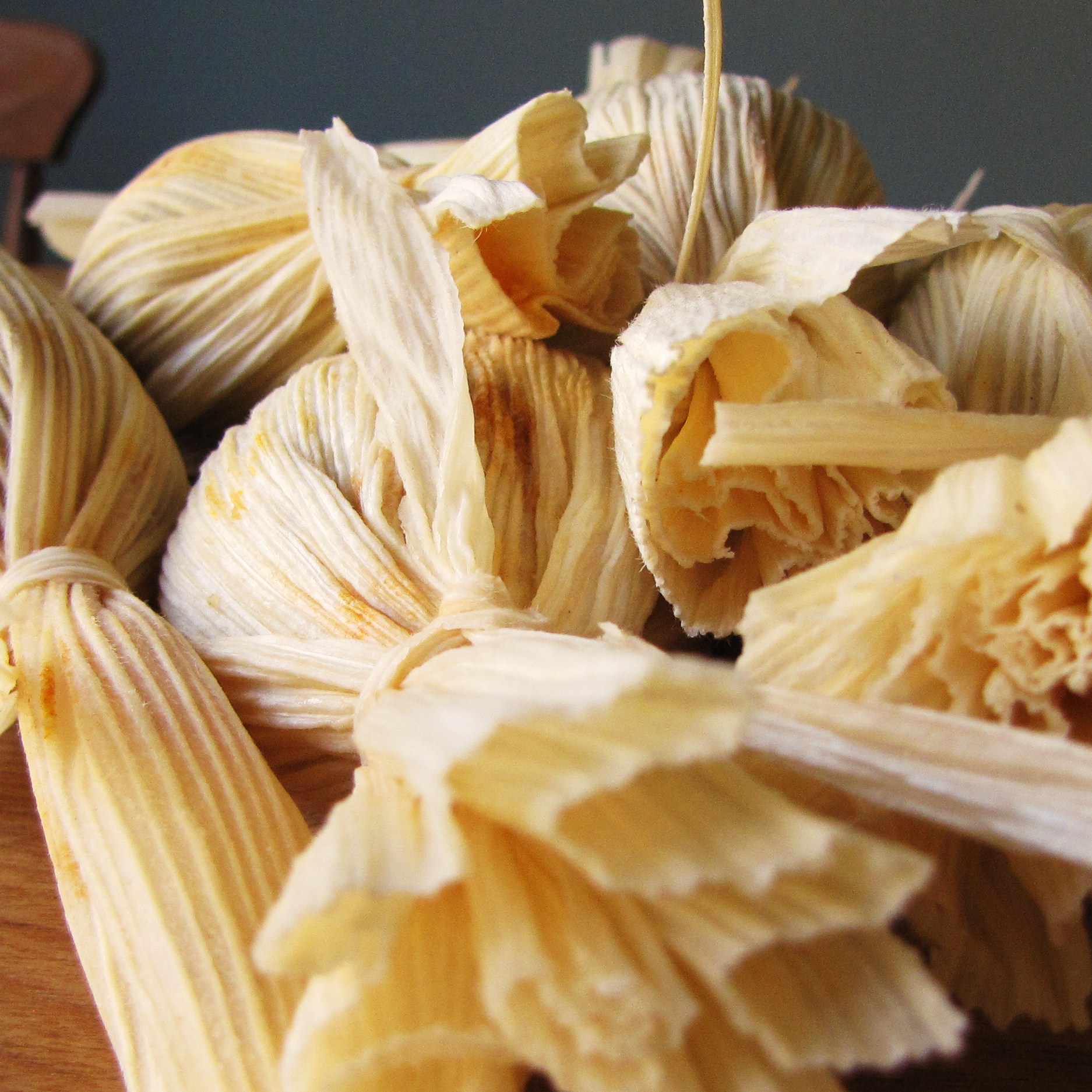 My internet persona has been so M.I.A.  It's just that I got distracted by real life things like moving to a new apartment and hunting down my missing research advisor and learning to live in the same 1000 sq. ft. as my not-so-long-anymore distance boyfriend.  There's been a lot going on, but it's been a good time.  The pictures I printed three months ago are actually on the walls now.  A working vacuum cleaner is once again within my grasp.  My herbs are thriving on their new porch.  Almost thriving.  Not dead.  We survived a night camping at an incredibly beautiful beach.  And we had a little party last night.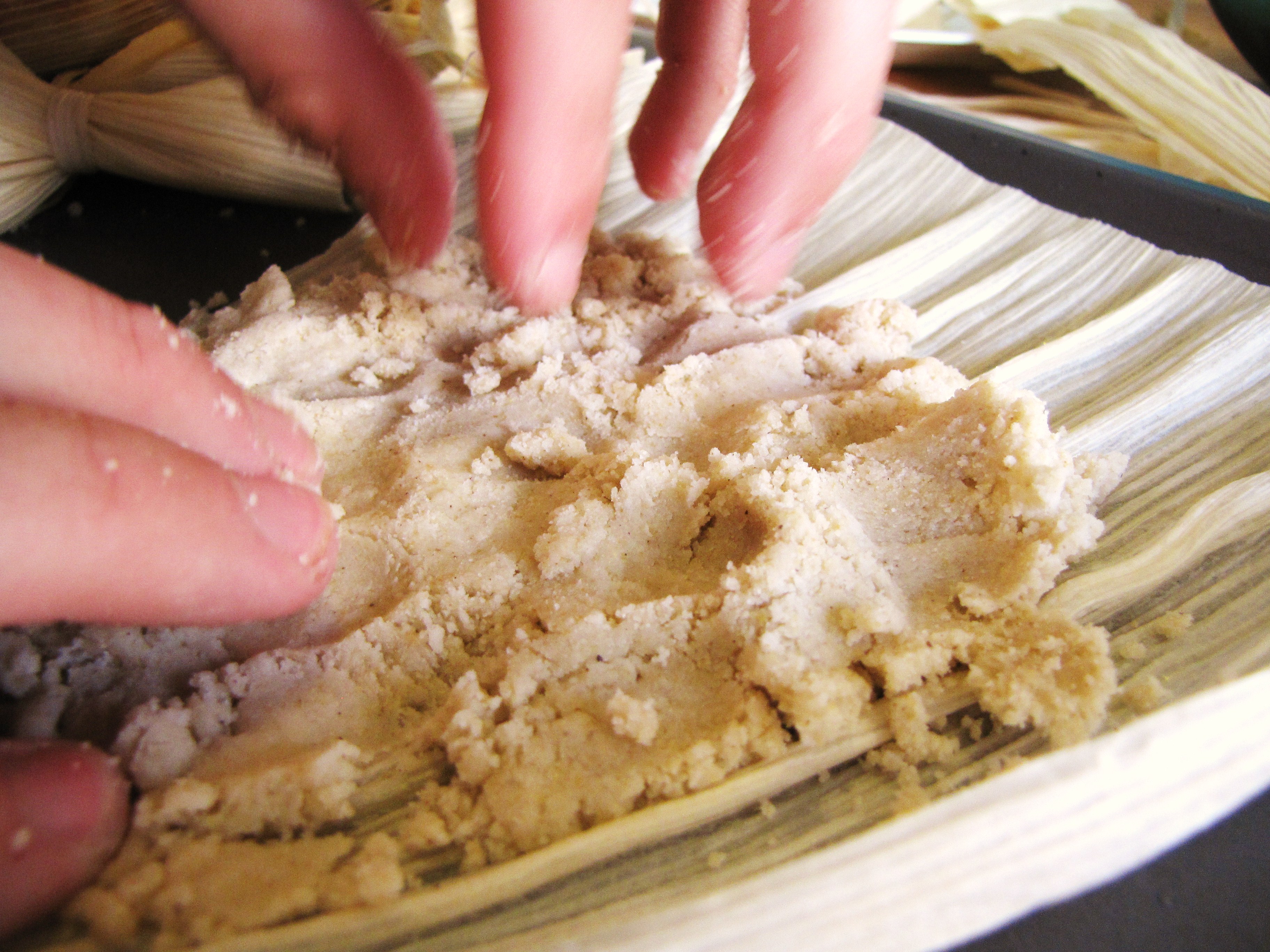 Parties are just the best, aren't they?  You get to eat and drink and laugh with people that you like.  What more could you want?  And this party, this party involved a new food, a food that's been on our list for a long time: tamales.
Mmm, tamales.  Although they were indeed served hot, I would like to clarify that they were not hot tamales.  Why are they called that anyway?  I really don't see any resemblance between a small, red, cinnamon flavored candy and a large, steamed corn husk full of masa and chili sauce and exceedingly tender beef.  Someone in the candy industry goofed.  And now there are probably many poor lost souls who don't know what a real tamale is.  Which is tragic, because they are really good.

However, they are a serious time commitment.  The beef needs to stew for 3 hours.  The chili sauce takes 45 minutes.  The corn husks need to soak for half an hour.  You have to assemble each tamale by hand.  And then they need to steam for an hour.  So not something you can really throw together at the last minute.  But I'm not telling you this to scare you away!  On the contrary, they're very easy.  And they're very social.  So if you feel like inviting some friends over and drinking sangria and tequila and having everyone play with their food, you should really go for it.  Just make sure you have many snacks to sustain the diligent tamale makers.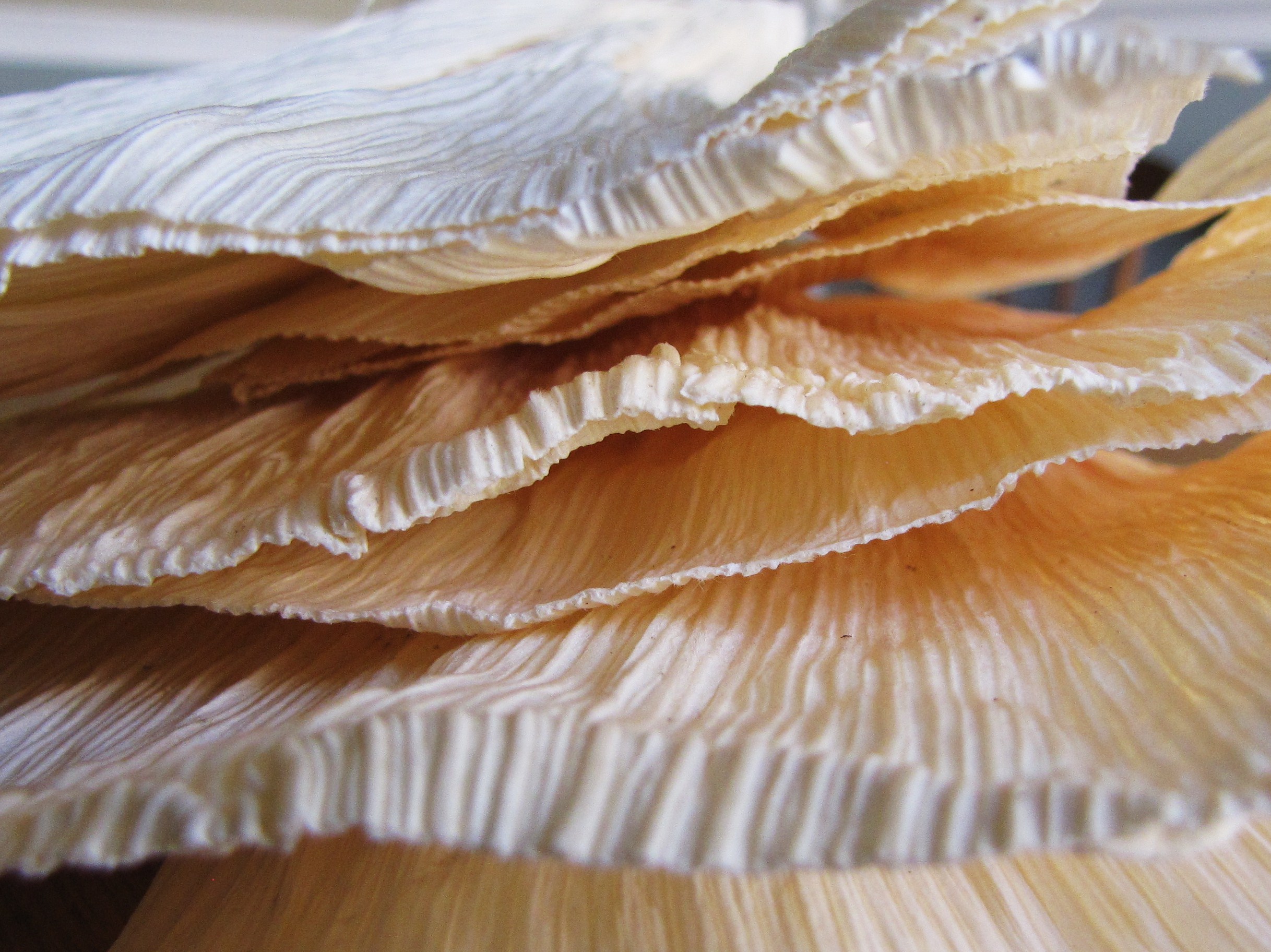 And make a lot.  We made a lot.  We now have a lot.  Tamales on tamales.  Tamales for days.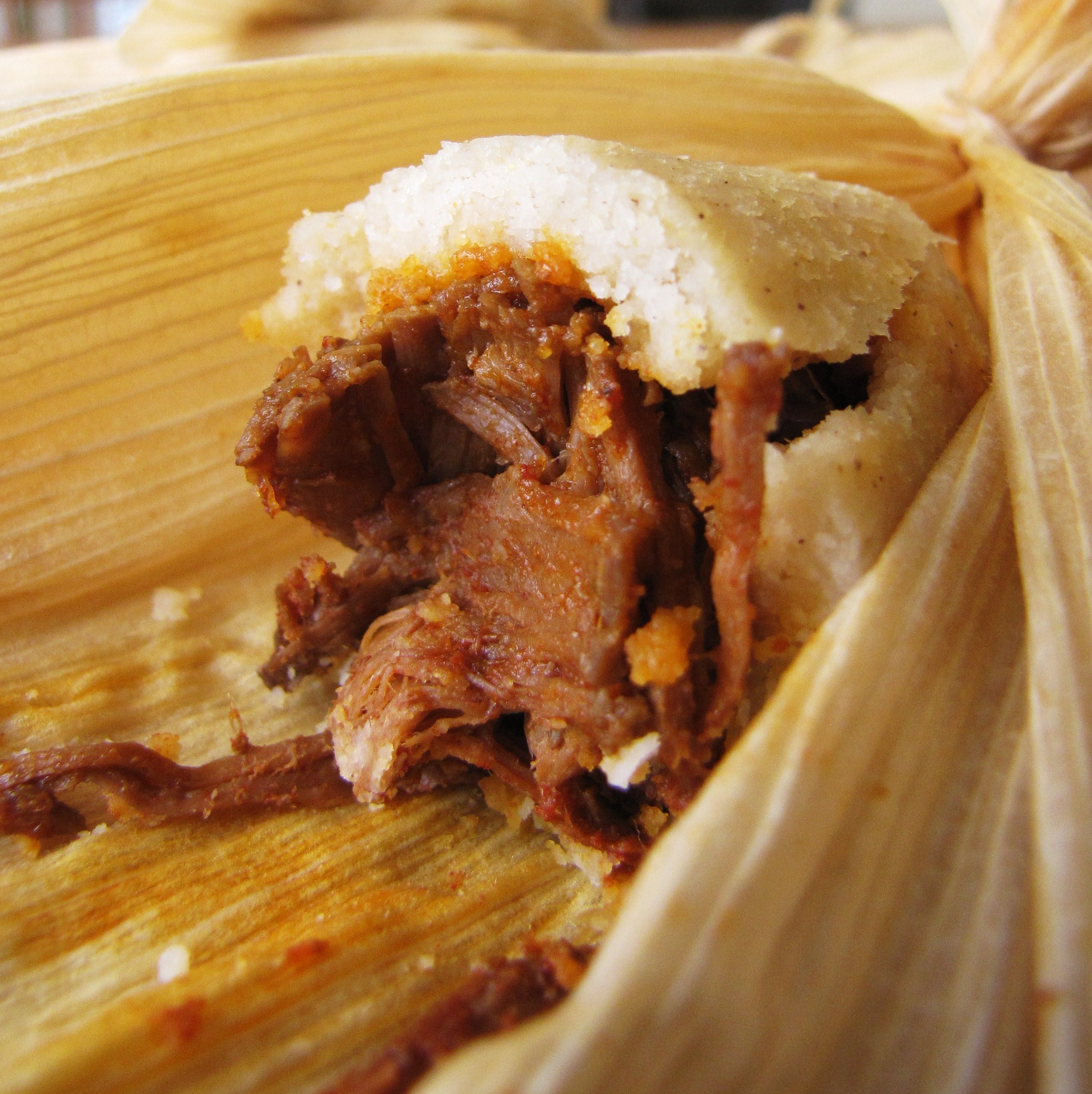 This is a positive thing.
Beef Tamales
Adapted from Food Network
2.5 pounds beef shoulder roast
Salt and pepper
2 onions, sliced
6-12 cloves garlic, peeled and crushed
6 dried New Mexico chilies
2 dried ancho chilies
2 TBS cumin seed, toasted
2 tsp molasses, optional
1 bag dried corn husks (3-4 dozen)
4 c. masa flour
1 TBS baking powder
4 c. reserved beef broth from roast
2 tsp salt
1 c. shortening or lard
Timeline:  Prepare roast.  While stewing, make chili sauce and masa mixture.  When beef is done, begin soaking corn husks.  Shred cooled roast and mix with chili sauce.  Form tamales.  Steam tamales.  Eat tamales.
For the beef:
Season the beef shoulder on both sides with salt and pepper.  Brown in large, heavy-bottomed dutch oven.
When browned on all sides, cover roast completely with water.  Add 1 of the sliced onions and 6-10 cloves crushed garlic.
Cover and simmer for 3 hours, until meat is tender enough to pull apart with a fork.
Remove roast from pan and place on platter to cool.  Keep the broth – it is used to make the masa.
For the chili sauce:
Cut the tops off of the dried chilies and shake the seeds out.  Slice lengthwise to open up and remove any remaining seeds and ribs.
Place chilies in a medium pot.  Cover with water, add the toasted cumin, remaining onion, and remaining garlic.  Boil for 20 minutes, until chilies are very soft.
Use tongs to place chilies in blender.  Ladle some of the chili water into the blender.  Puree until smooth.  Pass puree through strainer.  Add salt, and molasses if desired, tasting to check seasonings.  Keep sauce in fridge until it is ready to be used.
Note:  The original recipe instructs you to add only one ladle-ful of chili water to the blender.  However, I added all of the chili water because I wanted to get all of the cumin seeds and as much flavor as possible into the sauce.  This led to a very thin sauce, so I returned it to the pan and boiled for another 10 minutes until the consistency was as desired.  Trevor thought the sauce needed an extra dimension so I added molasses and it worked perfectly.
For the masa:
In a large bowl, combine the masa, baking powder, and 2 tsp. salt.
Pour 4 cups of reserved beef broth into masa a little at a time, working it in with your fingers.
In a separate bowl or mixer, beat shortening until fluffy.  Add it to the masa and beat until it has a spongy texture.
Assembly:
Carefully separate dried corn husks in soak in a large pan or sink filled with warm water.  When corn husks are soft and no longer fragile, drain and pat dry.
Shred beef into small pieces by hand and mix with chili sauce.
Take several of the corn husks and tear lengthwise into half inch "ropes."  These will be used to tie the tamales.
To form a tamale, take a corn husks and place rough side down with the narrow end pointing towards you.  Take a small handful of masa and press it into a square in the middle of the corn husk.  Their should be an inch or two free on the top and bottom of the corn husk, and an inch free on one side of the corn husk.  Place a heaping tablespoon of the beef mixture into the middle of the masa, keeping it away from the edges.  Carefully fold the sides of the corn husk together so that the edges of the masa are just touching, and wrap the extra husk around the outside.  Using the strips of corn husk, tightly tie the ends of the tamale together so that it resembles a Christmas popper.
Fill a large stockpot with 2-3 inches of water and bring to a low boil.  Stand tamales up in a steamer basket or large colander and place over boiling water.  Cover tamales with a damp towel, and place lid over pot/steamer or pot/colander combination.  Steam tamales for one hour, checking occasionally to make sure the water does not boil away.