At exactly 9:28 last night I contracted the flu.  And I'm only exaggerating a little bit – this thing is sudden and lethal.  OK well not lethal.  But I did spend the hours between 10 and 6 sleeping today.  It is now 7 and I'm ready for bed.  Fortunately, that seems to be the only thing this flu requires – that all of your waking hours be spent asleep.  There's no horribly upset stomach or maddeningly sore throat or anything.  Unfortunately, I am not psychic and so ate all of the leftovers in the house yesterday before 9:28.  Except for the raspberry coffeecake which seems to be disappearing imperceptibly on my counter but I don't think that has the appropriate nutritional value for the seriously ill.
I also did not have the foresight to buy things like canned soup, jello, and gatorade, which mothers seem to produce magically upon the first signs of flu.  And the grocery store is dauntingly far away from my bed.  I did, however, happen to have chicken and chickpeas in my freezer, coconut milk, canned tomatoes, and lots of root vegetables in my fridge.  This prompted me to decide that chicken curry is the perfect dish for someone sick and without a mother in the same state for the following reasons: it takes 20 minutes to put together, which is exactly the amount of energy I have, it involves one pan, which is only one more pan than I want to wash (maybe my roommate will do it…), the heat is good for clearing your head, and you can load it up with potatoes, tomatoes, carrots, and other vitamin C rich veggies that might be lying around your vegetable bin.  Also, on the off chance that I make it to class tomorrow, this totally solves the problem of lunch.
I originally found this recipe on AllRecipes but have ended up adding twice as many ingredients as are in the original recipe, and taking out half the things that were in the original recipe.  So I don't really think it's the same recipe anymore.  It's also not authentic in the slightest, nor does it have particularly complex flavors, but it is easy, cheap, and delicious.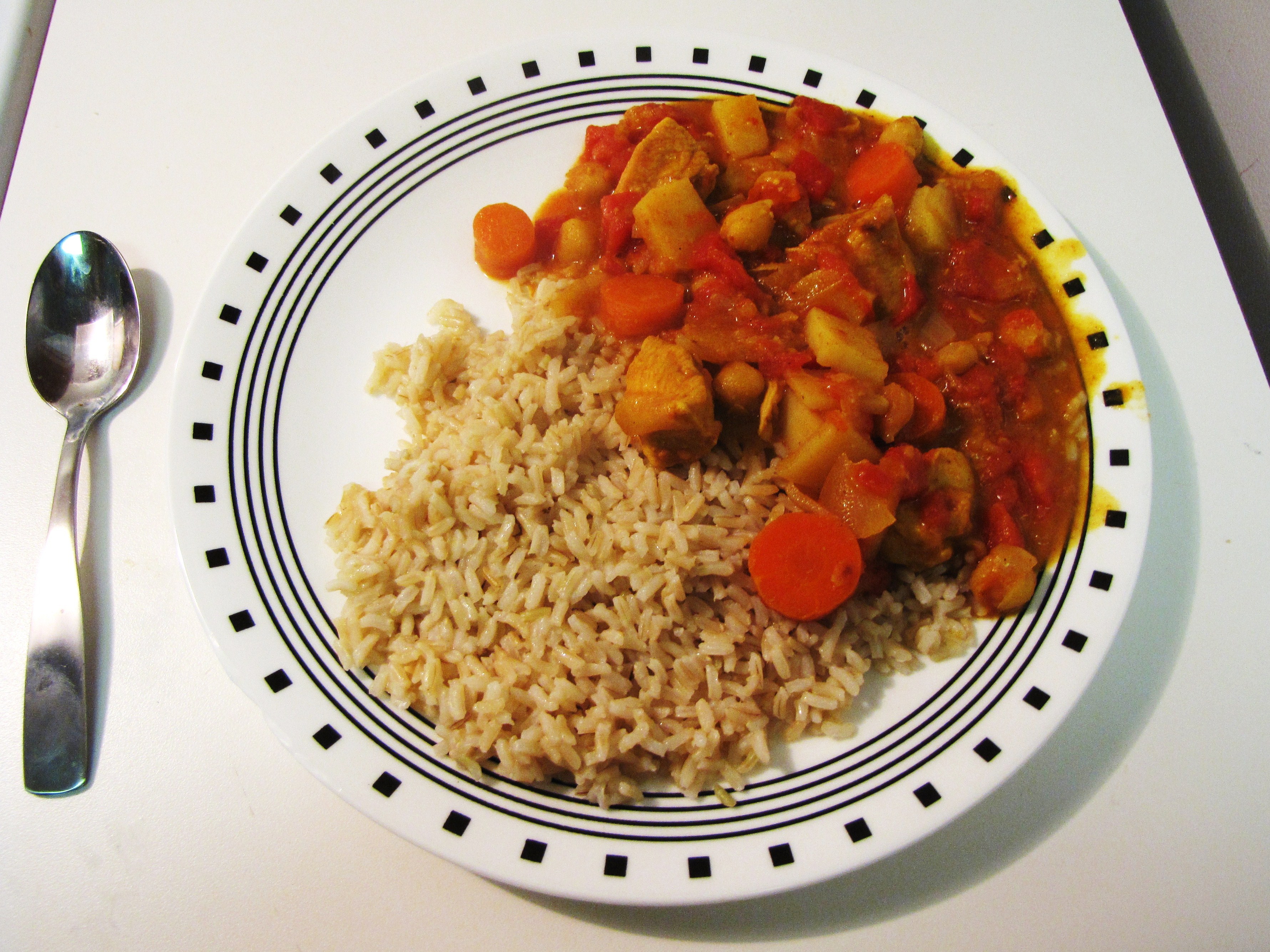 Coconut Chicken Curry
(makes 4 dinner sized servings)
2-3 boneless skinless chicken breasts, cubed
2 T olive oil
1/2 medium onion, diced
2-3 T curry powder
2 cloves garlic, diced
1 can (14 oz.) diced tomatoes
1 can coconut milk
2 carrots, thinly sliced
1 yukon gold potato, diced
1 c chickpeas, canned or pre-cooked
3 T sugar (optional)
salt, pepper to taste
Heat the oil in a large skillet or dutch oven over medium heat.  Add curry powder and sautee 1 to 2 minutes.  Then add onions, and sautee 3-5 minutes, until beginning to soften.
Add chicken strips and garlic to curry-onion mixture and cook for 5-8 minutes, until chicken is just cooked through (it will continue cooking in the tomato and coconut juices; overcooking at this stage will make it very tough).
Add coconut milk (don't forget to shake before opening!), tomatoes, carrots, potatoes, and chickpeas.  Simmer, covered, until potatoes and carrots are cooked through, about 30 minutes, stirring occasionally to prevent bottom from burning.  Season with salt, pepper, and sugar if desired.  Serve over rice.
*Some notes:
I hate chopping garlic because it makes your hand smell for days.  Literally.  So I almost always use crushed or minced garlic and plop 1 teaspoon of it into whatever I'm cooking for each clove of garlic called for.  Feel free to do this.
This is just a story about Corelle dishware.  So the second half of my onion was sitting quietly in one of my new Corelle bowls, when it inexplicably jumped off the counter.  Eyes squeezed shut in anticipation of shattered dish everywhere (exactly what you do not want when 19 of your 20 minutes of energy have already been used), I waited for the sound of cracking.  But there was none.  Opening my eyes, I saw onion pieces all over the floor, but the dish was not so much as chipped.  Kudos, Corelle.