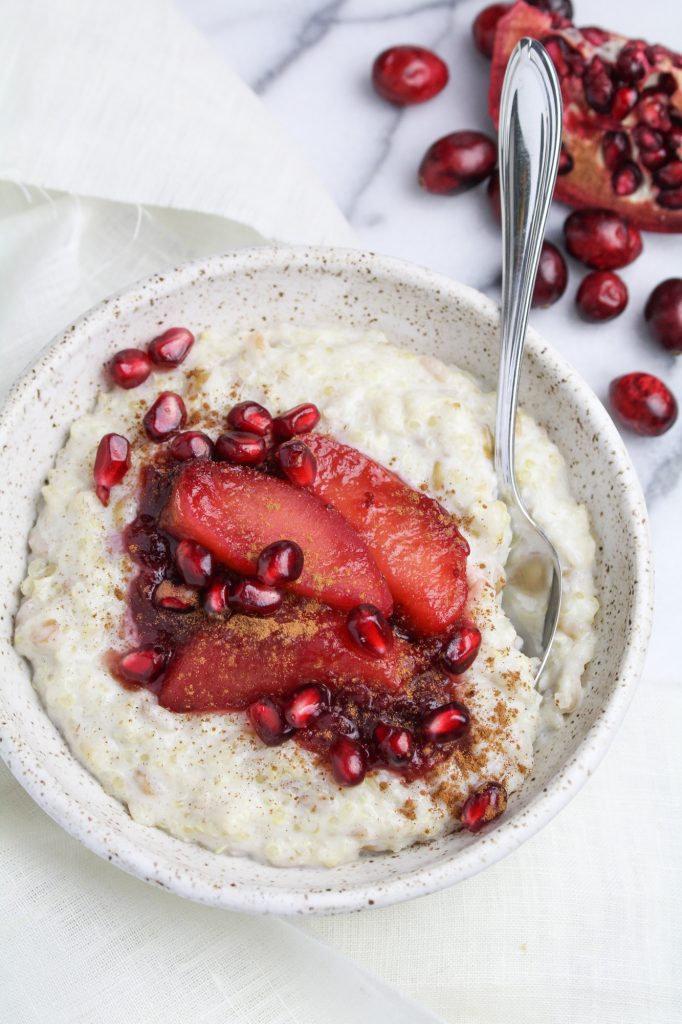 Greetings from Lisbon! Time is flying by here – I can't believe it's been two weeks already.
The weather has been beautiful here, sunny and gentle every single day. Generally it's been warm, in the 60s, but the past two days it's gotten really cold. Of course, not as cold as Boston, where we unfortunately had a pipe burst only a few days after leaving (and we left the heat on). But as I write this I'm huddled around the little electric heater in our Air BnB, which is doing double time by also drying our laundry.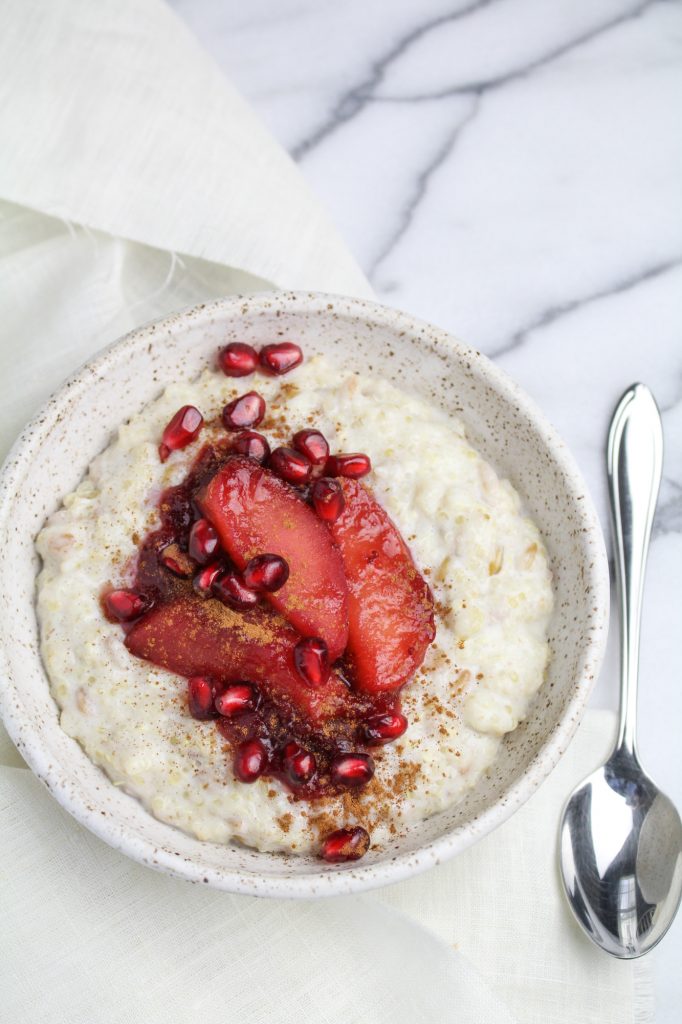 Breakfast here is typically a pastry and an espresso while standing at the counter of a pastelaria. It's delicious, but with the cold this week, I could definitely do with something heartier. I made this whole grain porridge just before leaving, and it got me through that first week of January cold and snow. I used a mix of quinoa, farro, oats, and semolina to prepare it, and then topped it with apples stewed with maple syrup and fresh cranberries. It was delicious.
Trevor objected to my use of the word porridge ("what are you, Goldilocks?"), but I can firmly state that this porridge is just right. [Edit from Trevor: "it's a stupid word, it's a stupid food."] It's also much better than oatmeal. While oatmeal is convenient and easy, it can get thick and gloppy, especially if rushed. This porridge was much creamier and more varied in texture. Not to mention it was healthier with four different grains. I made a big batch, portioned it out into five tupperwares, and was ready for the week.
If you're somewhere cold, too, I hope you're staying warm!
Like what you just read? Subscribe to Katie at the Kitchen Door in the box on the right, on Feedly or Bloglovin', or follow along on Facebook, Pinterest, or Instagram. Thanks for reading!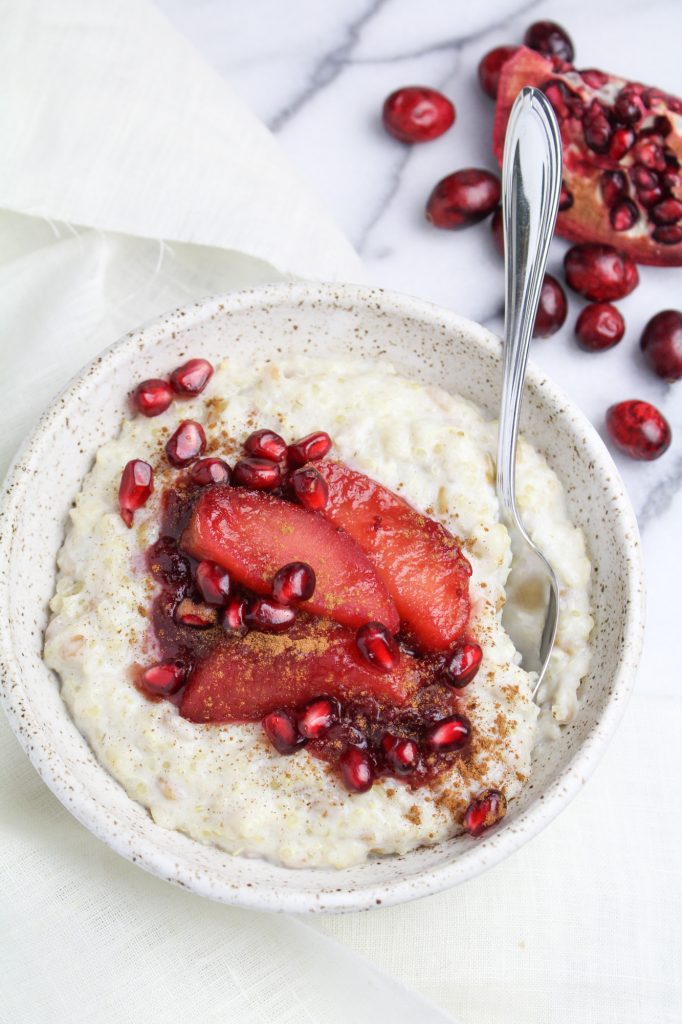 Print
Whole Grain Porridge with Poached Apples and Cranberries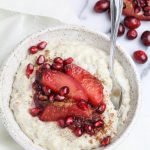 A comforting, creamy whole grain porridge perfect for chilly winter mornings. Topped with stewed apples and cranberries and lightly sweetened with maple syrup.
Ingredients
1/2 cup quinoa
1/2 cup stone cut oats
1/2 cup farro
2 1/2 cups water
3 cups milk
1 cinnamon stick
1/4 tsp salt
1/4 cup farina (Cream of Wheat)
4 apples, peeled and cut into wedges
1 cup of fresh cranberries
1 1/2 cups apple cider
3 TBS maple syrup
fresh pomegranate seeds, for garnish (optional)
Instructions
Place the quinoa, oats, farro, water, and 2 cups of the milk in a large non-stick saucepan. Bring to a gentle simmer over low heat, stirring frequently. Add the cinnamon stick and salt and simmer until all of the grains are tender, about 30 minutes. Add some of the additional milk as needed to keep the porridge loose and creamy. When the grains are cooked, add the farina and the remaining milk (1 cup or whatever you have left from the original 3 cups) and cook for an additional 2-3 minutes, until the porridge has thickened slightly. Remove from the heat.
Prepare the apples while the porridge is cooking. Add the apple wedges, cranberries, apple cider, and maple syrup to a medium saucepan. Bring to a gentle simmer over medium-low heat. Cook, stirring frequently, until the apples are tender and the cranberries have softened and slumped, about 10 minutes. Simmer for another 5 minutes to reduce the sauce to a syrup, then remove from the heat.
Serve the porridge warm, with additional milk if desired. Top with a few spoonfuls of the apple-cranberry mixture and fresh pomegranate seeds.