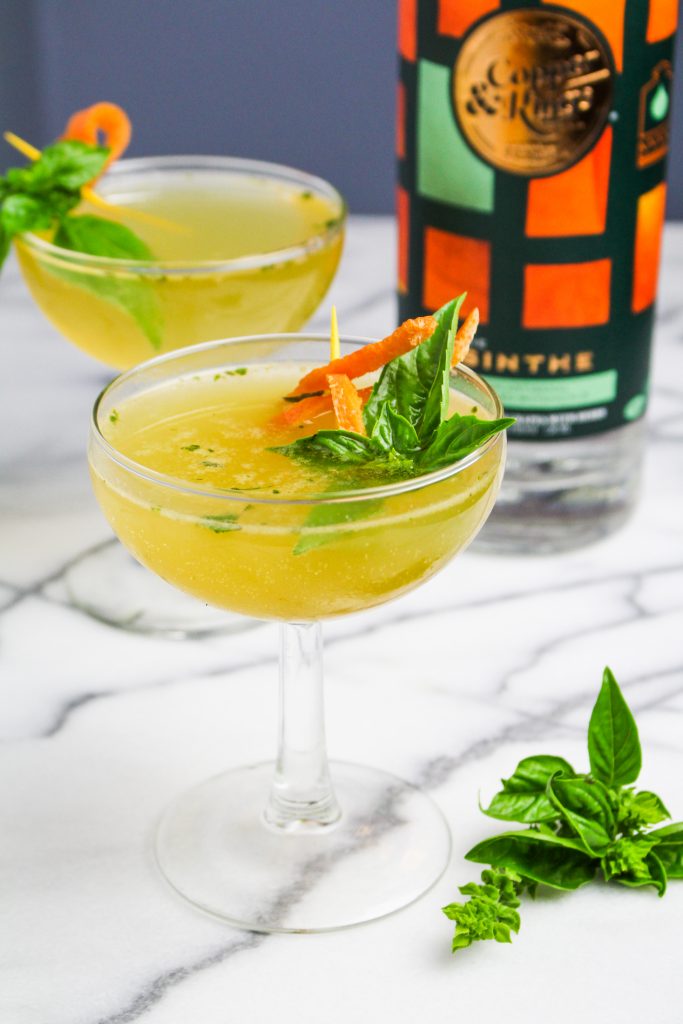 I'm on vacation this week, and after four solid days, I'm finally starting to relax into it. It's so amazingly quiet here in Maine right now, it's helping me let go of some of my anxieties, one by one. I love it. Even though vacation can sometimes be an excuse to drink more than you normally would, I want to leave this vacation feeling healthy and refreshed, so I've been trying to cut back, only grabbing a beer or pouring a glass of wine when I want that specific thing, not just accepting any drink that's available or offered. Drinking less makes the quality of each drink I do have that much more critical, so I've been leaning on wines and beers I know I love, and delicious, not-too-sweet cocktails… like this one, the "Green Derby," which is to celebrate the fact that I'm joining Drizly's Top Shelf blogger program.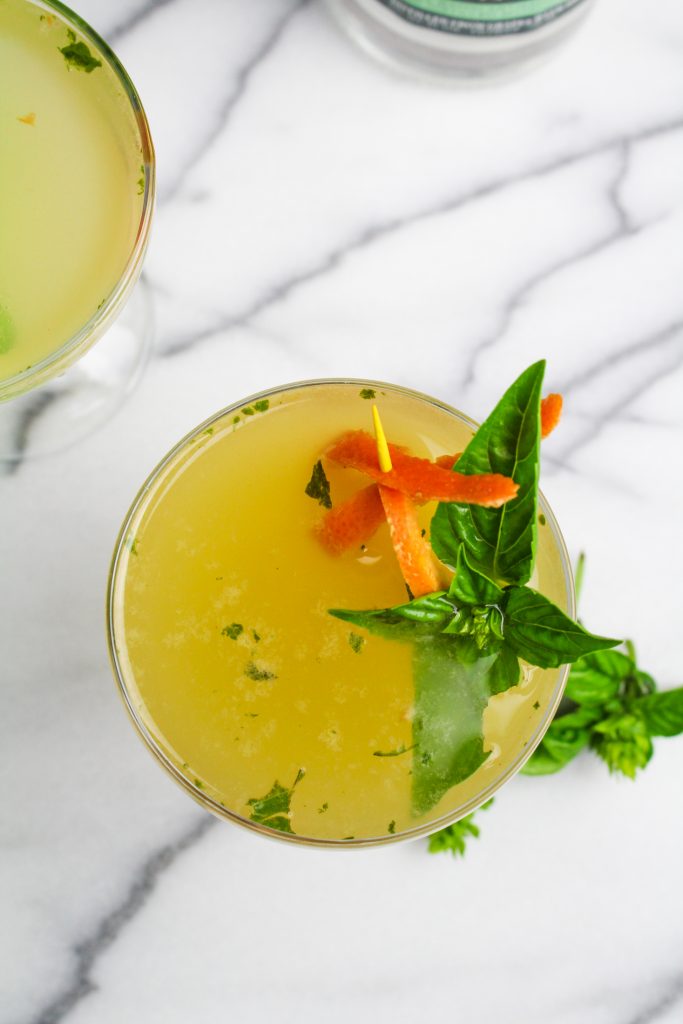 Drizly, a Boston-based start-up turned full-fledged company, is an alcohol delivery service that partners with local liquor stores to deliver beer, wine, and booze to your front door in an hour or less. You'll pay the same price as you would at the store, plus a small delivery fee in most regions, for the convenience of having your party ingredients dropped off at your door. It's the perfect solution for that last minute pre-party panic moment: "Are we going to run out of beer? Who's going to get more beer?!" or for those of us city-people without cars where the prospect of walking home with four bottles of wine and a case of beer is not pleasant.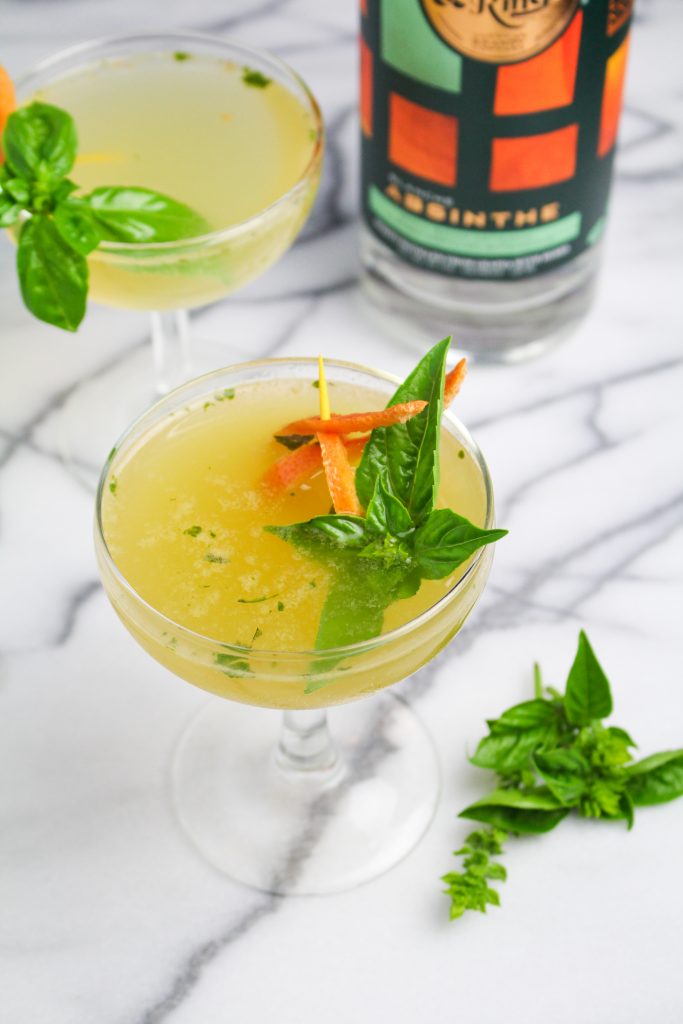 When thinking about what I'd want to feature for my first Drizly post, I took stock of our borderline-overflowing bar. Trevor and I love to experiment with different spirits from our travels, so our bar is quite a hodgepodge – myrtle liqueur from Italy, sake from Japan, Maple liqueur from Vermont, aguardiente from Colombia. One thing conspicuously missing, however, was absinthe, that famed, anise-scented green spirit banned for nearly a century for it's reported hallucinogenic properties. It has only been allowed in the US since 2007, and only in the past year or two have I started to see it on cocktail menus. With Drizly's help, we added a bottle to the top shelf.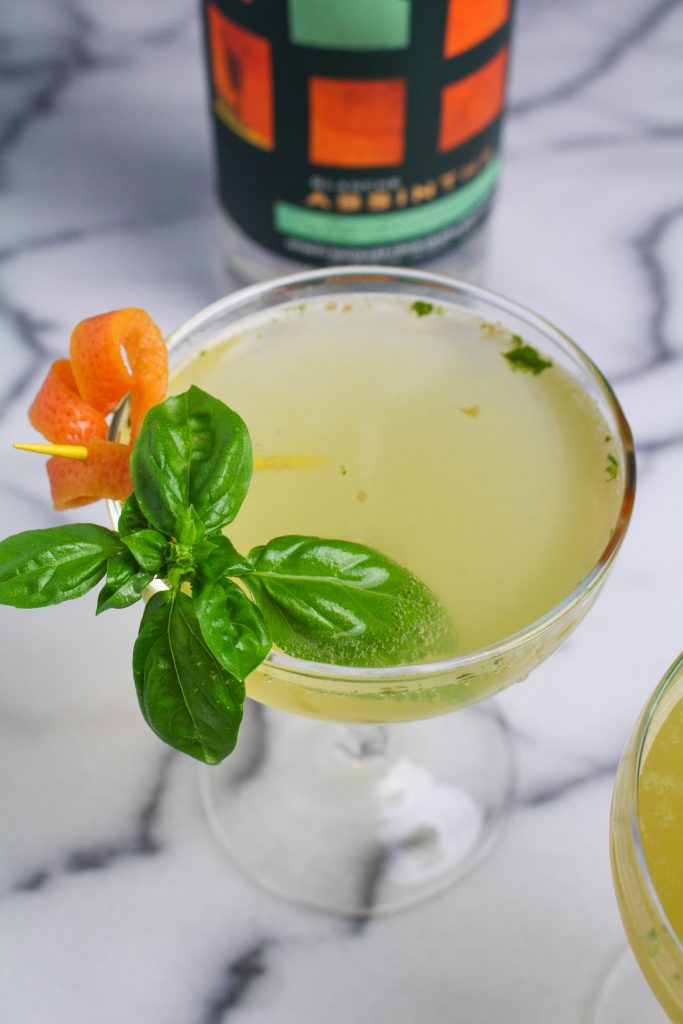 It took a bit of experimentation to get a cocktail that we were both happy with – I wanted this drink to be strong and reserved, more refined and mature than my typical booze + juice + champagne-to-top-it-off approach to cocktails. The absinthe is strong in both flavor and alcohol content, so our first attempt had an overpowering amount of absinthe. We tried mixing it with pisco, but it didn't quite work, so we moved on to bourbon, which was a much better match. Absinthe is traditionally served with a sugar cube, so we muddled some coarse sugar with basil and grapefruit for sweetness and additional herbality. We topped the whole thing off with just a splash of tonic to smooth out the drink. It's a drink that's worth drinking.
Disclosure: As a Top Shelf blogger, Drizly provided me with the absinthe for this post free of charge, but I was not otherwise compensated. As usual, all opinions are my own!
Like what you just read? Subscribe to Katie at the Kitchen Door in the box on the right, on Feedly or Bloglovin', or follow along on Facebook, Twitter, Pinterest, and Instagram. Thanks for reading!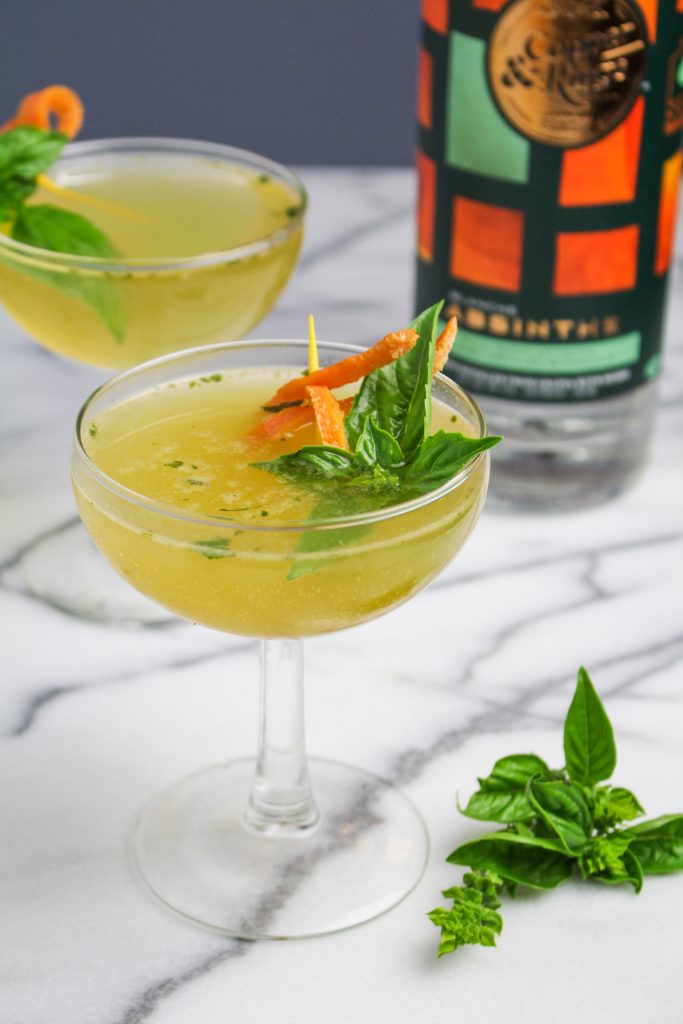 Green Derby Cocktail
A Katie at the Kitchen Door original recipe. Serves 1.
8 leaves fresh basil
2 pieces grapefruit peel
1 TBS turbinado sugar
1 TBS fresh lemon juice
1/2 oz. Absinthe
2 oz. Bourbon
Ice
Tonic water
Add basil, grapefruit peel, and sugar to a cocktail shaker. Use a muddler to crush the sugar into the basil and grapefruit peel until the basil is crushed into small pieces. Add the lemon juice, Absinthe and Bourbon to the shaker, along with 2-3 ice cubes. Put the top on the shaker and shake vigorously for 60 seconds, until the outside of the shaker is frosty. Strain into a coupe glass and serve immediately.