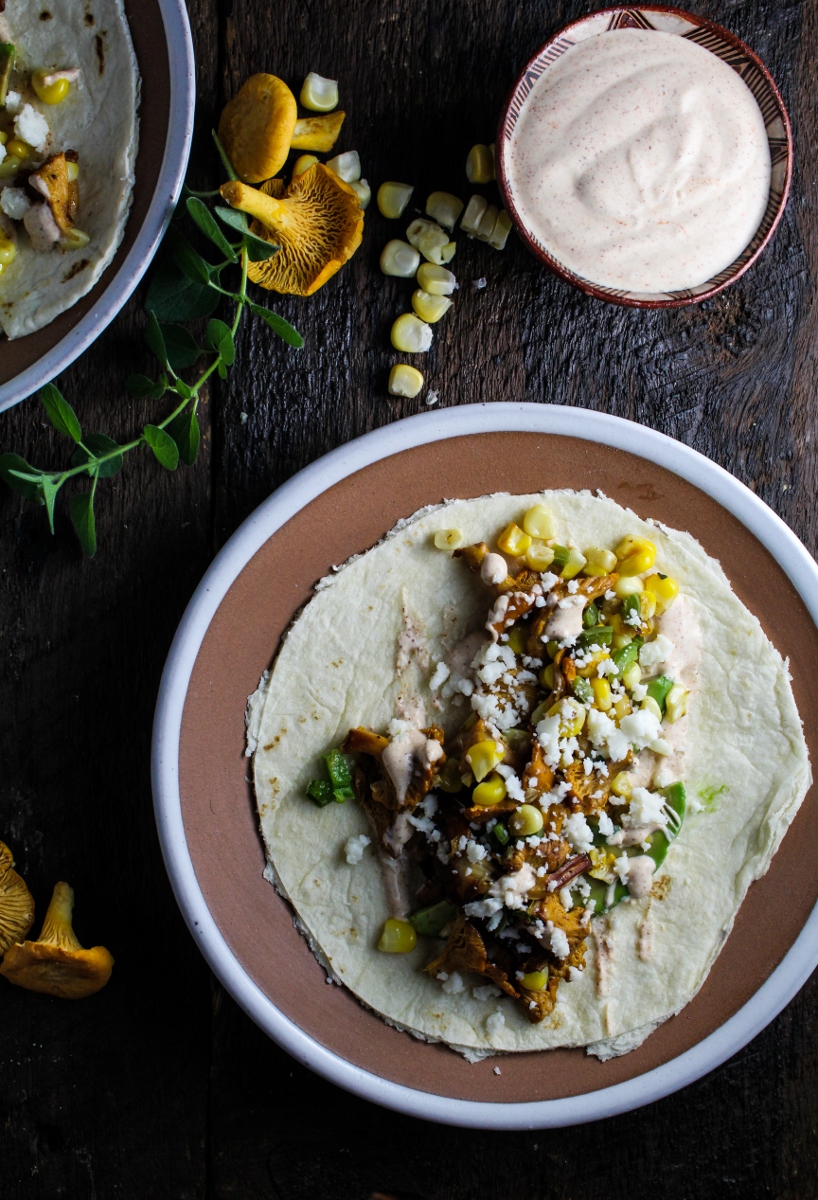 Last weekend, Trevor and I went on a little adventure. We drove up the coast into Maine, trekked out into the woods, and began our search for forest gold: chanterelles.
The first time I had chanterelles in any quantity was last summer in St. Petersburg. There's a much stronger foraging and preserving culture in Russia than here in the states, and when chanterelles come into season, the whole city explodes with лисички сезон (lisichki sezon) menus, featuring chanterelles in every form imaginable. Although prized and celebrated for their texture and flavor, they aren't the commodity that wild mushrooms are here, and while you may pay a few dollars more to have your mushroom soup made from chanterelles, it won't break the bank.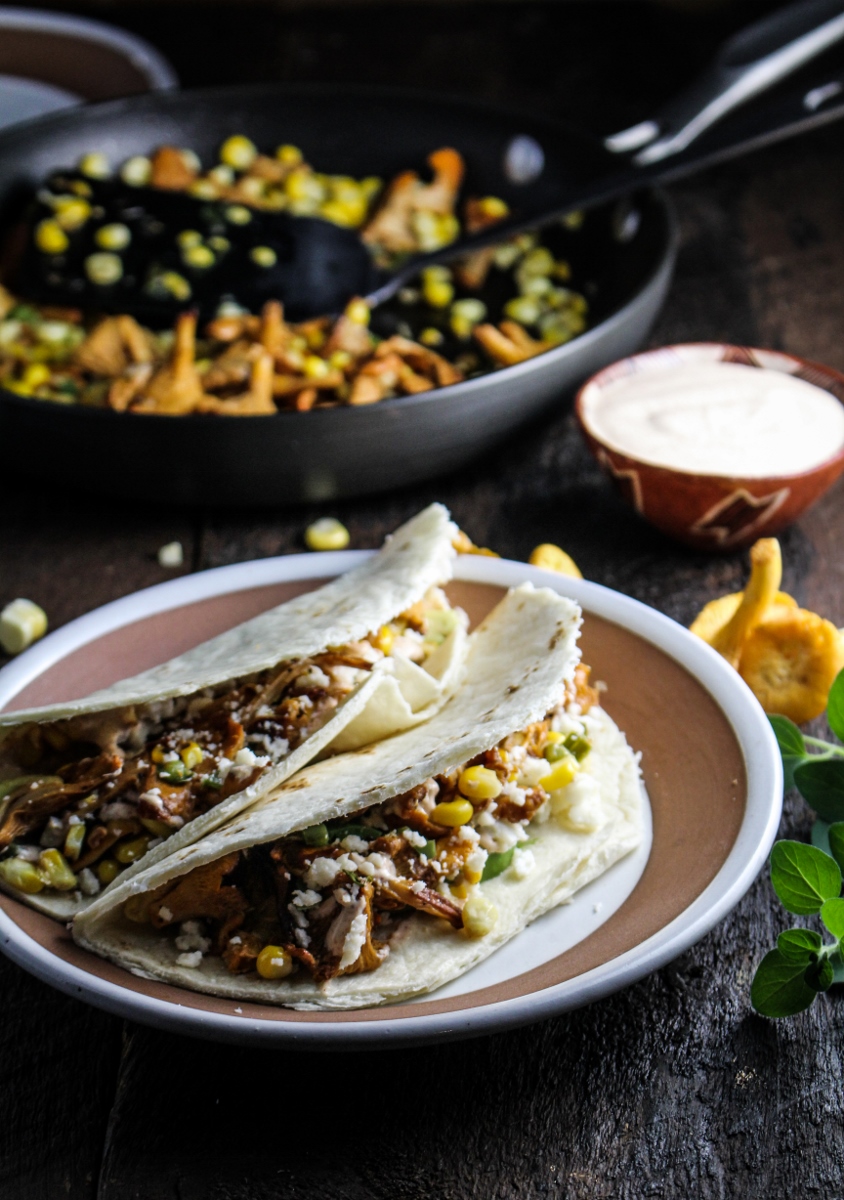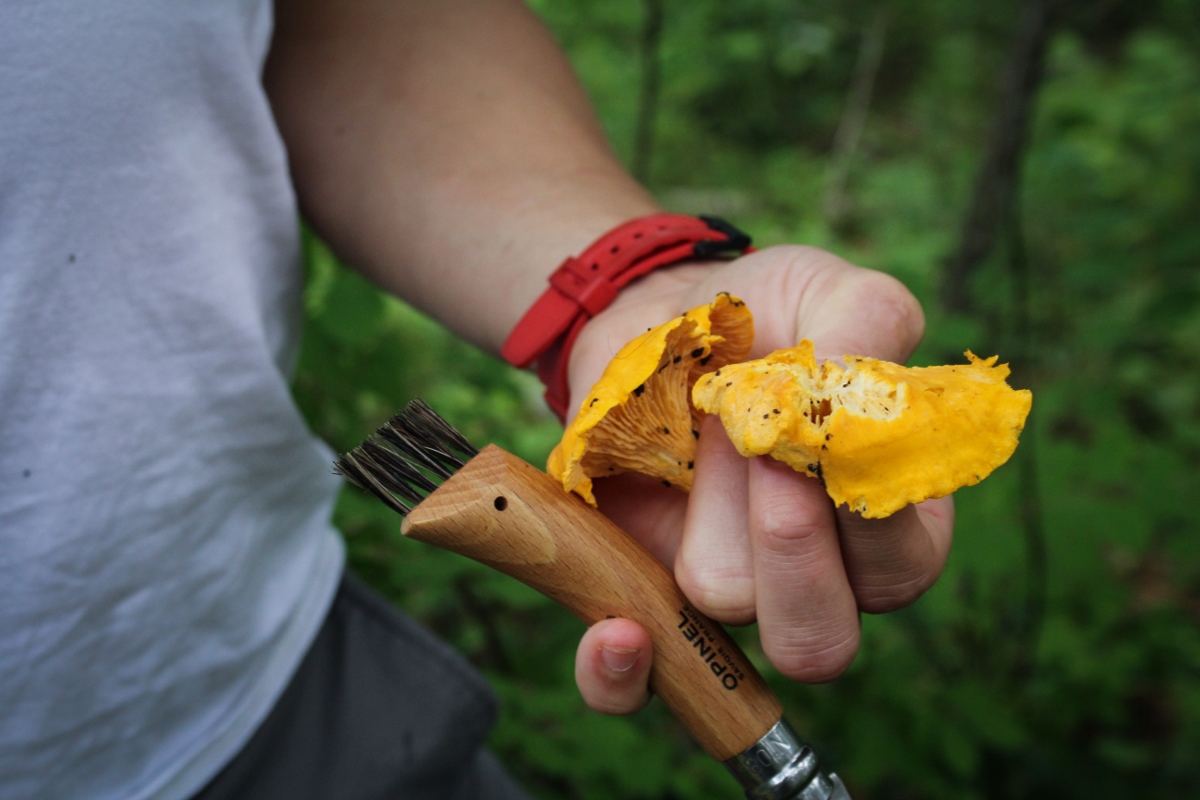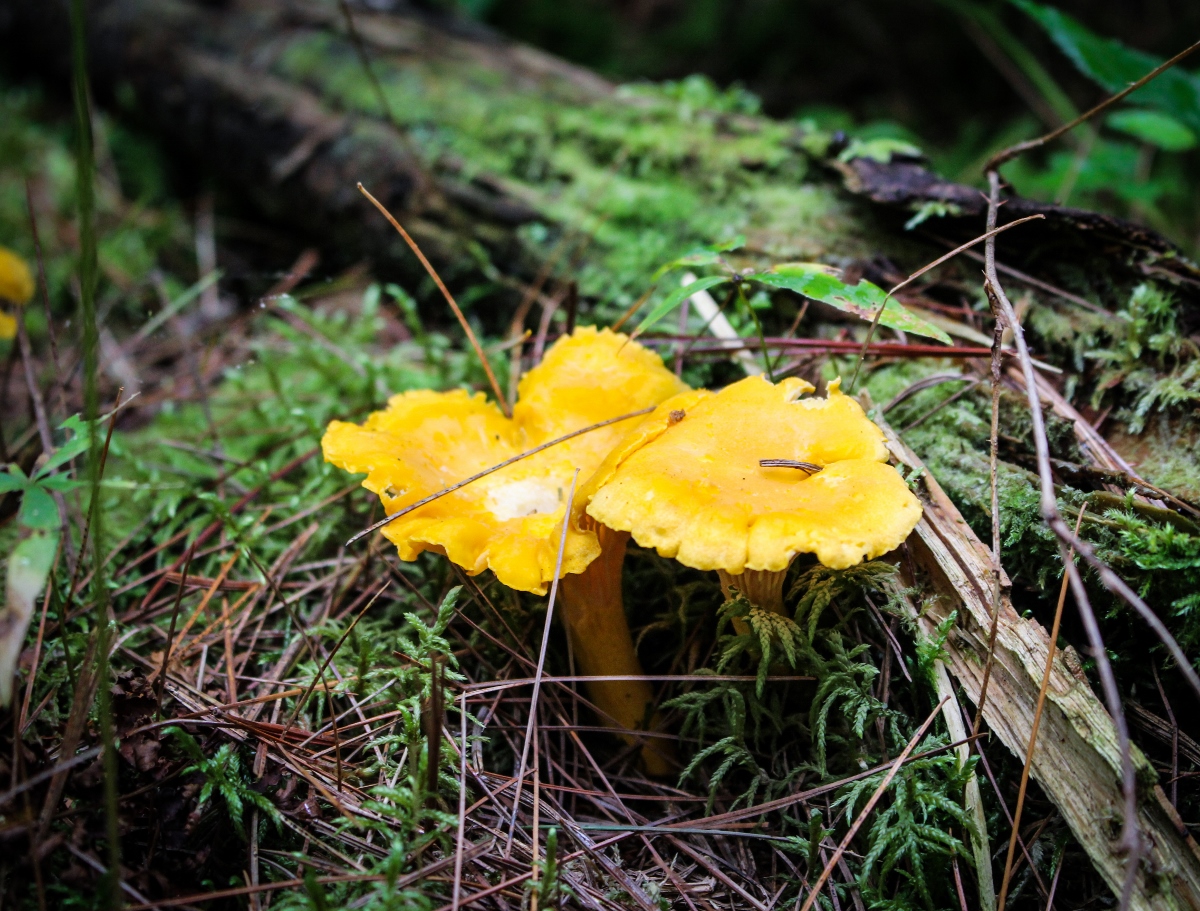 Around Boston, however, it's rare to find specialty wild mushrooms like chanterelles in grocery stores, even the upscale ones. When you do, they're usually exorbitantly priced – I've seen morels go for as much as $70 a pound. Morels are delicious, but there are a lot of other delicacies I could buy for 1/3 of the price – like filet mignon and wild-caught salmon. So when Trevor's uncle called to let us know that chanterelles were abundant in Maine, and offered to take us on a foraging trip, we jumped at the chance. Trevor's uncle is a foodie in the truest sense of the word, without any of the negative connotations that word sometimes carries. An author and editor who has lived in both France and Russia, he has a deep understanding of food and its history from multiple cultural perspectives. Many of his books revolve around food: From Here You Can't See Paris chronicles a year in the life of a restaurant in a rural town in France, while his cookbook, Fresh From Maine, shares recipes and stories from Maine's up-and-coming chefs. In short, a good person to go foraging with, and an even better person to get ideas from for what to do with your bounty of mushrooms.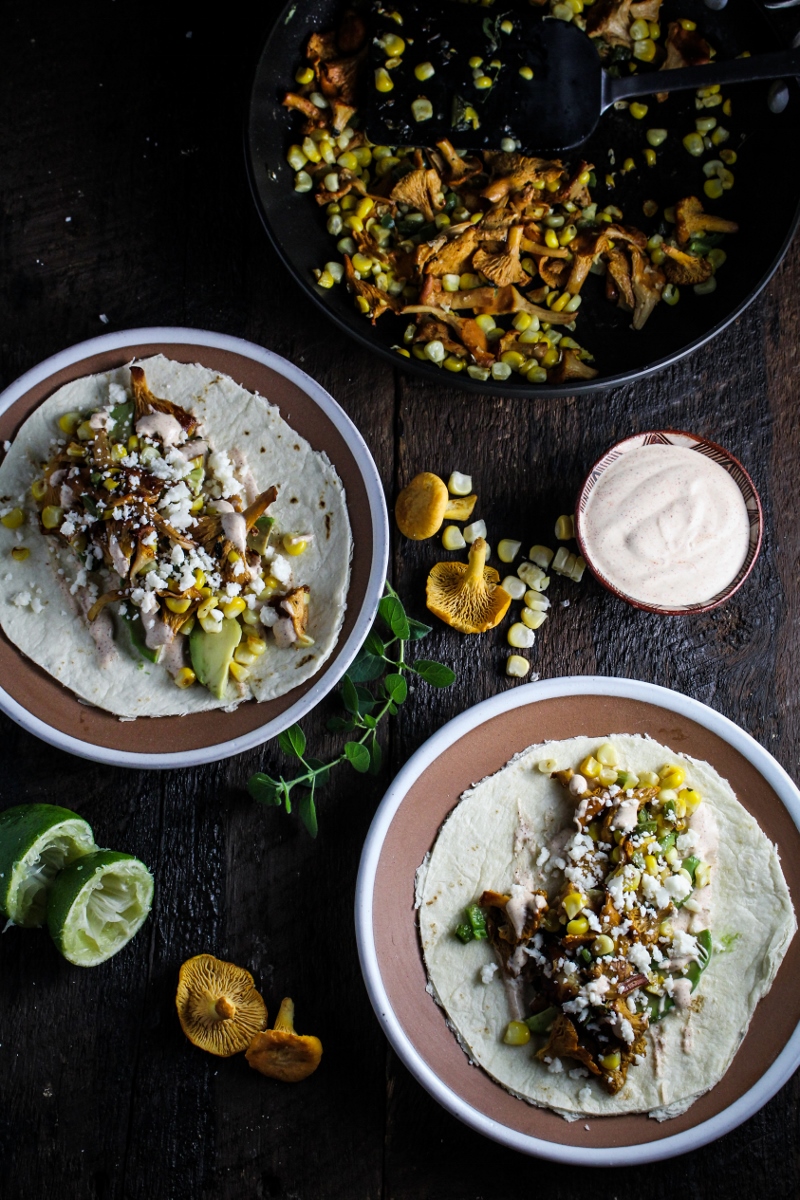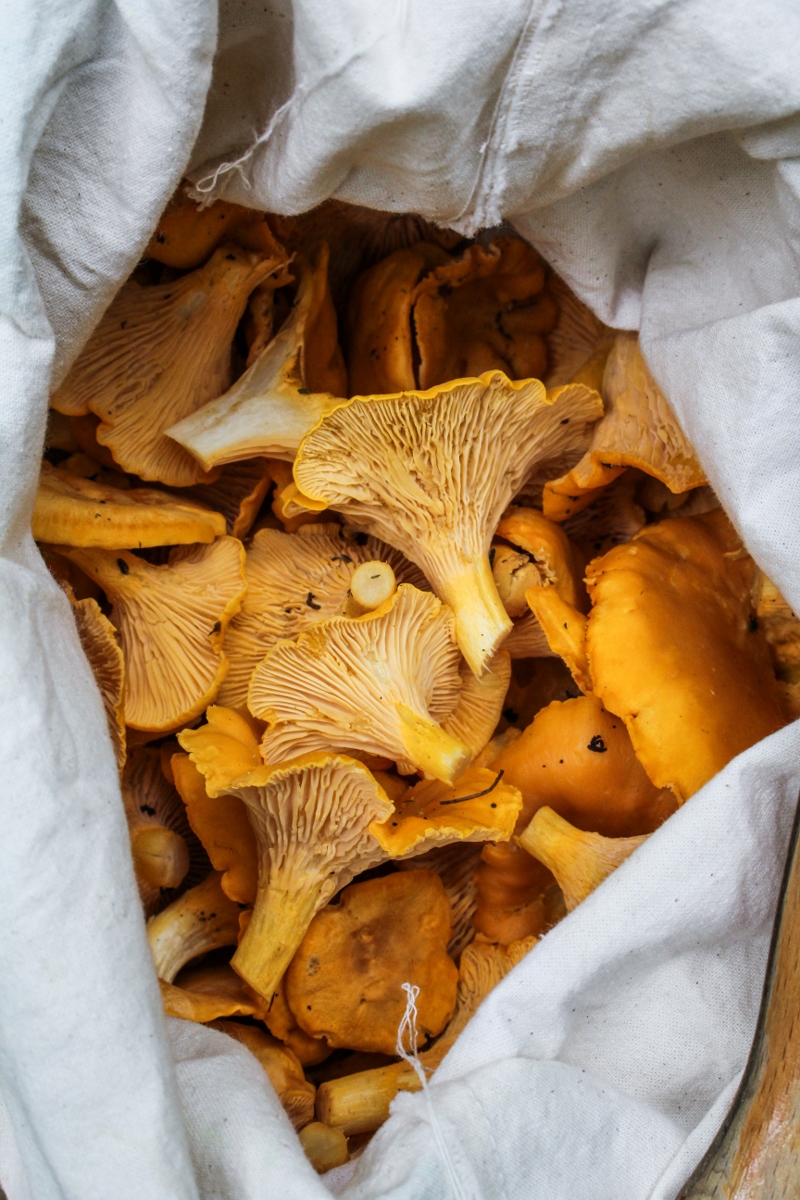 I had no idea that chanterelles grew in such prolific quantities in New England. Michael led us to hillsides covered with the small golden mushrooms, poking up from the pine needle-blanketed forest floor. Once we had found a good spot, we set to work gathering: down on our hands and knees, slicing the mushrooms from their stems, brushing the dirt and pine needles from the caps, then adding the clean mushrooms to our quickly filling bags. It's a lovely thing to do, foraging for mushrooms – it's quiet and focused, with the exhilaration of discovery and the wonderment of nature's creations. Find someone who knows the forest and knows mushrooms and is willing to teach you – it's worth it.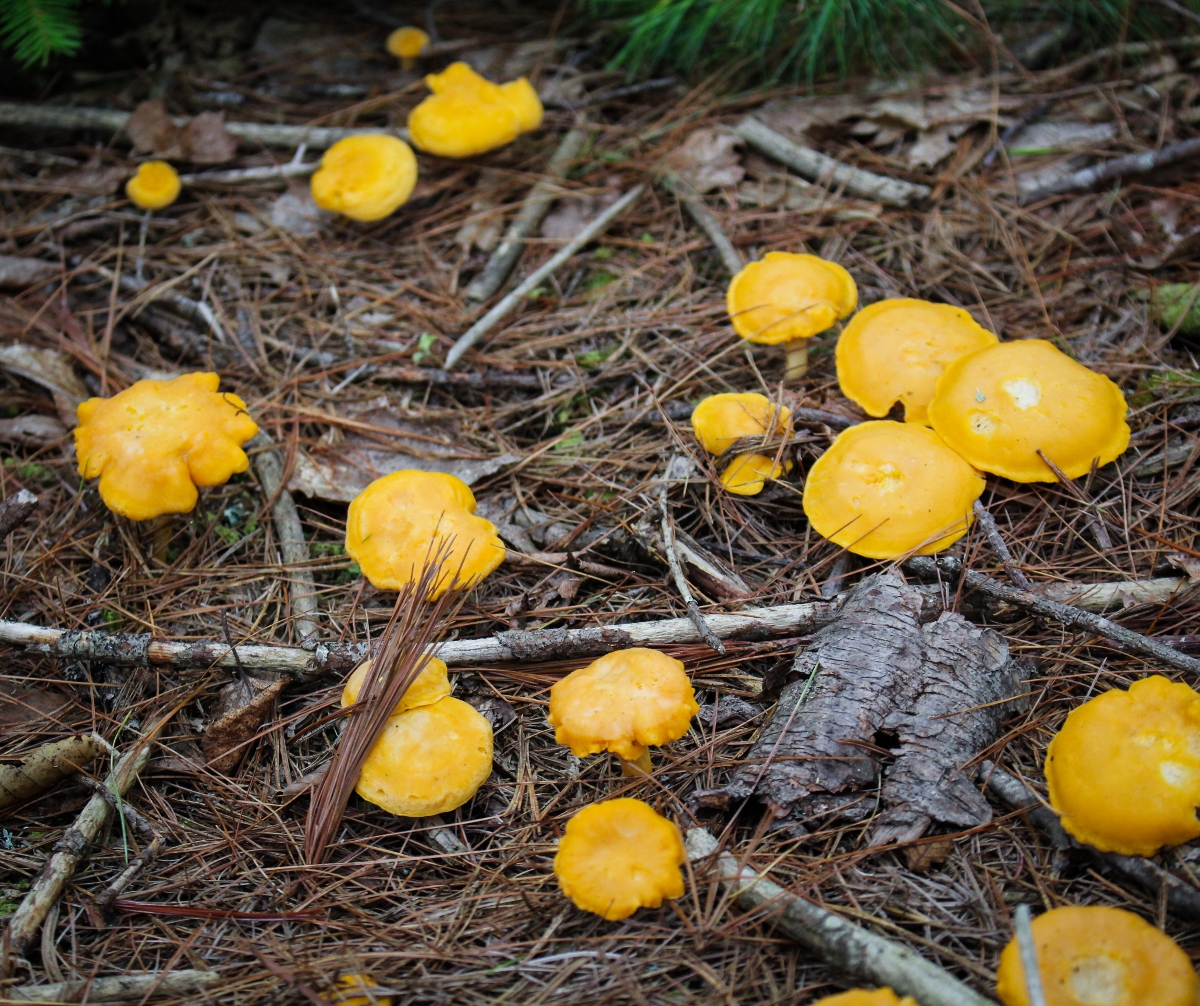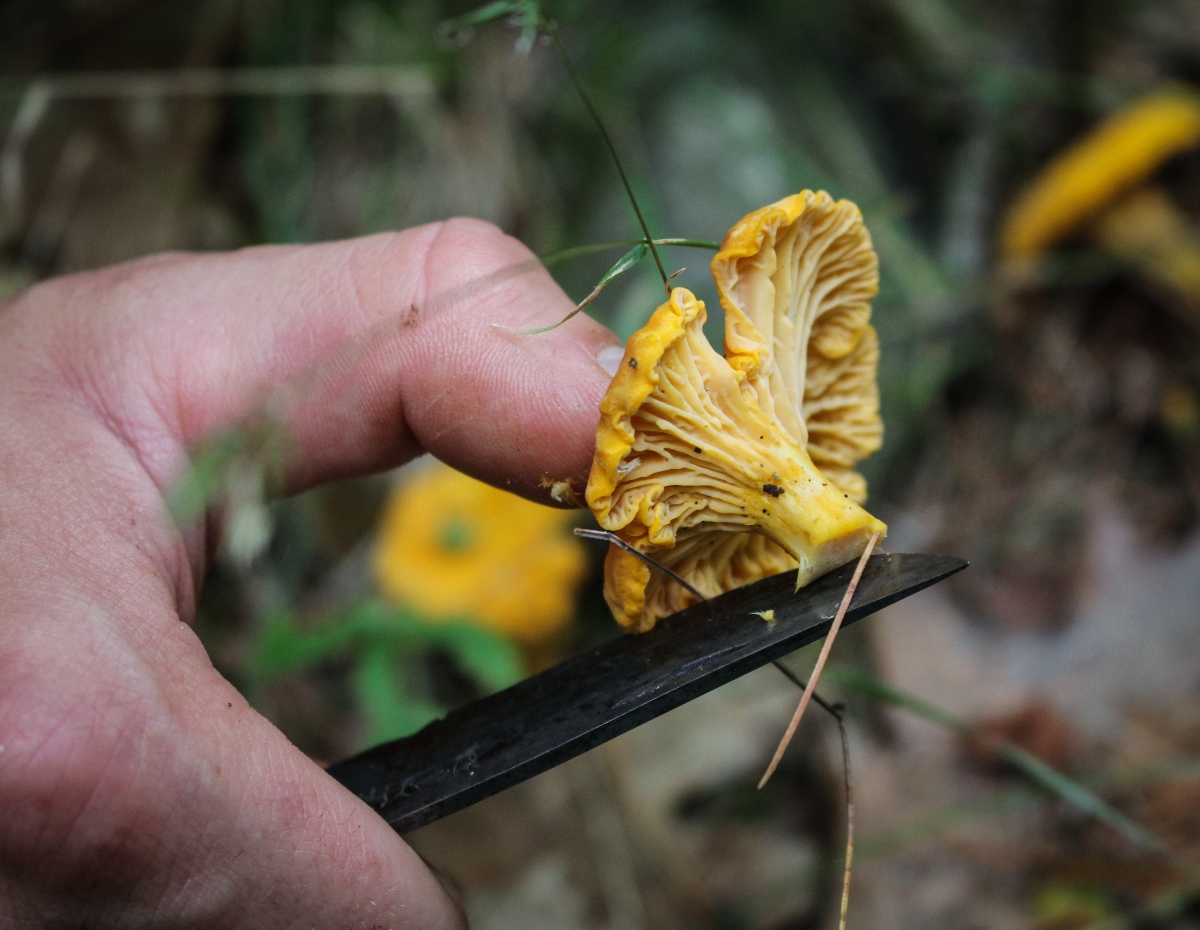 After only an hour of picking Trevor and I had gathered 5 pounds – as much as we could dream of using – and Michael probably picked twice as much as the two of us combined during the same time period, so we packed up our mushrooms and hiked out of the woods. We enjoyed a quick but perfect lunch of mozzarella, tomato, and basil on fresh baguette, then Trevor and I were on our way back home, where the task of further cleaning and processing our mushrooms awaited us. Although the cleaning and processing is not a small amount of work, we now have enough bags of butter-sauteed chanterelles tucked away in our freezer to get us at least through the fall. We froze about 2/3 of our haul, but we kept enough fresh mushrooms in the fridge for a week of good eating. We started off with a Chanterelle Carbonara, then these Chanterelle and Corn Tacos, and finished up with Chanterelle Burgers. All three recipes were delicious, and perhaps I'll share the other two with you later, but for now, let's focus on these tacos. I had been toying with the idea of a summery, mushroom and corn vegetarian taco for a while, so it was the perfect thing to try when we found ourselves with a surplus of mushrooms. The mushroom filling is as savory and satisfying as any meat-based taco, and the creamy and slightly spicy chile sauce is a little bit addictive. The tacos don't need much more than that, but I added some sliced avocado and a bit of crumbled cotija cheese to finish them off. A worthy use of our chanterelles, for sure.
Like what you just read? Subscribe to Katie at the Kitchen Door on Feedly or Bloglovin', or follow along on Facebook, Twitter, Pinterest, Instagram, or Google+. Thanks for reading!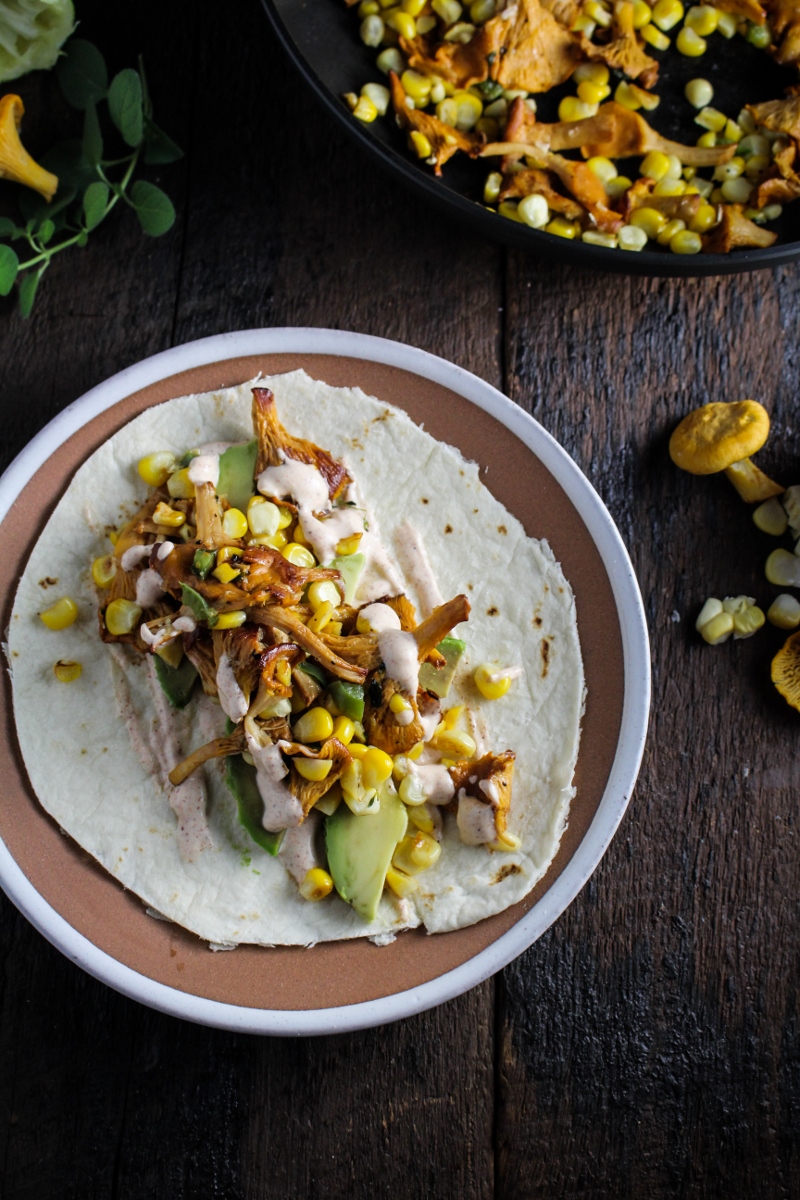 Chanterelle and Corn Tacos with Chile Crema
Serves 2 as a main, 4 as an appetizer.
1/4 c. sour cream
2 TBS heavy cream
juice from 1/2 lime
1/4 tsp coarse sea salt
1/2 tsp chili powder
1/8 tsp smoked paprika
2 TBS butter
3 c. chanterelles torn into large pieces
1 ear raw corn, corn kernels cut from the cob
1/2 small jalapeno, seeded and minced
1 TBS minced fresh thyme leaves
salt and pepper, to taste
1 avocado, halved, pitted and sliced
4 small tortillas
2 oz. crumbled cotija
In a small bowl, stir together the sour cream, heavy cream, lime juice, sea salt, chili powder, and smoked paprika until smooth. Taste, and adjust flavorings to your taste. Set aside.
In a large frying pan, melt the butter over medium heat. Add the chanterelles and cook until soft and deeply colored, about 8 minutes. Add the corn, jalapeno and thyme to the pan, and cook, stirring occasionally, until the corn and jalapeno have softened slightly, about 5 minutes. Remove from heat and season to taste with salt and pepper.
To serve, line each tortilla with a few slices of avocado. Top with 1/4 of the mushroom and corn mixture, then drizzle some chile crema over the top. Sprinkle with the crumbled cotija, and serve immediately.