Hungry for France: Adventures for the Cook & Food Lover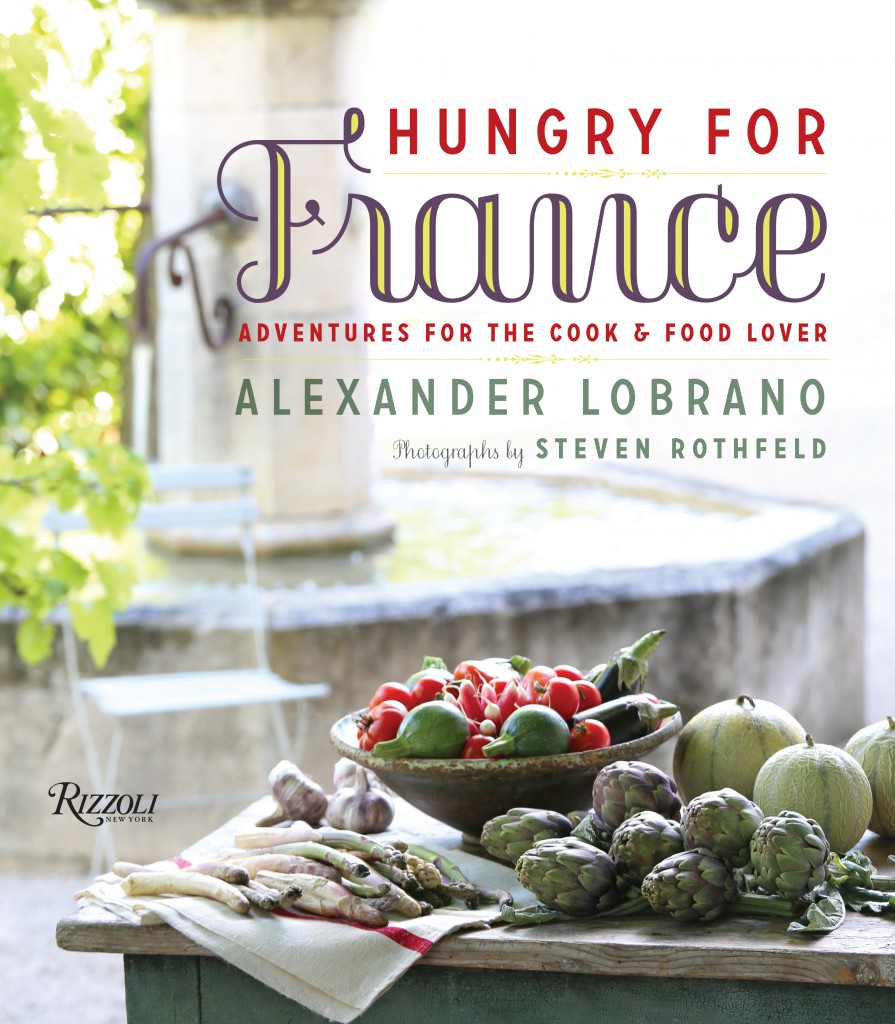 The Book: If you're even a little bit of a Francophile, or have ever found yourself daydreaming of a vacation in France punctuated by long dinners in the countryside, you're going to want to get yourself a copy of Hungry for France. A cross between a memoir, a travel guide, and a cookbook, with all three components tied together by a love of French food, this book will have you planning your next vacation and tomorrow's dinner at the same time. The book covers 13 regions in France, alternating notes about the best inns and restaurants in each region with recipes inspired by memorable dinners in those same establishments. As a result, the recipes are hyper-local to their particular corner of France, with hearty dishes like Cheese and Bacon Tarts from the Alps, and fresh, warm-weather seafood dishes like Roasted John Dory with Tomatoes and Olives from Cote d'Azur. By separating the recipes into these regional sections, the author highlights the wonderful variety of French cuisine – from delicate cream-filled pastry, to rich duck confit, to grilled seafood dishes, to hearty alpine stews, it's all here. I love the recipes that are included in the book – they present slightly unexpected but still traditional flavor combinations that sound highly craveable, the kind of dishes I'd order from a restaurant in a heartbeat. They aren't the French "basics," – they're modern and interesting, but still quintessentially French. There are as many recipes for sweet dishes as savory, which is good, because the French do both so well that it would be a shame to leave either one out. Although I haven't nearly finished reading all the notes about different restaurants and destinations, what I have read perfectly captures the romance and magic of travel, expertly intertwined with practical advice about where to eat, sleep, and drink in France.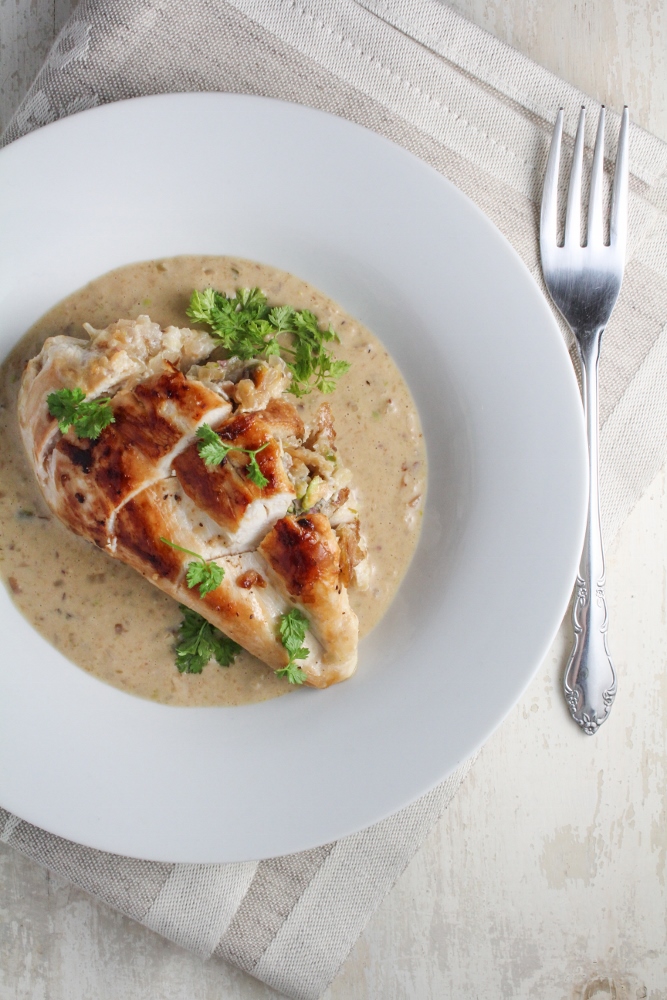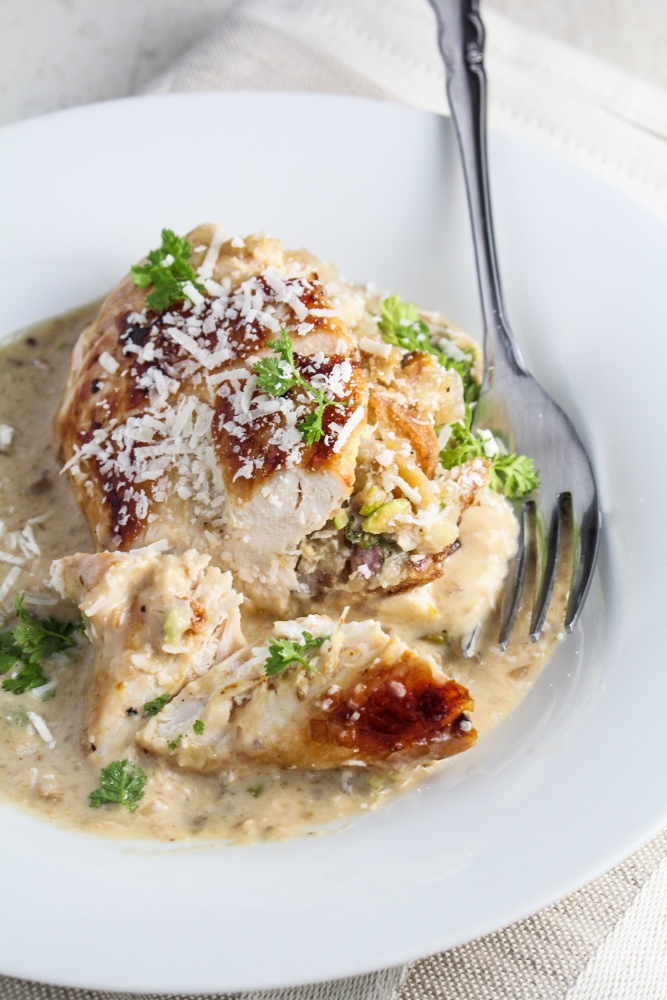 The Food: The night I planned to test a recipe from Hungry for France for this review, I came home from work completely exhausted and almost defaulted to plain spaghetti for dinner instead, until Trevor rescued the evening and said he'd do all the shopping and cooking if I could stay awake long enough to take pictures. I readily agreed, and very happily sat at the kitchen counter enjoying a glass of Chardonnay while Trevor made a lovely dinner for us. This Pistachio-Stuffed Chicken with Parmesan Cream Sauce was relatively quick to pull together, but it had lovely, nuanced flavors from all the herbs and different liqueurs used, and made for a very elegant, restaurant-quality dish. We served it with a warm orzo and pesto salad for a perfect little dinner (and the leftovers were just as good for lunch the next day). I particularly liked that the recipe used both vermouth and grappa in it – all the alcohol cooks off, but the flavors remained distinct. It will definitely be a repeat dinner dish in our house, and I can't wait to try other recipes from this book.
Recipe Shortlist: Green Asparagus with Chorizo Vinaigrette; Nanterre French Toast with Honeyed Nectarines; Golden Endive and Chard Gratin; White-Wine Steamed Mussels with Andouille Sausage; Curried Pork in Cider Sauce; Hot Buckwheat Rolls; Hazelnut-Crusted Goat Cheese with Rhubarb-Raspberry Compote; Hot Chartreuse Souffle; Truffled Eggs en Cocotte with Prosciutto Toasts
Like what you just read? Subscribe to Katie at the Kitchen Door on Feedly or Bloglovin', or follow along on Facebook, Twitter, Pinterest, and Instagram. Thanks for reading!
Disclaimer: I received a review copy of Hungry for France free of charge from Rizzoli, but I was not otherwise compensated and all thought and opinions are my own.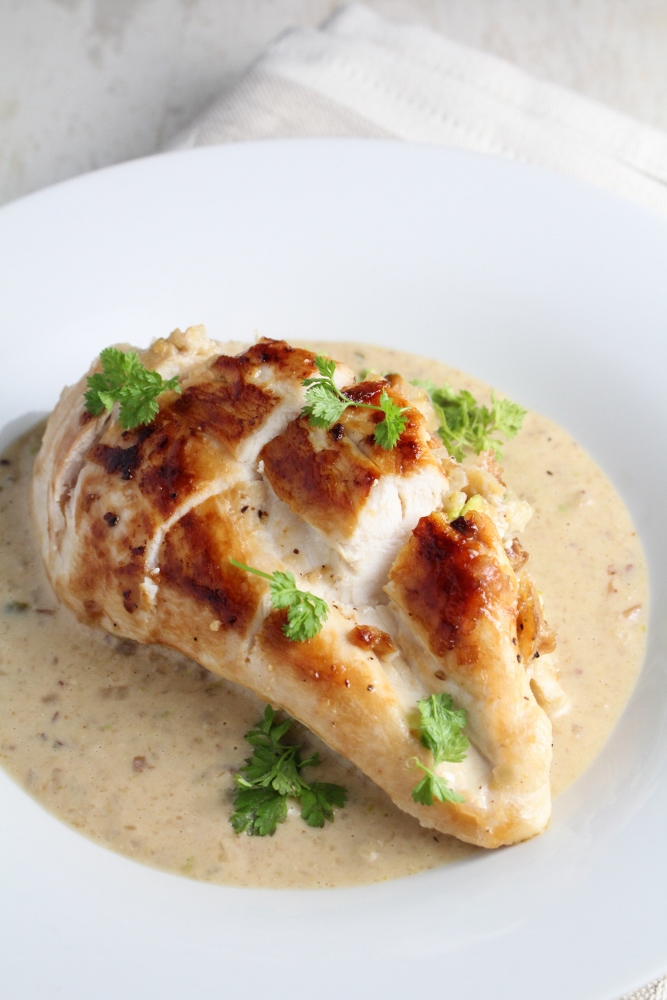 Pistachio-Stuffed Chicken Breasts with Parmesan Cream Sauce
Recipe from Hungry for France. Serves 4.
 1/4 c. milk

1 sprig fresh thyme
1 bay leaf
1 garlic clove, peeled and crushed
1 thick slice white bread, crust removed
3 TBS olive oil
4 shallots, peeled and finely chopped
1/4 c. dry vermouth
1/4 c. finely chopped roasted, salted pistachios
kosher salt and freshly ground black pepper
4 boneless chicken breasts, trimmed of excess fat
2 TBS grappa
1 c. chicken stock
1/4 c. heavy cream
3 TBS grated Parmesan cheese
2 TBS butter
fleur de sel (or sea salt) for finishing
chervil sprigs, for finishing (optional)
In a small saucepan, heat milk with thyme, bay leaf, and garlic over medium heat, just until bubbles appear around the edge, about 1 minute. Remove from heat and strain into a shallow bowl. Add the bread and let stand for 10 minutes, turning once. Drain and squeeze dry, then finely chop and transfer to a medium bowl.
In a medium frying pan, heat 1 TBS of the olive oil over medium heat. Add the shallots and cook until softened, about 2 minutes. Stir in vermouth and cook until nearly evaporated, about 2-3 minutes. Remove pan from heat. Scrape  half of the shallots into the bowl with the bread, and add the chopped pistachios. Reserve the other half of the shallots for later.
Using a sharp knife, cut a slit lengthwise into the side of each chicken breast. Use a spoon to stuff a few TBS of the bread and pistachio filling into the slit of each breast, and pinch together to seal.
In a large frying pan, heat the remaining 2 TBS of olive oil over medium heat for 1-2 minutes, or until hot. Season the chicken with salt and pepper, then add to the hot pan and cook until browned, about 5 minutes on each side. Check to be sure chicken is cooked all the way through by cutting into the center of the fattest breast. However, try not to overcook the chicken as it will dry out fairly quickly. Remove the chicken breasts from the pan and set aside.
Add the grappa to the reserved shallots in the medium frying pan and bring to a simmer over medium-low heat. Very carefully tilt the pan and use a long match or lighter to ignite the vermouth. When the flames subside, add the chicken stock and bring to a simmer, cooking until reduced to half a cup , about 4-5 minutes. Add the heavy cream and simmer until reduced to half a cup, about 3 minutes. Remove the skillet from the heat and stir in the parmesan cheese and butter until both are fully melted. Transfer to a blender and process until frothy.
Ladle the sauce into the bottom of 4 bowls and top each with a piece of chicken. Finish with a sprinkle of fleur de sel and a few sprigs of chervil.