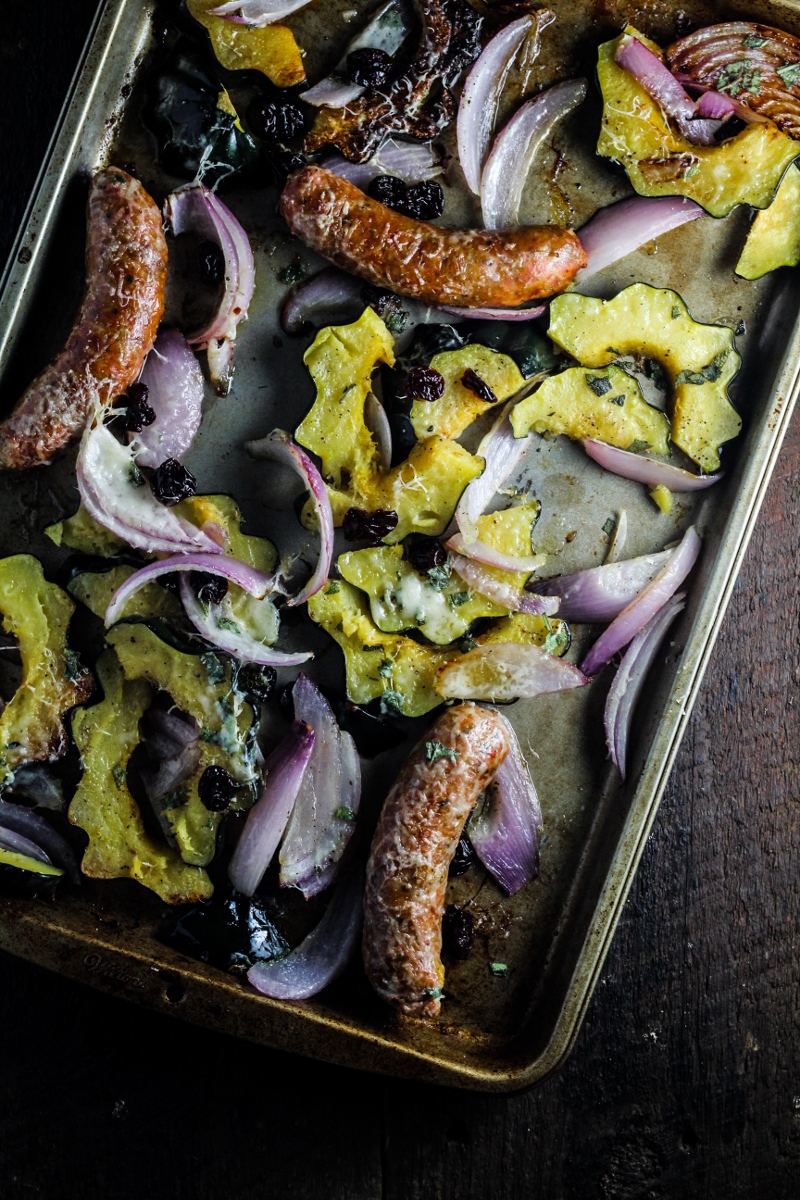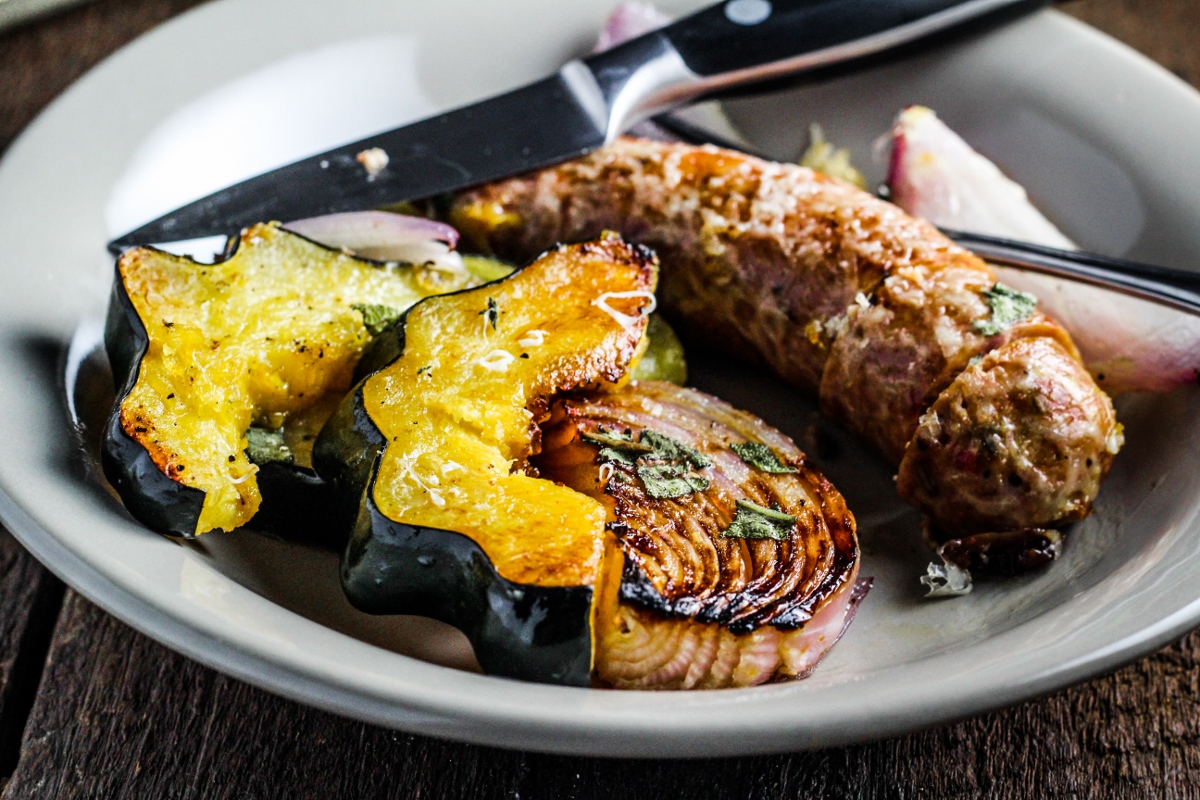 I don't know about you, but I've been loving the fall weather we've been having in New England. Every day seems to start with a clear blue sky, air so crisp and fresh you feel like you're really breathing for the first time in months. I've been breaking out the cashmere, scarves, leg warmers, and boots pretty much every day, and indulging in hot cider and donuts at the farmer's market. And when I come home at night, before falling into bed, where I've been actively reveling in just how cozy a pile of comforters and pillows can be, I've been craving richer, meatier flavors.
With the falling temperatures, dinner has become something to look forward to, especially with super-easy, satisfying meals like this one-pan roast. It takes all of 5 minutes to throw together and 20 minutes in the oven, and the flavors are perfect – spicy Italian sausage, earthy acorn squash, sweet roasted onion, salty parmesan cheese and a few sweet-sour dried cherries to brighten the whole thing. It has quickly become a favorite for us this month, and I've already forwarded the recipe on to my family, so I figured it was one that would be worth sharing with you all, too.
Acorn squash is one of the few squash that did well in our garden this year, so I've been on the lookout for good uses for the pile of softball-sized squash we have sitting in the kitchen. I love this recipe, but I don't know if it's going to get us through all of our squash. In the past, the most adventurous I've gotten with winter squash is smooth bisques and roasted squash cubes tossed with pasta, but I want to move beyond that. So, I'm turning to you. What are your favorite ways to prepare acorn squash? I'd love more ideas.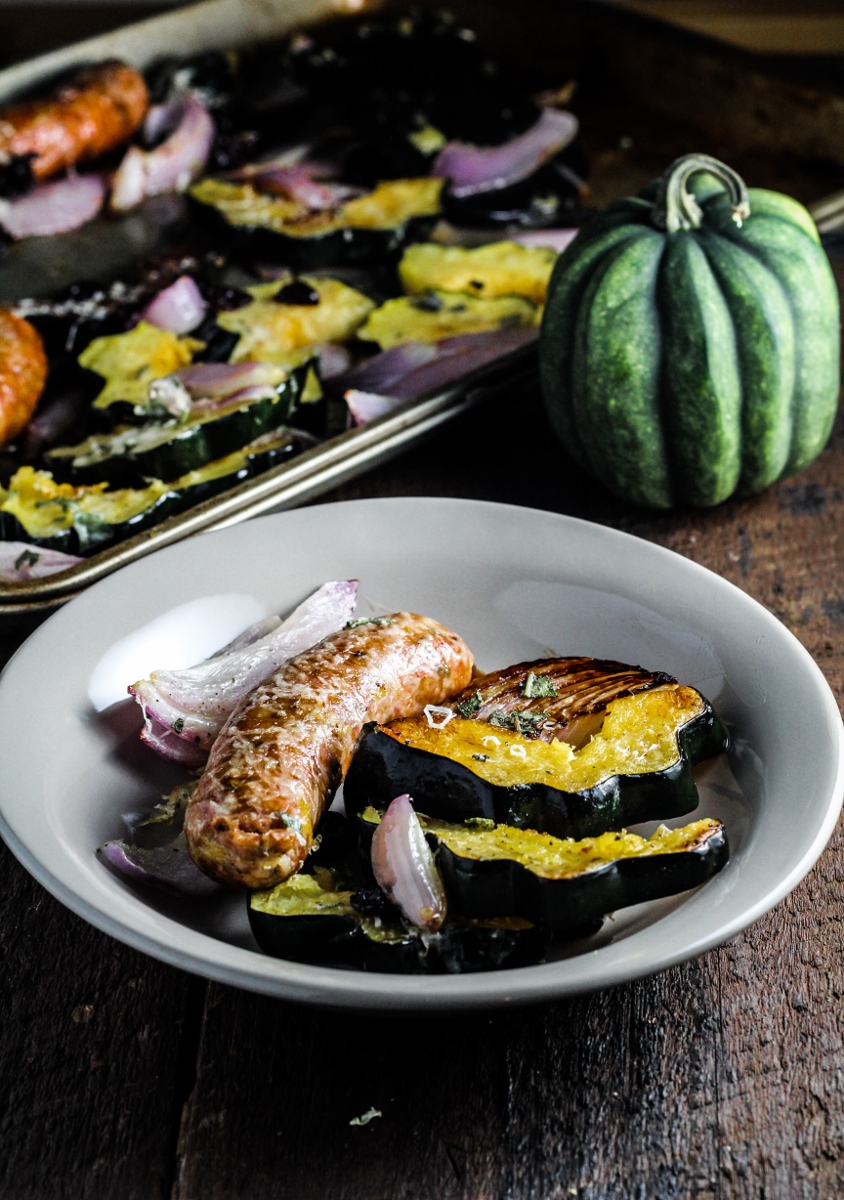 Sausages with Acorn Squash and Onions
Adapted very slightly from Martha Stewart. Serves 4.
1 large acorn squash, halved, seeds scooped out and discarded, and cut into 1/2-inch thick slices
1 large red onion, peeled and cut into thick wedges
3 TBS olive oil
sea salt and pepper to taste
1 lb. of hot Italian sausage (4 links)
1/2 c. grated parmesan cheese
1 TBS minced fresh sage leaves
1/2 c. dried cherries
Preheat the oven to 475°F. Place the squash slices and the onion wedges on a large baking sheet with sides, drizzle with the olive oil and sprinkle with salt and pepper, then carefully flip and stir with a spatula to evenly coat all the squash. Spread the veggies out into an even layer (a single layer is ideal). Add the sausages to the pan, and roast for 20 minutes.
Remove the pan from the oven and sprinkle with the parmesan cheese, sage, and cherries, tossing to coat. Return to oven for 5 minutes, until cheese is melted, then serve immediately.