Ramp Carbonara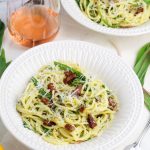 Ingredients
8 medium-sized ramps
1 tsp olive oil
4 oz. pancetta, cut into 1/4 inch dice
2 eggs
2 oz. grated pecorino cheese (about 3/4 cup, packed)
2 oz. grated parmesan cheese (about 3/4 cup, packed)
1/4 cup mascarpone
1 tsp freshly ground black pepper
zest from 1 Meyer lemon
1/2 lb. spaghetti
Instructions
Bring a large pot of salted water to a boil.
Prepare the ramps by washing thoroughly to rinse away any dirt, and gently patting the leaves dry. Separate the round white bulbs from the leaves. Trim any stringy white roots from the bulb and discard the roots, then finely dice the ramp bulb. Slice the ramp leaves into very thin strips, then set aside.
Heat the olive oil in a large saute pan over medium heat. Add the diced pancetta and saute until it is crispy and brown all over, which should take about 6-8 minutes. After 3-4 minutes, add the diced ramp bulb to the pan. Keep a close eye on the pancetta and stir frequently – pancetta takes a while to start browning but can go to under-cooked to burned in a very short period of time.
In a large bowl, whisk together the eggs, pecorino cheese, parmesan cheese, and mascarpone until smooth. Stir in the black pepper, Meyer lemon zest, and the cooked pancetta. Set aside.
Add the spaghetti to the boiling water and cook according to package directions, until just al dente. Drain, leaving just a few tablespoons of the cooking water in the bottom of the pot with the pasta. Add the hot pasta and reserved cooking water to the egg mixture and quickly toss with tongs to create a creamy sauce from the eggs and cheese. Do this immediately after adding the pasta to prevent the eggs from scrambling. Add the ramp leaves to the pasta and toss a few times just to wilt the leaves. Serve immediately.